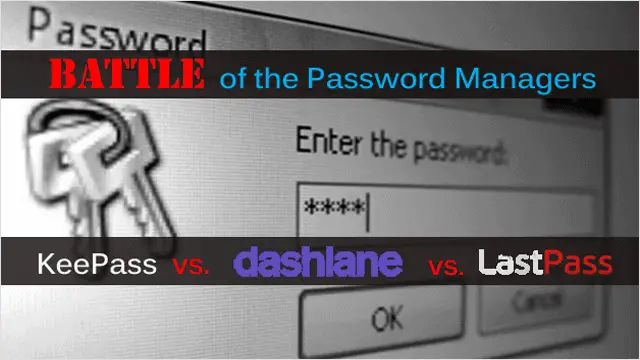 Password managers are becoming standard among savvy computer users, but it doesn't mean they're all created equal. While their main purpose is great – storing all of your passwords in a secure location, doing the logging in for you – each has some significant differences, advantages, and shortcomings.
We've reviewed the top 3 password managers on TechNorms in the past – KeePass, Dashlane, and LastPass, but now we're looking at all three together with a critical eye, to find out which one is the best. We move from a desktop based software to a hybrid to one that resides totally in the cloud.
From storing your passwords in the cloud to suggesting unbreakable passwords, read on for our comprehensive review of the three most popular password managers available – KeePass, Dashlane, and LastPass.
KeePass vs Dashlane vs LastPass: Feature Comparison
When taking a long hard look at the features offered by the top 3 password managers, there are several to consider, however a handful reign the most important for most users.
| | KeePass | Dashlane | LastPass |
| --- | --- | --- | --- |
| Browser Extension | Yes | Yes | Yes (Started out as a browser extension) |
| Auto-Login | This feature can be added by utilizing a plugin for KeePass | Yes | Yes |
| Compatible on All Devices | Yes. Compatible apps are available on all platforms. | Yes | Yes |
| Cloud-Based | No. But Portable version can be synched across all devices. | Yes (With a $29.99 Annual Subscription) | Yes |
| Two Step Verification | Yes. Asks for Windows Login and a Key File which makes it a 3-step verification. | Yes. Via Google Authenticator | Yes. Via Google Authenticator |
| Integrates with Google Authenticator | No | Yes | Yes |
| Encrypts Passwords | Yes | Yes | Yes |
The Best of KeePass
Among the three password managers in our review, KeePass is the completely free option. It's also open-source and has been around the longest, but that doesn't necessarily mean it's better. KeePass works by storing all of your password information locally on your PC and/or mobile device, with you creating a master password that universally auto-logs you into all sites that require a username and password.
You will need to make the effort to save the portable version or your password database in a cloud based synching service like Dropbox to make sure it's available across all your devices.
KeePass is available on Windows, Mac and all mobile platforms, like Android and iOS. If you're a big fan of an organization when it comes to your passwords, KeePass also lets you organize your passwords into groups and sub-groups, which is pretty awesome. It also offers changeable shortcut keys so you can bring up KeePass quickly. This feature is definitely rare among password managers.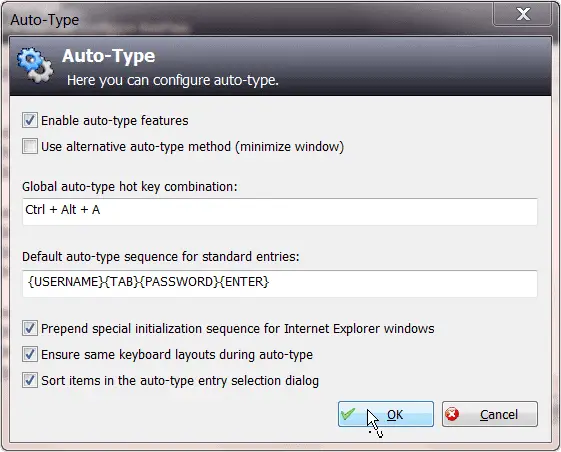 Overall, KeePass is a great option for anyone who feels uncomfortable storing their passwords in the cloud because this option isn't available with KeePass. If you don't use other computers often and are frequently at home, however, this option is quite good, and removes any worries of your passwords being anywhere but on your PC.
Read more about KeePass in our detailed review – The Best Open Source Password Manager: KeePass Password Safe
The Best of Dashlane
Dashlane is a comparatively new password manager on the scene. This password manager stands out for two big reasons – its aesthetically pleasing look and incredible ease of use.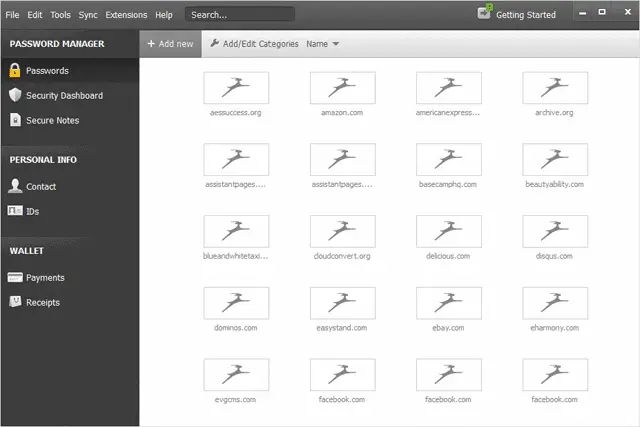 Dashlane works by storing all of your passwords in the cloud, but note, this portion of the service does cost $29.99 each year. Non-cloud based storage is still free. One of the most unique features offered by Dashlane is their Digital Wallet, which securely stores your debit card numbers, PayPal information and other financial information you specify.
It also offers a real-time look at your credit score.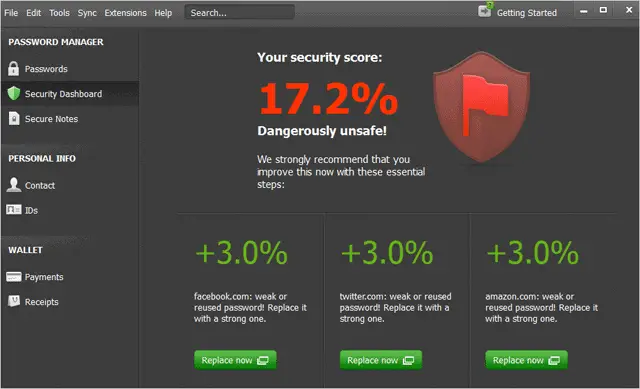 Dashlane also offers a browser extension that's available for all browsers, helping the password manager work even faster. A "Form Filler" is also included so you don't have to fill in forms manually, making it a huge timesaver. Google's two-step authentication service can be used with this service as well.
Read more about Dashlane in our review – Securely Manage Your Passwords With Dashlane
The Best of LastPass
LastPass meanwhile is the only free password manager that includes cloud-based storage of your passwords. The bonus of this feature is that you can access your passwords from anywhere, while your single main password for accessing your passwords is stored safely on your machine.
All of your passwords are kept in a "Vault" on your Account Page.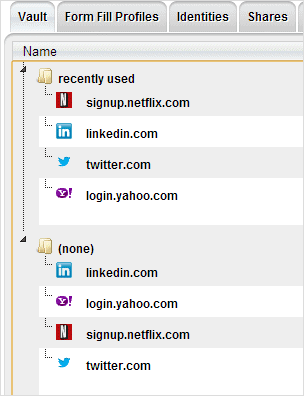 You can also import and export your passwords with no limitation on the number of passwords for websites. LastPass also lets you create multiple identities so you can quickly login at work, home or under any other visages. Syncing between all devices is another highly attractive feature of this service, especially if you switch from your mobile to various PCs throughout the day.
Additionally, LastPass offers "one-time passwords" for sketchy WiFi connections, which is very cool. If there are certain sites you never want to save passwords for, like your bank login information, you can add that to the "Never URL" list in "Settings." It also provides a virtual keyboard so hackers can't track your keystrokes.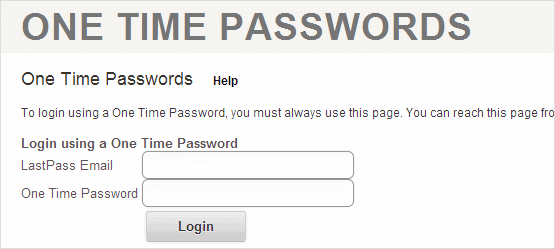 Want to know more? Read our LastPass Review – Secure, Safe and Efficient password management in Your Browser with LastPass
The Winner Is…
While all three password managers offer unique features that make each a great choice, overall when it comes to the user-friendliness of each, as well as its features, we've found LastPass to be the overall best password manager available. It's free and offers cloud-based storage of your passwords, which is something you can't find with any other password manager.
LastPass also comes out on top because of its syncing capabilities, as well as the ease of importing and exporting passwords. Combine that with the offering of one-time passwords and two-factor authentication, and LastPass goes above and beyond what you'd traditionally get with a password manager.
Conclusion
The time is now to get serious about managing your passwords. If you have dozens to hundreds of username/password combos for various sites, KeePass, Dashlane and LastPass are all great options. Just make sure to weigh your options before going with any of these, and know the exact features you're looking for.
For information on a great password manager for Windows 8, check out our post – Metro-Styled PassBox is a Feature Rich Password Manager for Windows 8