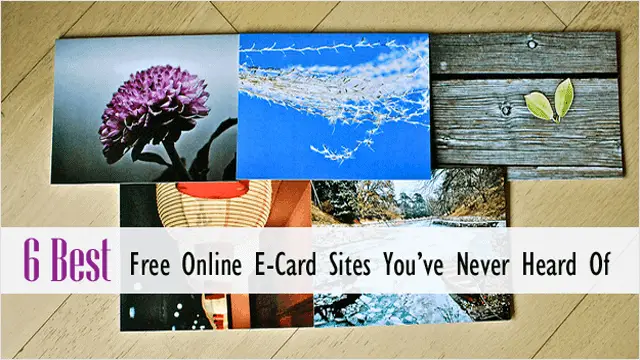 Maybe you don't have time to buy a gift or a greeting card at the store or perhaps you just don't want to destroy more forests to create paper. Whenever your reasons, online greeting cards, also known as e-cards, have become the go-to greeting card solution for millions of people.
They've also unfortunately gotten a bad rap for one big misstep – often times providing cards of low quality, especially on the free sites. For years, online greeting card sites only provided the good cards for those who were willing to pay, but that's not the case anymore. There are a handful of sites silently changing this stereotype.
Our guide will outline the 6 best free online greeting cards sites you've likely never heard of so you can send a greeting in style.
Best Free Online E-Card Sites on the Web
Fleeting Greetings
Designed by Lucky Stairs Studio, a small design studio in New Zealand, the artist behind the greeting cards on the site, Duncan Monroe, decided to focus on brightly colored design and modern typography in all the free beautiful cards offered on the site.
The appealing thing about Fleeting Greetings is that you can personalize and send their cards in a matter of minutes, and you can send them from your own email account. Simply click through the pages of greeting cards and click the one that you like. They currently have cards for all occasions, however, their "Thank You" cards category and "Holiday" cards are the most robust.
After clicking a card, you will be brought to a customized page where you can add text to the card as well specify where you'd like to send it.
Some Ecards
If you're looking for a site that knows how to write hysterically funny greetings for their e-cards, look no further than Some Ecards, a site that specializes in cheeky, sarcastic e-cards, all of which are completely free.
They offer cards in literally every category, even categories you might not have seen before, like "PSA greeting cards" or "Breakup greeting cards." Some Ecards does a thorough job of providing cards for every occasion.
Another thing you'll notice about the cards offered by Some Ecards is that they all have the same similar simplistic artwork – basic black and white sketches of people – to convey the greeting. This helps keep the cards free and is definitely a cool look for those who appreciate vintage styling.
Ojolie
Started by a husband and wife team: Frederikke, a Danish artist, and Timothy, a Taiwanese American IT specialist, the duo founded Ojolie, one of the most beautiful greeting cards sites you'll find online.
Many of the cards have hand-painted animated designs with a feminine touch, which set the bar high for e-card design. They have a nice collection of free cards too, including free holiday cards and unique birthday cards.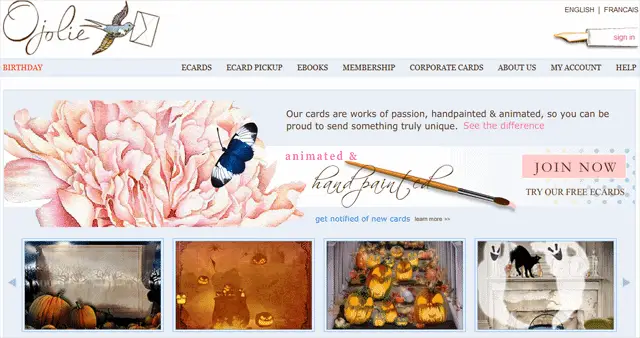 To send a card, click on it to view a preview, then click to skip to the end to add text, which is key since these cards have no added text whatsoever.
MoMA E-Cards
If you or your recipient loves art, a must-see e-card site is MoMA E-Cards, a section of the Museum of Modern Art's website dedicated to e-cards featuring some of their most renowned art, and yes this site is absolutely free.
They offer 15 categories to choose from, with many of them in the artistic vein. Some of their categories include Painting and Sculpture, Photography, Exhibitions and Film.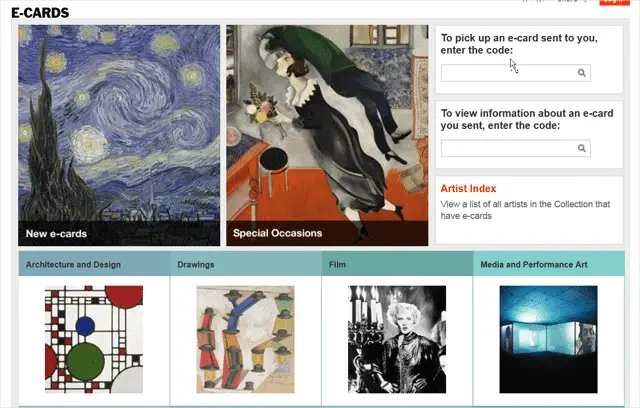 To send a card, no registering is required on this site (as are all of the above sites). Just click the card you want to send, and you'll be brought to a page where you can enter the message and email addresses.
Rattlebox
If you love video in your e-cards, then look no further than Rattlebox, a free video e-cards site specializing in e-cards that "don't suck," and it's not false advertising either. Rattlebox offers hundreds of free video e-cards among more than 20+ categories, from Anniversary and Feel Better cards to the hard-to-find GLBT cards and Dating cards.
When you find a video e-card you want to send, click "Send this card now" to get to the customization page, where you can customize the message and necessary e-mail addresses.
JibJab
Videos and songs are great for conveying messages or feelings. There are several templates or stock videos to choose from and you can impose yours or someone's face over them to make personalized videos.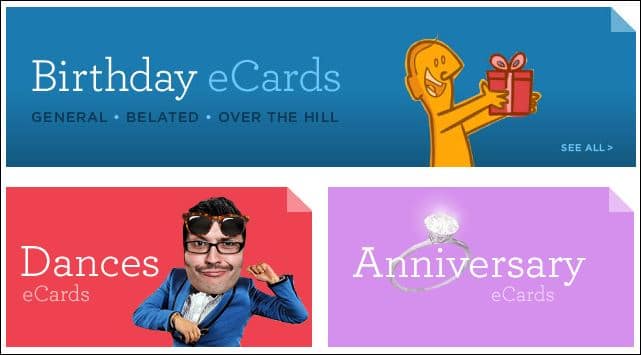 JibJab does need the creation of a free account to start sharing the e-cards.
Conclusion
It's great seeing e-card sites finally stepping up their game in their free categories. So many people are using these sites nowadays that the sites should be able to support themselves with advertising money alone. If you haven't used an e-card site in a while, now is definitely the time to check out these sites to see how they've improved.
To create your own greeting using your Gmail account, check out our post – Gmail: How To Insert or Embed Images In The Email Message