Maybe you don't have time to buy a gift or a greeting card at the store or perhaps you just don't want to destroy more forests to create paper. Whenever your reasons, online greeting cards, also known as e-cards, have become the go-to greeting card solution for millions of people.
They've also unfortunately gotten a bad rap for one big misstep – often times providing cards of low quality, especially on the free sites. For years, online greeting card sites only provided the good cards for those who were willing to pay, but that's not the case anymore. There are a handful of sites silently changing this stereotype.
Our guide will outline the 6 best free online greeting cards sites you've likely never heard of so you can send a greeting in style.
Best Free Online E-Card Sites on the Web
1. Some Ecards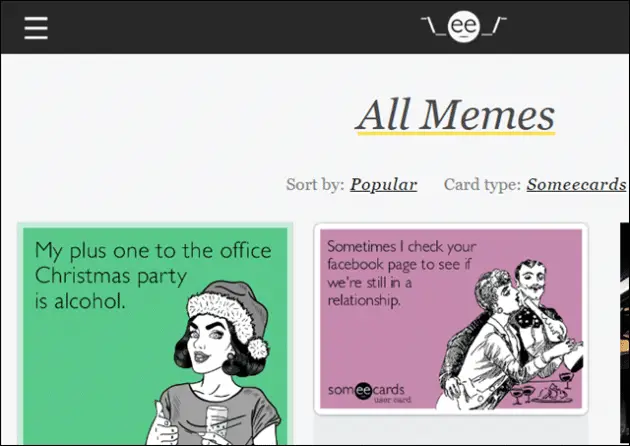 If you're looking for a site that knows how to write hysterically funny greetings for their e-cards, look no further than Some Ecards, a site that specializes in cheeky, sarcastic e-cards, all of which are completely free.
They offer cards in literally every category, even categories you might not have seen before, like "PSA greeting cards" or "Breakup greeting cards." Some Ecards does a thorough job of providing cards for every occasion.
Another thing you'll notice about the cards offered by Some Ecards is that they all have the same similar simplistic artwork – basic black and white sketches of people – to convey the greeting. This helps keep the cards free and is definitely a cool look for those who appreciate vintage styling.
2. Ojolie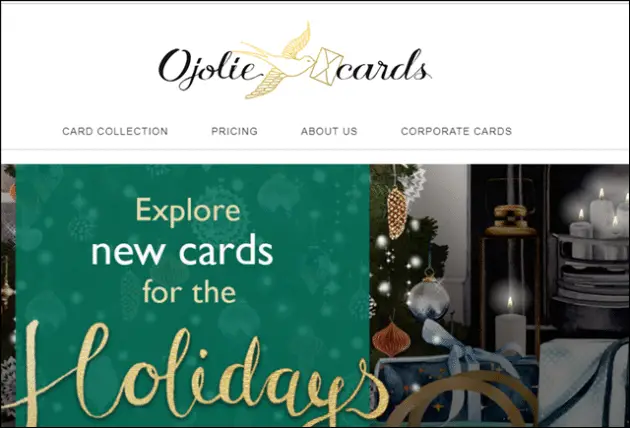 Started by a husband and wife team: Frederikke, a Danish artist, and Timothy, a Taiwanese American IT specialist, the duo founded Ojolie, one of the most beautiful greeting cards sites you'll find online.
Many of the cards have hand-painted animated designs with a feminine touch, which set the bar high for e-card design. They have a nice collection of free cards too, including free holiday cards and unique birthday cards.
To send a card, click on it to view a preview, then click to skip to the end to add text, which is key since these cards have no added text whatsoever.
3. JibJab
Videos and songs are great for conveying messages or feelings. There are several templates or stock videos to choose from and you can impose yours or someone's face over them to make personalized videos.
JibJab does need the creation of a free account to start sharing the e-cards.
check out JIBJAB here
4. Just Wink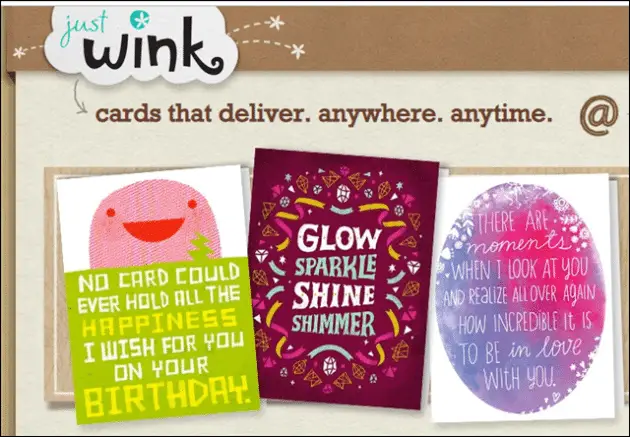 Just Wink has a decent collection of some beautiful free ecards that have options for every possible occasion. From the regular graphical cards to the animated ones, Just Wink covers every season for you. It does not only contain the traditional card designs that you see on most other sites (birthday ecards, anniversary ecards, etc.) but also offers you some unique designs for various occasions.
Often forget to send a card when it matters? Don't worry. JustWink has your back. It gives you an option to schedule ecards in advance so they are sent out on the right time and date. You don't have to rely primarily on their desktop version as you can use it on your phone with its own mobile app.
Just Wink is the only app that delivers cards anywhere anytime. Whether you prefer sending soft copies of ecards via email or Facebook or getting physical cards printed and delivered to an address, Just Wink is the ultimate service to rely on.
Check out Just Wink here
5. 123Greetings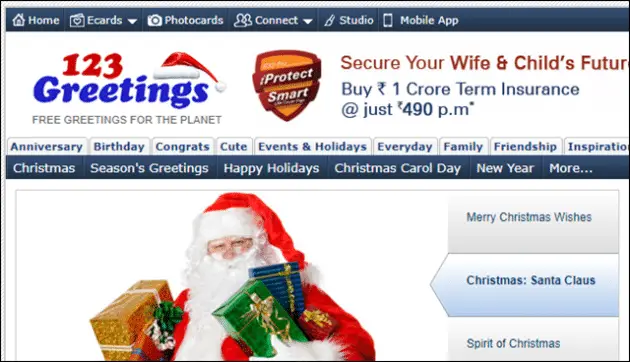 Turning your own photos into greeting cards is a fun concept when you are sending them to loved ones and 123Greetings does that very well. The website design might make you think about the internet of the '90s, but who cares if you are getting a wide range of cards for Christmas, Holidays, Birthdays, New Year and other occasions.
Right from the static greetings to the beautiful animated creations, 123Greetings is worthy of your attention.
There is a mobile app for the convenience of the user and it works quite well. 123greetings gives you an option to reminders or schedule cards to be sent months in advance if you are forgetful and don't ever want to feel guilty of missing an important occasion.
Check out 123Greetings here
6. Punchbowl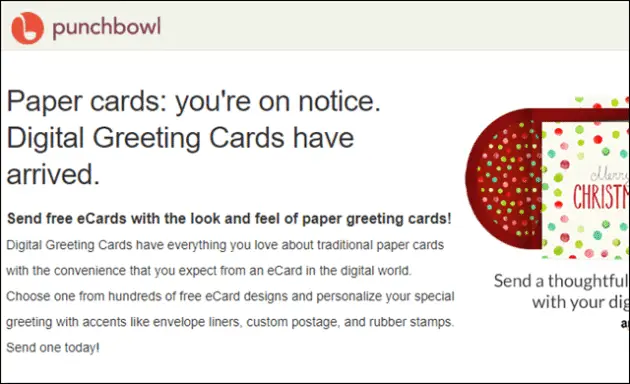 Although showcasing a limited collection, Punchbowl is a fresh treat for people looking for something elegant and stylish. You can send free ecards to a bunch of friends and family at once. Sending wishes to loved ones and friends digitally is the best way to reach the maximum number of people and hence the need for ecards, and Punchbowl makes it easy.
The envelope liners, custom postage, and rubber stamps help you customize your greetings with a personalized message. No matter it's a pet's birthday, Milestone birthday, Apology card, or Good luck wishes, Punchbowl is your one-stop shop to get you all that you need at the same place.
Check out Punchbowl here
7. CrossCards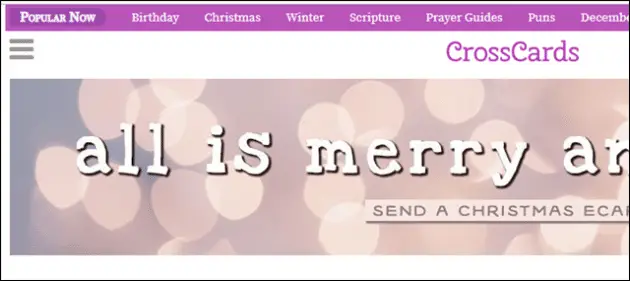 If you are spiritual or love reading religious and faith-based messages, CrossCards is a good choice for you. It blends the standard design of cards with some heart-warming thoughts whether you want to motivate your buddy or encourage someone in their difficult times.
Occasions like Birthdays, Anniversaries, holidays can be made beautiful by sending some warm wishes via ecards to your dear ones. CrossCards is one of the best free ecards sites that help you send some love in the form of on-the-go digital cards.
Check out CrossCards here
8. Open Me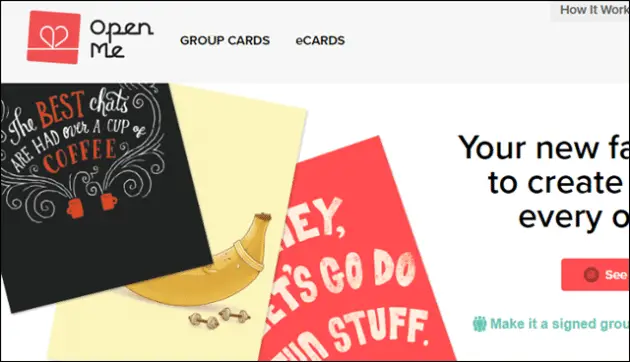 Love sharing free ecards via email and Facebook? Look no further!
Open Me is inclined towards some old and classy designs rather than the modern animated ones. The collection works great where you want to personalize a blank card with your own photos and messages. Scheduling cards in advance make it easier not to forget any important occasion due to a busy schedule.
You can also sort out the cards that you like, at one go so that you don't have to look into that again.
One special feature that needs a mention is Groups Cards, where several people can collaborate on a single card. For Eg, if you want to wish a colleague for a farewell in the office.
Check out Open Me here
9. Pingg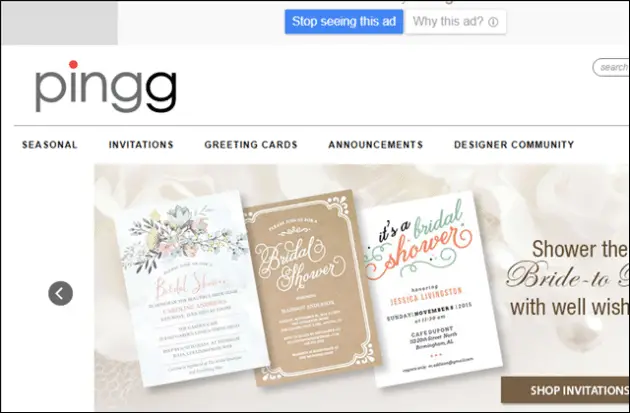 Be it a birthday, holiday or any occasion, Pingg features ecards that bring customization to your fingertips. The ecards listed on Pingg are from an independent designer community. It is more into creating invitations rather than being a full-fledged ecards resource. After sending an invitation, you can take the follow-up and track the response and attendance to your event.
Do you have an announcement that you want people to know? Yes, you can do that too. There is an online ticketing facility where you can sell tickets and collect funds for your event, but it's not free.
10. Blue Mountain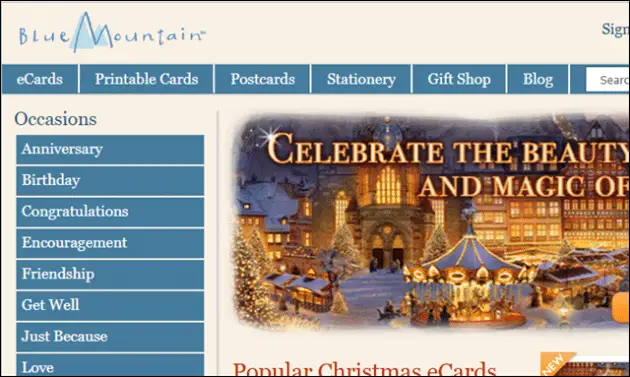 Straight from Christmas, Anniversary, Birthday, Encouragement, Sympathy to Thank you wishes, Blue Mountain is a gem covering all the special days for you. Every day can be a reason to celebrate happiness and send ecards. Blue Mountain cards is a sort of solution to every situation when you are searching for some unique and trending ecards for any occasion.
It has been around a long time and offers a free trial. It's worth spending a few bucks when it comes to appreciating artwork and elegance of the ecards showcased on this site. There is a wide range of printable cards also.
It charges $4.99/month and has a special document if you go for an annual package that is $19.99/year.
Check out Blue Mountain here
11. Care2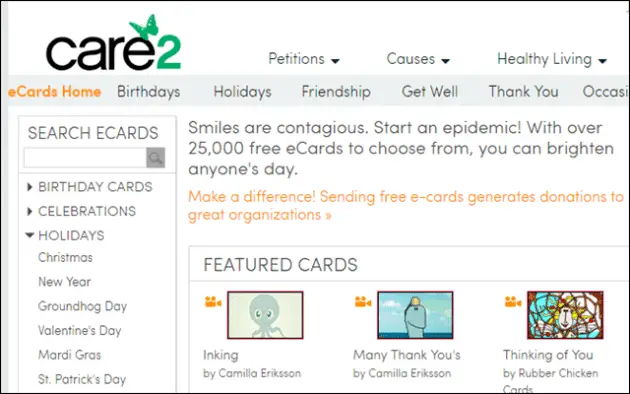 With over 25,000 free ecards, Care2 has a simple and cute interface with all the occasions you can think of. It just needs a small effort to brighten up someone's day with a sweet gesture of sending them ecards. This website is made possible by the hard work and contribution of thousands of articles.
The featured artists' section is a token of appreciation for some upcoming talents. When you send free ecards via Care2, it generates a donation to some charitable organizations. Hence, participating in this goodwill effort by sending some good wishes to your loved ones is a step towards being generous to everyone.
Check out Care2 Cards here
12. Kudoboard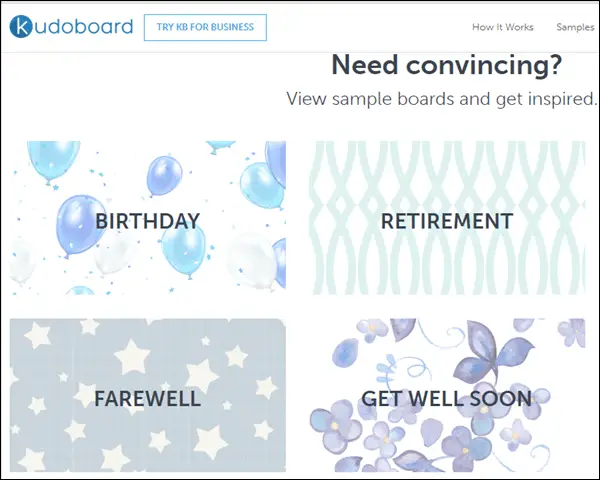 This one stands a bit different from the crowd. Kudoboard delivers wishes and messages via a group card. Choose the person who is going to receive the online group greeting card and attach messages, images, videos to the board. You can even ask your friends and family members to contribute to the content of the group card.
Once the card ready, send it via Kudoboard online or you can also get it printed. The Mini board version is free where you have maximum 10 board posts, whereas in the paid version, which starts from $4.99 (one time charge), gives you access to unlimited posts and contributors.
Check out Kudoboard here
Conclusion
It's great seeing e-card sites finally stepping up their game in their free categories. So many people are using these sites nowadays that the sites should be able to support themselves with advertising money alone. If you haven't used an e-card site in a while, now is definitely the time to check out these sites to see how they've improved.
To create your own greeting using your Gmail account, check out our post – Gmail: How To Insert or Embed Images In The Email Message