Maybe you don't have time to buy a gift or a greeting card at the store, or perhaps you just don't want to destroy more forests to create paper. You are not sure if you want to consider gifting an app or a custom-designed gift card. Whenever your reasons, online greeting cards, also known as ecards, have become the go-to greeting card solution for millions of people. Hence, people often spend time browsing for the best free ecards and premium ecards with likable designs that fit their requirements. 
Unfortunately, they've also gotten a bad rap for one big misstep – often providing low-quality cards, especially on the free ecards sites. For years, online greeting card sites only provided good cards for those willing to pay, but that's not necessarily the case anymore. You can get amazing birthday ecards, free anniversary ecards, sympathy cards, season greetings and so much more. There are a handful of online card sites silently changing this stereotype.
Best Free Ecards and Premium Ecards To Make Every Occasion Memorable
We have outlined the 12 best online greeting card sites you can use to send a greeting in style. You can refer to any of the websites and choose particular messages for any occasion to make it memorable. Pricing options vary for these sites from free to premium subscriptions, so there is something for everyone regardless of your budget.  
1. Ojolie Cards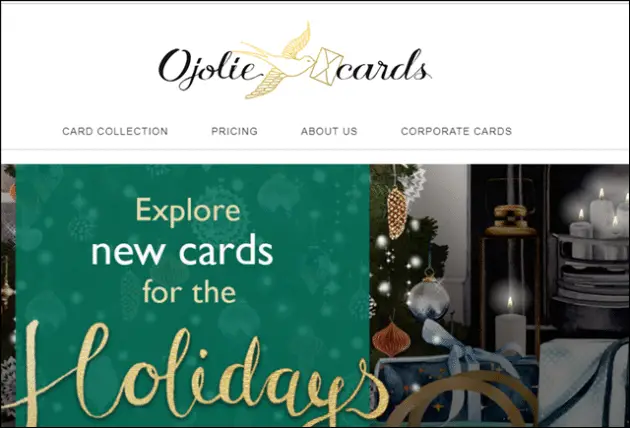 Started by a husband and wife team: Frederikke, a Danish artist, and Timothy, a Taiwanese American IT specialist, the duo founded Ojolie, one of the most beautiful greeting cards sites you'll find online. Many of the best free ecards have hand-painted, animated designs with a feminine touch, which set the bar high for e-card design. With a beautiful color scheme, they have a nice collection of free cards too. It includes various types of free holiday cards and digital birthday card.
To send a card, click on it to view a preview, then click to skip to the end to add custom message text, which is key since these cards have no added text whatsoever. Ojolie Ecards offers a free plan with limited availability of templates, a 1-year subscription for $14, and a 2-year premium subscription plan for $21.
2. JibJab
Videos and songs are great for conveying messages or feelings. JibJab ecards know this fact pretty well, which is why they offer some exciting videos for multiple occasions. There are free Christmas ecards, birthday cards, music video ecard, business cards, and a huge collection of cards for many other occasions like new year, Hanukkah, weddings, and anniversaries. 
However, that's not the reason whyJibJab is a well-known online platform. There are several funny ecards, templates, and stock videos to choose from, and you can impose yours or someone's face over them to make personalized videos. JibJab has a limited collection of free ecards but it does need the creation of a free account to start sharing the e-cards, and you can also share these cards without having to shell out any cash.
3. Just Wink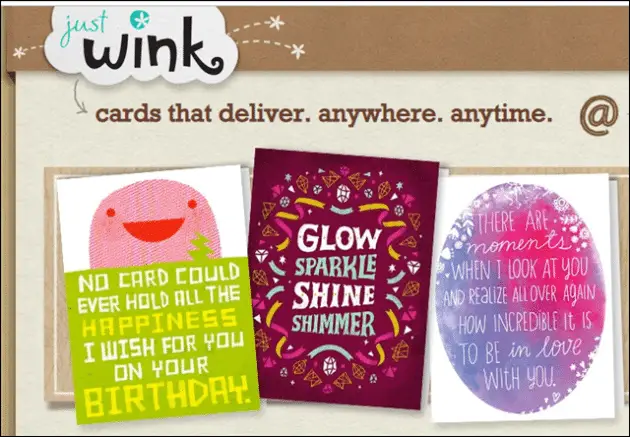 JustWink, also known as American Greetings, has some of the best free ecards for every occasion. From the regular graphical cards to the animated ones, this ecards website covers every season for you. It does not only contain the traditional card designs that you see on most other sites (birthday ecards, anniversary ecards, etc.) but also offers you some unique designs for various occasions.
Often forget to send a card when it matters? Don't worry. JustWink has your back. It gives you an option to schedule ecards in advance, so they are sent out at the right time and date. You don't have to rely primarily on their desktop version as you can use it on your phone with its own mobile app.
Just Wink is the only app that delivers cards anywhere, anytime. Whether you prefer sending soft copies of ecards via email or Facebook or getting physical cards printed and delivered to an address, Just Wink is the ultimate service to rely on. It provides a 7-day free trial. The one-year subscription can be purchased at $19.99, while the two-year membership costs $29.99. Monthly plans can be availed at $4.99 per month.
4. 123Greetings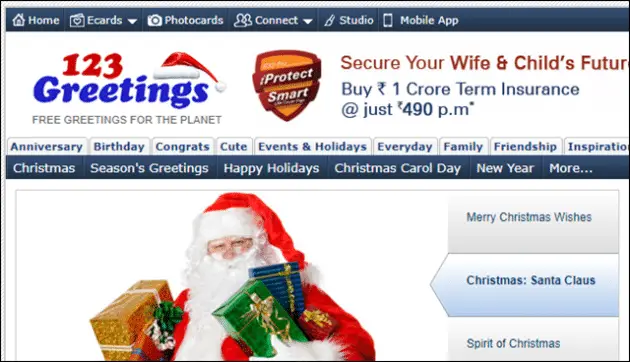 Turning your own photos into greeting cards is a fun concept when you are sending them to loved ones, and 123Greetings does that very well. The website design with colorful illustrations might make you think about the internet of the '90s, but who cares if you are getting all type of cards. It includes a huge selection and wide range of cards for Christmas, special holidays, birthdays, New Year, and other occasions.
Right from the static greetings to the beautiful animated creations, 123Greetings is worthy of your attention. There is a mobile app for the convenience of the user and it works quite well. 123Greetings gives you an option to reminders or schedule cards to be sent months in advance if you are forgetful. So, don't ever feel guilty about missing an important occasion. 
Thanks to the wide variety of free email greeting cards it provides, 123Greetings is one of the best free ecards websites in the market. Also, this website doesn't charge a single penny for using any of the ecard templates.
5. Punchbowl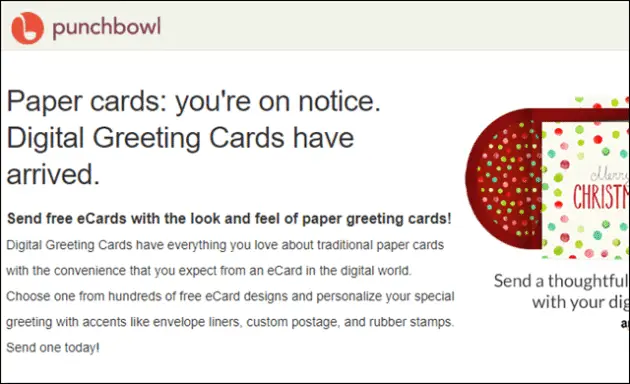 Although showcasing a limited collection, Punchbowl ecards are a fresh treat for people looking for something elegant and stylish. You can send free ecards to a bunch of friends and family at once. Sending wishes to loved ones and friends digitally is the best way to reach the maximum number of people and hence the need for ecards, and Punchbowl makes it easy.
The envelope liners, custom postage, and rubber stamps help you customize your greetings with a personalized message. No matter if it's a pet's birthday, Milestone birthday, Apology card, or Good luck wishes, Punchbowl is your one-stop shop to get an array of options at the same place.
Punchbowl has a 7-day free trial and offers three pricing plans; the Exclusive Designs plan is available for $2.99 per month, Premium Features charges $3.99 per month and the Remove Advertising for $4.99 per month.
6. CrossCards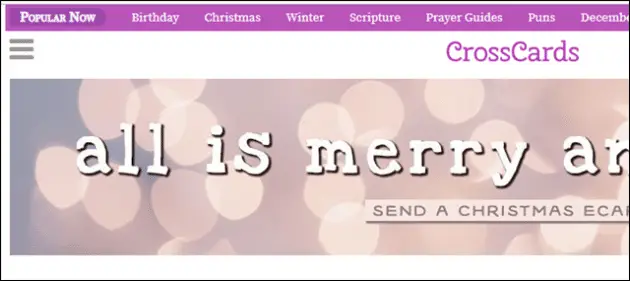 If you are spiritual or love reading religious and faith-based messages, CrossCards has some of the free email greetings cards in store for you. It blends the standard design of cards with some heart-warming thoughts whether you want to motivate your buddy or encourage someone in their difficult times.
Occasions like birthdays, anniversaries, and holidays can be made beautiful by sending some warm wishes via ecards to your dear ones. CrossCards is one of the best free ecards sites that help you send some love in the form of on-the-go digital cards. Users can create their own account for free on CrossRoads and don't have to pay anything for sending an ecard to their peers.
7. Open Me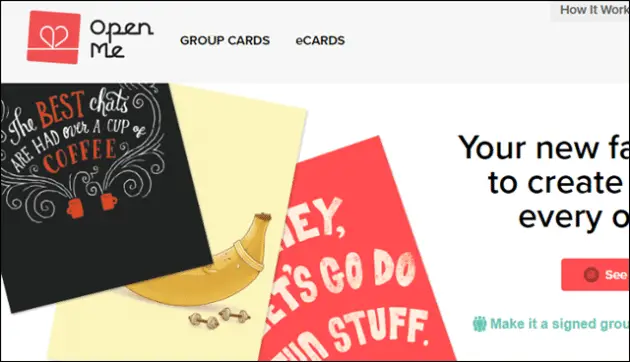 Love sharing free ecards via email and Facebook? Look no further! Open Me is inclined towards some old and classy designs rather than the modern animated ones. The collection works great when you want to personalize a blank card with your own photos and messages. 
Scheduling cards in advance make it easier not to forget any important occasion due to a busy schedule. You can also sort out the cards that you like, in one go so that you don't have to look into them again.
One special feature that needs a special mention is Groups Cards, where several people can collaborate on a single custom ecard. For Eg, if you want to wish a colleague a farewell in the office. Open Me is a free website with hundreds of best free ecards available for use. So, if you are planning to make an ecard for the very first time, do give this website a try.
8. Blue Mountain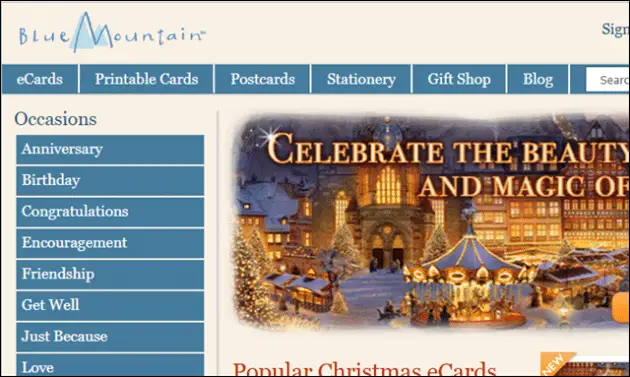 Straight from Christmas, anniversary, birthday card, encouragement, and sympathy to Thank you wishes, Blue Mountain is a gem covering all the special days for you. Every day can be a reason to celebrate happiness and send ecards. Blue Mountain cards have a wide selection of ecard collection when you are searching for some high-quality free eCards.
Regarded as one of the best free ecards, Blue Mountain has been around a long time and offers a free trial. It's worth spending a few bucks when it comes to appreciating the artwork and elegance of the ecards showcased on this site. There is a wide range of printable cards also. It charges $4.99/month and has a special document if you go for an annual package that is $19.99/year. There's also a two-year-plan available for $29.99.
9. Kudoboard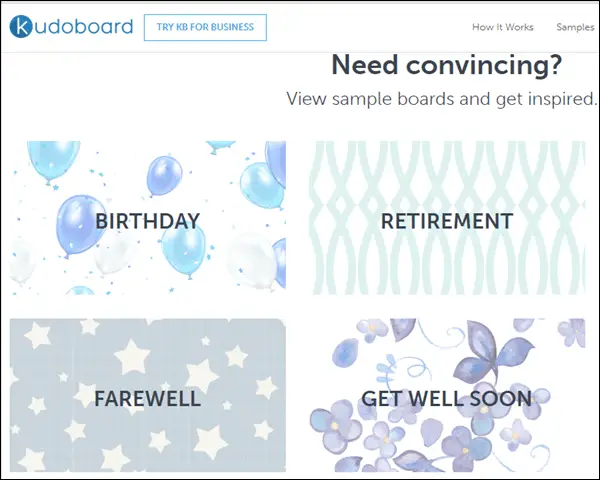 Kudoboard stands a bit different from the crowd. It delivers wishes and messages via a group card. Choose the person who is going to receive the online group greeting card and attach messages, images, videos to the board. You can even ask your friends and family members to contribute to the content of the group card.
Once the card is ready, send it via Kudoboard online, or you can also get it printed. The Mini board version is free, where you have a maximum of 10 board posts, whereas the paid version, which starts from $5.99 (one-time charge), gives you access to unlimited posts and contributors.
10. Hallmark eCards
Hallmark eCards has a playful and impressive user interface that ignites the desire to explore the website. Beyond that, you can name any occasion, and Hallmark eCards will present you with catchy designs for the same. Family holiday cards, festivals, happy birthday cards, anniversaries, animated ecards, and love cards are some of the well-known categories of ecards available on this website.
There are various types of personal message options with different tones that you can send to your peers through Hallmark eCards. Be it inspirational, heartfelt, religious, sweet, or funny, there's an abundance of the paperless post to choose from. Hallmark eCards starts with a $5 per month subscription plan. The one-year plan is available for $18.
11. Greetings Island
Sending personalized messages is a hallmark of electronic cards. Greetings Island has seemingly understood this aspect very well, given the numerous types of cards and messages it provides for its users. You can create the perfect card with premium options for multiple occasions and share them with your family and peers.
Regarded as one of the best free ecards websites around, Greetings Island doesn't require any user account. The user interface is simple to understand, which makes editing ecards a cakewalk. The monthly subscription plan charges $2.95; you can also avail the annual plan at $23.40.
12. Wrongcards
Well, the best free ecards website has messages that emanate friendship, love, gratitude, and many other tones, isn't it? But how about having messages with a touch of wit and sarcasm for your friends? 
Wrongcards gives you exactly that. There are many categories, like Celebrity, Romance, Celebration, Holiday, and much more. Filled with extra features, humor, and sarcasm, these messages can also confuse your peers, leaving them bewildered!
You can also include your own message and know when your recipient opens the card. Cards can also be scheduled via your online address book as per your preferences. Wrongcards require no login to access the cards. Also, it's a free website, so you can send as many cards as you wish.
Conclusion
Special occasions always require traditional paper greeting cards, but many people are changing the trend. You can choose to plug this gap by sending a perfect eCard to your peers. Making an ecard requires very little time, and it can also be sent to multiple recipients without having the need to buy and post these cards physically. 
Before handing out ecards, it is essential to determine the cause for them and then choose one of these websites. If you are a beginner, make sure to check out the best free ecards available at 123Greetings or Open Me. For corporate purposes, you can go for Kudoboard. The choice of websites depends primarily on your needs and requirements.
This article may contain affiliate links.
(Updated on 4th July 2022)