Whether you call it a laptop cooling pad or a notebook cooler, people have been skeptical of this laptop-cooling device since the beginning. Many doubt it can keep temperatures under control, thus extending its lifespan, while others believe it can certainly prevent overheating.
Perhaps the lifespan of the battery isn't as extended, but studies, such as one conducted by Brigham Young University, have proven that laptop coolers do help keep laptops around 20% cooler (5 – 10 degrees). When you keep your hard drive cool, your laptop's lifespan is extended in a big way. Another impact is the amount of power you use as the fans don't need to work as hard. They also help keep laptops cool by elevating the laptop off the surface about 2 inches, allowing air-circulation underneath.
Our guide will outline the best 10 laptop cooling pads that are worth every penny.
Best Laptop Cooling Pads in the Market
1. Cooler Master NotePal X3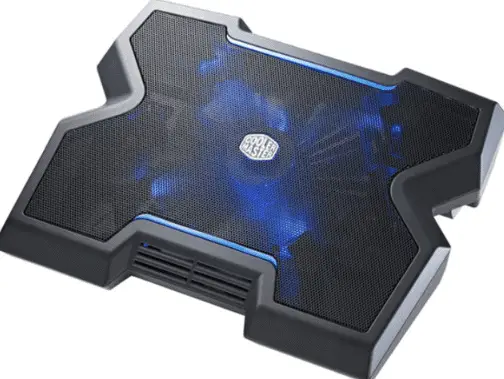 The Cooler Master NotePal X3 is a laptop cooling fan a lot of computer-users love. It's made of aluminum mesh and plastic casing. It has 1 large fan that's 200 cm around, and it has blue LED lights too. The fan speed has a max of 50 RPM, which is impressive and there's a knob on side that controls fan speed. Also, there are cool 6 nifty vents in the front to help with ventilation, or even help with drying sweaty fingers.
This powerful laptop cooling pad has been even known to cool laptops with non-working fans. It also has both mini USB and regular USB ports and fits laptops up to 17″.
2. Thermaltake Massive 14 Notebook Cooler
For a laptop cooling pad with high-powered cooling capabilities, the Thermalbake Massive 14 Notebook Cooler made of hexagon metal mesh for better airflow takes the blue ribbon. This laptop cooling pad features two large fans that measure 14cm around with blue LED lights. It also has a larger width, fitting laptops up to 17″, and it's USB powered with two USB ports.
The fans are quite powerful, going up to 1200 RPM, which attests to its cooling abilities. To control the fan speed, there's an on/off switch on the left side, as well as a toggle switch to adjust the fan speed.
3. Targus Lap Chill Mat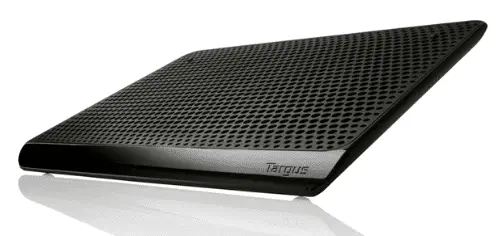 The Targus Lap Chill Mat is a popular cooling pad made for laptops up to 17″ and this cooling pad is made to sit comfortably on your lap. It has two fans to cover all areas and the fans are quiet, making this cooling pad especially good at cooling a laptop during an intense gaming sessions. Additionally, the cooling pad is USB powered and there are two USB ports.
When you set the Targus Lap Chill Mat on your lap, it also has a neoprene cover to help it stay cool underneath. As for the materials used in the construction of the Targus Lap Chill Mat, it's made of an aluminum mesh and partial plastic casing.
SALE
4.Belkin CoolSpot USB-Powered Laptop Cooling Pad
Belkin CoolSpot laptop cooling pad provides brilliant cooling with quiet technology that will never distract you from work. Its AirFlow wave design allows continuous and evenly dispersed air streams. The cooling pad is USB-powered.
Now you can run your laptop with full efficiency whether you are gaming, browsing or shopping as CoolSpot is there to minimize all the heat that is generated. It is lightweight and portable too.
5.  Kootek Cooler Pad Chill Mat 5
Kootek Cooler Pad Chill Mat 5 gets great value for the price.
It comes with total 5 fans; four Fans with the dimensions 70x70x15mm(2.76×2.76×0.59 inch) and a large fan with the dimension 120x120x25mm(5.9×5.9×0.98 inch).
It helps to keep 12″-17″ laptop cool. There are two switches shut ON/OFF the 5 fans and LED separately.
You can either select one fan to work or all the 4 fans or both. The dual USB hub allows you to connect more USB devices.
The ergonomic stand has 6 adjustable height settings to do various tasks at the most convenient level.
SALE
6. CM Storm SF-17 Gaming Laptop Cooling Stand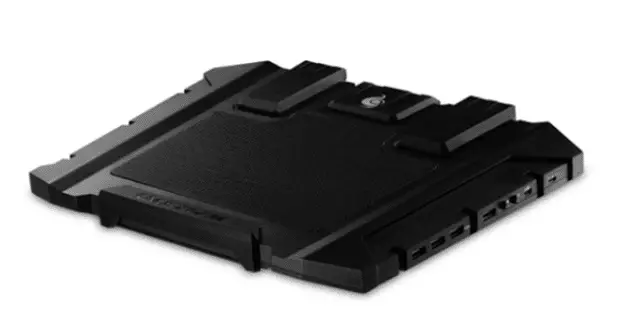 CM Storm SF-15 is aimed toward power-hungry gaming laptops. If you are looking for the best gaming laptop cooling pad, then CM Storm SF-15 should be the first choice for many gamers.
The 6 LED strips underneath make it look elegant and fashionable. It is equipped with a soundless 160mm fan that is designed to maintain minimal noise level.
The fan can spin up to 1200 RPM for maximum cooling and can be lowered up to 700 RPM for less noise. The rubber handle makes it easy to carry it with your laptop anywhere you go.
There are 4 USB ports where you can connect additional peripherals.
7. TopMate Laptop Cooler
The elegant TopMate laptop cooler is another good pick if you are looking for some best gaming laptop cooling pad. It weighs just 1.1lb for the laptop between 10″ to 16″ including Apple MacBook, MacBook Air, Samsung, etc. The two ultra-quiet fans give a noiseless performance with the two extra USB ports.
The one USB port is for power supply from the notebook and other for Mobile/U disk. The ergonomic stand has two adjustable height settings. The five fans of the cooling pad can be customized to change the airflow.
SALE
8. Tree New Bee Cooling Pad
Tree New Bee purely deserves to be in this list of best laptop cooling pads for its efficient and power-pack performance. The aerodynamic design provides a smooth airflow that reduces heat and cools your laptop.
It enhances the cooling performance by up to 20% when compared to the laptop without a cooling pad. It gives a better viewing and typing angle if you work for long hours and prevents you from straining your neck, back, and wrist.
The fan with neon blue LED helps in circulating heat from your laptop along with giving it a cool appearance. The fan speed is adjustable and it has one USB cable and 4 fans.
9. Aluratek Slim USB Laptop Cooling Pad
The Aluratek Slim USB Laptop Cooling Pad is a compact-designed and simple cooling pad that is easy to carry it anywhere, especially if you are traveling.
It supports laptop models including MacBook Pro, MacBook Air, Chromebook, Ultrabook, netbooks and all laptops up to 17 inches. The USB cable is neatly tucked underneath the pad that provides easy portability.
This cooling pad is perfect for school, home, and even office use. It features two large 5-inch diameter fans with the spinning rate of 800 RPM.
It has a metal mesh surface that allows for unobstructed airflow while increasing its cooling performance.
10. .Havit HV-F2056 Ultra-Slim Laptop Cooler
The Havit HV-F2056 is just like other laptop cooling pads with a slim, portable and lightweight design. There are two adjustable height settings.
It is made of high-quality multi-directional metal mesh that provides your laptop with a stable surface.
There are three fans to create a noise-free cooling environment for you. The extra USB port, power switch design; the built-in dual USB hub allows you to connect more USB devices if you want to.
The overall performance and cooling are enough to work with your normal workflow.
SALE
Conclusion
For anyone who uses their computer for long periods of time or pushes their PC to the max with gaming, a laptop cooling pad is a must. However, with most cooling pads rarely going over $30, it's a small place to pay for all laptop owners who want to give their poor old laptop fans a much needed break.
For advice on extending the lifespan of your laptop's battery, read our post – The Ultimate Guide To Extending Laptop Battery Life