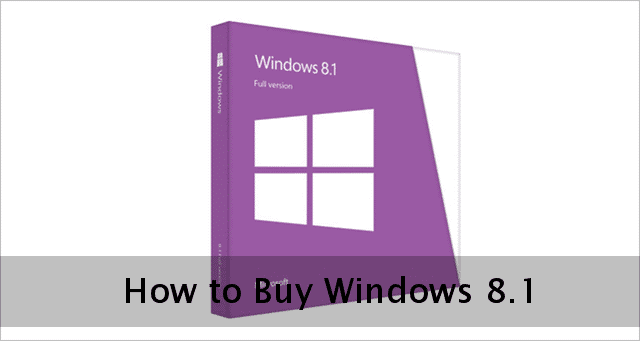 Windows 8.1 has been greeted with mixed reviews from consumers and the industry at large. The first major upgrade to the latest Microsoft OS has seen its share of cheers and jeers, and if you're looking to give Windows 8.1 a shot, you're not alone.  If you're ready to upgrade to Windows 8.1 or buy a new computer with it, we'll give you a breakdown of how to purchase Windows 8.1 from a retailer or from Microsoft's online store.
If you don't have a Windows 8 computer, you can buy Windows 8.1 outright. We'll show you how to buy Windows 8.1 so you can take advantage of everything it has to offer PC users.
How to Buy Windows 8.1
There are two ways to buy Windows 8.1. Let's look at them so you can determine which one is right for you, your PC and your setup whether you're dealing with a personal computer at home or your work machine at the office.
Buying Windows 8.1
If you're using Windows XP, Windows Vista or Windows 7, you'll need to buy the Windows 8.1 upgrade. Luckily, Windows 7 consumers can use the digital download and installation process for Windows 8.1. For those still using Windows XP and Windows Vista, you will need to buy the installation DVD to upgrade to Windows 8.1 – and that'll only work if your PC meets the minimum requirements for Windows 8.1.
Before you buy Windows 8.1, compare your computer's specs as is to what Windows 8.1 requires.  While there are minimum requirements, you should always go above and beyond to ensure you're running at maximum efficiency.  While Windows 8.1 will work with a minimum spec computer, it'll run even better if you have a new machine or an upgraded PC or laptop.
You can buy Windows 8.1 from major in-store and online retailers across the world. Everywhere from Amazon.com online to Wal-Mart sells Windows 8.1.  The price shouldn't vary much from retailer to retailer unless they're offering a specific sale approved by Microsoft.  If a company is offering an insanely cheap price on Windows 8.1, we recommend contacting Microsoft directly to ensure you're not being ripped off or taken advantage of.
You can also buy Windows 8.1 from Microsoft's website which is what Microsoft itself recommends.  Microsoft has changed the way Windows 8, and Windows 8.1, is downloaded and installed over the Web.  By using streaming technology, Microsoft has made it easier than ever to buy, download and install Windows 8 and Windows 8.1.  This makes the process more efficiency and speedier than ever.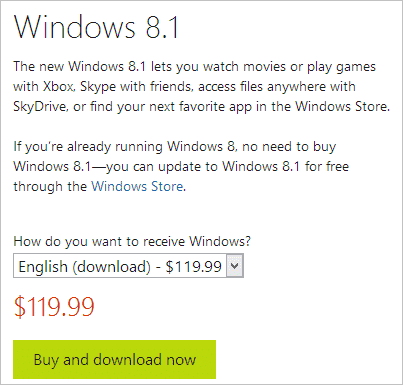 Once there, click the drop-down menu to choose the version you need.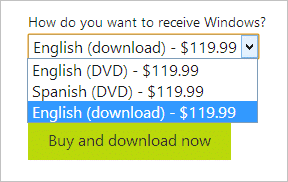 As long as you choose a download upgrade, you can make the buy and start the process right away. If you buy a DVD, you'll have to wait for it to arrive and then follow the standard installation process you've been used to for years.  If you need another language version of Windows 8.1, you'll want to contact Microsoft directly to find out if its available in your country or when it will be if it's not.
Buying a Windows 8.1 Computer
If you're using a Windows XP or Windows Vista computer, you may not be able to upgrade to Windows 8.1. If your hardware doesn't meet the minimum requirements, you'll need a new PC. You can buy a Windows 8.1 PC at many computer retailers and online through websites such as Dell, HP, and others.
If you buy a Windows 8 computer, you can upgrade to Windows 8.1 for free through the Windows Store.  This may be easier in the last quarter of 2013 as there may not be as many Windows 8.1 PCs available for you to buy until the Spring.
Conclusion
If you're looking to see what the hype is about and are ready for an upgrade, buying a new Windows 8.1 computer or upgrading is the way to go. While it may seem expensive, buying a new Windows 8.1 computer can be an amazing upgrade to what you're currently using. If you can't afford a new computer but want to give your PC a boost, upgrading to Windows 8.1 is the way to go. Windows 8.1 is here, and it's up to you to decide whether the upgrade is worth it.
Have you had any issues with buying and upgrading to Windows 8.1? Let us know in the comments below, and we'll troubleshoot the process with you. That's what we're here for!