Love it or hate it, Facebook is a fact of our lives, and many of us often receive messages we'd like to keep. We also receive messages we think we don't need at all and delete them, only to find out later on that was a really stupid thing to assume. Simply put – finding out the hard way that Facebook does not recover deleted messages is never a pretty thing.
But there's a lot more than just knowing what not to do when it comes to losing your Facebook messages. From archiving your messages to backing up your entire Facebook account, our guide will outline the 2 best methods for preserving your messages in Facebook.
See Also: 4 Best Ways to Display Special Characters on Facebook and Twitter
How to Archive Your Facebook Messages
When you're finished viewing a message in Facebook, you have a few options:
1) Leave it be and let it linger in your inbox.
2) Delete it so it's not cluttering up your inbox
or
3) "Archive" your message so you can view it later.
Many people, however, forget about the "Archiving" messages feature, which is a handy way to store messages you don't want to see anymore but still wants to store for safe keeping. To archive a message, select "Archive" from the drop-down "Actions" menu when viewing a message.
After you click to move a message into your Facebook archives, it will be moved right away. To view your "Archived" messages folder, click the "More" drop-down menu button at the top of the left column of your inbox.

This way you can always access your messages and don't have to see them in the inbox. Another option to keep a record of your Facebook messages is to back up your entire Facebook account. Let's see how it's done.
Backing Up your Facebook Account
Another way to protect your Facebook messages is to back up your entire Facebook account. This is definitely a thorough way to do it, but it works. You also want to make sure you do it on a regular basis, roughly every two months or so.
To backup your Facebook account, login and click the "Gear icon" in the top-right corner of the page. From the drop-down menu that appears, click "Account settings."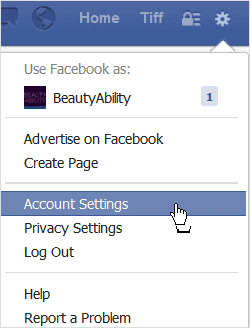 Next, your account settings page will load. On this page, all you have to do is click "Download a copy of your Facebook data" at the bottom of your "General Account Settings Page."
Next, click "Start My Archive" on the next page that opens to begin the download.
Facebook will next tell you that it may take a bit to retrieve all of your Facebook data. Look for an email confirmation when the download of all of your Facebook data is ready.
When your data archive is delivered, your "Messages" folder will be included in the first of two folders; the folder titled "html." This folder will contain messages you've both sent and received since being on Facebook.
Note: Deleted messages are excluded from the backup.
Conclusion
You may think you know a method for resurrecting old Facebook messages, but make no mistake – Facebook no longer makes this possible. Any tricks up your sleeve on that would be best avoided.
Instead, keep your messages safe by making it a habit of archiving your messages, instead of just reading them, as well as backing up your Facebook account often, and you're on your way to never lose an important Facebook message again.
For information on backing up email data, check out our post – Backup Your Gmail Account to the Cloud Using Backupify