Update: iOS 7 Jailbreak Released, But Here's Why You Should Avoid It Temporarily
It was six months ago we looked at iOS 7 beta. Since then we have seen the release of iOS 7, and it's consequent update to 7.0.4, but so far no one had figured out a way to jailbreak this iOS version. We were hoping that the jailbreak will be released when Apple comes out with iOS version 7.1.0.
The guys behind evasi0n have figured out a way to do an untethered jailbreak for iOS 7 (which came as a surprise for a lot of people). evasi0n is a portable program that's usually the first choice of users when it comes to jailbreaking iOS devices.
However, before jailbreaking iOS 7, it's important to create a device backup in the event something goes wrong. Follow along as we look at backing up an iOS device and then jailbreaking iOS 7.
See Also: A step-by-step Guide to Downgrade Your iOS Firmware
iOS 7 Jailbreaking Instructions at a Glance
It's important to follow these instructions closely to help avoid unwanted problems.
Backup your device with iTunes or iCloud
Disable the pass code if you have one
Run evasi0n to jailbreak your device
Supported iOS Versions: 7.0, 7.0.1, 7.0.2, 7.0.3, 7.0.4, 7.1 beta1, 7.1 beta2
Supported Device Versions: iPhone 4, 4S, 5, 5C, 5S   |   iPad 2, 3, 4, Air, mini, mini 2   |   iPod Touch 5
Backup Your Device With iTunes
Backing up your iOS device will ensure you can always restore back to your regular settings and apps if the jailbreak process goes off it's intended course and renders your device useless. A backup will make you feel tons better about trying this jailbreak, so go ahead and back it up before you continue.
If you have used your iOS device for some time, you must already be familiar with the process to back up your device. If not, you can begin by downloading iTunes, installing it on your PC and then opening it with your device plugged in.
Find the section for backing up and restoring devices, then choose the button called "Back Up Now."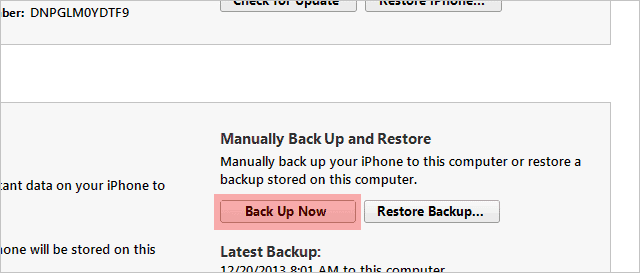 It may take some time depending on how many files and apps you have, as well as how fast your computer is.
With iTunes having a fresh backup of your device, it's time to jailbreak iOS 7 with evasi0n.
Jailbreak Your iOS 7 Device With evasi0n
Go to the evasi0n website and choose your operating system.
The evasi0n program is available from the cloud storage website: MEGA. Choose "Download" to begin downloading the program.
Unzip the downloaded file to reveal the evasi0n program. evasi0n is entirely portable, so it doesn't install on your computer.
Don't forget to remove your device's passcode at this time if you have one set up.
When evasi0n is open, ensure your iOS device is still plugged in. Then just click "Jailbreak" to begin.
Important: Your device will reboot partway through the jailbreak. This is normal, so don't unplug the device just yet.
Nearing the end of the jailbreak, evasi0n will tell you to open "evasi0n 7" shortcut on your home screen. Do this to have your device reboot once more.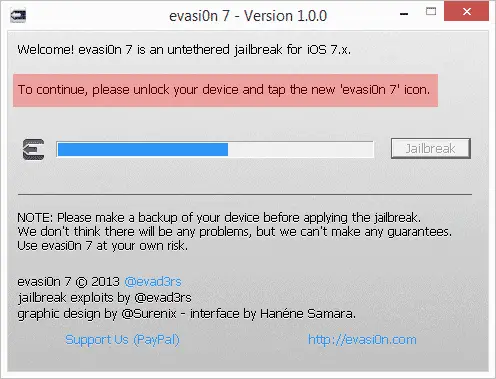 One or two more reboots may occur before the jailbreak is finished. I waited a total of 10 minutes from start to finish for evasi0n to jailbreak my iPhone 4S.
You can exit the evasi0n program when it says it's done. You'll see some evasi0n images on your device while it finishes the jailbreak and reboots again.
Finally, you'll be taken to your lock screen like normal. Unlock your device to find the Cydia icon.
Here's Cydia running on my iPhone 4s with iOS version 7.0.4:
Final Thoughts
Now that you have Cydia running on iOS 7, see if these 5 themes are compatible with your device. Remember that if anything seems out of place or you decice you want your regular device back, just restore back to the backup you made earlier.