With the increasing popularity of podcasting, everyone now days seems to have their own podcast or an idea for one, but finding a host for your podcast isn't as easy. The size of your podcast can determine the best host for your show, and even then it can be tricky choosing the best one.
First and foremost, having your own website is your first step in getting your podcast hosted and out there the best way, but not all website hosts are good hosts for podcasts and other media. Many have strict rules and will ban users from storing large downloadable audio or video files as they bog down their servers, hence the need of separate podcast hosts.
Our guide will outline the 8 best hosting options for your podcast.
Top Sites to Host Podcasts
SoundCloud

You may have heard about SoundCloud which allows users to upload and share music with everyone. Although it is primarily targeted towards musicians it can be an excellent service to host your podcasts
When you sign up for some cloud you'll get your personal profile with a dedicated URL. When someone will access your profile they will see what exactly have you uploaded, and they'll be able to share it on social networks, re-post it on their own sound cloud profiles are added to their personal playlists.
Soundcloud offers free as well as paid plans, and they are pretty reasonably priced. The free version has certain limitations but the pro version will give you an idea who exactly has listened to your podcast, where are they from and other important stats. The distinct advantage is the quality of service and the excellent user interface, but the limitations of uploading in the free version might be a turn-off for some.
The Gigaom Chrome Show is a good example of podcasting using Soundcloud. you can check it out here.
Check out SoundCloud
Archive.org
One of the most well-known and popular podcast hosts is Archive.org. This website will host any kind of media file you upload, including MP3 files. While the site is a bit slow and replacing media once it's uploaded is impossible, it's a solid free host that offers plenty of embedding options.
Check it out: Archive.org
Amazon S3
If you're willing to pay money for your podcast hosting, Amazon's Amazon S3 hosting is great because it offers quality hosting services at a lower price in comparison to other pay hosting services. It does have a free plan as well, with a limit of 5 GB of storage and a limit of 20,000 get requests.
The only drawback to this hosting service, however, is that your monthly charge will go up as your subscriber numbers increase. The same goes for the more podcast episodes you upload. The service will host any kind of media you upload as well.
Check it out: Amazon S3
Ourmedia.org
For another completely free podcast host offered by a not-for-profit organization, check out Ourmedia.org. This media host doesn't limit file bandwidth, allowing as many listeners to your podcasts as possible. Uploads are fast as well. They will, however, scan your content for anything inappropriate and if they find something deemed so, it will not be allowed.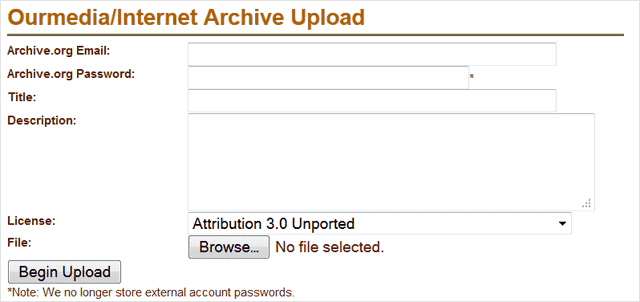 Check it out: Ourmedia.org
Podomatic
Podomatic is another free podcast host that has one of the easiest user interfaces currently available. With a free account, you get 15 GB of bandwidth each month and 500 MB of storage overall, which should be enough for the casual monthly podcast. You can also create podcasts directly on the site. It does take a longer time for media to upload, however. If you are not in a rush, this is a good option.
Check it out: Podomatic
Libsyn
For one of the longest running podcast hosts online, you can't get any more esteemed than Liberated Syndication, known as Libsyn for short. While this service isn't free, they are very reliable. In 2011 alone the site hosted over 10,000 shows, with over 1.6 billion downloads. This site definitely has strong server power. Their lowest price plan is only $5 a month, with 50 GB of bandwidth each month, making this hosting service definitely one check out.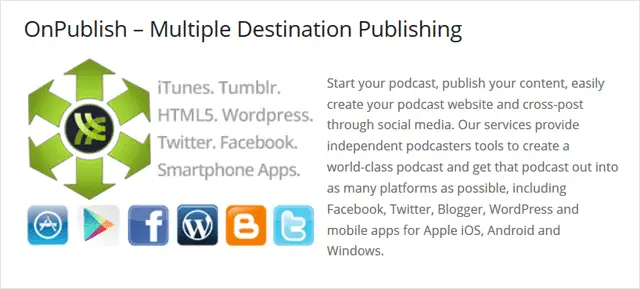 Check it out: Libsyn
PodBean
An easy-to-use podcast host that offers a free account is PodBean. For casual podcast hosts who don't have files that exceed 30 MB, this is a great option. It also offers a sleek user-interface, a mobile option and an RSS feed for your podcast. Statistics are another handy feature included, as well as several artistic themes to add interest to your podcast page.
Note: PodBean isn't free but it does offer a free trial plan.
Check it out: PodBean
Buzzsprout
This podcast host offers both free and paid accounts. Buzzsprout's free "Seedling" plan will temporarily host your podcast for 90 days and will also allow files as long as 2 hours to be uploaded each month. If your podcast is more timely, then this hosting service may work for you. Otherwise, they offer a plan that costs $12 a month that allows your podcasts to be stored indefinitely. Statistics to view all activity tied to your podcast are included with your account.
Check it out: Buzzsprout
Conclusion
While having your podcast hosted directly on your website server can work for some, the benefits of a separate podcast host are numerous. A podcast host gives you listening analytics, which is key for generating advertising income, as well as tools to share your podcast with the world.
For everything you need to know about creating a podcast with the popular software Audacity, check out our post – The Complete Guide to Creating and Editing Podcasts with Audacity