With the increasing popularity of podcasting, everyone nowadays seems to have their own podcast or an idea for one. But finding a host for your podcast isn't an easy task. The size of your podcast can determine the best podcast hosting service for your show, and even then it can be tricky choosing the right one for your needs.
First and foremost, getting your own website is the first step in getting your podcast hosted, but not all website hosting services are good hosts for podcasts and other forms of multimedia. Many have strict rules and will ban users from storing large downloadable audio or video files as they bog down their servers, hence the need for a separate podcast host.
In this guide, we have outlined the 16 best podcast hosting sites for you based on your interest and need. The list sums up some of the free podcast hosting services as well as the paid ones.
Top 16 Sites to Host Podcasts
1 SoundCloud

You may have heard about SoundCloud which allows users to upload and share music with everyone. Although it is primarily targeted towards musicians it can be an excellent service to host your podcasts
When you sign up for some cloud you'll get your personal profile with a dedicated URL. When someone will access your profile they will see what exactly have you uploaded, and they'll be able to share it on social networks, re-post it on their own sound cloud profiles are added to their personal playlists.
SoundCloud podcast platform offers free as well as paid plans, and they are pretty reasonably priced. The free version has certain limitations but the pro version will give you an idea who exactly has listened to your podcast, where are they from and other important stats. So, you get access to analytics if you upgrade. Useful, if your podcast is garnering more downloads and you want to know who are your patrons.  
The distinct advantage is the quality of service and the excellent user interface, but the limitations of uploading in the free version might be a turn-off for some.
Check out SoundCloud
2 Archive.org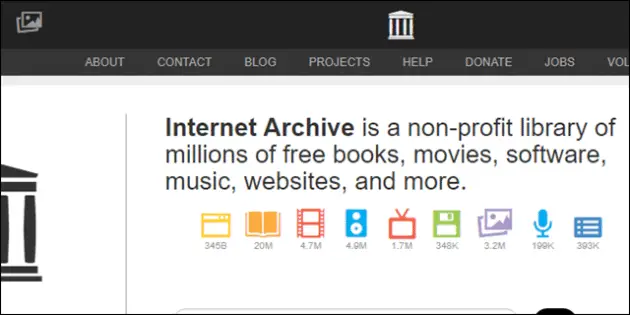 One of the oldest and best podcasts hosting websites is Archive.org. This website will host any kind of media file you upload, including MP3 files.
While the site is a bit slow and replacing media once it's uploaded is impossible, it's a solid free host that offers plenty of embedding options. This website is funded both by donations and government grants, so unlike any other website, this one is here to stay.
There aren't many bells and whistles that come with Archive.org, but nothing can beat a truly free podcast host.
3 Amazon S3
If you're willing to pay money for your podcast hosting, Amazon's Amazon S3 hosting is great because it offers quality hosting services at a much lower price in comparison to other paid hosting services.
It does have a free plan as well, with a limit of 5 GB of storage and a limit of 20,000 "get" requests. This basically means, there are limitations to the number of times your podcast episodes will be downloaded. But, this is a super reliable service and worth trying when you are starting out.
The only drawback to this hosting service, however, is that your monthly charge will go up as your subscriber numbers increase. The same goes for the more podcast episodes you upload. The service will host any kind of media you upload as well.
Check it out Amazon S3
4 Podomatic
Podomatic is another free podcast hosting site that has one of the easiest user interfaces currently available. With a free account, you get 15 GB of bandwidth each month and 500 MB of storage overall, which should be enough for the casual monthly podcast.
You can also create podcasts directly on the site. It does take a long time for media to upload, however, when you use the basic free plan. If you are not in a rush, this is a good option.
They also have a number of tiers for paid plans. Each plan serves a different level of podcast needs right from a beginner to the enterprise level.
Check it out Podomatic
5 Libsyn
For one of the longest running podcast hosts online, you can't get any more esteemed than Liberated Syndication, known as Libsyn for short. It is one of the longest running and most reliable podcasts hosting service online.
While this service isn't free, they are very reliable. In 2011 alone the site hosted over 10,000 shows, with over 1.6 billion downloads. This site definitely has a strong server setup.
Their lowest price plan is only $5 a month, with 50 GB of bandwidth each month, making this hosting service definitely one to check out.
Check it out Libsyn
6 PodBean
An easy-to-use podcast host that offers a free account is PodBean. For casual podcast hosts who don't have files that exceed 30 MB, this is a great option.
It also offers a sleek user interface, a mobile option and an RSS feed for your podcast. Statistics are another handy feature included, as well as several artistic themes to add interest to your podcast page.
PodBean isn't free but it does offer a free trial plan, with some limitations. There are a number of paid plans which come with the added advantage of monetization of podcasts via the Podbean platform. They also show detailed analytics about listeners and the ability to use your own domain with their service.
Check it out PodBean
7 Buzzsprout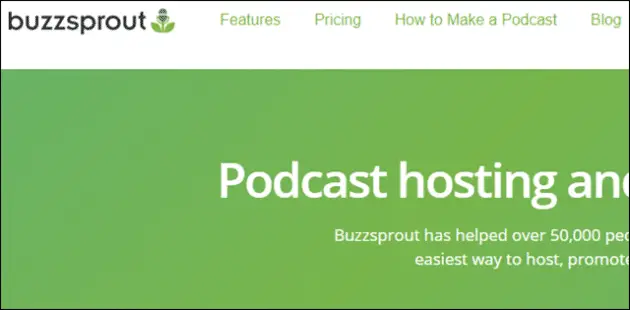 Like the other podcast hosts before this, this podcast hosting site also offers both free and paid accounts. Buzzsprout's free "Seedling" plan will temporarily host your podcast for 90 days and will also allow files as long as 2 hours to be uploaded each month.
If your podcast is more timely, then this hosting service may work for you. Otherwise, they offer a plan that costs $12 a month that allows your podcasts to be stored indefinitely. Their pricing plans are somewhat differently planned as compared to other sites.
They price their service based on the hours of data uploaded to their site. Statistics to view all activity tied to your podcast are included with your account.
Check it out Buzzsprout
8 Acast
Acast is a popular podcast hosting site where you have access to a number of different podcast shows. They claim they are the home to "World's Best Podcasts". It's a tall claim but they do feature some smashing podcasts from categories like Health, Comedy, Science, technology and Politics among others.  
This podcast host helps you discover new content by suggesting popular voices and shows. It is available on Windows, Android, and iOS.
Acast offers free unlimited audio storage, free access to easy-to-use Acast Create Tool, full control of ad placement and much more where you can easily engage your audience with links, images, and videos attached to your episode timeline.
You can even save your favorite show and watch it later. The free podcast hosting service provides you with cross promotion and audience growth tools.
Check out Acast
9 Blast Pod
BlastPod is a complete podcast hosting solution. It lets you build a professional looking podcast website without any coding experience. BlastPod is the perfect podcast hosting site for those who want everything set up for them with ease.
You can turn any features on or off with the click of a button. You can pick a template, choose a color scheme and it's done in a matter of few clicks and minutes. The interface is simple and it lets you create and manage your podcast website in a few steps. You get two professional website templates and 10 color schemes initially. If you don't like the default scheme,  other custom-built templates and color schemes can be purchased.
You can enable comments to get listener feedback. The provide you the option to get listed on iTunes, Stitcher and Google Play with BlastPod RSS Feed generator. There's no limit and restrictions for your bandwidth. To enhance social interactions, it includes Share and Like buttons by default.
The basic Silver pack comes with a monthly subscription of $29.99 with 250 MB monthly uploads whereas with the Gold and Platinum packs you get 500 MB and 800 MB monthly uploads respectively.
Check out Blast Pod
10 Podcast Garden
Podcast Garden lets you create free and subscription-based podcast hosting where you can have your own audio and video podcasts. Priced at $3.99 per month, you get RSS feed full valid and compatible with iTunes and Google Play.
Bandwidth is unlimited with unlimited file storage. You are not bound to a contract, and you can cancel anytime you want. The files are securely backed and you won't lose any data.
With the free account, you can create your own podcast channel and upload one episode per month and establish RSS feed URL that is fully valid for submission to iTunes and Google Play. With the upgraded account, you can upload unlimited episodes, access support services and use the Beta Analytics to track your podcast activity. It also has an annual subscription of $39.99.
Check out podcast garden
11 Spreaker
Start your podcast with Spreaker where you can join for free and go in for a subscription whenever you want. It has a variety of tools that includes most podcasting essentials like podcasting process, simple recording, broadcasting apps and analysis of your audience. You can record a podcast or broadcast live using apps available on the mobile, desktop or web. You can upload your files and transfer content wherever you want using the RSS importer.
Spreaker lets you distribute your podcast to social networks, YouTube, iTunes, etc. You can schedule episodes, embed widgets and order your own mobile app. It has an analytics tool that helps you measure popularity through play numbers. If you take a subscription, you get additional resources like geolocation and demographics.
Check out Spreaker
12 Blubrry
Blubrry is one of the most widely used podcast hosting services that has the largest podcast directory. Blubrry Podcast Hosting has WordPress integration and the podcast services work with all the major podcast applications including Google Play, iTunes, Stitcher, Android,etc.
With the WordPress integration, you can add the PowerPress podcasting plugin to receive essential podcasting features to your WordPress site and create a strong and feature-rich website.
With the professional statistics feature, you can analyze the audience consumption and geographical data with the podcast statistics service available in Blubrry. The professional statistics feature comes with a monthly plan of $12 or higher.
Check out Blubrry
13 
Whooshkaa
Whooshkaa is for both creators and brands. It doesn't matter what your story is and who your audience is, Whooshkaa has everything to host, share, track and monetize your content for free.
You can easily track your audience and see when, where and how they listen to your podcasts. You have the control on the ads and you can place them wherever you want so as to optimize your revenue.
Whooshkaa has a localised sales and content team who create ads to add to your content. They guide you in content creation, audio production, and live event setups. The interface is simple and intuitive and you can track your stories across digital and social platforms.
Check out Whooshkaa
14 Omny Studio
Omny Studio is a full-fledged audio management solution for podcasters and radio stations. It has all the functionalities to go from on-air to online in no time. Its RSS feeds are compatible with all the major podcast directories and apps that include Google Play, Apple Podcast, Stitcher, Pocket Casts, Overcast, Tuneln, etc.
Omny Studio has native web players optimized for desktop and mobile so that you can share episodes, playlists and shows easily. It has Facebook integration so that you can engage more people and increase your subscribers. It starts at an affordable price of $99 per month.
Check out Omny Studio  
15 
PodcastWesbites
PodcastWesbites has everything you need to create, grow and monetize your podcast. It helps you with website creation and development, and has "unlimited podcasting" in the true sense. The interface is simple and powerful; the tasks need a just simple drag and drop.
At $97/month this service might seem to be expensive as compared to others, but the  with no extra or hidden charges, and a tons of added features this might be a good choice for the serious podcaster.
PodcastWebsites is an all-in-one WordPress service for the enthusiastic podcasters and comes with access to Podcast Academy which teaches you to be a better podcaster. It also gives you access a marketplace that gets you great deals for tools for podcasters as well as access to a fantastic podcasters community.
There is no limit for storage and bandwidth; everything is unlimited. It has 24×7 support service to help you launch your show and to assist with whatever you need. There is a special offer at $77/per month if you pay annually.
Check out Podcast Websites
16 FeedPress
FeedPress has feed analytics for $4/month and podcast hosting for an additional charge of $8/month. It provides updated analytics to bloggers and podcasters and you can add as many blogs or podcast feeds you want. You can manage everything from a single account. Initially, you can publish four episodes per month (400 MB of new monthly storage) and you can increase it later by upgrading.
If you are a well-developed brand and want to your own domain name, you can customize FeedPress to use your own domain name by registering your domain name via your hostname management page. FeedPress automatically publishes your new stories or podcasts to your social networks including Twitter, Facebook, and Buffer.
Check out Feed Press
Conclusion
While having your podcast hosted directly on your website server can work for some, the benefits of a separate podcast host are numerous. A podcast hosting site gives you listening analytics, which is key for generating advertising income, as well as tools to share your podcast with the world.
For everything you need to know about creating a podcast with the popular software Audacity, check out our post – The Complete Guide to Creating and Editing Podcasts with Audacity
Updated on 19/01/2019