With the increasing popularity of podcasting, everyone nowadays seems to have their own podcast or an idea for one. But finding a host for your podcast isn't an easy task. The size of your podcast episodes can determine the best podcast hosting site for your show, and even then it can be tricky choosing the right one for your needs.
First and foremost, getting your own website is the first step in getting your podcast hosted, but not all website hosting services are good hosts for podcasts and other forms of multimedia. Many have strict rules and will ban users from storing large downloadable video or audio files as they bog down their servers, hence the need for a separate podcast host.
What to Look For in a Podcast Host? 
A podcast hosting service must offer multiple features such as:
Sufficient storage space for your podcast files.
Sufficient bandwidth to serve these files to your listeners.
Generated RSS feed to distribute your podcast to the iTunes, Google Play Podcasts and other directories.
Basic or detailed analytics to understand the performance of your podcast
As podcast hosting services evolve, they have started offering unique and advanced features to better serve their customers. These features are not available or expected from all podcast hosting sites and can be considered to be good-to-have features.
A full-fledged or partial website hosted for your podcast.
A podcast player that works well across devices and platforms.
Advertising or other monetization options.
Tools to grow your podcast.
Excellent support.
In this guide, we have outlined the 15 best podcast hosting platforms for you based on your interest and need. The list sums up some of the free podcast hosting sites as well as the paid ones and also explores the self-hosting option for your podcast.
15 Best Podcast Hosting Services For You
There are many options for beginner podcasters to host their podcasts. There are several websites that allow podcasting for free and also offer competitive premium options for you to choose from. Your other option is to self-host the podcast files, though it does come with disadvantages of its own.
We explored the best free and paid hosting options available to podcast hosts today.
Best Podcast Hosting Sites (Free and Freemium)
You can host your podcasts for free with the podcast hosts listed below and optionally upgrade to a paid plan as well. All you need to signup for these services is an email account. 
1.
PodBean
One of the most well-known names in the world of podcasting, PodBean offers packages for everyone – whether you are a beginner or a seasoned podcaster. The Basic plan offers free upload of any number of podcasts up to 5 hours in total length, along with a 100 GB monthly bandwidth limit.

As is expected from any podcast host, you get an RSS feed for your podcast and support for iTunes is built in. PodBean free hosting also offers you the option to have a website dedicated to your podcast. The free plan has limitations on the customization options, and you can only use the free themes for the podcast website.
The free option only gives you access to basic stats about your podcast while the complete stats are reserved for the premium tiers.
The paid plans, namely Unlimited Audio, Unlimited Plus, and Business unlock the full potential of the service. They offer unlimited storage and bandwidth, ability to have a custom design for your website, and a custom domain name. You can try the service for free, but we would recommend getting the Unlimited Audio plan ($9/mo) to get the best out of PodBean for your podcasting.
Pros of PodBean
One of the best free podcast hosting account with generous limits, allowing beginners to have a worry-free hosting and an opportunity to grow.
Cons of PodBean
Only the Business plan allows multiple channels, no monetization opportunity for free users, and it is not clear how to remove PodBean branding.
2.
Spreaker
An excellent option for those who are planning to start a podcast, Spreaker's Free Speech plan offers 5-hour storage and the ability to do a live podcast via its app for 15 minutes. You can host multiple shows, have unlimited podcast listeners and schedule your episodes for timely releases.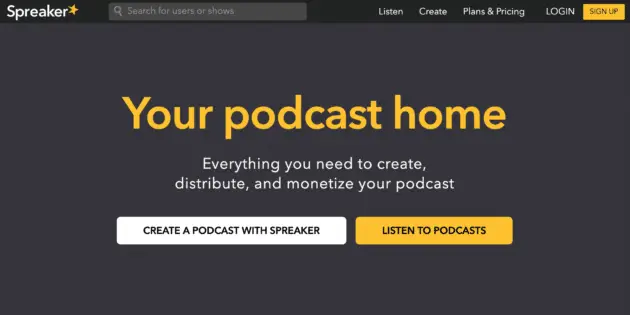 Free accounts get a feed for each show and you can play the episodes via an embeddable player. To keep track of how your show is doing, you have access to stats of plays and downloads of your show's episodes.
Spreaker's paid plans, On-Air Talent, Broadcaster and Anchorman, give you much bigger storage space, longer duration live podcast option, customizable feed and podcast player, detailed analytics and a host of monetization options. These plans are quite affordable and start at $7/month.
Spreaker's strength is in distribution – it enables you to distribute your shows onto multiple directories easily – iTunes, Google Podcasts, Spotify, iHeart Radio and many more!
Pros of Spreaker
Free accounts have plenty of features and scope to grow for a new podcaster, excellent podcast distribution options, and multiple shows are allowed.
Cons of Spreaker
No revenue option for free accounts. Spreaker is a pure hosting service and has no add-ons like website, site hosting, etc. This can easily be a positive depending on your needs.
3. Podomatic
With its offering of a free podcast hosting account with 500 MB storage, 15 GB/month bandwidth, basic stats and no expiration policy, Podomatic has been giving budding podcast hosts a reliable service since 2005. Without any additional bells and whistles, the free account is just what you might need to get started – a simple and straightforward hosting.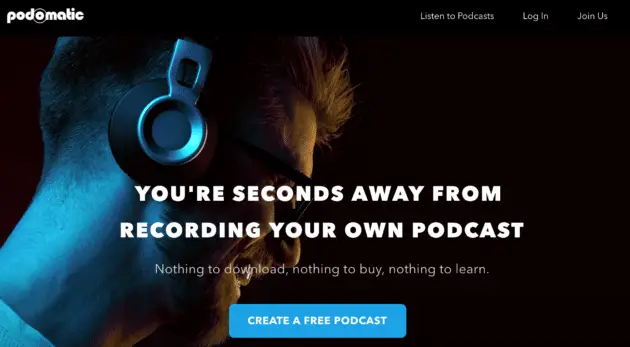 Podomatic does have multiple paid plans that range from $8.3 to $20.8 per month when paid annually. Podomatic has teamed up with Weebly to give you the option to host your podcast website with them along with the audio file hosting. The Weebly site editor gives you drag and drop interface to quickly customize and design your site, or use one of the available themes.
Podomatic gives you a feed for your podcast that allows playing your shows from Facebook or Twitter feeds or can be embedded on to your website, making it one of the best podcast hosting services with which you can get started for free.
Podomatic's Pro plans build upon its free plans to offer better analytics, larger storage and bandwidth, premium support and good revenue options with Patreon and Advertisecast.
Pros of Podomatic
A nice free plan for podcast hosting for beginners to get started without worrying about other add-ons. Has been a reliable service for many years.
Cons of Podomatic
No distinctive or special features to set it apart from competitors; new or old.
4. Anchor
As a completely free podcast hosting, creation and distribution platform, Anchor stands apart from the competition. The Anchor app enables you to record and start creating podcasts quickly, even with multiple hosts or guests around the world. They also provide an RSS feed that you might not really need to use manually and you can do a one-click distribution of your podcast to all the major platforms.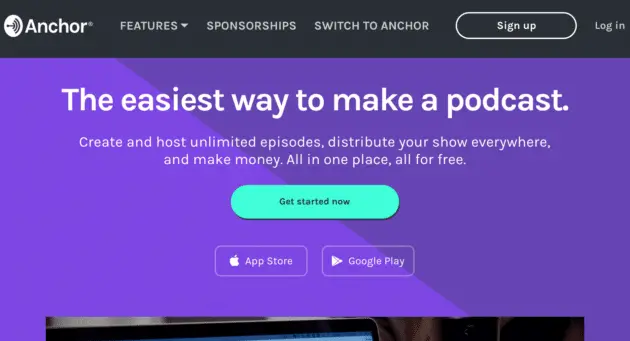 Anchor is one of the companies in the podcasting domain acquired by Spotify and thus has the advantage of having the backing of big, stable business. It can grow into a more robust podcast hosting brand. On the flip side, Spotify may have other plans for the business and it may introduce premium tiers. It does not have any premium offerings at the moment and does give unlimited podcast hosting completely free.
Since it provides straightforward analytics along with monetization options for all accounts, Anchor is definitely one of the best podcast hosting options for you to consider.
Pros of Anchor
Completely free podcast hosting with no upload, storage, bandwidth or channel restrictions. Anchor app helps with easy creation, editing, and distribution of your podcasts.
Cons of Anchor
No embeddable player. No hosted website for your podcast.
5. Whooshkaa
Whooshkaa's free plan does have limitations of 5 GB storage space, 1 hour of transcripts per month and 1000 ad impressions per month, but it does offer unlimited shows, episodes and bandwidth, Whooshkaa brings in revenue generation options for free plans at the threshold of 10K listens per month.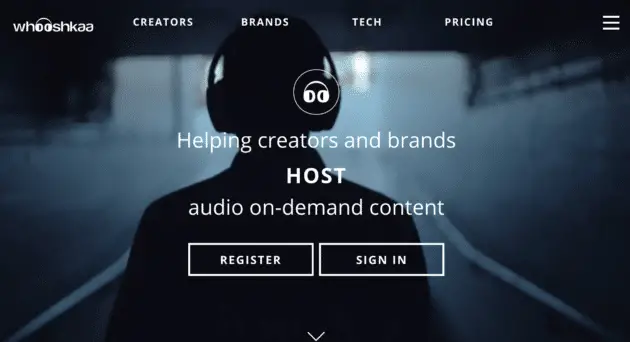 As your podcast crosses the 10K limit, either you have to allow ad insertions which make you money as well or choose a Pro plan to keep your show ad-free.
Whooshkaa integrates with the major podcast platforms but goes one step ahead and gives integrations with Amazon Alexa, Google Home, and Apple Homepod as well. Standard statistics are included in the free plan, making it a solid contender to be your top podcast hosting choice.
Pros of Whooshkaa
No restrictions on shows, episodes or bandwidth. Generous monthly storage space and monetization opportunities with the free plan.
Cons of Whooshkaa
The first paid tier is at $99 per month, which is expensive for new shows. No intermediate tiers make the premium plan a costly proposition.
6. BuzzSprout
The free tier at BuzzSprout seems quite limited given the fact that your podcast episodes are hosted for 90 days only. You are allowed to upload only 2 hours of audio content per month on the free tier. The website that you get for your podcast with the free account would have ads displayed on it via BuzzSprout.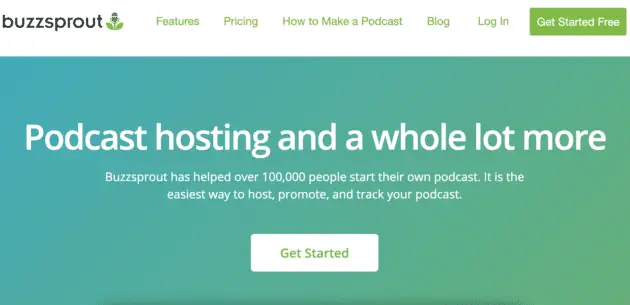 BuzzSprout has a nice user interface that is designed from the point of view of a podcast creator. It also lets you add chapter markers, so that your listens can jump to the section they are most interested in.
Given the restrictions of the free account, we would recommend going with a paid account with BuzzSprout should you select the service as your podcast host. All paid accounts support monthly billing only, with plans priced at $12/month, $18/month or $24/month and allowing for 3, 6 and 12 hours of audio content upload each month respectively.
You can purchase storage space for additional content on an hourly basis. Episodes are stored indefinitely for all premium options, which also get you analytics, customizable podcast players, a website and 250 GB/month bandwidth. Buzzsprout also has add-ons like transcription service and 192k stereo optimization for an additional cost.
Pros of BuzzSprout
Easy to use interface optimized for your podcast publishing workflow. Affordable, tiered pricing options. Has a WordPress integration.
Cons of BuzzSprout
The free plan has severe limitations – primarily the 90 days limit on hosted content.
7. Podcast Garden
This service is free to use only if you are planning to do a monthly podcast. You get one free podcast a month with Podcast Garden and you'll have to pay $2.99/month or $29.99 annually for unlimited episodes, shows, and bandwidth.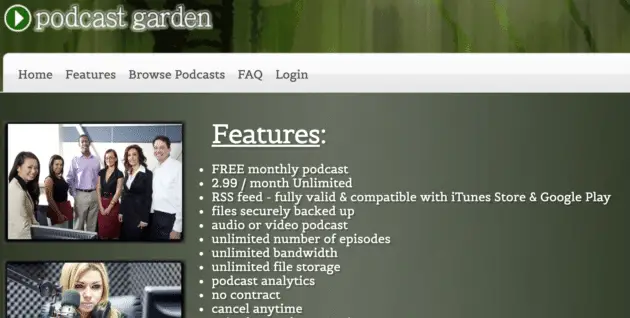 It supports audio files, video files, analytics, and a feed to push your podcasts to Google Podcasts and iTunes.
Pros of Podcast Garden
A straightforward hosting service that is free for monthly podcast shows. A very affordable paid plan unlocks unlimited hosting and bandwidth.
Cons of Podcast Garden
The interface feels a bit dated. No support for advanced stats.
8. SoundCloud
As a reputed audio content and music hosting service, SoundCloud is a natural home for podcasts and a social place for podcasters as well. That being said, it is not a podcast-first service. For the free account, the user is limited to 3 hours of upload time, basic stats and only a few embed controls.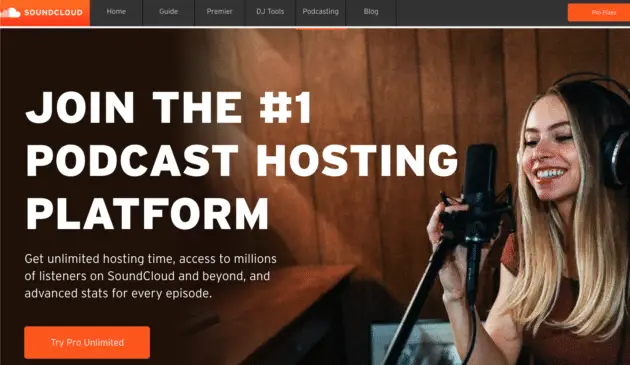 The premium accounts start from $6/month for SoundCloud Pro to $12/month for SoundCloud Pro Unlimited and unlock most of the premium features including longer upload time, advanced stats and embed controls, ability to replace your tracks (episodes) and podcast distribution.
One of the main features, scheduled released for your podcast episodes, is available only with the Unlimited plan. Podcasters can use their SoundCloud profile's feed to share their content with any podcast directory.
Pros of SoundCloud
The social aspect and the reach of SoundCloud can be an advantage for new podcast hosts.
Cons of SoundCloud
SoundCloud is one of the best for music, but it is not a podcast-first service. Thus, it does not have the best interface or all the features that podcasters need.
Best Podcast Hosting Sites (Paid)
There are several free podcast hosting sites for those who are not looking to invest in hosting. For those who prefer premium experience and service with their podcast hosting, there are quite a few good options.

These podcast hosting companies provide services that can go beyond your expectations and give you special features to help you succeed with your show. Podcasters who are serious about growing their audience should consider the premium services for podcast hosting. 
1. Transistor

For those who do not consider podcasting as a mere hobby, Transistor is one of the best podcast hosting options. Brand names like Cards Against Humanity, Laravel and VH1 host their podcasts with Transistor. It offers a 14-day trial for you to explore what the service offers and decide if it is something that suits your purpose.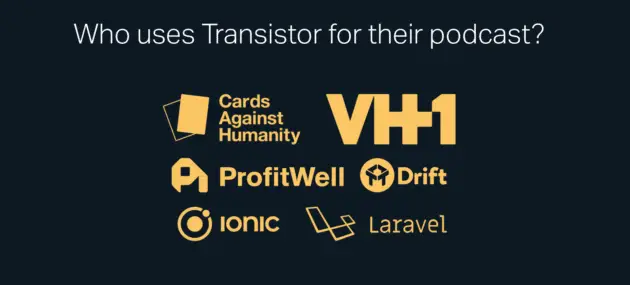 The Starter plan is priced at $19/month and can be upgraded to Professional for $49/month or Business for $99/month. Each plan has no restriction on the number of podcasts or episodes you can upload. The limitations apply to the number of team members you can have, and the number of downloads allowed each month, which increases from 10K to 150k downloads as you upgrade the plan.
The Transistor service stands out for its intuitiveness. The interface is very user-friendly and comes with analytics and a feed generator built-in. You can share and distribute your podcast on multiple platforms and directories using this feed.
Transistor can help you grow your show by automatically pushing a published podcast episode to Twitter, YouTube, a mailing list and also Spotify. The podcast player offered by Transistor can be embedded into your website or even Twitter. It can also generate a website for your podcast that updates automatically with each newly published episode.
Transistor has something for every podcaster, and we recommend the Starter plan for beginners, while the Professional plan can serve even seasoned podcasters.
Pros of Transistor
Affordable premium plans for serious podcasters with budget considerations. Intuitive interface, easy to use. Offers a free trial.
Cons of Transistor
Transistor does podcast hosting very well but does not offer add-on revenue services like ad-injection or advertiser matching. If you expect that from your podcast host, Transistor may not be the right choice for you.
2. Blubrry
A well-known name in the podcast hosting industry since 2005, Blubrry has premium options for everyone – from beginner podcast hosts to podcasting networks. All plans have unlimited bandwidth but have limitations on the storage space starting from 100MB for the Small ($12/month) plan and go up to 1000MB for the Extra Large plan ($80/month).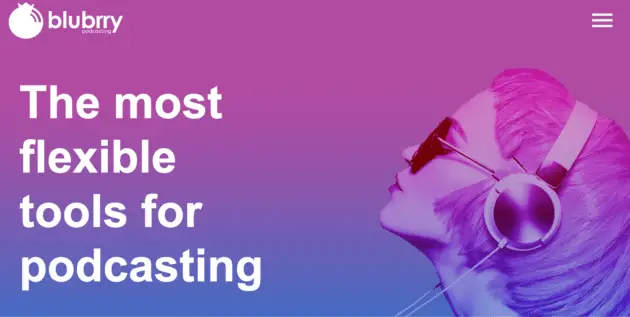 The Small plan only supports audio podcasts. Medium plan ($20/month) and above allow you to upload video podcasts as well. It provides validated feed to add your podcast to iTunes, Google Play and other directories. Professional stats are available for all the paid plans.
Blubrry leverages the WordPress platform and its own PowerPress podcasting plugin to offer a podcasting optimized website to its members. It is not necessary for you to use their website and you can use your own. If your own website is on WordPress, you can get their free PowerPress plugin as well.
To make it a complete hosting package, Blubrry also has a feature-rich podcast player that can take any MP3 feed, has adjustable volume and playback rate and does not have a Blubrry branding.
Blubrry has decent features for everyone, and we'd recommend starting with the Starter plan as you evaluate the service. If you already have a podcast and many episodes, you can move to Blubrry easily (they help you!) but you might have to move to another plan that offers more storage.
Pros of Blubrry
Blubrry offers a complete podcast hosting package plans starting at $12 per month and plenty of scope to grow into higher-tier plans. Good support for audience growth via distribution and your podcast website.
Cons of Blubrry
No monetization option except for the Professional plan.
3. Podcast Websites
If there is one service that goes beyond hosting and strives for your success as a podcaster, it would be Podcast Websites. It is not just a hosting solution but a podcasting platform designed to propel you and your podcast to the next level.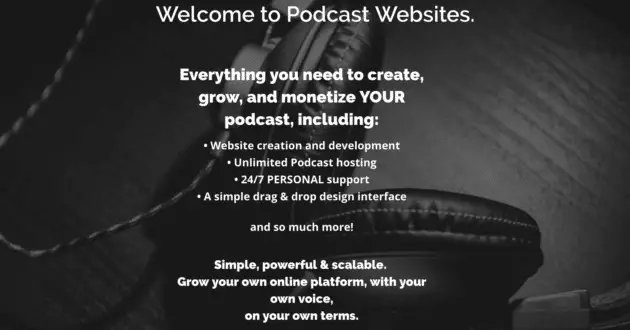 We would recommend podcasters who are diving head-first into podcasting to check out PodcastWebsites. Designed and developed by professional and prolific podcasters, this service understands the all-in approach some podcasters take and offers special features to make their efforts successful.
Podcast Websites is probably the best one-stop solution for dedicated podcasters. It is powered by WordPress and allows unlimited landing pages, blog posts or episodes on your website. A podcast-oriented theme with drag and drop builder can make designing pages easy. There is no limit on the number of visitors per month and you can bring your own domain name.
The managed WordPress site would have secure hosting, plugin management and an SSL certificate for your domain with daily backups for peace of mind. Premium plugins like Gravity Forms (for capturing emails) and Simple Podcast Press (for growing your audience) are included in the service.
Something that sets PodcastWebsites is the personal touch they give to the service. Inclusion of SEO tools to improve your website's rankings and a 7-step process to launch your podcast demonstrate this. You also get access to a lot of learning material via the Podcast Website Academy. Lastly, a guaranteed 24/7 support goes a long way towards giving you peace of mind and focus on your podcast as the content creator.
PodcastWebsites offers only one plan and it is priced at $97/month. You can save $240 by opting for the annual plan, effectively making it $77/month.
Pros of Podcast Websites
All-in-one package that takes care of podcast and website hosting, bandwidth, distribution, and domain security. Unique features, tools, and resources are offered internally for you to launch the podcast and grow your audience.
Cons of Podcast Websites
Expensive. Does not have tiered pricing. You can host only one show and add new shows (RSS feed) for $10/month.
4. Libsyn
A veteran name in podcast hosting, Libsyn is one of the most powerful hosting sites for you to consider hosting your podcast with. It does not have a free tier but has a wide range of plans that would suit the needs of most podcasters.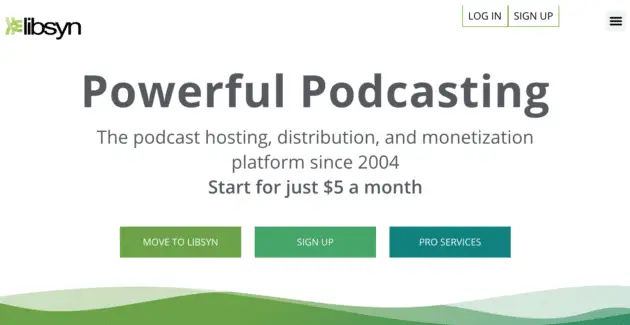 Libsyn has plans starting from $5/month and going up to $150/month, and increase the storage space with each tiered plan. All plans allow the upload of video or audio files, provide unlimited bandwidth, episode scheduling, a secure feed, an HTML5 media player and FTP file upload support with a file manager to organize your files.
The base hosting plan does not include stats, which can be purchased at $2/month, with a custom domain name for your website incurring an additional $2/month fees. Libsyn has a unique feature where you could have a custom podcast app for your show, and it would cost you $10/month in addition to the purchase of developer accounts. It is cool to have, but most podcasters would have little use of this feature. The Libsyn Publisher Hub plugin allows for easy WordPress integration and podcast management.
Libsyn's OnPublish feature allows you to connect to and distribute your podcast to several directories, providing an impetus to the spread and growth of your audience. Since Libsyn has several pricing tiers and has add-on options that can increase your monthly rate, the best plan for you to start with is the Classic 400 plan ($20/month).
It offers a 400 MB storage, opens up advanced reporting tools and also gives you the option to lock premium content behind a paywall should you need to do that. Of course, there are still some add-ons that you can purchase.
Pros of Libsyn
Wide range of plans with incremental pricing tiers and tons of features. Excellent distribution network. Option to get a custom mobile app.
Cons of Libsyn
Individual add-ons to purchase can quickly inflate your monthly rate. You need to pay $2 a month to use a custom domain name.
5. Castos
An elegant solution to your show hosting problem, Castos offers one of the best podcast hosting premium services with three plans – Starter ($19/month), Growth ($34/month) and Pro ($49/month).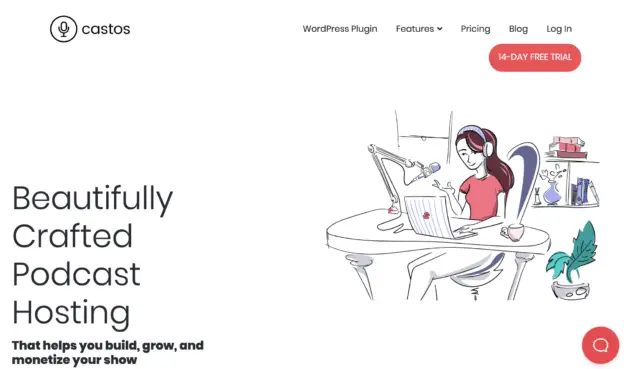 They keep the feature comparison simple. All plans have unlimited storage and bandwidth, one-click import to move your show from other services to Castos, a personalized podcast website, and detailed analytics. Automated transcriptions are built-in and available for all the plans, though the billing for it is separate from the hosting fees.
The major difference in the plans is that the Starter plan supports only audio files – no support for video files and also does not allow republishing to YouTube. For the Growth plan, video republishing is OK but you don't have a video hosting option. The Pro plan users have a video podcast hosting option.
Sticking to their 'simple' mantra, Castos offers a 'Seriously Simple Podcasting' Wordpress plugin which has got rave reviews from users and makes it really easy to work with podcasts on your WordPress site.
For serious podcasters looking for a premium option, Castos is one of the best. We would recommend going for the Starter plan first and upgrade as required.
Pros of Castos
Tiered premium plans. The Starter plan is very nice – with no artificially imposed upload or download limitations. Has a nice plugin for WordPress integration.
Cons of Castos
It does not host your podcast website itself. No revenue generation options.
6. SimpleCast
As the preferred podcast hosting platform for several global brands, SimpleCast is one of the leaders amongst the podcast hosting sites. It offers three paid plans – Basic ($15/month), Essential ($35/month) and Growth ($85/month) which are suitable for individual podcasters as well as teams.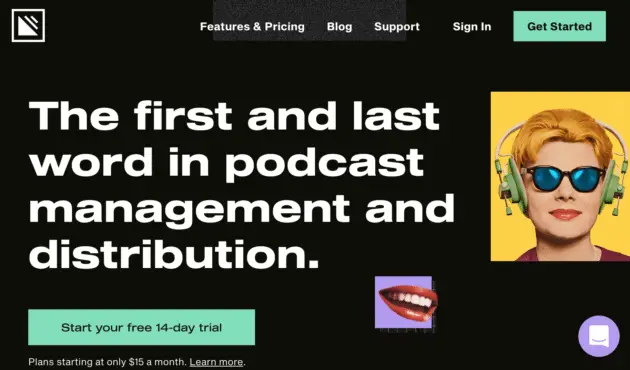 Each plan of SimpleCast offers unlimited storage space and bandwidth, with distribution support for multiple platforms, a themed and customizable mini-website for the podcast with a secure feed and a custom domain name, and detailed analytics and reports. The Basic plan supports only 1 member while the higher plans support up to 3 and 8 team members respectively.
SimpleCast offers multiple media players to its members, although only a simple web player is available with the Basic plan. Its unique ReCast feature lets your audience create custom clips of your best podcast episodes and share them on social media. These sharing activities are tracked and reported to you.


The advanced listener analytics feature of SimpleCast lets you go beyond your podcast stats, dive deeper into the audience data and the web player insights. Some of these features are only available for higher plans.
SimpleCast is a reliable podcast host and offers a reasonable Basic plan for paid hosting. As such, we would recommend the Basic plan ($15/month) for beginner podcasters. For a higher volume of downloads, you should go with the Essential plan ($35/month).
Pros of SimpleCast
Feature-rich hosting with tiered pricing. Detailed analytics for each tier. Unique ReCast feature to increase and track listener engagement.
Cons of SimpleCast
SimpleCast does not currently host your podcast website. It offers a mini-website for your podcast along with pages for the episodes to increase search engine discoverability of your show. No revenue generation options. No WordPress integration.
7. FeedPress

A podcast hosting's main requirement is the RSS feed, and thus a professional service like FeedPress can be a good option to consider for hosting. FeedPress offers feed analytics for $4/month and podcast hosting for an additional $8/month, taking your monthly rate to $12.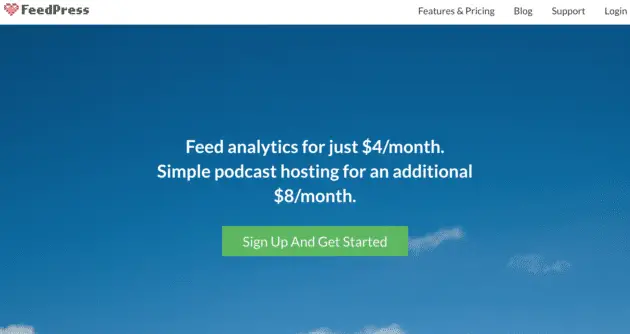 FeedPress offers 400MB monthly audio storage space with additional storage purchase options. You also get detailed download analytics, an embeddable podcast player and the ability to export your subscriber data to Dropbox. Your feed URL can be customized as per your choice to make it easily shareable.
FeedPress is an excellent service for feed management and analytics, but it is not a professional podcast hosting service. As such, when you are looking for a premium podcast host, there are better options to consider in the same price range. On the other hand, if you are already a FeedPress user and are looking to start a podcast, hosting with them will be a cheaper and easier option for you.
Pros of FeedPress
Excellent feed management and analytics.
Cons of FeedPress
It does not stand out compared to other podcast hosting sites offering similarly priced plans.
Self-Hosting A Podcast
Since podcast hosting is primarily about storing your audio files, being able to generate, and RSS feed and service those audio files as required, you can technically self-host your podcast. As such, you host your podcast via Google Drive or Amazon S3 and other services from AWS; though it can be quite challenging to establish your own workflow and is not really recommended. 
Given that there are several well-known companies offering free and affordable paid podcast hosting services, we would not recommend self-hosting it unless it is really an itch that you need to scratch. If so, the above links should help you get started and we would love to know about your experience with self-hosting.
---
While having your podcast hosted directly on your website server can work for some, the benefits of a dedicated host are numerous. A podcast hosting site gives you reliable audio file hosting, listener analytics which is key for tracking your progress and generating revenue, as well as tools to share your show on social media.
We would love to know what host you have chosen to host your podcast. Also, though we have tried to keep this list comprehensive, we could have missed some services that are great and should be on this list. Do share your podcast hosting experience, thoughts, and ideas with us.
Related reading: Audacity is a popular tool for editing audio files and podcasts! Here's how to use it for Creating and Editing Podcasts.
(Article Updated on 6th January 2020)