[meteor_slideshow slideshow="lenovo-vibe-z-ces-2014″]
Lenovo announced a new range of Android devices just ahead of International CES 2014. Lenovo wants to build a stronger position in the Android devices market, and the recent release is clearly aimed at that. The four announced devices target all the segments of the market in a bid to capture more market segment.
As per the press release – "These four new devices complement Lenovo's existing portfolio of phones ranging from feature phones to premium smartphones across multiple price points. Lenovo, currently the #3 smart connected device maker worldwide, has expanded aggressively into the global smartphone market, introducing smartphones in 18 countries in the past two years."
Lenovo's New Android Devices
Here's a short introduction video from CES 2014 to the new Android devices launched by Lenovo.
Vibe Z is the First LTE Enabled Smartphone by Lenovo
Amongst the new devices, Vibe Z is the premium device with some impressive specs and a beautiful design. It is just 7.9mm thin and at just 147 grams, it's quite lightweight. The 5.5 inch screen is full HD (1920 X 1080) and has a pixel density of 400 ppi.
The Vibe Z runs Android 4.3 powered by Qualcomm Snapdragon™ 800 Quad-core 2.2GHz processor for smooth performance for whatever you want to do with the device. The device has 2 GB of memory and 16 GB of internal storage.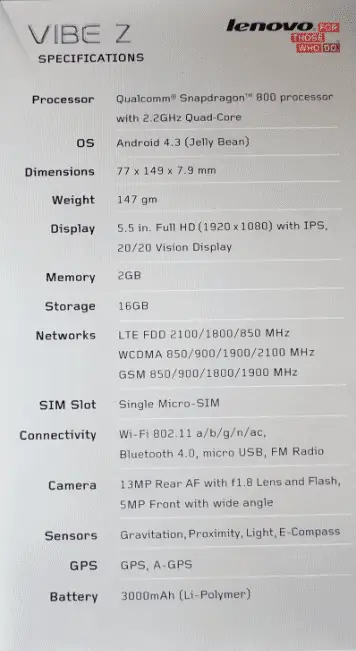 The device is no slouch when it comes to the camera department. "It has a 13 MP rear camera with a large f1.8 aperture lens to defy low light situations and capture breathtaking photos and a 5 MP front camera that's equipped with an 84° lens for wide-angle shots.
Lenovo's Super Camera and Super Gallery apps let users add fun effects to their photos easily." I saw the photo enhancement feature and the various photo effects in action myself, and they seemed pretty cool.
Overall, the Vibe Z in an impressive device, and its high-end configuration puts it in the premium device segment at a price of $549. The device would be available starting February in  Indonesia, Malaysia, Thailand, Saudi Arabia, United Arab Emirates and the Philippines. Release is planned in India as well. No release date is planned for US, but you can purchase an unlocked piece online.
The S930 and S650 Mid-ranged Models
Both the devices adopt the Vibe Z's silver body and laser-etched fabric-feel rear cover. The devices are only 8.7mm thick and are powered by a MediaTek Quad Core processor. They have a 8 MP rear camera and come with only 8 GB of storage. The devices share a lot of features but are differentiated by the screen size, display quality as well as device size.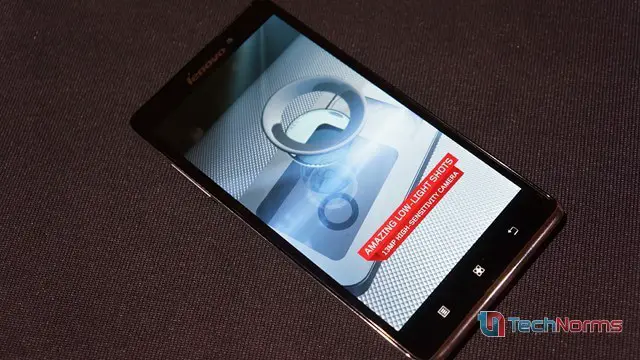 The S930 has a 6-inch high definition 1280×720 touchscreen and offers rich audio experience with twin speakers and Dolby® Digital Plus. S650 is more compact and sports a 4.7-in gHD 960×540 display with IPS wide angle viewing.
The devices run Android 4.2, which is easy to frown upon since 4.4 is already out. Given the devices are already available, let's hope that updates would soon be available. S930 is priced at $319, and S650 is priced at $229.They are available immediately in countries where Lenovo smartphones are already sold.
The Lenovo A859 Model
The A859 is a balanced device aimed at the lower price range market. It comes in black and white case that is just 9.2mm thick.  It has a "5-in high definition (1280×720) IPS screen with 178° wide angle viewing." Its configuration is quite similar to the devices from the S Series – "it has a dual SIM card, runs on a MediaTek 6582 processor and Android 4.2, has a 8 MP rear camera, a front camera and 8 GB of storage."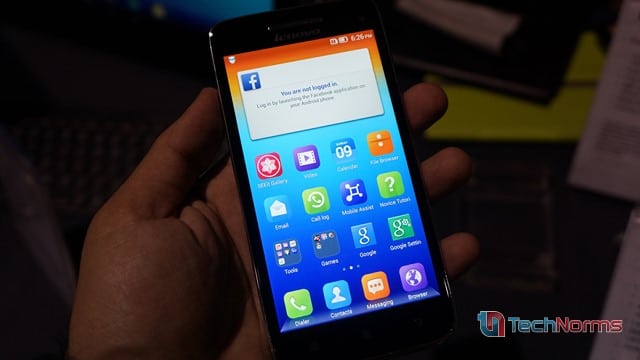 The device is priced at $219.
Conclusion
The new Lenovo devices bring more competition to the Android Devices Market. The devices are intelligently targeted at the distinct market segments and seeing the configuration that they sport, it is likely that they would perform well. Especially the Vibe Z. It is a device to look out for.