Wearable Tech is the buzzword for the International CES 2014. You can easily guess that most major players in the industry announce new wearable devices that are to be unleashed soon to the market. Epson, which has over the years been branded as the printer company is out to shatter that image.
I talked with Anna Jen, director, New Ventures / Products at Epson America who agrees that "Epson is often said to be the printer company", but they are out to "change that image with a range of innovative products." I cannot agree more. I tried out the Moverio BT-200, an eyewear product that Epson announced today. It is an augmented reality smart glass that has the potential to revolutionize gaming and video industry.
Moverio BT-200 Smart Glass by Epson
Augmented reality is tough to explain or even show. When you wear the glasses you see a digital display in that overlaps on/across all the real things in front of you. I played a game on Moverio and it gives you a first person view in the game. You move your head to the right, and the game display moves to the right. You look up, and the game display shows you the game's sky. You get the idea.
The glass is connected to a control box which acts as the controller for the game and for any other actions to be performed on the virtual screen. It works like a mouse – drag and tap.
Check out the Moverio introduction video below.
http://youtu.be/vArQptpq1Oc
Here are some images of the real thing that I got at the Epson press conference.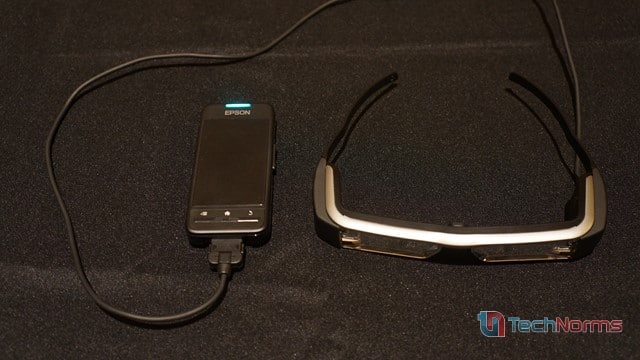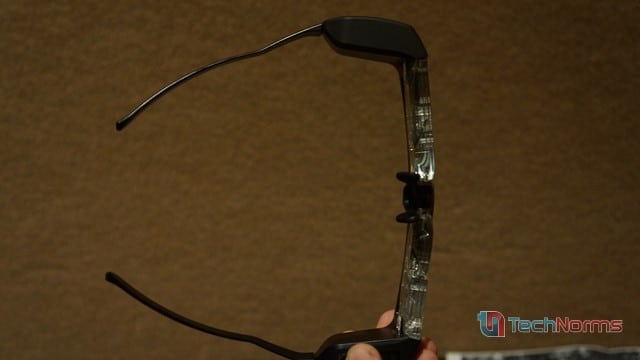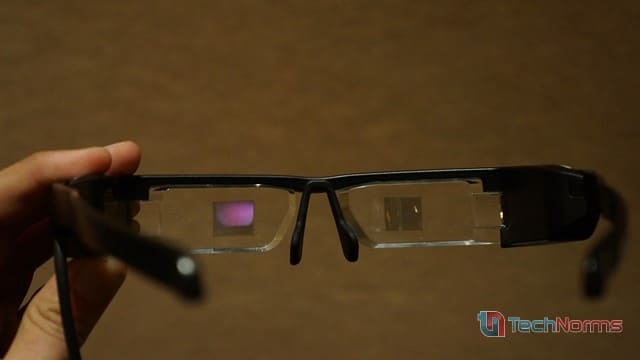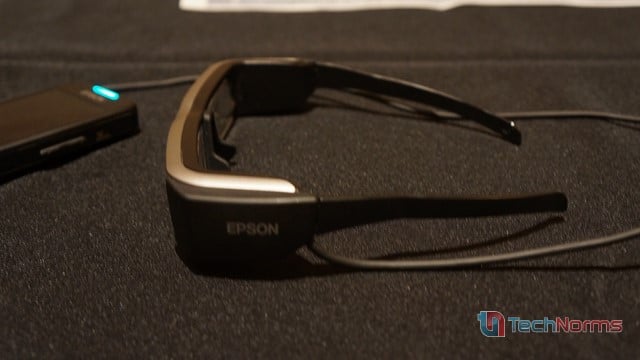 The Moverio BT-200 smart glasses will be shipping from March 2014 with a price tag of $699.99.
The Pulsense Watch and Band
Pulsense is Epson's wrist wearable device launched in the activity monitor category. It offers continuous heart rate recording and zone training features.
From the Press release dated January 6, 2014 –
"The Pulsense product line will be Epson's first smart wrist wearable devices to leverage the company's patented Biosensing technology," says Anna Jen, director, New Ventures/New Products for Epson America. "These products showcase Seiko Epson's heritage in wrist watch technology and consumer electronics manufacturing. Pulsense has set the performance and features benchmark for the next generation of activity monitors. With additional core technologies in Swing and Location sensing, consumers can expect to see more smart products coming from Epson addressing the needs of the health, fitness and sports segments of the wearables market."
Pulsense detects continuous heart rate directly from the wrist (without a chest strap) and features a breakthrough Epson proprietary heart-rate sensing module that is both accurate and compact. The sensor measures the amount of light reflected from red blood cells and records a single heart beat when the amount of light reflected changes due to a drop in red blood cell count as the blood vessel contracts. Ambient light interference is minimized, and heart rate detection accuracy is improved using a microns thick blocking filter and multi-layer reflective coating that is achieved through Epson's precision manufacturing know-how.
Combining Epson's proprietary sensor and patented algorithms with an accelerometer enables Pulsense to take wrist-worn activity monitors to the next feature and performance level. For example, by utilizing real-time heart-rate data, Pulsense is able to determine calories burned based on personal biometrics in addition to activity levels, gender, age, and weight. Additionally, with built-in memory, Pulsense can store up to 480 hours of heart-rate data before having to transfer data to a smartphone app or computer. Last but not least, Epson's 3-in-1 proprietary chip offers fast data processing, space-saving footprint, and efficient power usage for improved battery life performance.
"It's an amazing amount of technology packed in one compact wrist wearable device," Jen continues. "And to track progress over time, the data you capture and store using Pulsense can be transferred to an online health and/or fitness service using an iOS® or Android™ mobile app or data uploader software on your computer."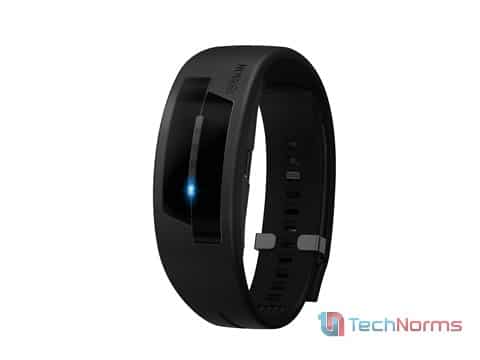 The Pulsense band only has a LED display, and it can be wirelessly connected to a smartphone to transfer and read the data. The Pulsense watch comes with an LCD display that shows real-time data of steps walked, heart rate, calorie burn and date/time.
Both the Pulsense devices would be available Summer 2014 with the band priced at $129 and the watch priced at $199.