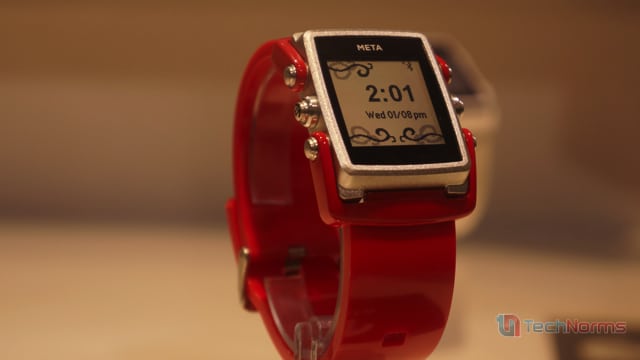 MetaWatch had a preview booth set up at the Wrist Revolution area of International CES that gave us a preview of their upcoming smartwatch. If you look at the current range of smartwatches, you can see that attempting to get the maximum functionality of your watch is becoming the norm, MetaWatch tries to keep it simple and does so really well.
While talking with Bill Geiser, CEO of MetaWatch, he told us that "We want to keep things simple and beautiful." This is a philosophy that is evident from a look at the line of the newly announced Meta Watches from the company. Featuring a design by former Vertu designer Frank Nuovo, the watch sports a polished feel that makes it stands out of the speedily crowding market of smartwatches.
A Look at MetaWatch
The Meta series of watches would come in a variety of materials and finishes that would impact the final look of the model. The ones shown below have an aluminum body and leather/plastic strap to go with it.
The watch body has a square display on the front with a black bezel on all sides and buttons on either side. That's a total of 6 buttons including the four that seem like hinges.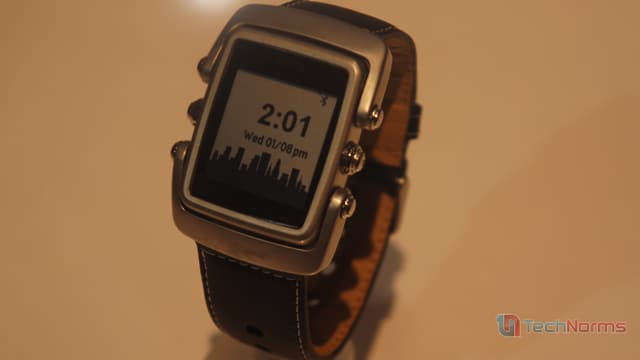 The clock face can be customized to add widgets to show the information that matters the most to you. This can be easily done via the companion applications that offer the interface to customize the clock face of your watch.
You can easily set up multiple clock faces as per your preference. The companion applications are available both for Android and iOS.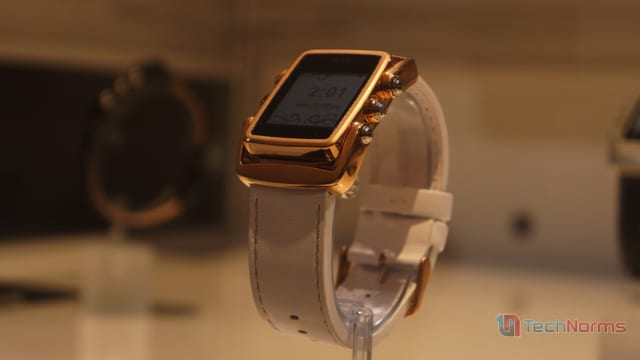 The watches available as a preview were not completely working prototypes. The buttons were not working, but Bill was kind enough to give a quick demo of how it would work and how to set up the watch's clock face using the iPhone application. The watch has a micro USB port for charging and completes charging in about 3 hours. Once fully charged, you should not need a recharge for about 5-7 days, depending on your usage.
While we know that these watches would be available only around May 2014, there is no estimate of the price of these watches. The current MetaWatch models have a price range of $129 to $200. Given that the Meta line of watches has a premium design, look and feel, they can possibly command a higher price.
Opinion
Having seen the Meta watch firsthand, I really liked it. It has a premium feel, looks nice and can go with any attire. It also has a tendency to keep things simple that I personally prefer. The customization feature is also pretty nice, as it allows me to choose the activities or notifications for which the watch compliments my phone. I imagine getting each and every notification on the watch might just be enough for me to ditch my watch. With Meta, I would not have to reach that state.
Meanwhile, you may check out the current range of models at MetaWatch.