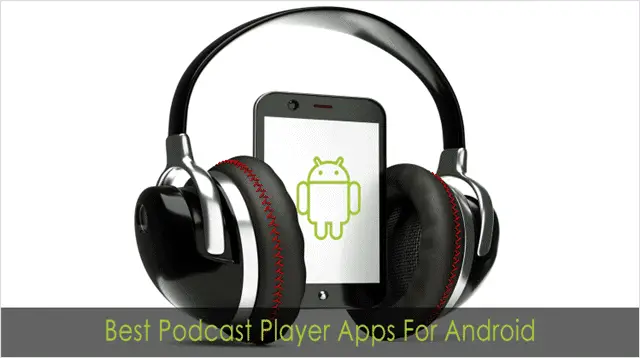 Here at TechNorms we enjoy listening to podcasts. I often receive recommendations from my team members if they discover a new podcast and think I may enjoy it. Podcasts are a great way to learn, laugh, or just keep yourself entertained in the car on the way to work. We like them so much, we wrote a whole blog post dedicated to our favorites.
Listening to podcasts on Android can be a pain. I used to download each individual audio file, connect my phone to my computer, copy the files, and then delete them when finished. It felt tedious.
There are easier ways to handle podcasts. Just let these apps do it for you.
See Also: Beat the Stock Series: 5 Best Alternative Music Players for Android 
Top Podcast Apps for Android
Pocket Casts
Pocket Casts rings in at an impressive $4, expensive for an app. It proves itself absolutely worth the price, though, when you start poking around in the interface.
Pocket Casts presents a modern, clean interface that makes flipping through pages and finding content easy.
It uses lots of colorful tiles to render out lists of podcasts and video series, making it easy to look through content and find what you're looking for.
You can find and subscribe to videos and podcasts. The app has all the big ones like This American Life, The Nerdist, and The Game Informer Show.
Throw in a tablet-optimized interface and you've got a great podcast app. Check this one out if you want a premium podcasting experience.
Podcast Addict
What Podcast Addict lacks in looks it makes up for in performance. The app sports a dated and ad-supported interface.
It works, though. I got an episode of This American Life running in no time flat. Podcast Addict streamed it from the cloud without issue.
Try this one if you want a good podcast app but aren't too fussy about looks or interface. Podcast Addict will get the job done.
See Also: The Complete Guide to Creating and Editing Podcasts with Audacity
AntennaPod
AntennaPod is another app that knows design. It uses a clean Holo theme (switchable between dark and light) and simple, uncluttered interface.
Finding and adding podcasts isn't bad either. Skip the option for manual URLs and go straight to its two podcast libraries and you'll be able to find all the big names.
AntennaPod might be my favorite of the podcast apps. Holo-themed, ad-free, easy to use, and reliable? Count me in.
BeyondPod
Like Pocket Casts, BeyondPod is another app with a good-though-not-Holo interface. It's simple to use, dividing the app into three drawers you can swipe through.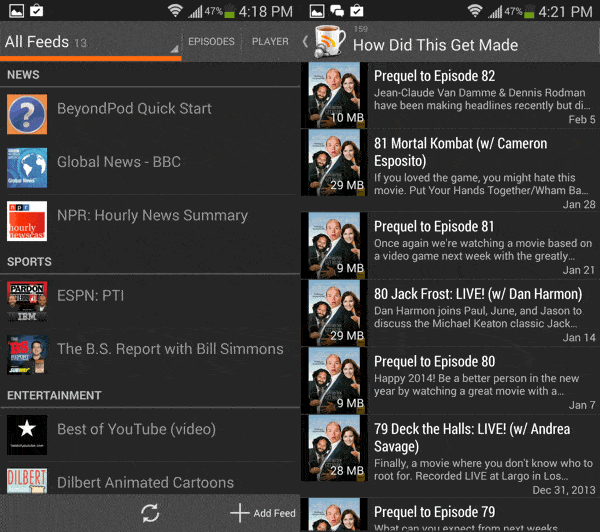 Be sure to hit that plus icon and add some more feeds, though, as the default subscriptions aren't much.
BeyondPod keeps all the famous podcasts, plus a category of recommended stuff that I liked.
The only downside to BeyondPod is the pricing. The app is free for 7 days, then asks you to purchase the $7 full version. Pricey, and limited. The tablet interface might be worth the money for you, though.
See Also: 8 Best Sites to Host Your Podcasts
DoggCatcher
DoggCatcher works well. Its interface uses sharp lines and thumbnails to display content. The issue I have is that it tries to cram too much onto the screen. It feels too crowded, especially compared to AntennaPod.
Using the interface is slightly difficult as well. You have to dig into a small side menu to find the option to stream the content. This feels like an oversight.
Still, you can't argue with free, and DoggCatcher is a decent free app that will handle your podcasts just fine.
Other Podcast apps worth mentioning: Stitcher Radio and Podkicker Podcast Player. Both apps are free apps and look promising.
Final Thoughts
No matter what you pick, there are plenty of great podcast apps available for Android. Download a few and try them. You never know what might catch your eye. Are you using Windows? Don't forget to check out our selection of the Top 5 Music Players for Windows.
Recommended Reading: Get Your Podcasts in the Comfort of Your Own Browser with Podcast Gallery