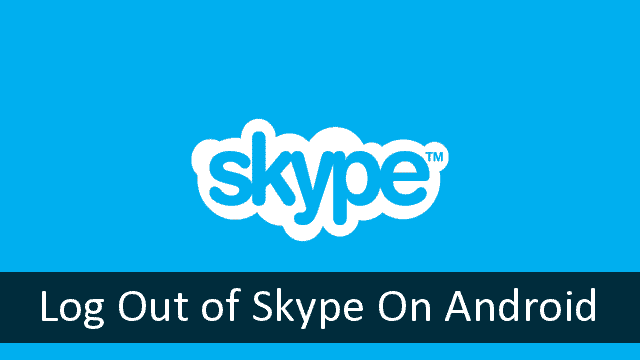 As usual, Microsoft has taken something that should be ridiculously easy and made it difficult for the Skype users. If you've started using Skype on an Android device, chances are you wondered for a bit how to sign out of your account on your phone or tablet. We have been asked this question by our readers a few times already.
Skype's sign out option seems to be hidden in plain sight and has caused many Skype users to opt out of using it on their Android tablets and phones. Until now! We'll show you how to sign out of Skype and then you can hit yourself on the forehead over how easy it is.
Sign Out of Skype on Android Devices
These steps apply to Android phones, tablets and even the Windows 8 and Windows 8.1 Skype app.
For some reason, Microsoft changed where the sign out options was for Skype a few months ago.  This applied to its desktop app, Windows 8 and Windows 8.1 app, along with its Android-based app.  This was an unannounced change, which meant most users were confused when the sign out option seemed to disappear.  Of course, this made many users scratch their heads, move to a third party Skype app and even abandon Skype all together for the likes of Google Voice and other calling apps.
Once you're logged into Skype, you can do whatever it is you needed when you logged on. When you're ready to sign out, follow these steps:
In the upper right-hand corner of the app, you'll see your profile picture for Skype.  It may seem like a static icon, but it's not, it's a fully functional menu you can work within the Skype app on Android.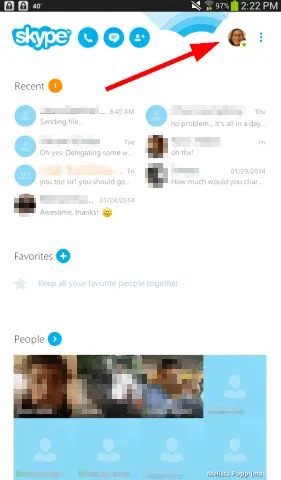 Click on it.
At the bottom of the app, you'll see the Sign out feature.
Now, click "Sign out."
It'll take a few seconds to completely sign out of Skype. Once signed out, you can log in to another account, log in later and go about your day.
It really is that easy. Why can't Microsoft let users know about simple changes like this? They assume users can figure it out on their own. However, if you surf the Web, you'll see how many users have been asking this question since the last major update to Skype.
At the moment, there's no way in the Android versions or Windows 8 and 8.1 app to use multiple Skype accounts at one time. You'll need a third-party app, like Trillian or Pidgin, to log into other Skype accounts while using the official app on a PC, phone or tablet. Will Microsoft ever change this?
Probably not, especially since it wants to integrate the Windows family into everything you do with Microsoft products. By limiting you to one account at a time, it limits you into its narrow mindset of one account to rule them all. Skype is just the beginning of Microsoft's attempted domination of the PC and mobile world.  One account to rule them all, one account to bind them, that's the Microsoft way.
As we said, these steps will also work with the Windows 8 and Windows 8.1 app.  From there, you're on your own.  The updates to the Skype app in the last year have made it much more worthwhile to use than in the past.  These updates have made Skype a competitive app to use when making calls, similar to Google Voice.  If you haven't already begun using the Skype app, we encourage you to give it a try today.
Conclusion
As you can see, that was painstakingly easy. But if you hadn't used this guide, would you have known how to sign out of Skype? Maybe not at first but now you'll be able to use Skype, log out when necessary and sign back in when needed.  If you've been having trouble figuring out how to log out on Skype on your own, now you know how and can pass this guide on to
Why Microsoft continues to make subtle changes that do no good, we'll never know but for now, we're here to help you navigate through these strange decisions.  If you have any questions or concerns about Android, Windows or anything in between, comment and ask them, we'll cover them in the future.