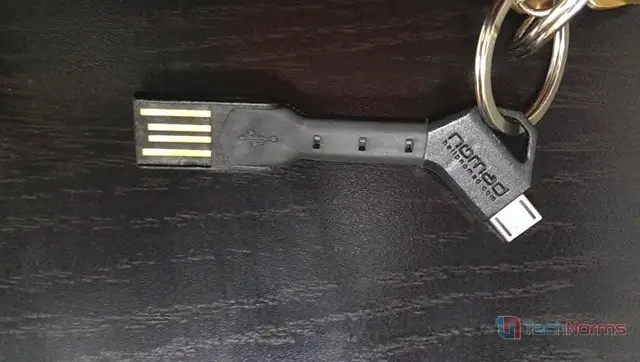 How often does it happen that you have your laptop handy, wish to charge the dying battery of your phone via USB (or the lightning cable), and there is no charging cable with you? If you work some place surrounded by several people on computers, it is likely that you would find one. If not, hard luck!
Why leave it on luck when you can always have charging adapter handy? One almost never leaves the house without a set of keys, be it of the car or the front door. With the ChargeKey, you are almost guaranteed to have a charging cable within reach, whenever you need.
A Few Days With ChargeKey
I put ChargeKey on my keychain immediately on unpacking it. I was at home a couple of days after that and didn't have the need for it at all. A couple of days ago, after being out for several hours, as my phone battery started to die and while I looked in vain for the charger or the cable, I was reminded of ChargeKey.
I had considered the product as creative, but had sort of underestimated its utility. In times of dire need, you would be thankful that you have it with you. When I started to charge the phone with it, my colleagues were impressed by the products' utility and plan to get it for themselves.
SEE ALSO: Always Forget the Charger at Home?
Try Prong's PocketPlug: An iPhone Case that Comes With an Integrated Charger 
The Nomad ChargeKey for iPhone and Android Devices
The ChargeKey itself is a small, thin and flexible adapter with a USB port at one end and a micro-USB at other end. It has a loop to put it on your key ring. Its body is made of high-grade plastics from Bayer (Germany) and GLS (USA).
Once plugged, it allows for charging from any USB port and full data transfer when connected to a computer
The ChargeKey comes in iPhone and Android devices variants, with the iPhone ChargeKey having a lightning connector instead of a Micro-USB.
Should You Purchase Nomad ChargeKey?
From the moment I unpacked the ChargeKey, I have had it on my keyring and it has been very useful at times. I'm sure it will be of pretty handy in the future too. At $25 a piece, you may hesitate a moment wondering if you want to get it for that much.
If you are one who often finds your phone battery in bad state, this is a useful thing to have handy. Once it begins to keep your phone battery charged when you need it the most, believe me, you won't give even a remote thought to the price of this nifty accessory.