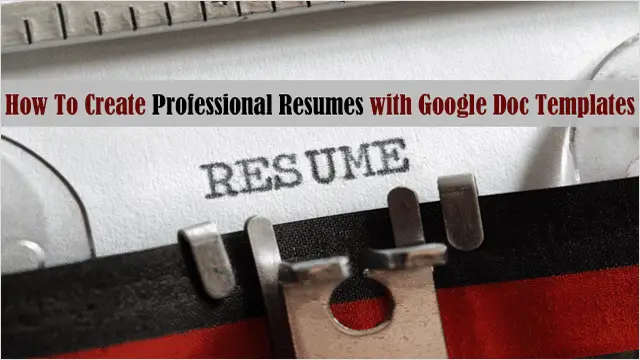 You do not need to rely solely on Microsoft Word anymore to create the perfect resume. There's a new option in town that many are starting to use and even like more than Microsoft Word, a free alternative that utilizes the cloud so your files are available on all your devices, and that is the Google Docs Templates.
Google Document Templates is exactly as it sounds – an archive of templates that you can use at your disposal, and it includes a handful of resume templates that look just as good if not as good as if the résumé was created in Word. Using these templates is incredibly easy as well. All you need is a Google account and that's it.
In this article, we've outlined how to create professional-looking resumes with Google Docs.
Getting Started
To get started, login to your Google account and then navigate to the following URL, Google Docs Templates. After arriving at the template gallery, you will see a search field at the top of the page.
Enter the word "resume" and click "Search Templates." This will display all the available resume templates.
After clicking the search button, hundreds of resume template options will come up. Don't let the number of templates overwhelm you. Simply try to find the first one that is clean and professional-looking.
You can click "Preview" next to each template to get a closer look, which is a must considering how small the preview images are.
The preview function is pretty handy. Google Docs display the résumé template in full view in a new tab.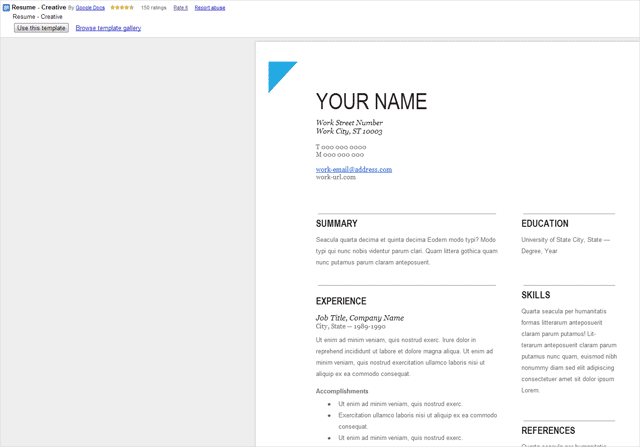 It after seeing the preview you love the résumé template, you can click "Use this template," which will either be in the top left corner of the preview screen or by its initial entry in the search results.
Editing a Template
After you've chosen to use a template, it will open in Google Docs, and the next part is quite easy. To add your personal information to the template, click whatever section you'd like to modify and start entering your information.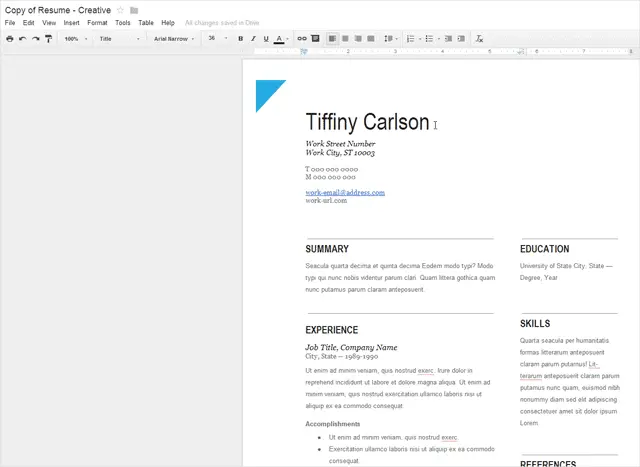 When you've completed filling in the template, the next plan of action is to save a copy of your résumé to your computer.
You can save it in any file type you'd like as well – PDF, Word. Txt, etc. To save your résumé, click "File" in the top left corner of the page, select "Download as…" and then 'Microsoft Word" or whatever extension you'd like.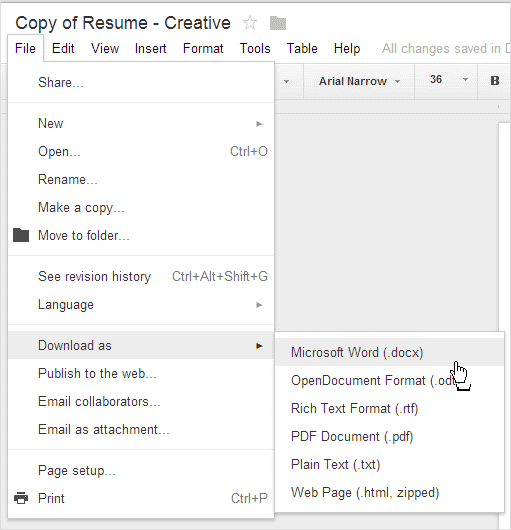 Otherwise, you can print the resume directly from Google Docs. To print, go to "File" and select "Print."
Closing Words
Google Docs Templates is a great example of how the Internet keeps getting more user-friendly. Just 5 years ago we never would have thought of such a sleek Microsoft Word alternative, but it's here, and even better it's in the cloud, giving the ultimate in accessibility so you can access and edit your resume from any device.
Check it out: Google Docs Templates