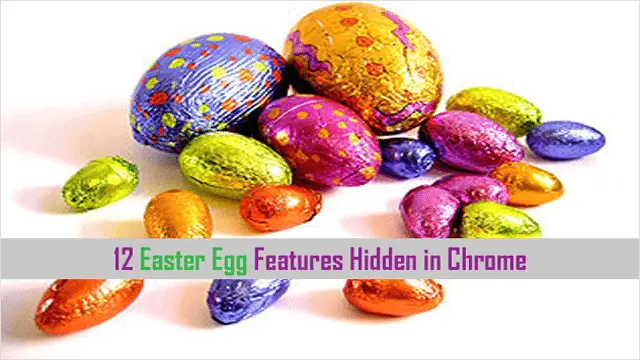 Hippity hoppity Easter is here. There may be no grown-up Easter egg hunts, but we can still go on our own egg hunts, and it can be done virtually in the Chrome browser.
That's right, there are Easter eggs built into Chrome – quirky things that Chrome can do – and they have been put there by developers for one purpose only, and that is to entertain us. And as you'll see in the list below, they've certainly succeeded.
All you need to access these fun eggs is to either type a phrase or word into Google search or access them on Google Drive. We've written about the 12 hidden Easter egg features added to Chrome just in time for Easter.
1. The 360° Spin
Type: "do a barrel roll"
Now here is a fun one. If you don't have vertigo, get ready for a little ride right in your browser. To activate the 360° spin, simply type "do a barrel roll" in the search field in Google and watch as the search page goes into an instantaneous 360 spin just as advertised.
Don't worry, you can't get too dizzy, it "stops after one spin."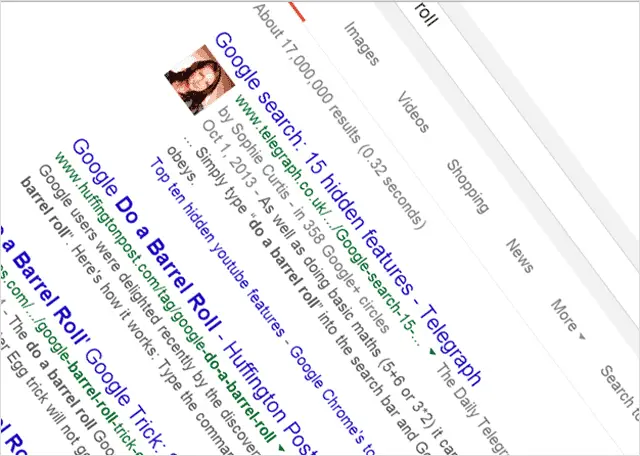 2. Slanted Search
Type: "Tilt" or "Askew"
For those who like to view the world at an angle – hey maybe it's your thing – the slanted search results are right up your alley.
All you have to do is either type "tilt" or "askew" into the search field in Google, and the search results page will display at a "slight angle to the right."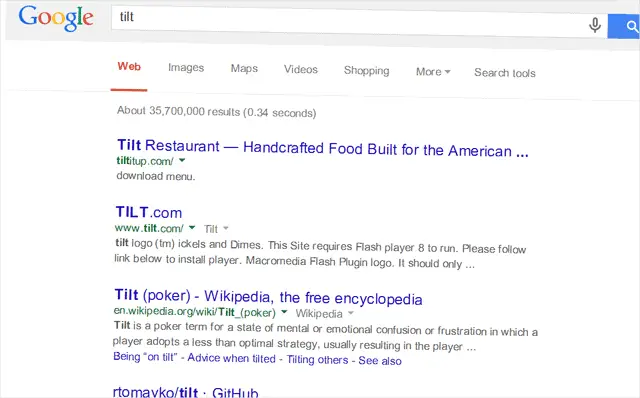 3. Zerg Rush
Type: "zerg rush"
A cool game that Google built into their browser, Zerg Rush is a simple game that is activated by typing "zerg rush" into the search field in Google. When you do, "red O's will begin to fall" from the top of the screen, and all gameplay is done through the "O" key, which allows you to move the falling O's.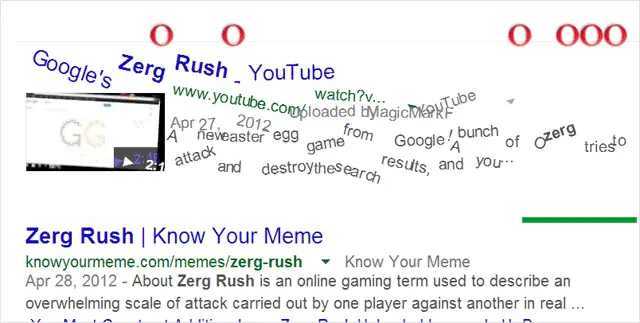 4. Harlem Shake
Type: "do the Harlem shake" (on YouTube)
An homage to the popular dance that you most likely hate by now, the Harlem Shake song, not the video, can be instantly played by typing "do the Harlem shake" into the search field in YouTube.
When you type it, you'll suddenly hear a 30-second clip of the song and "the search page will literally jiggle/dance" along with the song.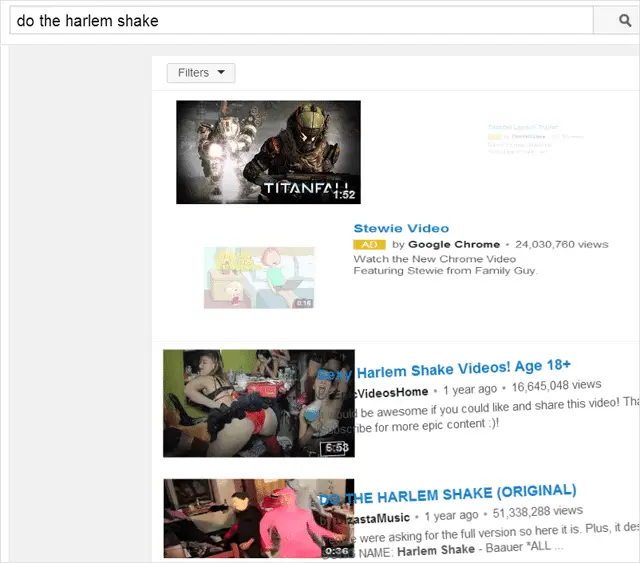 5. Six Degrees of Bacon
Type: "actor's name" + "bacon number"
The cool kid game inspired by Kevin bacon, you can now cheat when playing this who's-connected-to-Kevin-Bacon game by searching for an actor's name along with the term "bacon number" in the search field in Google.
Here's an example. Type in "Danny Devito bacon number." When you hit enter, Google will "display the correct number" connecting these actors at the top of the search results.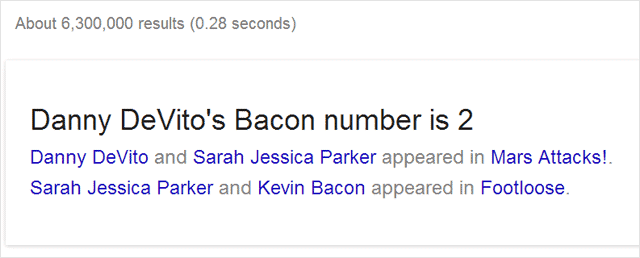 6. Kerning
Type: "kerning"
For those of you who like a bit of extra space between your characters, then you'll love this particular Easter egg based on the popular formatting option in most word processing programs.
To add extra space between characters into the search page in Google, type "kerning" into the search field.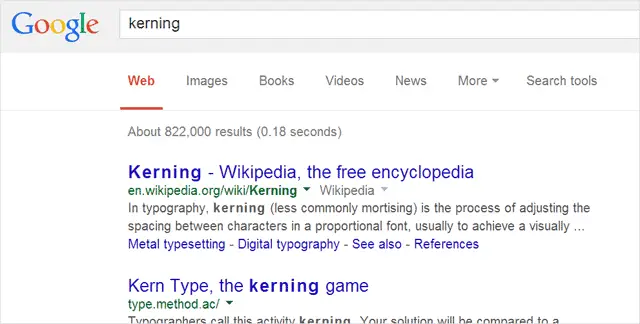 Recommended Reading: 5 Awesome Image Extensions for Google Chrome 
7. Woodchuck Tongue Twister
Say: "How much wood would a woodchuck chuck if a woodchuck could chuck wood?" (in Google Voice search)
For an amusing Easter egg activated by Chrome's voice search feature, if you ask it, "How much wood would a woodchuck chuck if a woodchuck could chuck wood?" it will "reply back" with the age-old answer to this question.
8. Life Simulation from Mathematician John Horton
Type: "Conway's Game of Life"
For those who appreciate the work of British mathematician John Horton, then you will love the life simulation that can be prompted in Google that's an homage to this great mind.
To activate this simulation, type "Conway's Game of Life" into the search field and this game (written in Java) will "slowly appear from the right of the screen."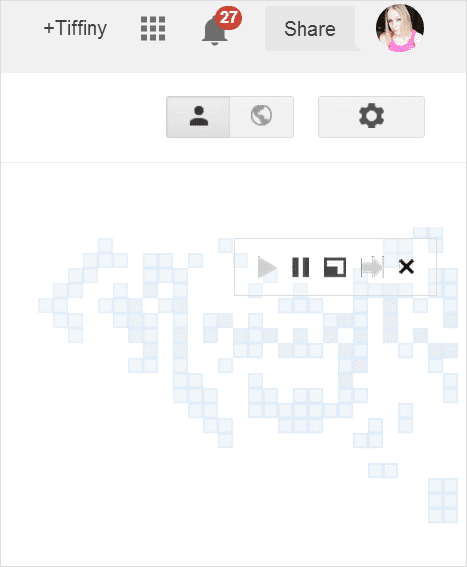 9. Gay Pride in Excel
Type: "P R I D E" (in Drive spreadsheet)
For a colorful Easter egg built into Drive, open a new spreadsheet, then type in the capital letters "P R I D E" into "cells A1 – E1." When you do, the entire spreadsheet will instantly turn into the rainbow flag.
Now that's a colorful surprise.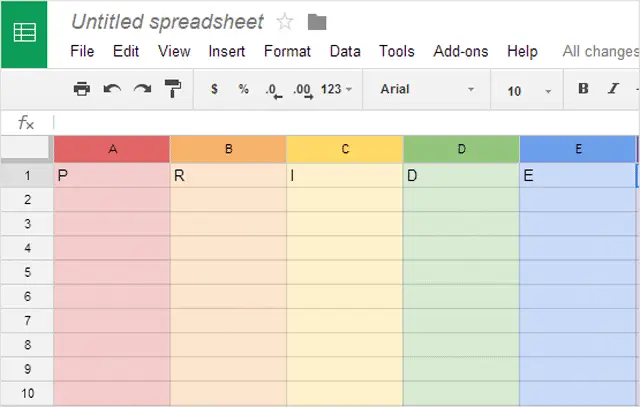 10. Flashback to 1998
Type: "Google in 1998"
For a look back at the early days of Google, there's a flashback Easter egg that displays a vintage Google search page from 1998. This is definitely a fun trick to show your kids or nieces and nephews who won't believe how search results in Google used to look.
To activate the flashback, type "Google in 1998."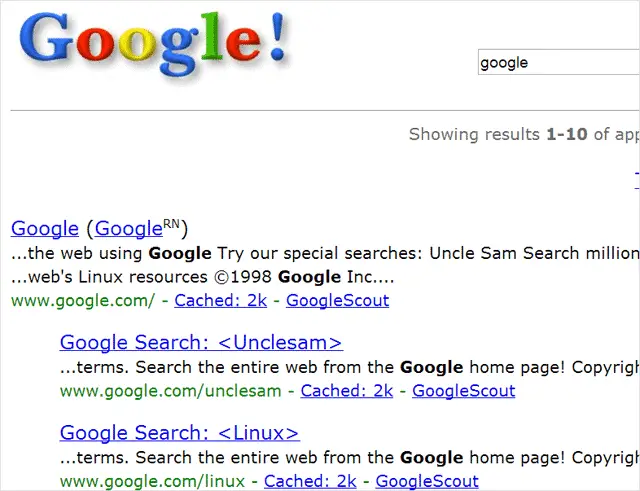 11. Tile Display in YouTube
Type: " Fibonacci" (in YouTube)
To view a "graphic tile display" based on the Fibonacci mathematical theory that follows numbers in an integer sequence in YouTube, type "Fibonacci" into the search field in YouTube and the search results will transform into a tiled square pattern.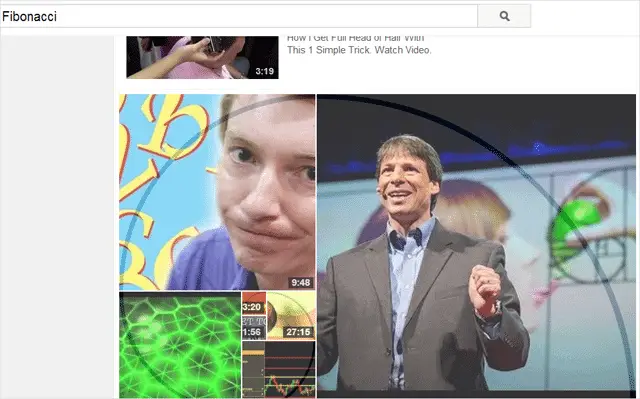 12. Jedi Powers
Type: "Use the force, Luke" (in YouTube)
Lastly for you Star Wars fans, Google developers thought of you too.
To activate a "cool Jedi-like floating effect" that appears in YouTube search results when you hover your mouse over items or when move your mouse in general when in YouTube, type "Use the force, Luke."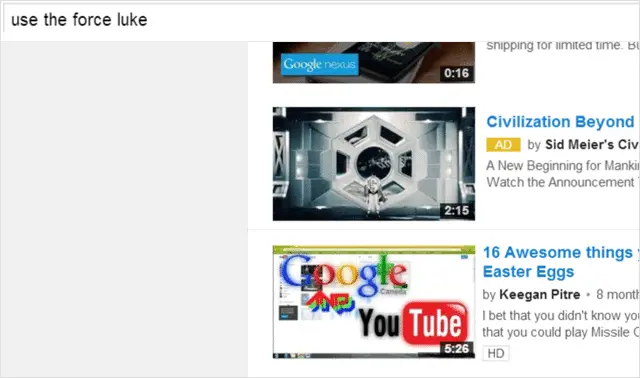 Conclusion
You got to love these Easter eggs. Most of them may not serve a real purpose other than pure entertainment, but we see nothing wrong with that. Sometimes you just need a cool parlor trick to impress your friends at a party, and these Easter eggs satisfy that need and then some.
For more Google tips, check out our post – 15 Awesome Google Search Tricks to Quickly Get the Information You Need.