Storing and sharing content via cloud-based services has become second nature for most internet users. Naturally, using the internet, and using Google, go hand in hand. Thus, Google Drive has become one of the most popular cloud-based file storage and synchronization services on the web.
Google Drive gives all users 5GB worth of free storage space and is integrated with other services such as Google Docs, Google+ and so on.
The service allows you to store, share and modify content from all of your devices at once. Music Player from Google Drive even allows you to listen and freely share audio files with friends and family.
Google Drive tips and tricks
Google Drive has a wide range of built-in features, each one as useful as the last. The best part is, its sheer simplicity and user-friendly interface make it easy to utilize every single one of them.
However, there are also some hidden Google Drive tips and tricks that are not as apparent as the core functionalities. In light of this, we have listed 8 of the most interesting and handy Google Drive tips you need to know about.
1. Save images and web pages directly to Google Drive
It can often be a pain to share images or entire web pages with friends and family via Google Drive. Usually, you would need to save the image, then re-upload it to Drive, a slow process. However, thanks to the Save to Google Drive Chrome Extension, you can now simply right-click on an image or hyperlink, and then click "Save Image to Google Drive".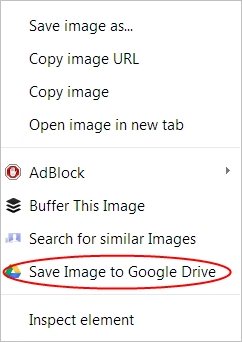 2. Attach Google Drive files On Gmail
Thanks to the interlinking nature of all Google services, you are easily able to attach files from Google Drive to an email sent using Gmail, just as you would do for a file which is stored locally on your computer.
However, using Google Drive has added benefits besides convenience. Since the file is already uploaded, there is no need to re-upload it. This saves lots of time, especially when transferring large files and folders. Additionally, the attachment file size limit does not apply when using Google Drive, as a link is given for the email recipient to download the file directly.
3. Use revision history to back up content
If you accidentally delete or wrongfully modify a file or image on Google Drive, you can restore the content from the Bin within 30 days before it gets deleted forever. For individual files, you can view and choose to restore a revision you've edited in the past.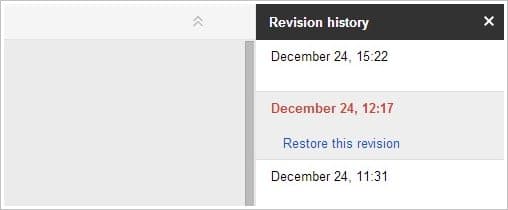 To do this, open a file using Google Drive on your web browser, and hold down "Ctrl + Alt + G". You will then be presented with a menu panel on the right of your screen showing the revisions you've made in the past. You may then simply select the version you wish to restore.
4. Take advantage of numerous third-party apps
Another one of the benefits of using Google Drive is that there are many third-party apps which provide added functionality. In fact, the Google Chrome store has an entire section dedicated to Google Drive extensions.
Some extensions enable you to create charts and graphs, whilst others offer you the chance to create videos and music.
5. Add Google Drive To Windows 'Send To' Menu
Uploading files from your computer to Google Drive is a fairly simple process. You just have to open your browser, navigate to Google Drive, and begin your upload. However, adding a shortcut to your right-click Windows menu can make that simple process even simpler. Simply visit Google Drive and download the application for Windows.
Once you have successfully installed it, head over to "Users > [yourusername] > AppData > Roaming > Microsoft > Windows > SendTo". You may then drag Google Drive into the window from the left-hand sidebar.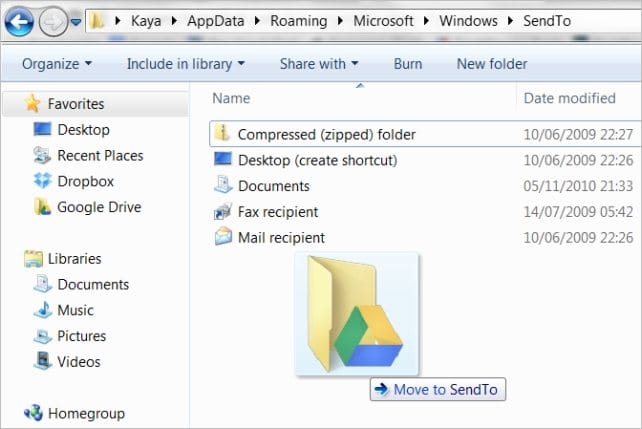 From now on, whenever you want to move a file from your desktop directly to Google Drive, you can right-click on the file, select "Send To" then select "Google Drive".

6. Make use of the keyboard shortcuts
Google Drive allows you to use keyboard shortcuts for navigation right in your web browser. Below, you can see some of the keyboard shortcuts you can use. The full list of keyboard shortcuts can be found here.
7. Edit and enhance photos instantly
By using Pixlr Express – a Google Chrome extension, you can easily edit any image within Google Drive. Once you have installed the extension, right-click on any of your pictures and open it. Pixlr Editor comes with many basic tools available on Photoshop and is more than sufficient for basic image editing, including filters and text options.
8. Set up Google Drive's offline capability
Editing and updating documents on Google Drive is insanely easy thanks to the instant syncing process. Any edits made to a document are immediately saved to Drive. However, what about your edits and modifications when you are not connected to the internet?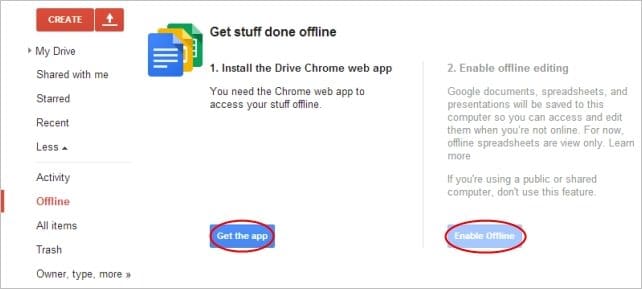 Luckily, Google Drive has an offline capability. To set it up, simply hit "Offline" on the left-hand sidebar, and download the displayed Google Drive app extension for Chrome. Additionally, the Google Drive smartphone app for both Android and iOS allows you to view, but not edit files.
So there you have it, 8 of the very best Google Drive tips and tricks you need to familiarize yourself with, in order to take advantage of the vast, hidden benefits of Google's cloud-based file storage service.