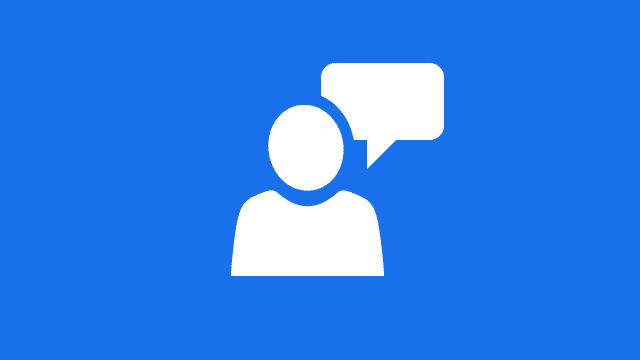 If you're using the Windows 10 Technical Preview to check out what Microsoft is offering in the wake of Windows 8, you're not alone. That makes for a great way to collect user feedback on Windows 10 and help implement changes that will it make less cumbersome and frustrating for those who eventually upgrade down when it's officially released.
We showed you how to sign up for the Windows Insider Program, now we'll show you how to send feedback directly to Microsoft from Windows 10.
Sending Windows Feedback to Microsoft
You can open the Windows Feedback app any time by opening the "Start Menu."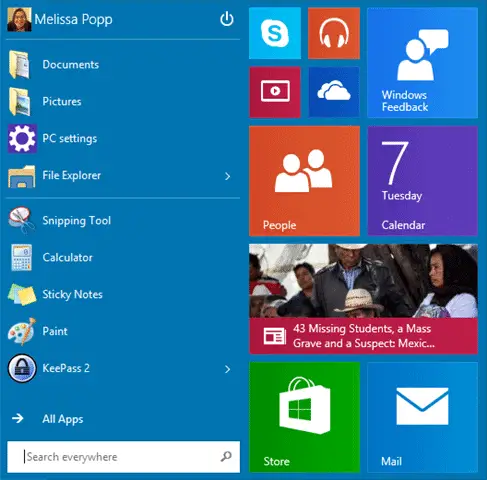 If you haven't tinkered with the Start Menu, yet, you can click on the "Windows Feedback" app in the top right corner of the menu.
If you have tinkered with the Start Menu, you'll want to search for "Windows Feedback" in the bottom left hand corner of the menu.
It'll take a few seconds to open. Even after using Windows 10 since its release, it seems to hang a bit when opening, this appears to be normal.
Once open, you'll see a variety of areas you can give feedback on by category.
Choose the category that best describes the area you want to leave feedback for.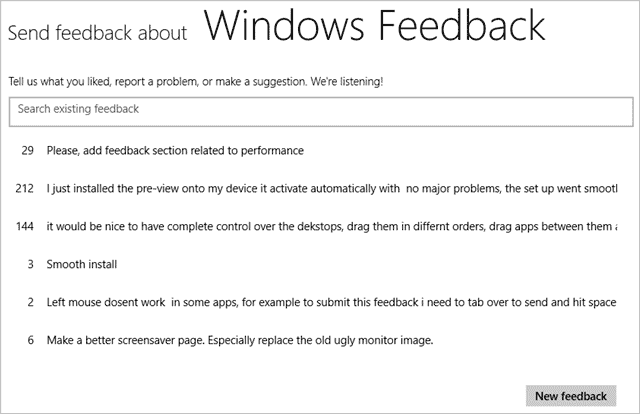 You'll see threads of feedback listed below, along with search feature. It's best to search for your issue in the simplest description possible or by using keywords on it. You want to add to existing threads wherever possible instead of creating your own.
If you find the issue you want to leave feedback for, click on it.
You'll be able to add details, take screenshots and submit them, or simply report "Me too!" to let Microsoft know you're experiencing the same issues.
If you choose to take screenshots, you'll be taken back to where you last were before opening the app and you'll notice a camera icon in the top left hand corner of the screen.
Try and recreate the issue the best you can, then click the "Camera icon."
You can take as many screenshots as necessary to illustrate the point. When you're finished, click the "Check mark" to add them to your feedback.
If you didn't find a thread on your issue, make sure to click "New feedback" from the category you selected.
You want to describe the issue in as much detail as possible, attach screenshots, then click "Send" to create a new thread. From here, not only can Microsoft see it, but others can add feedback and screenshots to it, too.
Do You Need to Join the Windows Insider Program to Send Feedback?
No, you don't need to join the Windows Insider Program to send feedback to Microsoft about Windows 10. This app and feature is pre-installed when you upgrade or install Windows 10, allowing you to quickly send feedback and screenshots to Microsoft.
The biggest benefit of joining the Windows Insider Program is that you'll get the latest builds of the Windows 10 Technical Preview, giving you must up-to-date features, apps, and more.
We strongly recommend you join the Windows Insider Program if you're seriously about sending feedback to Microsoft on the Windows 10 Technical Preview.
Troubleshooting Windows Feedback
You're test driving a technical preview, aren't you? Of course, there's issues, even with the Windows Feedback app.
The biggest issue so far is that it freezes, erasing your feedback, and forcing you to start all over again. Unfortunately, there's not a fix for it at the time. You'll have to re-send your feedback, but it appears to be a one off bug, meaning that once you restart the Windows Feedback app, you're good to go and won't see it freezing again. (At least until you submit your next issue.)
As we mentioned before, the app does hang a bit when first loading, but this just seems normal. Since it won't be a permanent fixture in Windows 10, it's one of those issues you'll just deal with.
Conclusion
Sending Windows 10 feedback to Microsoft is essential to fix bugs, issues, and other things that pop up as you're giving it a spin. If you aren't sending feedback to Microsoft when issues occur, you're contributing to Windows 10 being less than it could be.
If you were frustrated with Windows 8 and felt Microsoft didn't listen to your feedback, now is a chance to change that for the better with the Windows 10 Technical Preview.