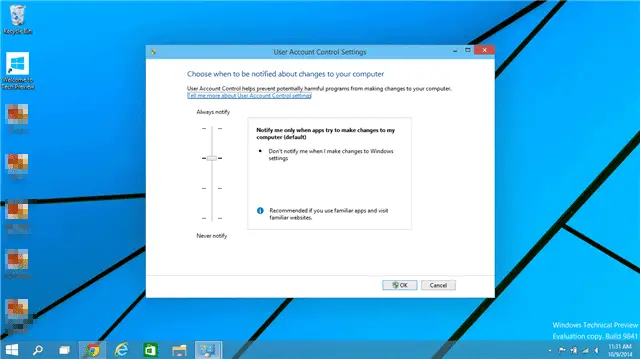 The User Account Control, UAC for short, is one of the most annoying features in Windows for the majority of users. The UAC prompts users to enter the administrator password for the computer, in most cases, for everything from changing system settings to installing new software. This can help protect changes from occurring on a computer, but when setting up a new PC for the first time, they can slow down the process.
We'll show you how to disable the UAC prompts in the Windows 10 Technical Preview. This way you can start tinkering around with the OS right away and don't have to groan every time it asks you to put in a password.
See Also: Microsoft Introduces Windows Continuum, Which Adapts UI Elements for Best Performance on any Device
Disabling UAC in the Windows 10 Technical Preview
Note: These steps only work in older builds of the Windows 10 Technical Preview. As of the release of Windows 10, Microsoft has completely changed how UAC prompts work.
Like most settings in Windows 10, and other versions, you'll want to start by opening the Control Panel.
Click on "User Accounts and Family Safety," then "User Accounts."
This is where you can manage all things User Accounts on your computer.
At the bottom, click on "Change User Account Control settings."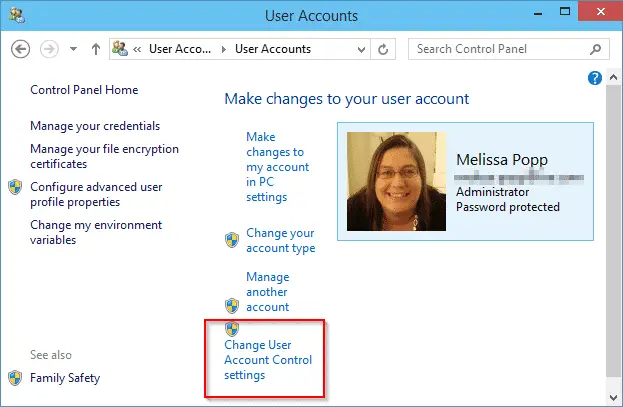 Take the marker and drag it all the way down to the bottom where it says "Never notify".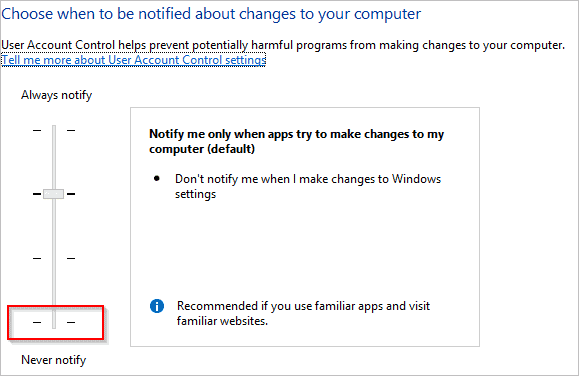 You'll be prompted by the UAC that you're making the changes – the last time you'll need to do so – and now you've disabled UAC prompting in Windows 10.
While these steps may seem simple, you'd be surprised by how many users on the Microsoft forums complain about UAC prompts. They don't realize they can change how frequently they appear or disable them all together.
Now that you know how to disable UAC prompts, you can get to it faster setting up Windows 10.
Using User Accounts to Manage Windows 10 Functionality
Turning off UAC prompts in Windows 10, for every user, can be a great way to avoid having to deal with legitimate reasons why system settings and programs need to be changed. However, if you're using a shared computer, you may want to utilize User Accounts instead of UAC prompts to control how things are done on the PC.
You can create different levels of accounts, similar to how Windows 7 and 8 work, giving you a single administrator account you have access to, then creating standard accounts for everyone else. This is one of the best ways to manage a multi-user PC, not have to worry about UAC prompts, and still have complete administrator control over what happens with software installs, settings and more.
Conclusion
If you're annoyed by UAC prompts and want to get rid of them in Windows 10, it's relative easy. However, you might want to consider how you manage settings that UAC prompts for in general on a shared PC. Take the time to examine how users are utilizing your computer and make the appropriate UAC settings adjustments to compensate.
Must Read: Tips to Protect Your Windows PC From Various Online Threats When Microsoft Won't