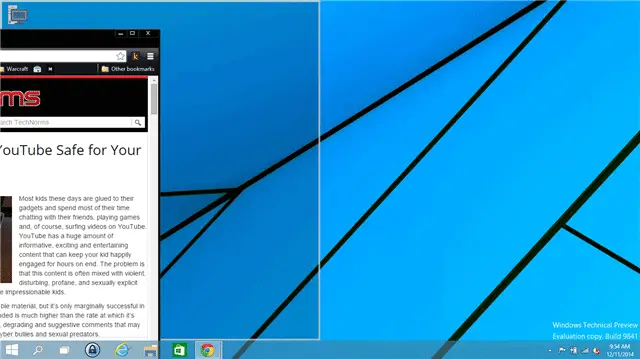 One of the biggest issues with Windows 8/8.1 was that those used to Windows 7 didn't want to learn how to use a new operating system. With Windows 10, we want to ensure that you know how to take advantage of everything it has to offer.
Snap Assist is something that can make it easier to juggle multiple apps, programs and windows open on your screen. It's been around since Windows 7 but finally sees some real, worthy updates in Windows 10.
Let's look at how to use Snap Assist in Windows 10 and how this can help make you more productive when you get used to using them.
Using Snap Assist in Windows 10
In order to use Snap Assist with any open window on the desktop, you'll want to left-click the title bar, hold your left mouse button down and then drag it right or left on the screen.
Eventually, you'll drag it far enough that an overlay will appear, letting you know that it'll snap into place when you release the mouse button. This is how Snap Assist has worked since Windows 7.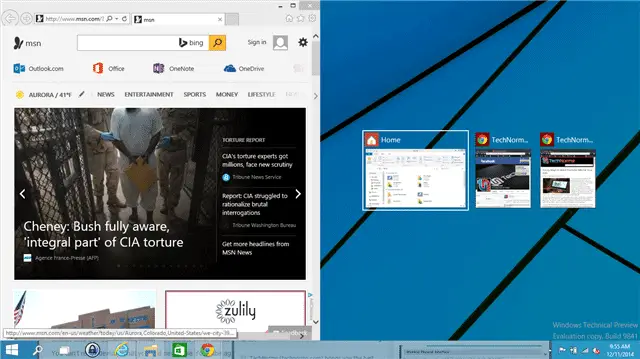 In Windows 10, when you follow the same steps, you'll be greeted by thumbnails that you can click on that will automatically snap that window, program or app to one side of the screen.
In Windows 7 and 8/8.1, you'd be given a blank space to work with until you snapped another window, app or program there, in Windows 10, Windows does the work for you and fills the space much quicker this way.
The Windows Key + Left Arrow/Right Arrow keyboard shortcuts will still work in Windows 10 to use Snap Assist, though they won't open the thumbnail view that makes this feature more intuitive to use.
Windows 10 Vertical Snap Assist
Windows 10 will improve Snap Assist by introduced vertical snapping to the OS.
Unfortunately, vertical Snap Assist can't be used with a mouse, only keyboard shortcuts for now.
In order to use vertical Snap Assist, you'll use Windows Key + Up Arrow/Down Arrow to snap an app to the top or bottom of your screen. If you press the Up Arrow or Down Arrow again, you'll maximize the selected window to full screen mode.
Windows 10 2×2 Snap Assist
Windows 10 will also introduce 2×2 Snap Assist, allowing you to snap up to four apps, programs or windows to a screen as opposed to the two in Windows 7 and 8/8.1.
In order to use 2×2 Snap Assist, you'll move a window to one of the four corners of your screen until it snaps into place. You can then drag and drop other windows, apps and programs to other corners until you've filled each corner.
2×2 Snap Assist can also be used with keyboard shortcuts, such as the Windows Key + Left Arrow/Right Arrow/Up Arrow/Down Arrow. You'll use the Windows Key + Left Arrow to snap a program, app or window into one side of the screen, then use the Windows Key + Up/Down Arrow to snap it to a corner.
Windows Universal Apps and Snap Assist
Windows Universal Apps at launch won't always work with Snap Assist properly. This has to do with changes they've made to Windows apps to convert to Windows Universal Apps, such as Office, OneDrive and more. This will likely be fixed in a variety of Windows Updates once the OS is released to the public.
Microsoft hasn't released a list of apps that don't quite work properly with it, yet, but if you've tinkered around with the Windows 10 Technical Preview, you know that you can't quite count on the glitches happening to tell you what apps will work when Windows 10 launches.
Conclusion
Windows 8/8.1 was supposed to help users become more efficient and productive when using intuitive features built-in to the OS, but unfortunately, it was too much. By improving upon features, such as Snap Assist in Windows 10, Microsoft can slowly help users take advantage of some of the different ways they can use the OS.
Snap Assist has been a handy feature since Windows 7 that many users don't realize even exists until they accidentally "snap" a window somewhere they don't want it.