Best Firefox Add-ons for Android
Firefox was one of the front-runners that challenged the supremacy of Microsoft's Internet Explorer during its early days and later became a leading open source browser. Now, it has a significant user base all over the world. Android device users can also enjoy the benefits of Firefox- thanks to its nifty mobile version.
Just like the desktop variant, Firefox's Android iteration also supports plenty of add-ons. Needless to say, such add-ons help users extract the most out of the browser. You can use these add-ons to enhance your web browsing experience on Android.
Listed below are our top 9 add-ons you should get for the Android version of Firefox.
It is essentially the same add-on available for Firefox's desktop variant. The add-on, as evident from its name, speeds up your internet browsing speeds by blocking several pop-up ads. It is particularly effective in blocking annoying banner ads and video ads seen on sites like Facebook and YouTube.
This is ideal for users who still use slower internet connections and they can experience a speed boost. The Acceptable Ads initiative ensures that you have the option to "white-list" certain ads on selected websites. This ensures websites reliant on advertising do not suffer a loss of revenue. The add-on also fixes misspelled URLs to some extent.
This Firefox Android add-on fixes commonplace website address typing mistakes. It may sound basic but correcting such typos can be quite convenient and time-saving for lots of users.
It can be particularly helpful for users who have devices with small screens and lower resolutions, resulting in a tiny on-screen keyboard. The app asks users for confirmation before fixing a typo.
Additional Reading : Stop Web Address Typos in Firefox for Good with URL Fixer
Even if you use a new Android handset with a 5-inch screen and HD resolution, it is not equivalent of your laptop screen eventually! Screen space continues to be the stumbling block for many Android users, especially for browsing websites.
Full-Screen Mobile is an add-on for Firefox's Android version that enables Full-screen mode on the mobile version of the browser. It is a simple add-on that works wonders and requires no restart. You can enable and disable the full-screen mode with a just tap when needed. This add-on is mobile equivalent of the F11 key on your Windows machine.

It is true that Firefox, in all its versions is capable of storing passwords and login data for the websites you visit. The browser can auto-fill the saved data when you visit those websites again, adding to the convenience.
However, there are a few websites where settings prevent Firefox to store passwords by default. With RememberPass installed, you can override the barrier and force Firefox to prompt for password storage. The add-on works as desired for most websites, as it is.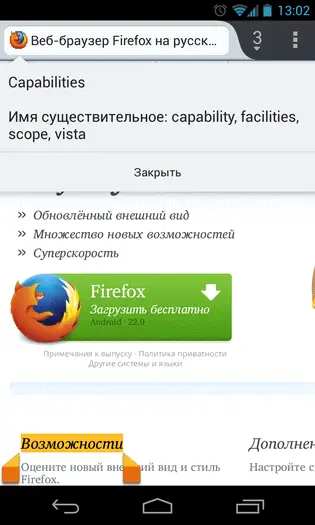 Sometimes, you may have to visit non-English websites, for work or personal needs. Instead of using online translation tools, isn't it better to use a Firefox add-on that can handle the task? That is where Tap-Translate steps in.
This Firefox add-on can be used to translate text from a number of languages. You need to select the text part and the add-on displays the translated text on top of the page as an overlay.
Black Background & White Text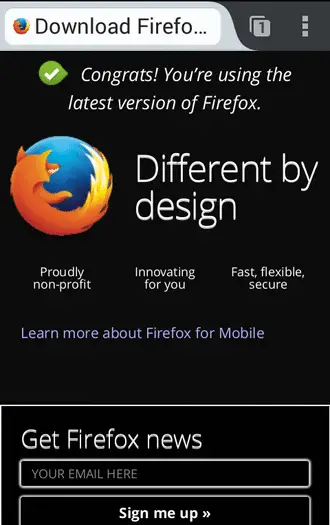 This is one handy add-on that will fit your bill if you use Firefox on your Android device for web browsing and reading articles online. The add-on also transforms Firefox's default UI to gel with the altered background color. The visual change allows you to read long pages without straining your eyes, as it is.
Update: This add-on is not available on Firefox Add-ons. An alternative link to this add-on is- White on Black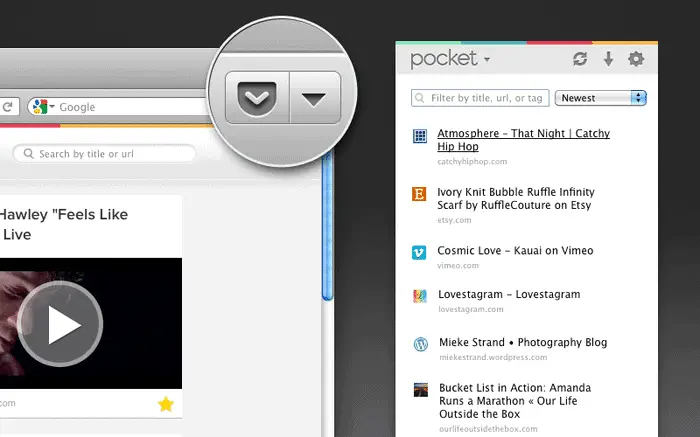 This one's an absolute must-have! Busy users often like to save web pages and articles for reading later. Pocket for Firefox is a handy bookmarking add-on that saves and syncs content across all your devices.
What's more, it works offline as well. This is especially useful for saving those long articles or videos for accessing when you may be without an internet connection.
Sadly, in the Android version of Firefox, the 'Quit' option has been omitted since version 20. So, users are made to hit the back button several times to quit the browser app in their devices.
However, it keeps running in the background, hogging memory. You can exit Firefox using the OS's task manager, for sure. However, the smarter option is using the add-on QuitNow. It adds the much needed 'Quit' option to the browser's menu.
This handy add-on for the Android version of Firefox helps you access the web without limitations. Phony alters the default browser user-agent, thus enabling Firefox for Android to emulate a different browser – such as IE or Google Chrome.
It is handy when Firefox's own 'Request Desktop site' feature fails to work as intended. There are a number of websites that still do not detect Firefox's mobile version and you are limited to viewing the desktop version on your Android device!
Update: This add-on is not available on Firefox Add-ons. An alternative link to this add-on is- User-Agent Switcher
Wrap Up
So, you can see that there are plenty of add-ons available for Android version of Firefox. They help you extract more functionality from the already efficient browser. The best part is you do not have to pay for the majority of add-ons.
Installing the add-ons using Firefox's menu settings is quite simple and they can be added in a jiffy. Some of these add-ons do not even need a browser restart. To be on the safe side, read the user reviews and ratings of such add-ons before installing them on your device.
What awesome add-ons do you use for Firefox on your Android device? Share them with us in the comments below.