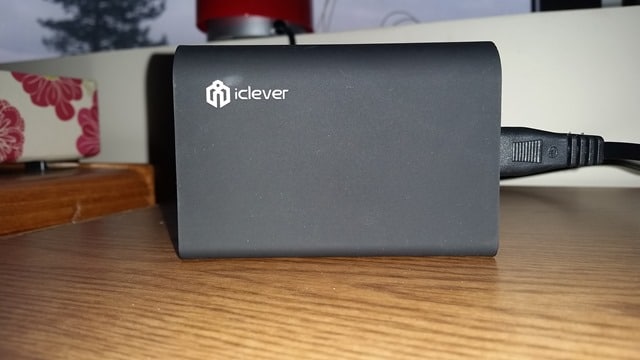 I'm always hesitant to try out third party accessories, because I've been burned before. I was approached by Hisgadget.com, who's behind the accessory brand iClever. They asked if I was interested in checking out a few of their products. After looking at their Amazon reviews, I decided to give them a try. They sent me a pair of Bluetooth wireless headphones and a charging station.
Let's look at what iClever can do and whether or not their accessories are worth investing in for your mobile needs.
IC-BTH01 Lightweight Wireless Bluetooth Headphones
I'm always skeptical when I try out Bluetooth headphones. I don't personally like them. Most of them are clunky, they get interference if you use other Bluetooth devices at the same time, and they just seem more cumbersome than they're worth. I was surprised by how lightweight the IC-BTH01 headphones were right out of the box.
These headphones utilize Bluetooth 4.0 technology, have a built-in mic and controls, similar to the standard pair of wired headphones that come with phones nowadays. It utilizes a built-in rechargeable battery, which charges relatively quickly and alerts you when it's running low with a beeping tone.
These headphones come with an ear piece to hold the headphones in place depending on your ear's shape. They also come with multiple buds so you can find the right fit. It's probably just me, but I couldn't use any of the earbuds that came with it, they all felt wrong. They were either too small or too large, distorting sound at the larger sizes. I took the earbuds off my Samsung wired headphones and used those instead and they worked just fine for the fit and sound quality.
I was impressed by the sound quality the most with these Bluetooth headphones. Every once in a while there's be a skip or jump due to the connection between the headphones and my phone but otherwise, the music quality was crystal clear, which was a nice surprise.
Unfortunately, for what these Bluetooth headphones make up for in sound quality, they failed in mic quality. I have yet to be able to take a call no matter how I wear these headphones that the other party can hear me clearly. I can hold the mic part close to my mouth and it still sounds muffled on the other end although a bit better than when I wear them around my head. Others may have better luck depending on their device when using the mic, but I just went without it.
Overall, for the price these run at and the sound quality, these are a good buy for those looking for Bluetooth headphones without spending an arm and a leg. However, be weary of the built-in mic if that's a function you hope to use often. It may just be me, but you'll want to make sure it works well for you before holding onto the IC-BTH01 headphones.
6-Port Fast USB Travel Wall Charging Station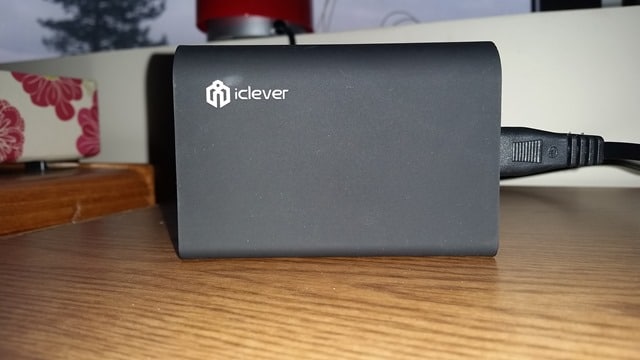 I'm a big fan of charging stations. As someone who always has her tablet, phone and other devices that need to be charged via USB on her, having a portable charging station with me on the go is a must. For anyone who's out and about during the day, you have to check out iClever's 6-Port Fast USB Travel Wall Charging Station.
This 6-port charging station from iClever is beautiful. The second I took it out of its packaging, I marveled at how it felt in my hands. It's sleek, solid and sturdy. This is high-quality you're not used to expecting for this price point. It's compact which means taking it on the go is a breeze.
iClever utilizes what it calls SmartID Technology. This means that the charging station identifies your device and makes sure it's charging at the right rate, which is something sorely lacking in many charging stations on the market. This means your device charges quickly, properly and doesn't overcharge causing battery degradation over time.
The device as a whole can output up to 50 watts at one time, giving you plenty of juice to charge multiple devices at once. At one point, I had my phone, one of my coworker's phones, my tablet and the above Bluetooth headphones all charging at once and didn't notice a slowdown at all on anything plugged in. In fact, my Samsung Galaxy S5 charged in its prescribed time when using the Samsung OEM cable paired with iClever's travel charging station. I've had trouble in the past with other third-party charging stations charging my Galaxy S5 at a "normal" level instead of its lightning level with the cable.
This charging station has become my go-to charger to bring with me during my workday, when I'm out and about and on my travels. For the price point, you can't do any wrong by investing in it.
Conclusion
I was pleasantly surprised by the quality of iClever's offerings. I'm a big fan of the charging station and the Bluetooth headphones are a nice thing to have on me when I don't want to deal with being wired in. If you're looking for affordable third-party accessories, I'd recommend taking a look at what Hisgadget and its iClever brand has to offer. I think you'll find for the price and quality, you can't go wrong, especially when it comes to being on the go in this busy world.
Disclaimer: The above company sent us the product reviewed in this blog. However, that has not swayed my opinion of their product one way or another.