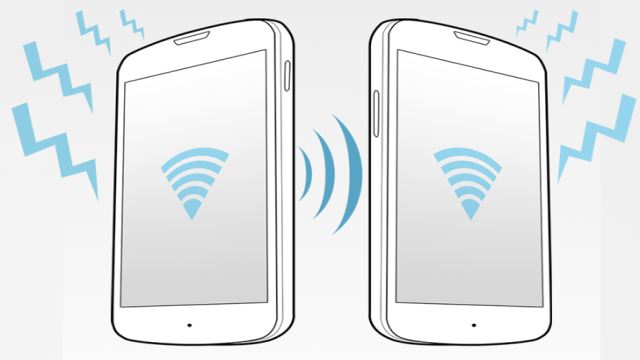 Sharing Large Files
With rapidly changing technology becoming a part of our daily lives like never before, tasks that were cumbersome, inconvenient or even deemed time-consuming are now done with tap on your smartphone. There was a time a mobile phone camera was deemed as cool, now smartphone cameras are giving digital cameras serious competition.
You may recall those days when people transferred images between mobile phones through infrared, which required placing them aligned and face to face. Now, transferring myriad files between devices is possible using Bluetooth or cloud services. However, transferring large files between two mobile phones or tablets continues to be a little tricky.
Transfer Options
There are many options for data transfer between mobile devices, both wired and wireless. The most commonly used transfer methods are:
Bluetooth
USB OTG cable
Cloud services (Google Drive, DropBox, iCloud etc.)
Email
WiFi network
While Bluetooth remains the most widely used method for data transfer between mobile devices, it does have limitations. Its fine when you send or receive a few images or even music files. However, sending large video files over Bluetooth from your Smartphone or receiving one sent by a colleague can be a painfully taxing experience. It is true about transferring any big file, as it is. Bluetooth data transfer range hovers around 200 kbps or so.
USB is an easy option but it involves using wires and sometimes, a PC to between.
Not all people find using Cloud services feasible and network connectivity issues often pose problems in both uploading and downloading data.
Email attachments come with a size limitation as most services don't allow large files.
So, how do you send a large file from your smartphone to someone sitting a few feet away? The answer is Wi-Fi Direct. It's fast, convenient and ridiculously simple.
Transfer Large Files Between Two Android Devices
There are apps on Google Play store that you can download to transfer large data between two Android devices.
With the advantage of Wi-Fi Direct technology, it is possible to quickly transfer files between two Android devices. Amazing as it may sound, using the technology you can exchange data over WiFi even when there are no access points nearby.
WiFi Direct creates a soft access point on a host device to allow it transfer even large files at relatively high-speed and the other device to join in and receive the file.
You can use File Explorer, a handy file manager app to streamline this process.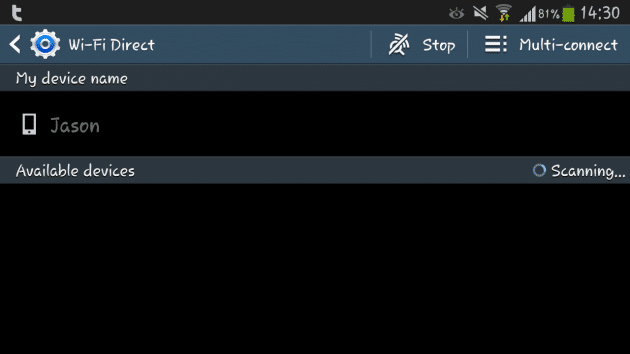 You need not use an external Wi-Fi hotspot as mentioned. Create a hotspot on any one of the devices and then connect the other to it. Of course, both Android devices should support Wi-Fi Direct.
You need to access settings in on your device and explore 'more options' found under 'Wireless and Network' settings. Now, you can select 'create portable hotspot' option and tap it. The name can vary slightly from one device to another. Most devices running on Android Jelly Bean or newer Android version should have it present.
After establishing a connection on the first device, you need to activate Wi-Fi on the other device. Then connect to the hotspot hosted by the first device.
Ensure that the Wi-Fi setting has a dynamic IP, not a static one.
When both devices are connected, launch the ES File Explorer on both devices.
Select files on the sender device and then tap on menu to get more options. After selecting files, tap on send option. When the devices are linked, the 2nd device will get listed in the 1st device UI.
The recipient device will get a prompt and as they accept it, the transfer will begin. The transfer speed can be up to 3-4 Mbps. The nice thing is this transfer runs in the background.
Transfer Large Files Between iOS and Android Devices
At times, you may need to transfer large amounts of data between an Android Smartphone and another device running iOS. The latter could be an iPad or iPhone.
Since Apple is yet to use WiFi Direct feature in its devices, you will need to use a regular WiFi network. Bump was one application that could be used earlier, but post Google's acquisition of the company, it is not possible. The saving grace is an app called SuperBeam.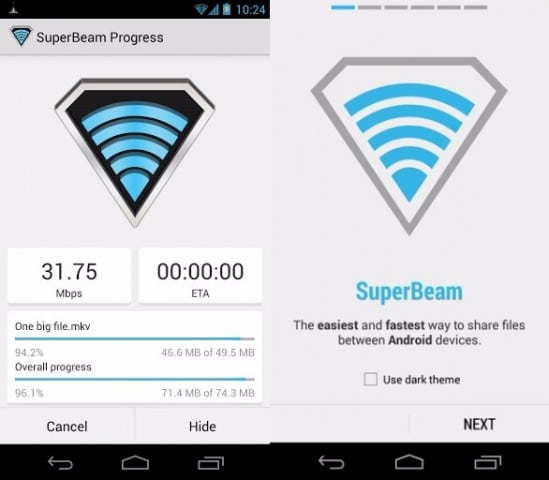 With SuperBeam, you can easily transfer data between an iOS and Android device at blazing speed. It is available for download at Google Play store. It relies on Wi-Fi hotspot or Wi-Fi direct for speedy file transfer.
After installing the app on your Android Smartphone, you will find it appearing as a sharing option in various apps like contacts and gallery.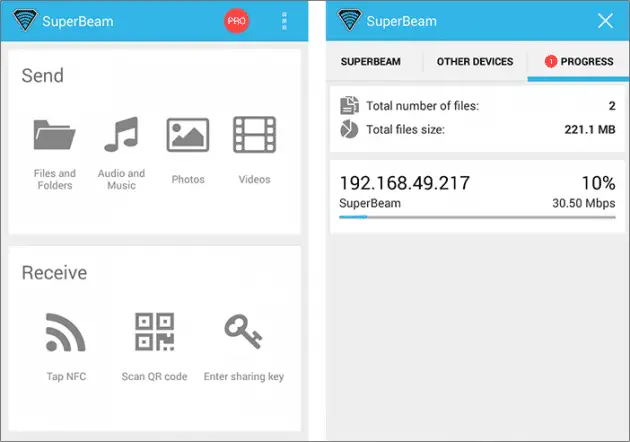 With the SuperBeam app, you get a network URL to download files that are shared. While the iPhone App Store does not have the app, you can use apps to download the shared files using Wi-Fi network. After receiving it from the Android device, you can just download the file directly using the download URL.
You can use the app 'FileMaster–File Manager and Downloader'. After installing it in the iOS device, you need to access the "Downloader" option in bottom bar.
Now, enter the home network URL as found on Android SuperBeam App which appears under "Other Devices" option.
Then you can download the shared file from FileMaster UI and save it on the iOS device. It works quite fast. This lets you transfer literally all types of files like video and images.
In Conclusion
Sharing large files between your smart devices has become easier with WiFi Direct. Whether you use an Android  or an iOS device, you can transfer large files quickly and without the hassles that come with other means of file transfer.
If you store files locally on your smartphone regularly then this is certainly the best way to share files, fast.
Which is your go-to app for file transfers? Share with us in the comments below.