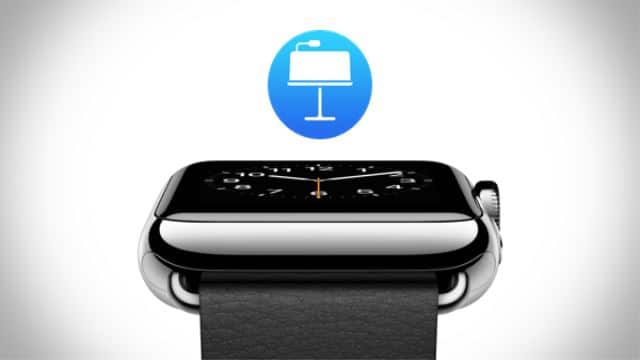 Keynote Presentations with Apple Watch
Microsoft's PowerPoint revolutionized the way users created presentations. Creating dazzling presentations was no longer a work of art; all it required was a working knowledge of PowerPoint with all its powerful tools. Apple also joined the presentation bandwagon pretty early in the game coming up with Keynote for both Mac and iOS devices.
Apple launched the Apple Watch in 2015. While fitness tracking and health apps on Apple Watch has been a major draw, it also works in tandem with your Mac and iPhone to enhance and assist you at work and improve your productivity.It can, for example, help you control your Keynote presentations.
You can now change slides unobtrusively with your Apple watch without having to turn repeatedly to your Mac or any other device.
See Also: Office for Mac 2016 Beta Preview is Amazing But Somewhat Unfinished
Using Keynote
Keynote is Apple's answer to Microsoft's Powerpoint. This presentation software has been around for some time now with the latest version for Mac released in 2013 while that for iPad released in 2010; it works on both Mac as well as other iOS devices.
This is a great software that allows users to create dazzling presentations thanks to the amalgamation of Apple's powerful tools and Keynote's inherent features.
With Keynote, it is possible to work seamlessly with multiple Apple devices which support iOS and Mac. Recently Apple has launched the Apple watch which can also work in tandem with Keynote to improve the entire presentation experience.
Apple Watch
Apple claims that the Apple watch is its most personal offering so far. This is very true; while phones are an integral part of our makeup, we do not really wear them on us while a watch remains strapped to our wrists through the day.
The Apple watch is not just about looks which are definitely pretty sleek, but also about a plethora of apps and features that ease out our day to day functions.
It is possible to control you Keynote presentations through your Apple Watch. The watch can sync with a presentation which is either in Mac or any other iOS device. All that is required are some settings tweaks and basic connectivity of the devices.
Let's take a look on how we can do this.
Get the Keynote App for both the iPhone and Apple Watch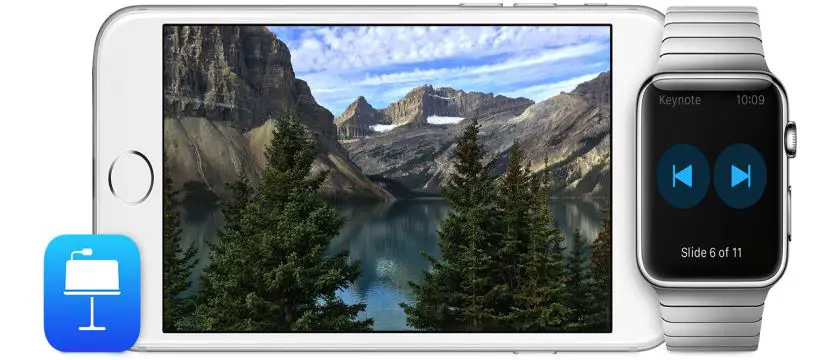 The first step here is to make sure that you have Keynote installed on your iPhone which is paired with an Apple Watch. Open Keynote on the iPhone at least once before opening it through the Apple Watch.
Next download the Keynote app through the Apple Watch. You can verify if the download is successful; tap on My Watch> Keynote> Show App on Apple Watch.
Getting the Settings Right
For effective controlling of you slides through the Apple Watch there are a few settings which need to be on.
Go to your Apple Watch home page and tap on General and then Activate on Wrist Raise. Turn the Wrist raise option on and then select the Last Used App option.
Some tweaking of you iPhone settings is also required. Open the Apple Watch app on your iPhone and then tap on My Watch. Go to the General menu and turn on Wrist Detection and then tap on Activate on Wrist Raise and select Resume Previous Activity. Once you are done with these settings changes you devices are ready to control keynote through the Apple watch.
Pair the Relevant Device
In order to understand the process better let us take a look at the flow of control here. An Apple watch app is available on an iPhone. You need to have a remote connection between the Mac or iOS device that you are presenting from to the iPhone paired Apple watch.
The first step here would be to enable the Keynote on your iPhone to work as a remote for the Keynote app installed on your Mac or other iOS device from which you plan to make the presentation. You can accomplish this through a few basic steps.
Open the remote control configuration on the device that you are going to present from. If it is an iOS device then you would have to go to Remote | Devices | Add a Device.
On OS X you can do go to the remote control configuration by going to Keynote | Preferences | Remote and check the Enable box.
On your iPhone which is paired with the Apple Watch select Remote | Devices | Add a Device
Link the device that you want to act as a remote in the Mac or iOS machine from where you would be presenting. Tapping a link button next to the remote device should get this done. You would get a code on the screen for verification after linking, confirm it and you are well on your way to make an Apple watch controlled presentation.
The Actual Controlling through the Apple Watch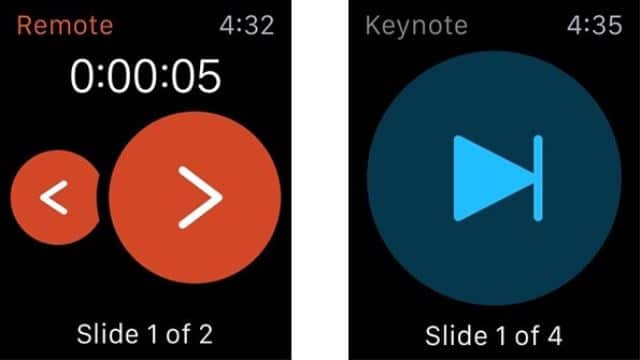 Once the above mentioned settings have been complete open the presentation in the Mac or iOS device.
Open the Keynote app on the Apple watch, it would automatically search for the device which has the open presentation and then link to it.
You would get a Ready note on your Apple Watch.
Click on this to begin.
A green button on the watch can be tapped to begin the presentation.
Once started the button would change to a blue skip button to advance slides.
If you want to go back or close the presentation then a simple Force Touch on the screen will get you the relevant options.
Final Thoughts
The beauty of this app is that the controls remain in the foreground of your Apple watch even when you lower your wrists as you make the presentation. No more tussles with the temperamental space button to manage your slides, do it effortlessly and elegantly through your Apple Watch.
The Apple watch allows you to skip or go back through slides without having to walk repeatedly to your main device. Own the conference room as you walk it without once having to return back to your main device during the course of your presentation.