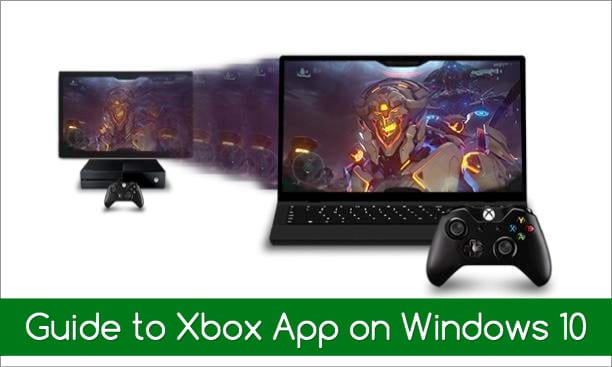 One of the coolest features Microsoft is introducing in Windows 10 is the Xbox app. The Xbox gaming app will allow Xbox users to login to their Xbox accounts via their PC, stream content to and from their TV, along with access messages, achievements, settings and more. If you're looking for a fully-immersive Xbox gaming experience, the Xbox app seeks to make it possible.
Let's look at the Xbox gaming app, what it can do and why this will change the way you game well into the future.
Getting Started with the Xbox App
The Xbox app comes pre-installed as part of the universal app bundle with Windows 10. Whether you upgrade or install, it's part of the Windows 10 experience. Since Microsoft wants to turn Windows, and the entire Microsoft platform, into a universal experience, it makes sense to connect the Xbox console into that family.
You'll need an Xbox account to use the Xbox app in Windows 10. You can create one at Xbox's website or you can create one through the app if you aren't already connected to a Microsoft account that's done so already.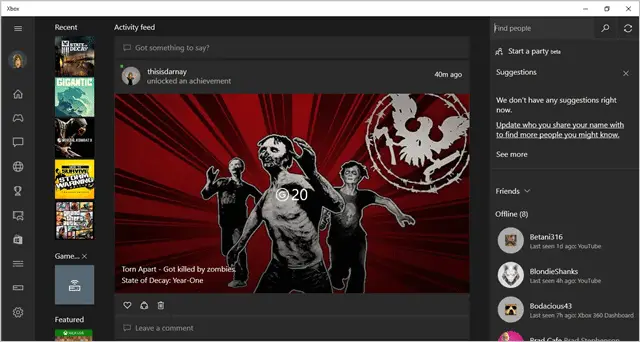 When you login, you'll be greeted by a plethora of information on the main screen, including your activity feed in the center, your friend's list to the right and your main menu to the left. You'll see the games you have access to as well as the ability to add any games that aren't from Microsoft of its partners to the Xbox app for easier access.
As you can see from this screenshot, I can add games from Steam and Blizzard to the Xbox app to manage all my games in one place.
Streaming From the Xbox App
One of the best features to come to the Xbox app is the ability to stream to and from the app to your TV and PC. Eventually, you'll be able to play games on either side of the Xbox and PC equation with the first game being designed to do this being Fable Legends later this year.
When you're ready to stream, your PC should detect your Xbox console as long as it's on the same network as your computer. Once detected, you'll be able to start streaming from the Xbox to your PC.
As you can see from him, I'm streaming State of Decay: Year One Edition from my Xbox console to my PC. I can control it from my PC or TV, even being prompted to connect an Xbox controller to my PC for better ease of use.
However, at this time, since State of Decay doesn't seem compatible with the streaming back and forth feature, when I connected my Xbox controller to my PC, the controls lagged pretty badly and didn't feel right to adequately play the game.
Some apps can't be streamed to your PC from the Xbox console, such as the Amazon Instant Video app.
The Xbox app has a variety of settings to work with, and we recommend you go through them one-by-one to customize the app the way you want to use it.
Since you'll be able to see your activity, along with your friends, the app make it easy to stay connected when you step away from the console. If your friends want to play Destiny, Titanfall or Madden with you, they can reach out to you through the app, too, to get you online.
Another nifty feature of the Xbox app is the use of the Game DVR which works with any game on your PC. With some easy to use keyboard shortcuts at your fingertips, you can broadcast to Twitch or just record any game you're playing through the app to share online or later.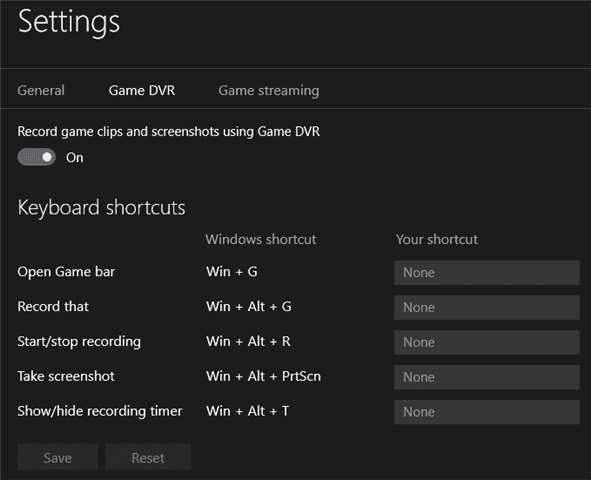 Whether you're streaming for yourself between console and PC, or streaming online, you'll want to tinker with the streaming settings to find the optimal setup for your system.
This will come down to PC specs, Internet connection speed, and type of display you're using. Being able to stream in 1080p is a beautiful thing when gaming.
What Do I Think of the Xbox Gaming App?
As an avid gamer, I love the Xbox gaming app. Of course, I'm an Xbox user, so it appeals to the type of gaming I do. It's amazing I can stream Xbox game to my PC if I can't be in front of my Xbox at a given time, but it's also very cool that I can stream other games as well with the use of the Game DVR feature. Overall, the Xbox app out of the box is well-defined and has the features gamers want to take advantage of, at least in my case.
There's still room for improvement. I'd like to see a cleaned up main screen, it just seems like too much information compared to other Windows universal apps. Microsoft is already rolling out a new version of the Xbox gaming app to power users testing out new features and design functionality in the coming weeks before rolling it out to everyone else. I'm hoping to be part of that testing.
Conclusion
With the major update coming to the Xbox console in November, coupled with the improvements to the Xbox gaming app, it's only a matter of time before gaming transcends being a PC gamer versus console gamer.
Microsoft's leading the charge on the way you game. If you're an Xbox user, or fan of gaming in general, check out the Xbox app in Windows 10 and see what it can do to enhance your gaming experience.