One needs to be adequately armed, with the right lenses and the right apps to snap stunning selfies on their iPhone and iPad. It's undeniable that the iPhone camera is the standard in taking beautiful pictures. However, many users still lookout for the best selfie apps for iPhone. 
Although selfies are casual snaps you share with the rest of the world for self-expression's sake, it needs to be beautiful and self satisfactory. And beauty is always universal, and everyone wants to look good, so we understand why you would like to take your selfie game even further.
Aside from the iPhone's already excellent selfie cameras, the best picks in apps will help you take perfect selfies. If you are an Android user, we still got you covered with our list of best selfie apps for Android. 
13 Best Selfie Apps for iPhone 
You need a selfie app that can enhance the not-so-perfect selfies with photo filters. There are many such applications available on Apple Store. And, yes! We are not talking about Instagram and Snapchat filters. With the list of selfie apps mentioned below, you can have beautiful selfies with uncommon filters. 
1. Retrica-Original Filter Camera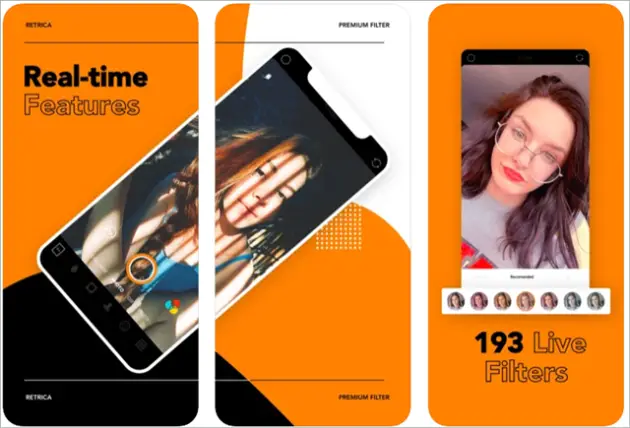 If you love to have retro effects on your selfies, the Retrica selfie app should be your pick. You get an option to pick from 190+ filters. The selfie editing app also allows editing a picture from the gallery. 
If you need access to extra filters, you can opt for the Premium version of Retrica. You can get looks from the 60s for your selfies and videos with a Premium subscription to the app. It is one of the amazing selfie camera apps. 
Ratings: 4.5/5
2. YouCam Perfect: Photo Editor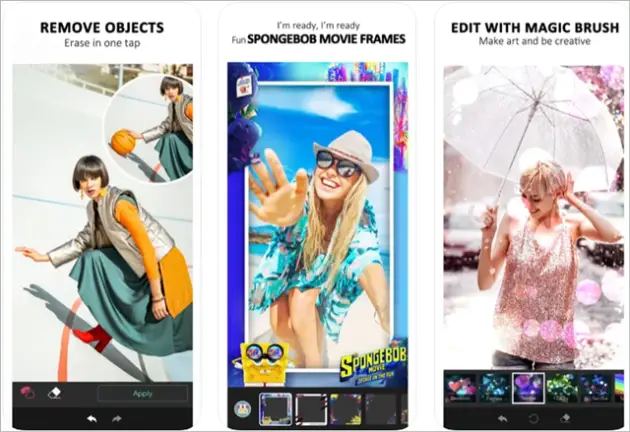 YouCam Perfect is one of the best selfie apps for iPhone. You can create wonders with the editing feature in this selfie app. There is an option to remove objects from the background, eye puffiness, and dark circles, thus giving you a better Facebook profile picture. 
There is cloud storage available for edited pictures, which will make it easy to access it on any iOS device. You can upgrade to the YouCam Perfect Premium version of the photo editing tool app for 1000+ filters, special effects, templates, and frames. 
Ratings: 4.8/5
3. Facetun‪e‬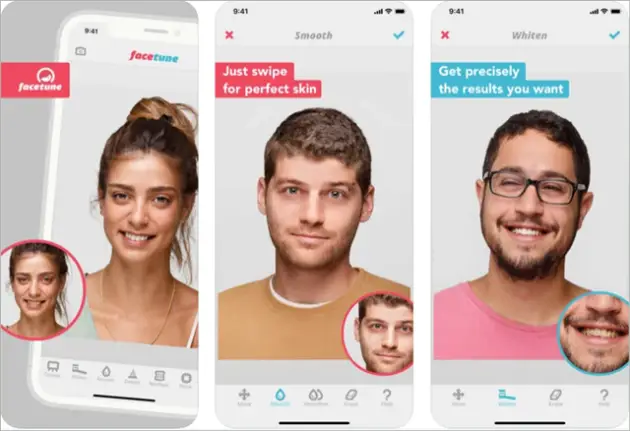 With Photoshop-like effects, the Facetune iPhone selfie app is a classic selfie editor. The Facetune app can enhance your photo by working on the facial structure, hair, eye color, teeth, and skin. 
If you are a selfie lover, you can have customized face filters and live filters for your selfies. If you want some art on your selfie, you can add it using this photo editing app. There is an option to share the edited photos using social media platforms and emails. It is the best selfie app. 
Ratings: 4.7/5
4. Perfect36‪5
If you want your selfies with glam makeup, you can opt for the Perfect36‪5 application. Perfect365 comes with 20 tools for makeup and 200+ pre-styles that can be used with one tap. It uses face detection technology so that the makeup application is perfect and top-notch. 
You can opt for Perfect365 PLUS (paid service) if you want to reduce the advertisements and unlock other features of the app. 
Ratings: 4.8/5
5. BeautyPlus-Snap, Retouch, Filter‬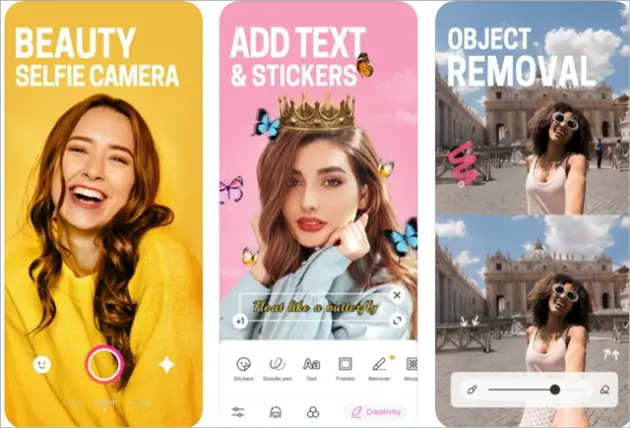 Got too many unwanted objects in your selfie? Don't worry; BeautyPlus has got you covered. You can actually remove all the unnecessary things from your selfies, along with beautifying them with only one app on your iPhone. It is one of the best selfie apps for iPhone when it comes to all-in-one functions. 
There is an option to beautify skin, eyes, and whiten teeth while taking selfies; this can save you the time required for edits after taking selfies. If you want more from this app, you can take a BeautyPlus Premium app subscription. 
Ratings: 4.8/5
6. Selfie Editor: Beauty Makeup
At times, we just need an app to make already taken selfies more flawless. You can use the Selfie Editor app for that. This photo editing app can remove skin blemishes, whiten the teeth, reshape the face and eyes, and resize the photos. You can also use the filter options to apply on your selfie. 
There are some in-app purchase options available if you wish to explore more tools in the Selfie Editor. 
Ratings: 4.3/5 
7. Camera360 – Selfie Retouch
If you want something with a professional touch with an easy-to-use user interface, Camera360 should be your choice. You can take selfies with 300+ perfect filters along with stickers and makeup features. 
There is an option to add colored elements to your selfies and reshape your body and shape. It is one of the best selfie apps for iPhone. If you want to explore more features of this app, you can opt for the VIP paid version. 
Ratings: 4.7/5 
8. AirBrush – Best Photo Editor‬
Fabulous selfies are not that difficult to achieve with the AirBrush app on your iPhone. You can remove blemishes, pimples, and even skin tone with this photo editing app. One of the best selfie apps for iPhone, the professional photo effects on Airbrush can make your selfies worth sharing on the social media platforms like Twitter and Instagram. 
Ratings: 4.9/5
9. VSCO: Photo & Video Editor‬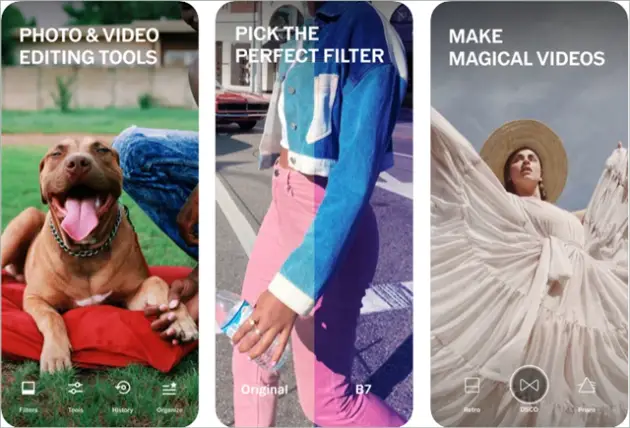 VSCO is a lot more than a perfect selfie app. You can create videos along with editing selfies with the VSCO application. Get the color of your photos enhanced with the editing tools available in the application. It offers a variety of filters that can help you get perfect selfies on your phone. 
If you want an advanced editing tool for videos and photos, you can take the paid membership of the application which also happens to be one of the best selfie apps for iPhone. It also offers a 7 days free trial that can help you get started with the app. 
Ratings: 4.6/5
10. SelfieCit‪y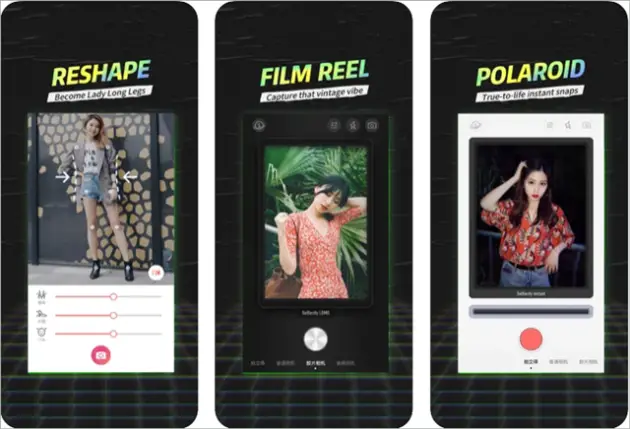 SelfieCity is one of the best selfie apps for iPhone that can take amazing photos and selfies on your iPhone. You can use Polaroid, Fisheye, and Film Reel camera options to take selfies. The unique filters and funky stickers can give a nice touch to your selfies. It is a simple-to-use selfie camera app available on Apple Store. 
Ratings: 4.1/5 
11. YouCam Makeup: Selfie Editor‬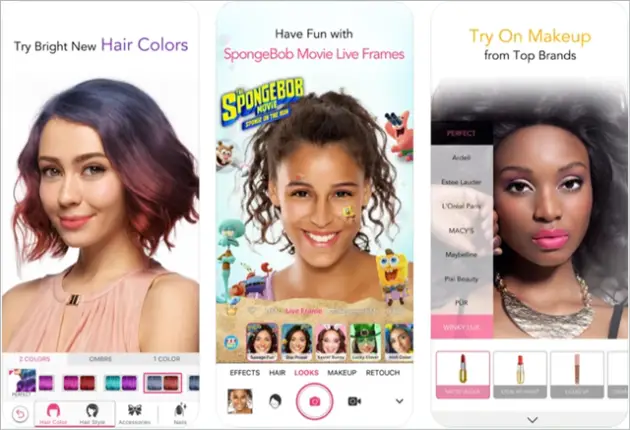 With YouCam Makeup, you can be selfie-ready all the time. It can give you a real-time virtual makeover with beauty tools that can make your selfie photo a hit on social media platforms. There are options to try different hairstyles, hair colors, and you can also get smooth skin by editing pimples and blemishes. 
You can edit your smile and reshape the face with the YouCam Makeup app. One of the best selfie apps for iPhone, it has a perfect beauty camera app for the iOS platform. You can check out the Premium features in the paid version with the in-app purchases option for this face filter app. 
Ratings: 4.8/5
12. Candy Camera
Candy Camera is a simple app with basic features that can help you get perfect selfies. The feature that differentiates Candy Camera from other apps is that you can do a video call and look beautiful in it. There are stickers, collages, and filters available that can help you edit the pictures on your phone. You can also create a selfie collage, use makeup and beauty tools, and do so much more. With natural selfie filters, it is one of the best selfie apps for iPhone.
Ratings: 3.8/5
13. B612 Camera & Photo/Video Editor‬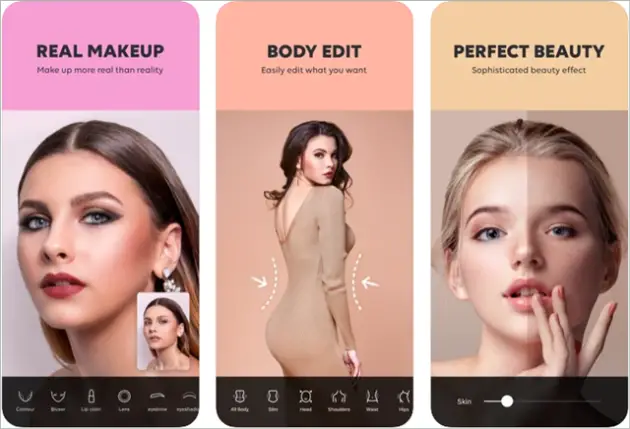 B612 is one of the best selfie apps for iPhone. You can select from over 1500 stickers to add to your selfie. The AR stickers can come to life when added to your photos. There is an option to edit selfies to achieve perfect beauty with real virtual makeup, body edit, and skin edit. It helps you to have the lipstick color of your choice without purchasing it. 
You can convert yourself into a cute animal with B612's face recognition feature. It is an easy-to-use app with special features that can get you a perfect selfie. You can use this app as a video and photo editor app as well.  
Ratings: 4.6/5
Final Thoughts
Not everyone can relate to being addicted to posting selfies, but almost everyone can appreciate great pictures. iPhone users who like getting creative with your photo effect and selfies once in a while, we hope we've armed you with this list of great finds of apps for selfies from the iOS app stores. 
You get an option to enhance the existing selfie photos and also take a variety of shots with the above-listed photo app/s. You can pick one from the list of best selfie apps for iPhone, depending on your needs. Well, all the apps have a free version on the app store that gives you the freedom to test some and then select one for the best selfies.
(Article Updated on 22nd April 2021)