If you're a big fan of DSLRs and high-res photography, some of your constant "problems" may include dealing with email and social media photo uploads that take more time than necessary, as well as a more frustrating time with uploading photos to and working on layouts for your website. Let's face it, larger files take more time to upload, and they may make your browser, and even the rest of your PC, a lot slower.
While high-res photos are admittedly more stunning, more gorgeous, on the web, the 800 to 1000-pixel versions work just as well. The faster upload time may also do wonders for your mood and temper! Maybe it's just me, but when uploads are so slow, I have this urge to punch my PC monitor. If everything were faster and lighter, I'm a happy clam.
If you haven't thought about finding a bulk resizing tool to address these frustrations just yet, here are three batch image resizing tools that have received much praise, or are basically reliable.
Windows Image Resizer Tools: Our Top Three Picks
Mihov Image Resizer
I first discovered Mihov Image Resizer via Softpedia in my search for, well, desktop-based resizing software. Using the app is pretty straightforward:
Find the folder you need from the document tree.
Set your options for how the output files would be saved:

Just add a prefix to the resized photos (mini-image filename.jpg).
Create a subfolder where the resized photos would be stored (Folder\resizer\image filename.jpg).
Overwrite the original image.

Set the pixel size in the box shown in the screenshot.
Hit the "Resize" button.
It's that simple and straightforward. Mihov Image Resizer is perfectly free, so there are absolutely no limits to how many photos you could resize. And if you love the app just as I do, no one's stopping you from hitting the "Donate" button on the developer's website.
Steps to resize images using Mihov Image Resizer
IrfanView
I'll be honest. I'm such a creature of habit that I choose one app to use, and I tend to stick with it for life. Well, almost for life. Sure, I love trying other apps, but once I'm comfortable with a piece of software, I won't even look for other options. That's why, for this article, I've had to do a bit of research, too.
In my search for other highly recommended image resizing apps, IrfanView was one of the most popular apps recommended by users/commenters on a Lifehacker article about another image resizing app. In fact, while I downloaded and tried the app, I decided that I didn't like it and wouldn't recommend it, especially since it has usage limits for the free version. IrfanView, however, earned my nod, and I am wholeheartedly encouraging you to download it.
Here's how to use IrfanView:
Go to File > Batch Conversion/Rename.
When the dialog box appears, select "Batch conversion."
Check the box for "Use advanced options (for bulk resize…)."
Hit the "Advanced" button, and set your parameters:

Check "RESIZE."
Set the pixel size for one of the sides. Remember that if you set values for both sides, the aspect ratio could get distorted.
Just to make sure that there are no aspect ratio distortions, check both options for:

"Preserve aspect ratio (proportional)"
"Use Resample function (better quality)"

Click "OK" to go back to the previous screen.
Click "Add All" or select each file and then click "Add."
Set the output folder in the "Output directory for result files:"
Hit "Start Batch."
Using IrfanView may look like it has a whole lot more knobs and ends compared to Mihov Image Resizer. However, if you look at the software's other functions, you'll find that it's very powerful and is multi-purpose, as well. Is it worth a download? To echo the users on the Lifehacker article, it's a big YES.
Remember to download and install the Plugins/Add-ons file, as it may prove useful, as well.
How to use IrfanView to resize images
Obvious Idea's Light Image Resizer
Light Image Resizer came highly recommended by one member of our team members, who used it to properly resize images for our Windows themes.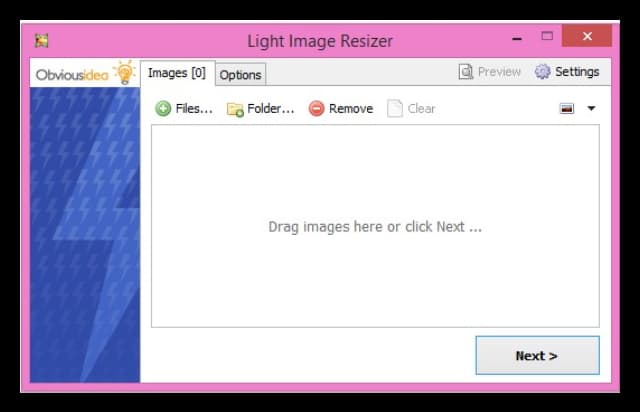 Here's how to use the Light Image Resizer app from Obvious Idea!:
Choose the interface to use: "Basic" or "Complete." If you won't be adding watermarks to your files, I recommend "Basic."
Add your files or the whole folder of files.
Set how to resize your photos. You may either choose a pre-set "Profile," or set the pixel size on the box provided.
Make sure you check "Keep aspect ratio," again, to make sure that you don't distort your photos.
Set the "Action" on how you want the app to deal with your files. You can use the default option, which is to "Create Copies," or choose any of the other options from the drop-down menu, which include "Resize Original," which may imply that it'll overwrite the original files, "Move," "Compress (ZIP)," "Create PDF," and even, surprisingly, "Share on Facebook."
Choose the Destination Folder for the files.
Hit "Process."
How to use Light Image Resizer
When you choose the "Full options" mode, you get 6 more tabs of options:
General – Has options for how the app will handle the image processing ("Filtering"), formatting, parameters on whether you'll let the app "Only Enlarge," or "Only Reduce," change the file type ("Format"), and a few other options.
Effects – This is probably the most useful tab, next to "General." Here, you can add a watermark which the app will apply to all files as you resize. You can also change the images' colors by batch, including turn them into grayscale, sepia, invert their colors, add a border to all photos, and auto-enhance all of them. This tab is definitely perfect for those who need to add watermarks to all their work: Resize and Watermark, all at once. Saves time saves effort.
Rotate – You may flip the image vertically, horizontally, or set an angle from the drop-down menu.
Misc – There are several options on this page, such as "Adjust resolution for portrait," which the app explains as swapping width and height for portrait images, meta-data options, as well as an option to keep the original photo's original file date.
Publish – There's only one option here, which is to "Send by email." Obviously, this option allows you to send the files via email as the resize process completes.
Optimization – You may check an option to optimize your files using the OptiPNG standard.
How to use the Light Image Resizer
On the whole, I think this is a simple, straightforward, but powerful, well-coded and well-designed software. I think its interface is a whole lot nicer than either Mihov Image Resizer or IrfanView. However, I have three complaints:
After installation, the Splash Screen appears, pushing you to buy the app.
When you quit, another Splash Screen appears, pushing you to get the Full Version or follow the app's social media pages.
When you fire it up again, there's a 3-second wait before you get to use the app.
Let's face it, the hard sell is pretty annoying. However, I understand that coders have to eat, pay the website's hosting, and coding isn't exactly a walk in the park. If there were a way to encourage buying a license without being so obnoxious, they should go for it. However, since the interface is so nice, these tiny pet peeves remain that: Tiny.
If you want to spring for a license to get rid of the hard sell tactics, though, $19.99 isn't so bad I think.
Get Light Image Resizer with License or try it out.
The Wrap
Of these three, I think I'll stick to what I already know by heart: Mihov Image Resizer. However, I was, as I said, impressed with the Obvious Idea! creation, the "Light Image Resizer," too. However, because of their hard-sell splash screens, maybe I'll pass and uninstall the app. One thing that I loved, though, and will keep, is IrfanView. The app is powerful, has a whole slew of other options, and will definitely prove useful. This one, I might keep on my PC.
If you aren't comfortable with these three picks, there are several batch resizing options out there – just a quick search away. If you prefer to not use desktop software, you can pick one from this list of online image resizing web apps.
Be it online or on your desktop, these tools will get the batch resizing job done for you.