Cats are some of the most curious creatures among pets. Like dogs, they get bored, too, especially the purely indoor cats.
It's best to keep them stimulated: Aside from acquiring or building structures for them to climb, explore, and scratch, it may be a good idea to let them play with iPad apps, as well.
Why the iPad?
Design, Form Factor, Sturdiness
Let's face it; the original iPad was built to last. First and foremost, you can buy a first-generation iPad for $50 to $180 on eBay. Second, unlike Android tablets for the same price range, first-gen iPads can withstand rough play and even after being dropped from a height of around 1 to 2 feet – it can survive. With that built-to-last design sensibility, you can let your cat/s play with an iPad.
Another reason for using a first-generation iPad for cats to play with is that it doesn't have a camera. So, there's nothing sensitive on its back panel that may crack or get ruined when your cat plays with it.
Battery
The first-generation iPad's battery is also among the longest-lasting batteries on tablets. On Airplane Mode, the first-gen iPad can last up to weeks on a single charge. So if your cat is the type who gets bored easily, you can let them play for a couple of hours, then leave the iPad alone for a bit, then resume with the play a few hours or even a few days later.
Accessories
Make a point to get a silicon or rubber case to go with your cats' first-gen iPad, so that it won't slip and slide much if you set it on the floor for your cats to play with. Cases with covers or stands may not work as well as silicon or rubber case, as the moving parts may get ripped off when the cat gets rough. So as a rule, anything that keeps the iPad fixed on a slippery surface is all you need.
Also Read: 10 Cool Ways to Use Your Old iPad
The Cat/s: Behavior Traits To Check, Catnip, Silvervine
Cats are notorious for their finicky nature and short attention span. So while you may find that they're enthusiastic about playing on an iPad for the first few sessions, you may discover that they'll get bored with the digital game after a while. To encourage them to keep playing with the iPad apps you get for them, you could add catnip or Silvervine to the screen. Either of which will encourage them to play with the digital toys.
You should also check whether your cat is the extra-sensitive type: The type who runs away at the first sign of loud noises, or the type who can endure a bit more noise than other cats. The skittish cats may not fare well with games that have too much going on, while the cats that are oblivious to a series of stimuli may be able to take more complex games.
The reason you're adding iPad apps to your cats' repertoire of stimuli is that you want to vary the types of play and stimulation they receive. Bear in mind that you may still have to play with your cat regularly.
The Apps
These apps were tested on two domestic shorthair cats from Southeast Asia (the Philippines). Domestic shorthairs from the area are very hardy cats, and they tend to enjoy a good hunt. The two cats who enjoyed these apps had different tolerance levels to different types of stimuli.
The first cat, Monsoon, hates New Year's Eves where fireworks abound, while Mooncake could tolerate sounds of explosions from the outside world, as long as she's in a place where she feels safe. Understandably, each cat had their personal preference and tolerance levels to the type of app they were exposed to. Overall, the picks we have here were chosen because both cats responded to these very well.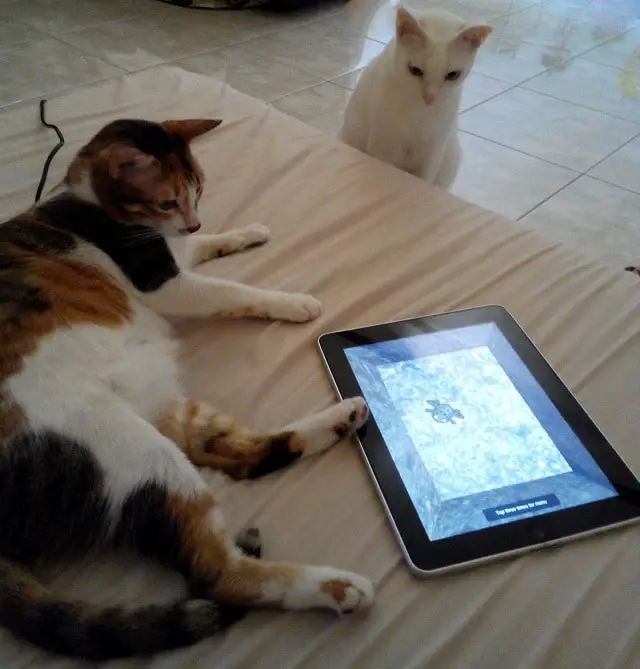 Little Hiccup LLC created two out of three games for cats that made it to this list. Their apps were very well-designed, with little to zero crashing, and both Monsoon and Mooncake loved their games.
This is the first-ever iPad game for cats that I tried on my pets, and instantly, both cats loved it. I like the fact that the game has three modes: "Chase a Mouse," "Chase a Laser," and "Chase a Butterfly." The gameplay is simple: The cat chases either of those three options and as they "catch" either the mouse, laser point, or butterfly, the vector will make a noise.
The mouse squeaks, the laser pointer, has a delicate breaking sound, and the butterfly also has a delicate tinkling sound. As the cat "pins down" the item, it "wriggles," "slips," or "flips" out of the cat's grasp. The chase goes on until the cat catches up to the fact that it's a futile exercise, and you walk away laughing at how gullible your pet was. (Meanie.)
I loved witnessing my cats get absorbed into playing with the vectors, and for more lulz, I sprinkled Silvervine, a powder like catnip, on the iPad's screen. It easily made for an hour of absorbed stimulation for the cats, and an hour of entertainment for me.
Do you want to have something to show for your cats' trouble? Paint for Cats grabs the mouse from the Game for Cats version and turns it into a vector that lets your cats make "paintings" by chasing it around and trying to catch it.
Every time your cat makes contact with the tablet and swipes through the screen, "strokes" are made, and you get a "painting" at the end of the play session.
There are 13 color themes to choose from, so surely you won't run out of color combinations for your cat to work with.
Of all the other cat games, this is one of the best apps we've tried. The vectors' speed can be varied, so you can change how fast or how slow they'll move across the iPad. If your cat is the frisky type, a faster speed is in order; if they prefer a more leisurely time at play, then by all means, set the vectors to move slower.
With five vectors to choose from, namely a mouse, rat, ping pong ball, frog, or spider, it makes for moments of feline fun. There's also a Lite version if you don't want to spend $0.99. It only has the mouse and not the full suite of vectors for your cat to "catch."
Other Apps
Fruit Ninja
Just as in the video above, there are practically hundreds, possibly thousands of videos of cats playing Fruit Ninja. In fact, a YouTube search for "cat playing Fruit Ninja" yielded 46,800 results, including this video compilation of both cats and dogs playing the game. However, not all cats will respond to Fruit Ninja as these cuties have.
More often than not, they'll just observe for a while, then abandon the game altogether, or they may not even be patient enough to learn the mechanics of Fruit Ninja, at all. And this is why the abovementioned list of games for cats was recommended, as they were specifically designed with cat psychology in mind.
Catzilla
This feisty little fella may be super enthusiastic about his Catzilla game, but not all cats play like him. If you check out this other cat, it's just as terrified of Catzilla as much as my cats were. Depending on your cats' temperament or tolerance to stimuli, you may find that different cats have different reactions to Catzilla and other more complex iPad games.
More Play Tips
To recap some of the tips we already shared, here are some things to remember in letting your cat play with digital toys:
Space out the times when you let your cats play with the iPad apps. Don't let them play with the iPad apps two, three days in a row, as they may get too used to the stimuli and get bored of the games forever.
Add Silvervine or catnip to the iPad's screen to get your cats to play with the game. Not only is this great entertainment for you, but silvervine or catnip, plus the stimulation from the play, can contribute to your cat's overall health and wellbeing. So sprinkle and play away!
Timing is key. Sometimes, your cat may be winding down to rest (usually daytime), so it's not a great idea to bother them with play in these hours. If you're still awake in the middle of the night, probably padding down to your kitchen to grab a midnight snack, this is the perfect time to grab a packet of Silvervine, sprinkle a bit on your cats' iPad, and then watch them have fun with a digital mouse, a digital laser pointer, or, heck, you could even make them make you a nice little painting to hang on the fridge door.
The Wrap
These cat apps are all reasonably priced with nothing over $1.99. Non-pet owners may never comprehend the "need" to get one's cats a set of these digital toys, but for those who dote over their little furballs, the decision is understandable.
So grab a first-gen iPad off of eBay, silicon or rubber case, a few packets of Silvervine, and you're all set for bonding time with your widdle (or fat) furry babies!
(Image Credit: Hajime NAKANO/Flickr)