God of War is an amazing action packed game based on Greek Mythology. Its 3rd installment, God Of War III, was one of the most anticipated games of 2010, and when the game released on 16th March, it did not disappoint the legions of GOW Fans.
Kratos continues on the journey of Vengeance in this Epic series finale even as the exhilarating combat and an imposing sense of scale in God of War III provides a fitting end to Kratos' saga. Feel the heat of Kratos' battle with the Gods on your desktop with this God of War III Windows 7 Theme.
God Of War III Theme consists of 30+ GOW Wallpapers, Icons and Game Sounds. It would give you a complete GOW experience on your Windows 7 Desktop.
God Of War III Theme Screenshots:
These are just a few of the Wallpapers you would get with this theme.
Custom Icons for God Of War 3 Windows Theme:
When you apply the GOW 3 Windows 7 Theme on your desktop, the same old boring desktop icons would be replaced by custom God Of War 3 Icons.
Download God Of War 3 Windows 7 Theme:
Download God of War III Windows 8 Theme: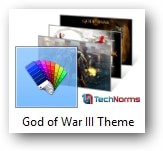 Trivia: Why was this game named as God Of War?
After Kratos defeats Ares at the end of the game, he replaces Ares as the god of war. He is told by Athena that his sins are forgiven, but that the memories of his past cannot be taken away.
He attempts to kill himself by jumping off a mountain into the sea, but Athena stops him. Kratos is then rewarded for his service by being given Ares's throne on Mount Olympus, and becoming the new god of war.