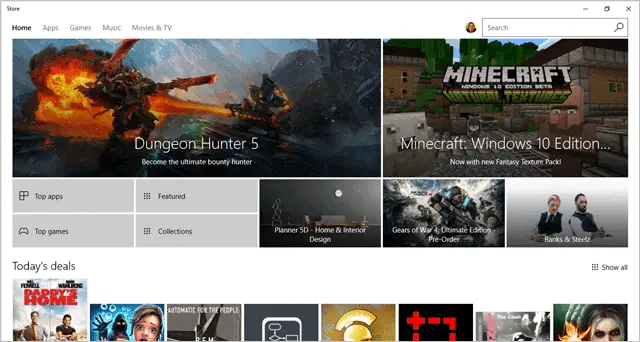 The Windows 10 Anniversary Update offered a handful of changes to the Windows Store, including the integration of app usage across the Microsoft platform.
You'll now find collections of apps, Xbox cross-compatibility among the Windows Store, and a Cortana app that can work across your phone, Xbox, and Windows 10.
Let's look at some of the changes to the Windows Store in the Windows 10 Anniversary Update.
Windows Store Updates in the Windows 10 Anniversary Update
All apps on the Windows Store are designed for the Universal Windows Platform (UWP.) This platform is meant for apps to be used between Windows Phone, Windows 10, and even Xbox when possible.
Microsoft encourages developers to develop for the UWP versus for just one member of the Microsoft family. The updates to the Windows Store showcase that. Developers can now use APIs to convert old versions of apps to UWP compliance.
Windows Store apps, for the most part, now run in a sandbox environment on Windows 10. This means they can be installed, uninstalled, and run more efficiently.
When coupled with the Xbox One August Update, you'll be able to use the Windows Store and install apps on your Xbox One like you would on your Windows 10 PC, tablet or gaming device. This means you'll get a similar experience between apps no matter what platform you're currently on.
Xbox Play Anywhere was also introduced in both the Xbox One August Update and Windows 10 Anniversary Update. The changes to the Windows Store, especially being available on the Xbox One, is important to this feature rollout.
Some of the key changes to the Windows Store include:
Users can hide previously installed apps from their library
Recent app updates are highlighted
Notifications appear whenever apps are updated
Gallery items will show what the apps look like cross-platform
The above changes were requested by the Windows community since Windows 8 was released. It's good to see Microsft implementing feedback from its users.
Overall, the Windows Store is faster, more efficiently, and user-friendly than ever before. If you use multiples Windows-based devices or game on an Xbox One, you'll find it easier than ever to get the same experience as you move from device-to-device.
For consumers who appreciate the look and feel of the apps they use every day, these changes to the Windows Store and further development of UWP is only a good thing for Windows users.
Conclusion
The Windows Store offers a variety of apps, games, and more for Windows users that most don't take advantage of. If you've never ventured into the Windows Store, now is the time, especially if you use multiple Windows devices.
The Windows Store gives Windows 10, Xbox One, and other Windows devices the opportunity to take advantage of Windows-based apps that make life easier.