Qualcomm may not be a name you associate with excitement and entertainment at CES, but they sure know how to bring innovation. Whether it's the smartphone in your hand using the SnapDragon processor or the car you're driving using Q's technology to make it smart, Qualcomm has cemented itself as the company others rely on to make smart tech, well, smart.
We expected Qualcomm to update us on the latest SnapDragon processor as well as introduce us to new partnerships from the CES floor.
Let's look at what Qualcomm presented, what we can expect from the show floor, and more from their CES press conference.
Recap of the Qualcomm Press Conference at CES 2017
Qualcomm unveiled its latest processor: The Snapdragon 835. This is the first ever 10nm chipset. It's tiny. Impossibly tiny to some but packs a bigger punch than most chipsets in smartphones and devices around the world. Security cameras, Windows 10 devices, smart cars, and more will use the latest processor from Qualcomm.
The 835 is 35 percent smaller than last year's Snapdragon 820. This allows designers to accommodate a smaller chip, allowing them to move towards sleeker designs for smartphones, devices, and spaces.
The Snapdragon 835 features Bluetooth 45, 802.11 ad technology, and multi-gigabit connectivity through the use on of an onboard X16 TE modem. With tech quickly going 5G, it's only a matter of time before the web catches up to Snapdragon.
With the popularity of augment and virtual reality, along with IoT and robotic technology, consumers quickly need the processing speed to keep up with the demand. Qualcomm partners with companies across the globe to meet this demand and the evolution of the Snapdragon chipset in just three short years shows they're ready for the challenge of today's connected world.
Five key areas were discussed to highlight the power and speed of the Snapdragon 835, including its battery life, immersion capabilities, immersion functionality, connectivity, and security. Qualcomm explained that battery life was improved thanks to a 25 percent decrease in power consumption.
SnapDragon 835 also has reduced its latency down to 15-milliseconds which helps keep the pace with AR and VR technologies. Camera functionality has been improved uponm making zooming, autofocus, and other features work more quickly than before. Security to the chipset has also been added with biometrics and fingerprint scanning, along with adapting to the mobile payment industry.
Qualcomm Partners with ODG Smartglass Maker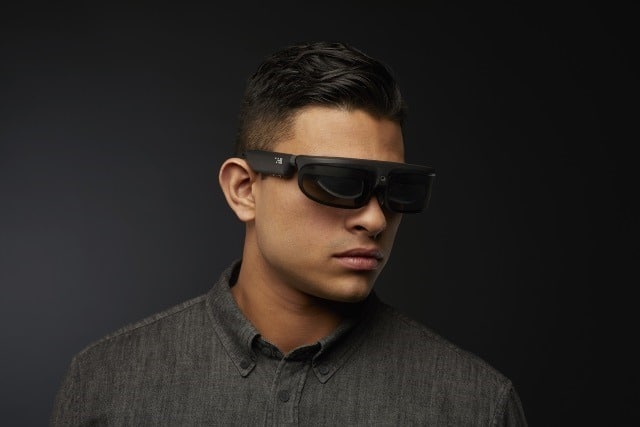 Osterhout Design Group, ODG for short, has featured smartglasses in the past at CES. This year, they've partnered with Qualcomm to use the Snapdragon 835 processor to unveil two new models: The R-8 and R-9. This partnership will help both companies test the capabilities of what Snapdragon brings to the AR/VR-sphere in the coming year and gave us a glimpse of what the future holds.
Conclusion
Without Qualcomm, many of the device we use every day just wouldn't function the way we want them to. Qualcomm continually strives to find a way to deliver peak performance confined by size as devices and tech get smaller and smaller.
The Snapdragon 835 is a worthy successor to the 820 revealed last year. For next year's show, it'll be amazing to see the leaps and strides as Qualcomm begins testing just what it can do with AR, VR, and other technologies.
Learn more about Qualcomm's Snapdragon 835 here.