In this detailed Backblaze review we've explained what makes this service one of the most affordable and best online backup service for individual computer users.
The importance of backups is often realized only after a system crashes or some data is lost. Till then, it's often just one of the 'most important' things that you plan to do soon. A sudden crash of my iPhone last week made me think about the lack of a backup setup on my desktop, which has much more sensitive data on it.
I looked for a reliable and easy-to-setup backup solution and decided to set up Backblaze for my Windows 10 based desktop.
Think about it: 
If your Computer crashes today – Do you have a plan in place to recover your data?
6 Reasons Why Backblaze is a Remarkable Online Backup Service
I use Backblaze as the primary backup service for my PC, as it 'just works' and offers all the features that I need.
Convenience: Backblaze is incredibly easy to set up and once done, it operates in the background and keeps your system backed up without the need for supervision.
Value for Money: The backup is unlimited in size, and there is no limit on file size or speed of upload/download.
Versatile: You can back up most files – documents, audio, photos, and videos.
No Limits: You can even backup your external drives connected to the computer.
Secure Data Recovery: Multiple options to restore your data from the backup.
Safety: Secure, redundant backup with the option to add a private encryption key and two-factor authentication.
Backblaze Review
Installation and Usage
Backblaze offers a 15-day free trial that gives you enough time to test how it works, and it is very easy to get started.
Download the setup for your PC or Mac, and install it.
Once you download and run the installation file, the process on either PC or Mac follows the same straightforward approach.
Once installed, run Backblaze to begin backing up your data. As per the default settings, Backblaze backs up most data and standard file formats to its servers, but it skips system files and several other formats.
For Mac, backup files like those of Time Machine are not backed up. Backblaze is explicit about what is not supported, though it is easy to manage exclusions and allow various files to be supported.
To control what data is excluded, Open Backblaze > Settings > Exclusions
We've also included a screenshot from Windows 10 to help you visualize how Backblaze works on Windows 10.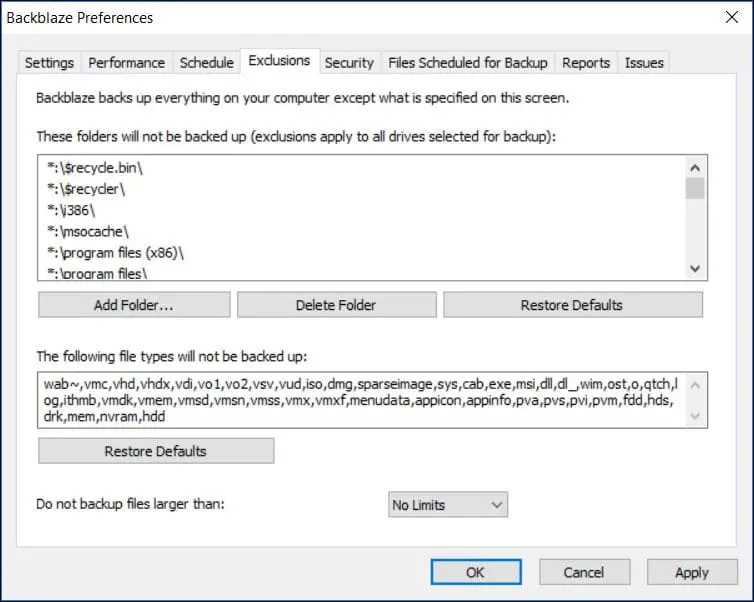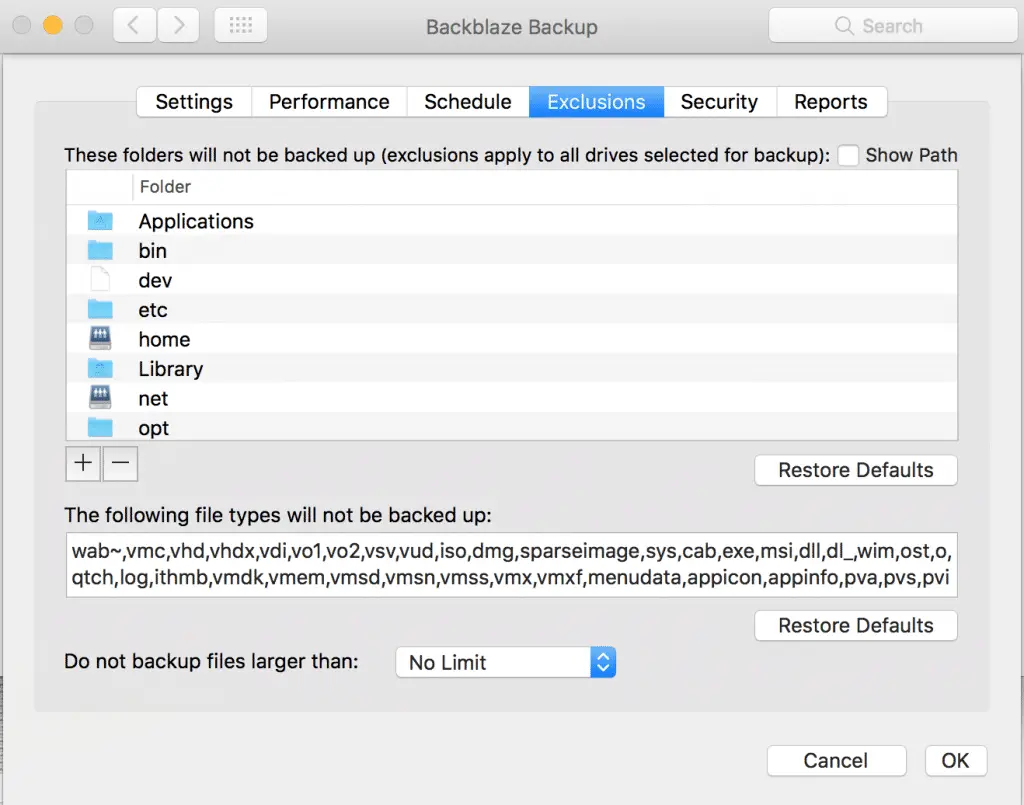 You can add folders and file types that you don't want to be backed up. Conversely, you can remove folders or file types from this exclude list. You can also set up a size limit on the files to be backed up, though no such limit is imposed by Backblaze.
Once Backblaze starts to upload your data, the initial backup may take several days, depending on the size of data to be backed up, the speed of your internet connection and whether you are throttling the speed of data transfer. You can do so via the performance tab in Backblaze preferences.(Shown in the above screenshot).
While the performance tab does show the speed of transfer of the last file, you can use the bandwidth speed test to check your connection and get an idea of the data download and upload speeds.
The system backup process continues in the background, and you are free to use your computer.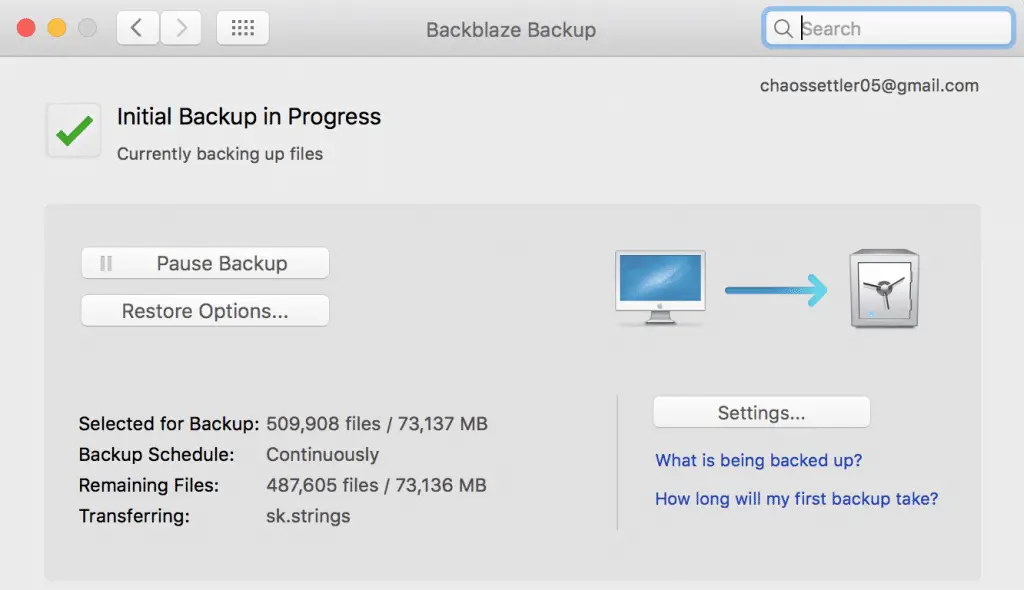 Any new files are added to your computer, they get backed up automatically, and any changed files are saved with versions. Backblaze is a 'set it and forget it' (till you need it) kind of service that is superb at what it does, though there are a few things you should remember about how it works.
Did you know?
Backing up your data is one of the best ways to secure yourself against the recent WannaCry Ransomware attacks which has affected millions of computers?
Things To Remember While Using Backblaze
It's not a remote storage service

Backblaze is a 'backup service' and not a remote storage for your data. It mirrors your hard drive and attached storage devices. Any data deleted from your system gets deleted from Backblaze's servers as well after 30 days. Deleted files or older versions of files are also available only for that period.

30 days data removal period

It's important to remember that any deleted data or old versions of files can be accessed only till 30 days.

External storage backup

Backblaze has no limits on backed up data, and this includes external drives as well. The caveat here is that the 30-day limit applies to the external drives as well. If your external drives are not connected to the backed up computer in that period, it's deleted.

It is important to know of this limitation as you may be under the assumption that your external drive is backed up to Backblaze, and if you come looking for the data after a 30-day period, you will find it missing.
Restoring Your Data from Backblaze
There are two ways to restore the data backed up to Backblaze
Select files you want to restore and download the zip file

This is probably the simplest approach to restoring the data to your machine. Since the data on your machine is mirrored to Backblaze, you can simply navigate the folder structure and select the files you want to restore. Once the zipped file is ready to download, you are notified by email.

Get your data sent to you

In case you are not in a position to download the data you need, you can have it sent to you on a USB stick (up to 128 GB) or an external drive (up to 4 TB). This is a paid service, but you can get a refund if you send back the drive within 30 days. You should check out the details about the Restore Return Refund program to know what is required to get a refund when you send back the drive.
Restoring files from the backup is simple, and it is great to have the option to request your data on external storage. It is pretty handy to have the flexibility to restore a single file or an entire drive. It was already useful to me to restore some files I accidentally deleted, though I hope I don't have to do it for the drive!
Data Security with Backblaze
As with any service that backs up your data, it is bound to raise a concern – Is my data secure with Backblaze?
Backblaze schedules files to be backed up and encrypts them locally. These files are then sent over to Backblaze's servers over HTTPS where they are stored as encrypted. The data is decrypted only when you access your account with your email and password and request a restore.
A personal encryption key for enhanced security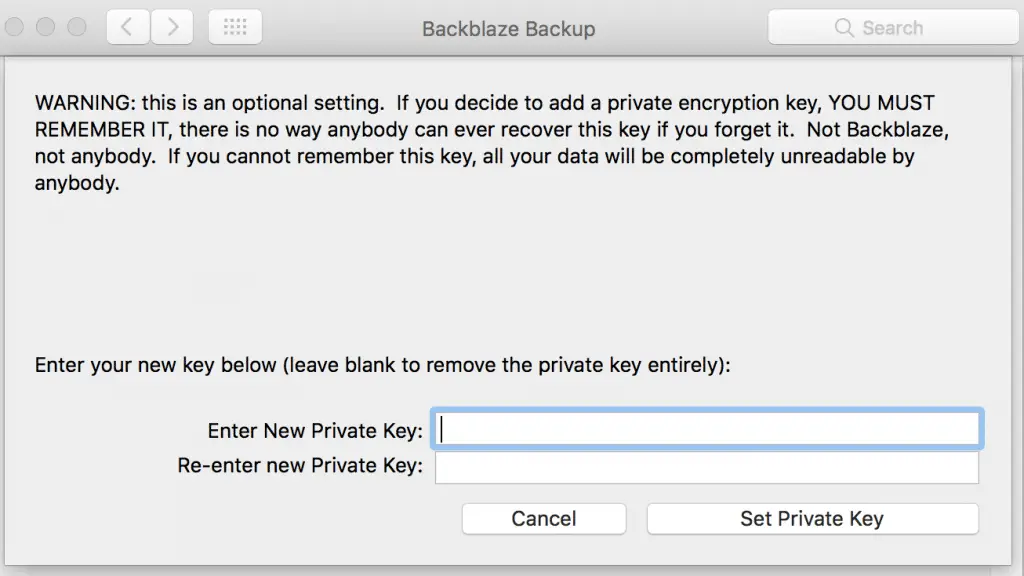 Backblaze uses industry standard encryption techniques to encrypt your data and keep it secure. As an additional security measure, you can set your own passphrase as an encryption key. You need to be aware that Backblaze does not know about this passphrase and if you lose it, Backblaze cannot decrypt the data for you and you will lose the backup.
Two-factor Authentication
Backblaze has support for two-factor authentication. Once enabled, you can receive a 6-digit pin on your phone that you need to verify to sign-in to your account.
Backblaze Pricing
The pricing structure is remarkably simple for the personal storage plan. On a monthly basis, you can use Backblaze at $5 per month. Annu, it is $50 per year (you save $10) and $95 for two years (you save $25).
For a hassle-free and set-it-and-forget-it solution, the pricing is quite affordable.
Frequently Asked Questions
Be it back up, restore or even pricing, it's simple to work with Backblaze, and hence I chose it as the primary remote backup service for my desktop.
There were several thoughts/questions I had while I was looking for a backup service, and when I started using Backblaze. I have addressed them here and hope they will be useful to you too while deciding on a backup service.
Q. What are my options to restore data?
You can choose the files that you want to download, or you can have the data sent to you on a USB drive. The second option does require a payment, but it is refundable if you return the drive within a month.
Q. Backblaze charges for backup per computer. Can I transfer or change the system being backed up?
Yes, you can transfer the license to another system.
Q. What platforms are supported by Backblaze?
Right now, Backblaze supports only Windows and Mac.
Q. How does Backblaze compare to CrashPlan, Carbonite, iDrive, Dropbox or other cloud services?
CrashPlan was indeed a viable alternative for BackBlaze, but they have stopped support for home / individual usage and shifted focus to businesses. Carbonite is still a solid alternative, though it is a costlier option. IDrive is a viable alternative, especially if you want to back up multiple devices, but the storage space you need is not very large. Dropbox is not really a valid service to compare with others, as it focuses on remote storage and sync across devices. You can choose to back up data on it, but the software is not designed for that.
Since I have used Backblaze for quite a while now, I do feel that Backblaze is the best online backup solution for single user machines. Fortunately, there is a good comparison chart that you can take a look at to see how Backblaze compares to other online backup services.
Q. Does Backblaze have apps for Android and iOS?
Yes, Backblaze has apps for both the platforms, but they are slightly limited in functionality. You can access all your backed up files, but cannot change user settings or password, and neither is your smartphone directly backed up via the app.
Q. How can Backblaze be helpful to me if my laptop is stolen?
Having your laptop stolen sucks, but one obvious advantage of using a backup service is that your data is backed up and you can recover/restore it. Also, unless you disable the feature, Backblaze can track the location of your laptop and can help you find it.
You can also get information about the ISP, the current IP address of your notebook and even identify the files changed on your system since your laptop was stolen.
Final Thoughts
Several points make Backblaze a great option for online backup service. If you are on the fringe about deciding in its favour, hope the above information and questions can help you make a decision. If you have any questions not answered here, please ask in the comments below, and we will get to it as soon as possible.
Nevertheless, the best option for you might be to try out Backblaze for 15 days and decide for yourself.
If you are ready to give it a shot, you can download the software directly from here.
Updated on April 12, 2018 (Added and updated FAQ.)