With the new year approaching, many people decide to get more serious about their fitness. With the advent of new wearable technology, it's never been easier to track your fitness goals. Fitness bands and trackers are the most popular accessories for serious athletes and casual users alike. They are trendy, fashionable and extremely functional. Fitbit and Garmin are fitness band royalty and are two of the most popular and widely used brands today.
Fitness trackers are a boon to the health-conscious and those looking to get fit. Professional athletes rely on these trackers to tailor their fitness regimes. The trackers come with compatible apps where details of your workout are presented in an easy-to-understand way. You can use this data to tweak your workout for optimal results.
A good fitness tracker will have features such as calorie counter, distance tracker, heart rate monitor, steps counter, speed tracker, sleep monitor, and diet tracker. These tools can help you create a workout schedule that is tailor-made especially for you.
If you are in the market for a new fitness tracker and are perplexed with all the brands and models on offer, this article aims to help you decipher the complexities surrounding fitness bands and help you make an informed choice.
Fitbit vs Garmin: Which should I get?
This is a question that can throw even regular fitness bands users and those in the fitness business. Garmin has been around longer and has a range of bestselling smartwatches in addition to the fitness trackers; something that Fitbit is now getting into.
Fitbit: Style and Substance

Fitbit's aim is to partner with people in their fitness journey. The products are designed to track progress, share results and inspire others. The first in the industry to introduce wireless syncing and offer an open API, Fitbit has been a pioneer in the fitness industry. Fitbit has an award-winning app that complements the tracker and has a highly acclaimed range of products. Fitbit is known for its ease of use, style quotient, and technology.
Fitbit's range of products has advanced features such as sleep tracking and silent alarm, sleep stages, heart rate tracking, built-in GPS, call and text notifications, music control, guided breathing, etc. in addition to the basic features of step counting, calorie counting, distance tracking, and floors climbed.
Fitbit's product range comprises trackers for all budgets and functions. Starting from the budget tracker Fitbit Flex 2, the range includes Alta HR, Charge 2, Blaze, Surge and the latest offering Fitbit Ionic.
Garmin: Technology First

Garmin specializes in GPS navigation and wearable technology. Garmin has a comprehensive range of products that includes GPS systems, wearables, cameras, activity trackers and more. A well-known brand, Garmin is one of the most trusted brands in the areas of its business. Garmin banks heavily on technology, and it shows in their products.
Garmin's range of wearables includes both activity trackers and smartwatches. With features like heart rate monitoring, built-in GPS, sleep monitoring, smart notifications and step counting, Garmin's fitness trackers are among the best in the world. The brand also has a special activity tracking range designed especially for children.
Garmin's fitness bands start with the budget range vivofit 3 and includes vivosport, vivosmart 3, Approach X40, Forerunner, vivoactive HR, Fenix, and Garmin Swim.
Fitbit vs Garmin – How do they stack up against each other?
1. Fitbit vs Garmin – Sports and Fitness Tracking
Both Fitbit and Garmin have devices that boast the entire gamut of sports tracking features such as step counting, calorie counting, distance traveled, and running and cycling activities, etc. Garmin is a step ahead with specially created trackers for golf, boating, and swimming. Garmin's superior technology and inbuilt GPS lets the user track multiple activities from running, swimming, hiking, triathlon, rowing, skiing and many more activities. Garmin Swim tracks your swim laps, distance, pace, stroke count and gauges your swimming efficiency.
Fitbit's devices, while not as diverse, are quite adequate. These devices can track your cardio fitness levels, track multiple sports like running, biking and swimming. Fitbit's devices let you connect to popular music apps like Spotify and gives you access to the music on your phone. You can also store music on your Fitbit device Iconic. Fitbit's Fitstar workouts give you step-by-step workout instructions from your wrist.
2. Fitbit vs Garmin – Health Tracking
Health tracking features like heart rate monitoring, step, and calorie counting, distance traveled and floor climbed and sleep stage tracking and monitoring are present in both Fitbit and Garmin devices.
Both brands have a sleep monitoring features that very similar, with matching accurate results. Fitbit, however, can automatically track your sleep stages – light, deep or REM – and record data. Fitbit has a feature called Guided Breathing Sessions where the tracker takes you through guided breathing sessions based on your real-time heart rate throughout the day. Garmin devices have wrist-based heart rate tracking capability and smart notifications. Garmin devices track your heart rate variability (HRV) and calculate your stress levels.
3. Fitbit vs Garmin – App Comparison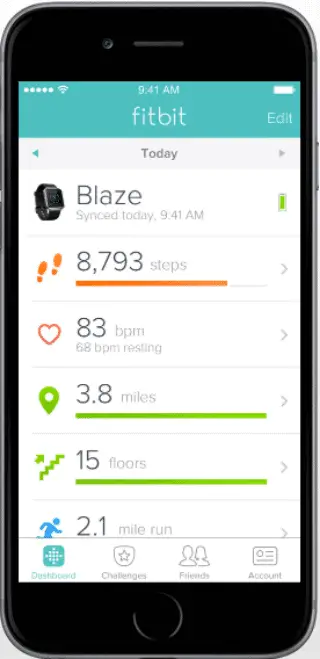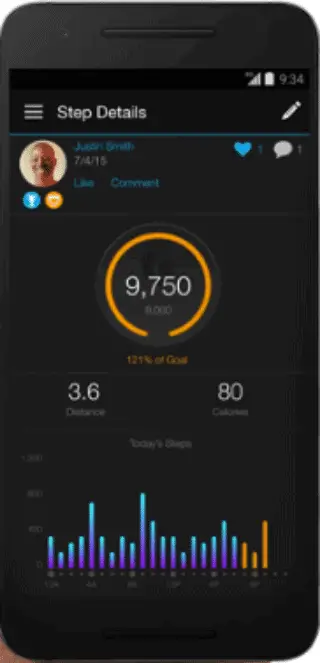 Fitbit and Garmin have smartphone apps that synchronize your data with your smartphone. While both apps do a great job of tracking and presenting your information, Fitbit's app has an edge over Garmin because it is easy to use and has a better aesthetic quality. Both Fitbit and Garmin apps sync with third-party apps like Strava for a more immersive user experience.
The Fitbit app tracks all your activities, including sleep and rest time. It notifies you when you've been sitting for too long and encourages you to move. Its sleep monitoring is the best in the business. You can connect it to multiple trackers and app has the ability to sync data seamlessly.
Perhaps the most popular feature of Fitbit's app is the social aspect. You can connect with your family and friends and keep track of your fitness goals and achievements. You can share workout details, challenge and motivate your friends and family.
Since the number of people using Fitbit is higher than those using Garmin, you are likely to find more people you know on the Fitbit app rather than Garmin Connect. The app gives you complete information on all aspects of your well-being – diet, exercise, weight management, and hydration.
The Garmin app "Garmin Connect" logs in your workout details from steps walked, distance covered to sleep and calories. You can set up challenges for yourself and with people you are connected with. The Garmin app connects you with like-minded fitness enthusiasts and friends and family.
You can share your motivation mantras with your friends and inspire others to become healthier. Garmin Connect is great for serious athletes; it gives you a detailed analysis of your workout. This data is invaluable for athletes wishing to take their fitness to the next level.
4. Fitbit vs Garmin – Design Philosophy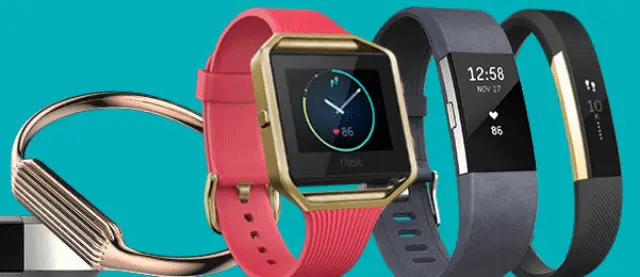 Fitbit and Garmin have different design sensibilities; Fitbit is seen as trendy and fashionable, whereas Garmin is more functional. Garmin's smartwatches and fitness trackers are technologically sound, but when it comes to style, Fitbit has more takers than Garmin. Garmin's devices have long been accused of being uninspiring and lackluster.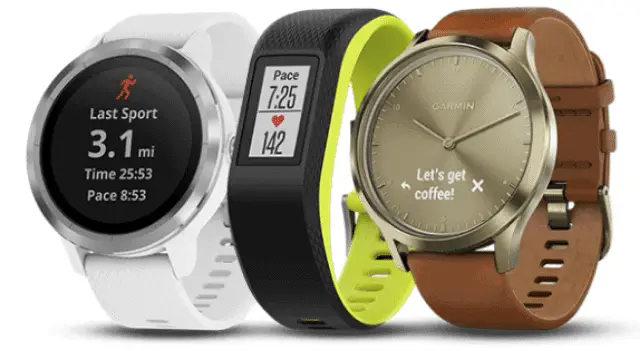 Garmin's Connect IQ lets you customize your fitness tracker with unique watch faces, apps, widgets and more. Fitbit's devices have a considerably sleeker design and appeal to the fashion-conscious. Garmin's designs are basic and masculine, appealing to serious athletes and professionals.
5. Fitbit vs Garmin – Product Comparison (Budget, Mid and High End)
The best method of comparing two iconic brands as these is to compare products in a similar range.
In this article, we have compared fitness trackers from both the brands in three price categories – budget, mid-range, and high end. Let us take a look at how the devices in these categories stack up against each other.
A. Budget fitness trackers – Fitbit Flex 2 vs Garmin Vivofit 3
Fitbit Flex 2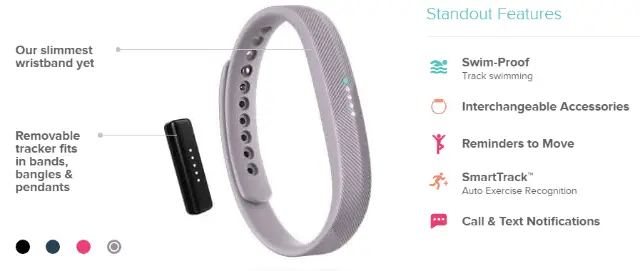 The Flex 2 is an incredibly stylish budget tracker from Fitbit. It is slim and sleek and packs a lot of features in a small package. The Flex 2 does not have a screen; it has an LED display that shows your progress and notifications. Fitbit's slimmest band, the Flex 2 is waterproof and can be used to track your swimming activity as well as running, a number of steps, distance traveled, etc. It has a long battery life of 5 days and it tracks your sleep habits and wakes you up with a silent alarm.
Fitbit is incredibly stylish and can be worn as a fashion accessory. You can remove the tracker from the strap and wear it as a bracelet or as a pendant around your neck. One of the best looking fitness trackers on the market today, Fitbit Flex is great for the health and fashion conscious.
Sync it with the Fitbit app for a whole range of fitness and health insights that will help you improve your fitness regimen. The Fitbit Flex does not have a heart rate sensor and does not monitor your heart rate and stress levels.
Cost: Starts at $59.95
Garmin Vivofit 3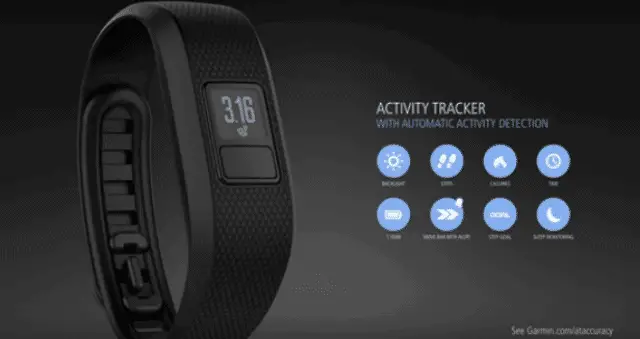 Garmin's budget tracker, the Vivofit 3 is a slim band that has a small screen that tells you the time and gives you other notifications like work out the summary and when it is time to move after a long period of rest. It is water resistant and can be worn while swimming. The Vivofit 3 has Garmin Move IQ automatic activity detection that detects and classifies your activity automatically.
The Vivofit 3 is fitted with a normal watch battery and has a battery life of one year, making it a 24/7 wearable. Just switch the battery after it drains and you are good to go. The Vivofit 3 also has style bands that you can swap the normal band with, but they are not nearly as stylish as Fitbit Flex. The tracker connects with Garmin Connect to give you insights from your workout and how you can take it a notch up.
Cost: Starts at $79.99 (often available on discount or offers)
Winner: Fitbit Flex 2; it is better looking, sleeker and more affordable than the Vivofit 3. In the contest of Fitbit vs Garmin under the budget activity tracker category, Fitbit takes the lead.
B. Mid-range fitness trackers – Fitbit Charge 2 vs Garmin Vivosmart 3
Fitbit Charge 2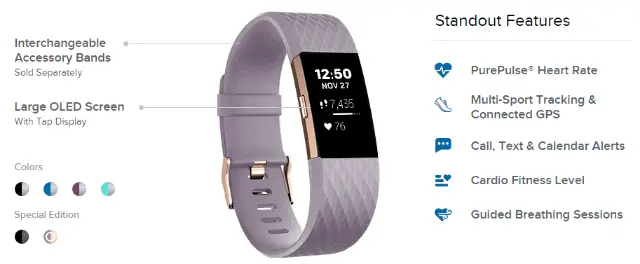 Fitbit Charge 2 is a good-looking mid-range tracker from Fitbit. It has a classic Fitbit look, with a large OLED screen with tap display. It has interchangeable bands in attractive colors that are sold separately. You can transform your Charge 2 into a luxury accessory with the luxe leather bands and the special edition bands available separately.
The Charge 2 performs all the basic functions of an activity tracker well; it counts your steps, keeps an account of your work our routine and can track specific exercises like running, weights and even yoga. In addition, the Charge 2 is powered by PurePulse, which tracks your cardio fitness levels and gives you insights about how fit you are and how you can get fitter.
Charge 2 has the unique Fitbit feature – Guided breathing sessions. These sessions are personalized and bring a sense of calm in the middle of your busy workday. You can customize clock faces and receive calls, text and calendar alerts from your phone. A step up from Fitbit Flex 2, this is a great fitness tracker to have.
Charge 2, however, is not water-resistant and you cannot wear it while you are swimming. So if swimming is a big part of your fitness regimen, Charge 2 will not work for you and you are better off with the Vivosmart 3.
Price:  Starts at $149.95 (Often runs discount offers for new users)
Garmin Vivosmart 3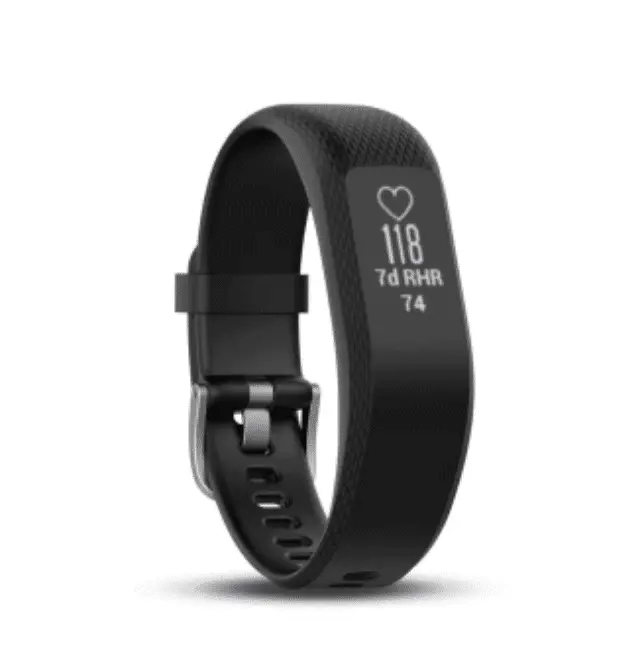 The vivosmart 3 has a wrist-based heart rate tracker and monitors your heart rate and stress levels throughout the day. At first glance, it looks similar to Charge 2, but upon closer inspection, you will see that Charge 2 is better in the looks department. It has a textured rubber band and smooth black strip in the center where the screen is. The screen is not an always-on screen like the Charge 2 and you have to tap to display notifications.
It is a great fitness band that monitors your daily activity and wellness very well and the connected app gives you important insights into your fitness and stress levels and how you can get better. It has several smart features like the ability to control music from your phone from your fitness band, and the ability to count your reps, exercises and sets in the gym when you are working out.
Vivosmart 3 is water-resistant and can be worn in the pool and the shower, giving it an advantage over Charge 2. You can connect with other fitness enthusiasts on the Garmin app and it is compatible with TrueUp, with which you can synchronize multiple activity trackers.
Price: Starts at $139.99
Winner: The two fitness bands have very little to tell them apart. Both automatically track your exercise and both devices give you VO2 Max information, which tells you if your body is using oxygen efficiently. Both devices are great at sleep tracking, though Charge 2 has better sleep features. Vivosmart 3 is water-resistant and that is a huge deal-breaker for those who need tracking in the pool. The winner here is Vivosmart 3 for the additional feature of being water-resistant.
C. High-end fitness trackers – Fitbit Iconic vs Garmin Vivoactive 3
Fitbit Iconic: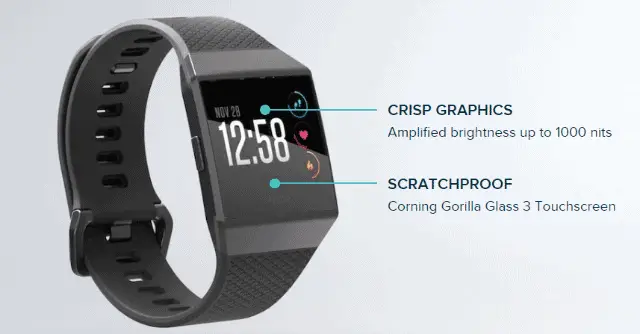 The Iconic is Fitbit's latest offer and its most premium fitness tracker. The Iconic, like the vivoactive 3, is a smartwatch with fitness tracking features. It has several interesting features such as personalized guidance, which serves up personalized workouts that play on the screen, and Smart Track features that automatically tracks your activity and logs it in, whether it is walking, running, cycling or swimming. The watch is water-resistant and can track your swimming workout too.
Design wise, the watch is good-looking with a unique square face and three color options. There are many band options that you can choose from. The square is different from the standard round face of the vivoactive 3 and gives it an edgier and more fashionable look.
The Iconic and the vivoactive 3 have similar features for the most part, but the Iconic has one ace up its sleeve: you can store your music on the watch. You can connect to Pandora, or to the music on your mobile phone, and you can also store music on the watch, meaning you don't need your phone for music when you are out for a run anymore. The vivoactive 3 lets you connect to your phone and other third-party apps but does not let you store music on the device itself. This is a huge advantage that the Iconic has.
Price:  Starts at $299.95 (Users often get this under a discount or a deal on Amazon.)
Garmin vivoactive 3: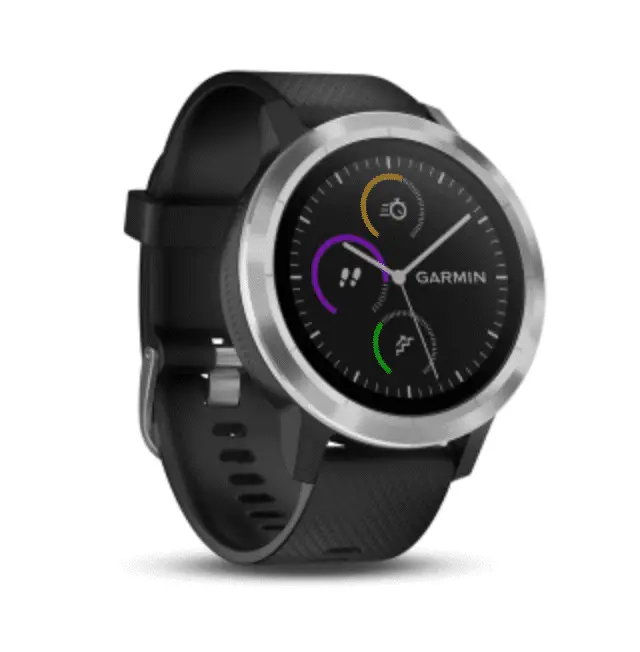 The vivoactive 3 is a solid fitness tracker smartwatch with great activity tracking features. It has wrist-based heart rate detection and comes preloaded with many GPS and indoor sports apps. It has a great battery life of 7 days in smartwatch mode and 13 hours in GPS mode.
On the design front, it has a standard round face, with more emphasis on function and not so much on style. But it is by no means tacky; it looks strong, sturdy and functional, perfect for someone with an active lifestyle!
Vivoactive 3 is compatible with Garmin's Connect IQ store and you can download apps, widgets, clock faces and more. You can download or create your own custom workouts and the connected app will record all your activity. The vivoactive 3 features Garmin Pay, which lets you use your watch to pay for purchases in supported stores.
Price: Starts at $299.99
Winner: Both these devices run neck to neck in terms of activity, fitness and health tracking. They both have customizable clock faces and multiple app support. You can make payments with both the devices and they are both water-resistant. They are also priced similarly. Fitbit Iconic has the edge here because of the ability to store songs on the device and its superior looks.
The Verdict: Fitbit or Garmin?
When we talk about Fitbit vs Garmin, both the brands are iconic in their own ways and it is difficult to choose between them. The devices are solid, with great features and accompanying apps. Though the brands started off in opposite directions – Garmin started with smartwatches and made its way to fitness bands while Fitbit started off with fitness bands and is foraying into making smartwatches now – they rule the roost in the fitness tracker space.
The general consensus is that Fitbit is for the fashionably inclined whereas Garmin is for serious athletes and professionals who need more out of their regimen. Fitbit's app is a tad better than Garmin's in terms of usability and aesthetics. Garmin's devices are more rugged and masculine and appeal to those in professional sports, especially those training for triathlon, golf, etc.
The decider lies in style vs function, though both brands are stylish and functional in their own right. It all finally comes down to personal choice; choose the tracker you think looks best on you and whose features you think are best suited for your level of activity because, in the end, both the brands are giants in their own right.