There are times when we are looking for information about people that we have known in the past. If you reached a dead-end on the usual social network, do not despair. There are many options available to look up information about people but is Zabasearch is supposed to be the best people search engine.
Zabasearch is a website that searches for and compares diverse information about people. It includes parameters like names, current and past addresses, phone numbers, and birth years.
If you are trying to find someone, a deeper layer of search can also collaborate with other search engines to recover other data, like satellite photos of addresses and other locations.
Also Read: How to eliminate country-specific searches in Google Chrome
Don't worry, this service does not invade anyone's privacy. ZabaSearch accesses and displays information that is only available in the public domain. It serves as a search engine, processing and collating what is found on open sources. It does not source any personal information on its own.
Corporates also tend to use Zabasearch as a reliable Source to do a Background check of potential employees, especially regarding criminal backgrounds.
Please Note: Zabasearch is only for the residents of the United States.

How and What to search on Zabasearch
Just log on to Zabasearch to find people you are looking for. The process is simple.
All you have to do is enter the first and last name of the person you are searching for. If you know the state (US state), add that to get a more relevant result.
After you hit the search button, you will get to see details like phone number, the month of birth, property information and verification for zip code.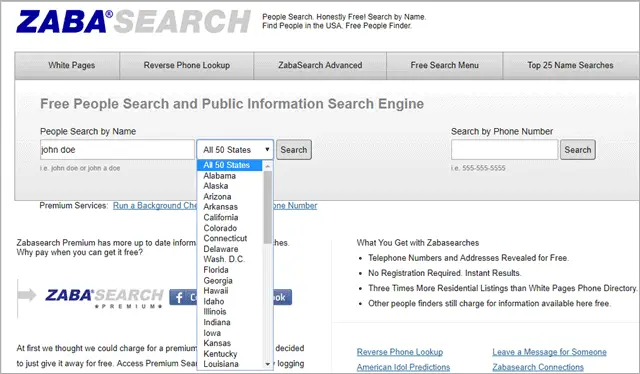 What does the Paid or the Premium Version offer?
Zabasearch advanced premium version gives additional details about people that you search for, while the free version gives all the basic information.
To get the Zabasearch advance, you are redirected to Intelius for payment as Intelius bought Zabasearch in 2008.
In the premium version first, you need to register with your email address and a password at the site, with an option to sign in with Facebook too.
Instead of paying for Zabasearch advance, we recommend that you do a deeper search on your own by referring to other free websites. All you need is a little patience to get the same details.

Is Zabasearch legit and legal?
Are worried that you may be on someone else's search list? Is your own privacy and safety your primary concern?
Sometimes people are not comfortable with the idea that their personal details are freely available on the internet; especially on websites like Zabasearch that are dedicated to finding people.
So naturally, one wonders if Zabasearch is a clean and legitimate source. Is it using any illegal methods to obtain this information on people?
Rest assured, Zabaseach is perfectly legitimate and above any legal suspicions. As a search engine or service provider, it simply collates and gathers information about the same person at one point of reference.
Only the information that is available on the internet through open sources is collected and presented.
It merely collects all the data from the various sources available online. Maybe it is your court record, marriage record, or the state record. If you have purchased a house or filed for an address change, it is all recorded into a public domain.
This information is accessible to all those who search specifically. Zabasearch easily fetches all of that data and presents it at a click of a button.
How does your personal data appear on the web?
For whatever purpose or whenever you have filled an online form, chances are that the information has been automatically recorded. Many states make the voter registration data available to the public, again an open source to your data.
Information typically makes it to the public domain via a variety of sources, including but not limited to phone listings, court records, real property records, subscriptions etc.
Therefore what you cannot hide specifically is freely available on the web in a legal way.
How to Restrict Zabasearch from showing your data in the search results?
While one cannot always hide their personal information on the public domains, you can with simple steps restrict who all can actually view your details.
Log on the website. You will get a Zabasearch opt-out feature. You can restrict Zabasearch by its blocking option and drop yourself from Zabasearch public record.
Zabasearch's website also mentions other options that help you to control information about yourself in the public domain. Do check it out too.
Note: When you make this choice, if anyone tries to find you, your information will not be visible to them. Zabasearch does not maintain any database from where it can delete, modify or add any information.
Blocking Zabasearch will not delete your data from the public domains available on other sources online; it will simply hide it on their website.
There are ways you can know if your data was leaked in an online breach
You can use some unique tricks while searching on Google.
Conclusion
Many corporates gather, generate, compile, house and sell public information for monetary benefit. This is quite acceptable and legal in the US.
The information industry is growing and is at present estimated to be at 2 billion dollars in the U.S.
But Zabaserach is not one of these; It is truly a people finder. If your reasons for looking for someone are positive then you will find the results pretty helpful.
Further Reading: 7 Useful Google Search Tricks for Better, Quicker Search Results