Are you looking for a drawing tool like Microsoft Paint for Mac? Then you will be very happy to check out our highly recommended list of 9 apps that are similar to Microsoft Paint.
Also, there are third party Paint-like apps that are designed especially for Mac OS. Some apps are free while others are paid ones. The native Paint app that keeps most Windows users happy is a popular drawing tool and we have tried to find something similar which can meet most users' requirements.
These apps are fun to use for adults as well as kids, as one can do so much more to enhance the creativity of their work with the right tools. This list gradually moves from the simple and easy-to-use software to the more feature-rich ones.
See More: The Complete Guide to Customizing Your Mac Computer
The Top 9 Contenders for Paint for Mac
1. Scribbles
Scribbles is a simple app which is designed in such a way that it suits not only the kids but is also fun for adults. It is exactly like MS Paint in many respects.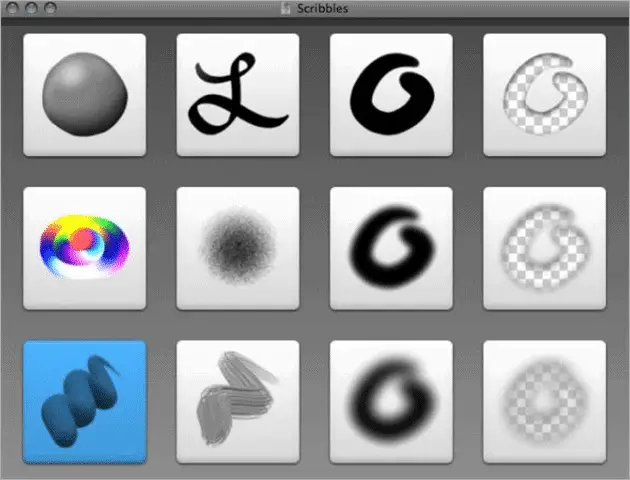 The interface is decent with fewer buttons on the screen, which makes it one of the easiest apps to use. There are four basic buttons; one to see the tools available, second to choose colors, third to control layers and the last one is a slider.
This slider controls the size of the tool that you are using at the moment. You can also share your creativity online via this app.
2. Rita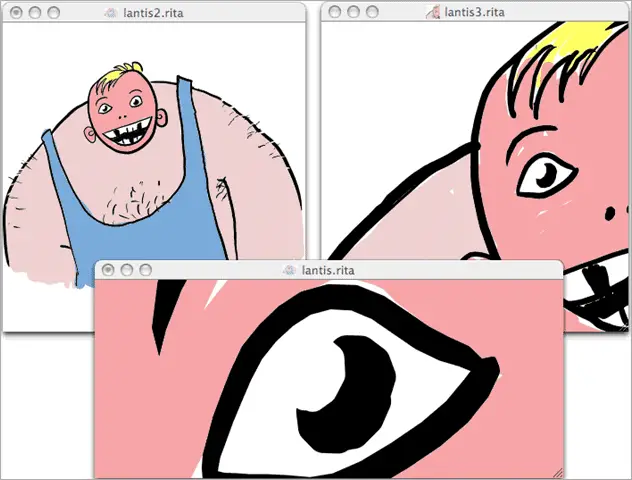 This app gives you an endless opportunity to showcase your creativity without any restrictions on the image size or resolution. Rita uses an infinite canvas which is quite an interesting approach. It allows you to really get in there and make smallest changes that you need.
Zoom the images as much as you require. You can make the best use of the app if you draw using a Wacom drawing board or a similar device.
If you are looking to create an infinite piece of art, then Rita as a Paint for Mac alternative is your best bet.
3. Pixen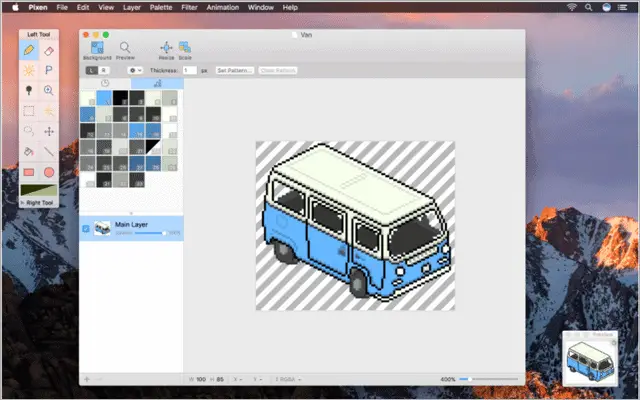 This is an appropriate app for people looking for something more than Paint but less than Photoshop. The app is designed for having some fun and foster creativity.
It features a unique color palette system, patterns, layers, and high-zoom support. You can also create frame-by-frame animations with the app.
If you need a pro pixel art editor which packs all the tools, then Pixen is a good Mac Paint app for you.
4. Paint 2
Paint 2 is a free drawing and image editor for Mac with which you can draw pictures and edit your photos.
You can sketch and crop, rotate, scale images, write text on the images. The app supports layers so you can play around a lot with your images.
Paint 2 supports various formats of images including JPEG, TIFF, PNG, and BMP. You can easily remove unwanted elements from your images.
Those who are looking for an elegant but easy-to-use paint for Mac OS, can choose this app without any doubt.
5. Acorn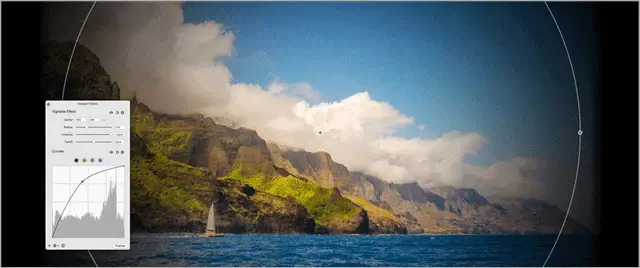 Acorn is a powerful image editor for Mac OS 10.10 or higher. It has lots of handy features including vector drawing, and a smudge tool.
The app has the ability to set a single color of any layer to transparent. You can rotate and resize and merge each layer.
The image-editing app Acorn is often called 'the image editor for humans' since it's ease of use and has various tools to edit images. For example it provides options like text, drawings, shapes, and even gradients.
You can add or remove layers using the plus and minus buttons at the bottom of the app's screen. Choose this app if Photoshop seems complicated as Acorn fits all the requirements of an image editing and painting app.
6. Paintbrush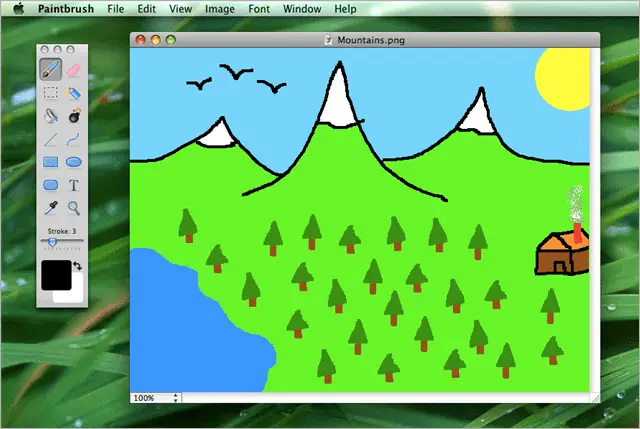 Paintbrush is classy and the closest to paint for Mac prospect. It offers users a variety of options to edit simple images quickly.
The app supports image formats such as JPEG, TIFF, GIF, BMP, PNG, etc. You can paste images copied from apps like Apple iWork and Microsoft Office.
Paintbrush gives an essence of Microsoft Paint. It is as simple as Paint. Just open the file you want to edit, and a white canvas opens up. You also get a toolbox containing all the required tools on the interface.
If you want to use the Paint app on Mac, then Paintbrush is one of the best options available.
7. Seashore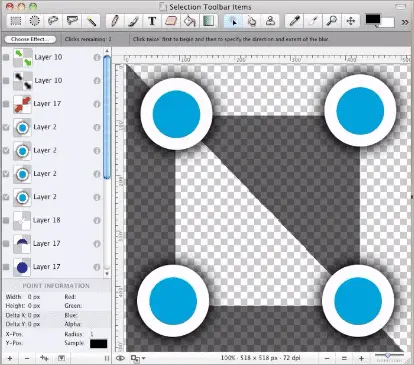 This app is an open source image editor for Mac OS created by Mark Pazolli. Seashore has a simple and powerful interface with useful effects and has draw buttons.
It has a window with information about the coordinates, colors, and dimensions of your images. Seashore supports multiple layers and alpha channel editing.
This has all the basic image editing tools that fulfill the requirements of most computer users.
Although all the professional features are not available, it is a handy app featuring gradients, textures, and anti-aliasing for text and brush strokes.
8. Pixelmator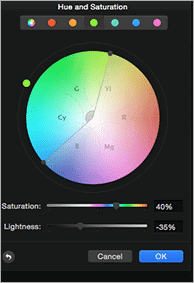 Pixelmator is an amazing Paint for Mac like software with all the features that MS Paint has and more. It is a layer-based image editing app with more than 15 color correction tools.
You can import images directly from your camera, scanners, and devices like iPhone, iPod touch, and iPad. It supports all the commonly used formats like TGA, GIF, PDF, BMP, WebP, JPEG, PSD, TIFF.
Pixelmator is definitely one of the best and most popular image editing apps for Mac OS with a fully-fledged graphics editor.
9. ArtRage 5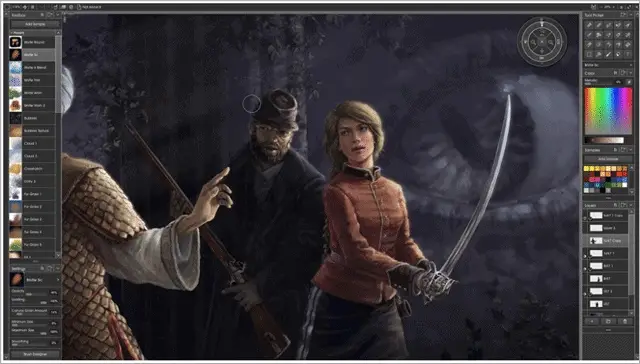 It is an excellent painting and drawing app for Mac which adds magic to your art. The ArtRage 5 gives your image a natural and realistic look.
The app has a number of artistic tools that are easy to use without complicated controls. The interface of ArtRage 5 is quite attractive and beautiful.
ArtRage 5 is a perfect, well-packed Paint app where you can keep a record of your paintings as script files for playback later.
10. Inbuilt Mac Paint App (Honerable Mention)
Mac has its own inbuilt Paint-like app that many people are unaware of. Apple's Preview app has some Paint functions with which you can apply a few basic paint edits on your images.
Just open the image you want to edit on your PC in Preview. The top menu in Preview has a toolbox icon, click on that.
You will find a number of basic and simple tools to edit your images. You can resize your image, set the background transparent,  draw an arrow on the image and save it as JPG, PNG, GIF.
Conclusion
Editing your images as you do with MS Paint for Windows is a breeze with the above applications on your Mac. You can be a pro in editing images and give your art an out of the box look.
If you don't feel like downloading any of the apps, you can always use the Preview tool to do basic edits on your images.
Further Reading: Essential Guide – How to Clean Your Mac's Desktop in One Click