If you are looking for services that works like AirDrop for Windows, then we have the some nifty options listed for you below.
As you must know AirDrop is a service that enables the transfer of files that are supported by Mac and iOS devices over Wi-Fi and Bluetooth. This option deviates away from using regular ways of sharing like email, online backup services or through a mass storage device.
If you are a Mac or an iOS user you may be familiar with AirDrop. But if you are a Windows and an Android user, you may not have the same convenience on your devices. That is why we have the perfect answer to counter that need.
See More: The Various Ways to Share Large Photo Batches with Family and Friends
Here are 6 Alternatives of AirDrop for Windows.
1. SHAREit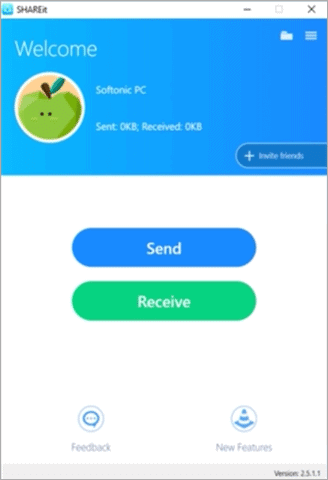 SHAREit is on the top of the list because it has everything that you would expect from a file sharing service.
This is a good alternative to AirDrop for Windows. Starting with its basic features, it lets you transfer files across all the major platforms including phone, computers, tablets.
You can transfer files like photos, videos, apps, and documents, through a Wi-Fi connection as it creates a direct wireless connection.
It has a good speed while transferring big files and it is not platform-dependent as it will work with any SHAREit enabled device. It is a free service
Platforms: Windows, Android, iOS
2. Filedrop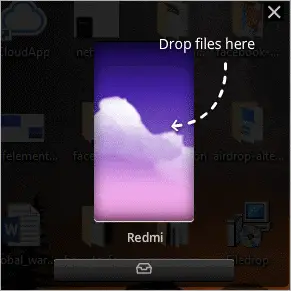 Filedrop is another simple app that will let you share files with devices on the same network.
It is an easy-to-use app if you are looking for an alternative for AirDrop for Windows.
Just install the apps on the devices you need to transfer files to. Select the files from the file manager that you want to share and it's done.
You can even drag and drop the files for an easy share option. The interface is quite old-fashioned and limited but works fine. The file size is not a barrier; you can share files of any size.
Download FileDrop here for free.
Platforms: Windows, Mac, Android, iOS.
3. Xender – A Good Alternative to AirDrop for Windows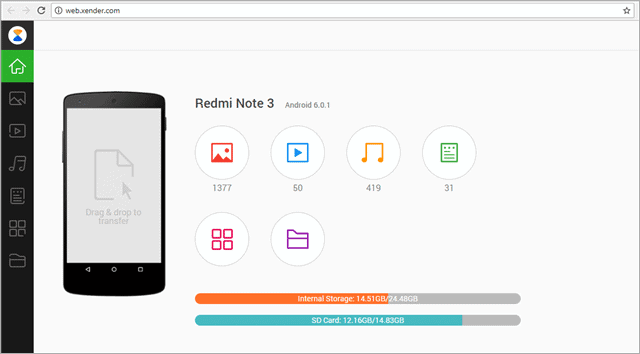 Most probably you already know about Xender as it is quite a popular file sharing app for mobile devices.
It's easy to connect the PC with the mobile by activating the link that Xender provides or by scanning the QR code in the web app. Once you are done, you can see all the files right on your phone.
The best part of Xender is that it has an intuitive and user-friendly interface with a lot of options of choosing files. The app is free to use with some ads in-between.
A perfect alternative of AirDrop for Windows with advanced and cool features. It can transfer any type of file including photos, music, video, and apps too.
Download Xender here for free
Platform: Windows phone, Web, Android, iOS.
4. Instashare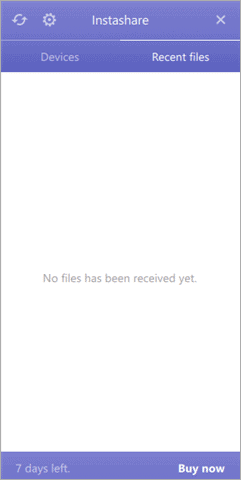 This one is not a free service, but you do have a 7-days trial option to see if it really works for you. Instashare is simple to use as it similar to Airdrop.
First, you have to install the app on your PC or your phone and click the Share button on the file you want to share and select Instashare.
The app displays a list of devices with which you can share the files. Instashare transfers everything regardless of size.
Download Instashare here at $6.96 with the 7-day free trial.
Platforms: Windows, Mac, Android, iOS
5. Zapya
What makes Zapya the best alternative of AirDrop for Windows is its availability on all the platforms including the web. It eliminates the use of a USB cable and runs without any internet connection.
File sharing is now easy and time-saving with Zapya. You can share photos, videos,  and music of any size. The tool is absolutely free to use.
The transmission speed is up to 10MB. Zapya is the easiest file sharing tool to use; simply go to Zapya and create a hotspot. Then, ask your friends to join so that you can transfer files with them.
Download Zapya here for free
Platforms: Windows, Mac, Android, iOS, Web
6. Send AnyWhere
After using so many file sharing apps, this one could definitely be your favorite one. This is one of the best options as AirDrop for Windows that you can work with.
Send AnyWhere is available for all the major platforms. The app uses Wi-Fi to transfer files. Unlike others, it also has a Chrome extension and is available as WordPress plugin too. Now, send files without touching cloud storage with Send AnyWhere.
Download Send-AnyWhere here for free
Conclusion
Although AirDrop is an incomparable service, it is of no use to you if you are a Windows user.  There is always the choice to go for the alternatives and we have listed the best options to AirDrop for Windows. The list offers you the best way to transfer files no matter on which platform you are working on.
Further Reading:  Backblaze Review: A Hassle-free, Unlimited Cloud Backup Solution for Windows and Mac