Most believe that cinema has its own language and the diehard fans would agree. Yet the majority of the global audience doesn't want to miss out even a word from the dialogues. So, if you are watching a movie in a different language that you only partially understand or if it is completely foreign, subtitles sites prove to be a boon.
The movie subtitle also plays an important role in making the content global, instead of being focused on a local and narrow audience. So, now you can get subtitles for millions of movies and TV shows at a click of a button.
Best Subtitle Sites for TV Series and Movie Subs
Most of the subtitles sites include the subtitle zip file in SRT format and packed into zip files. You will have to extract the subtitle format and synchronize it with the movie or TV episode that you're watching. Also, there are a number of Android apps to download subtitles quickly.
Let's check out the best subtitle website options and do not let language be a barrier anymore.
1. Subscene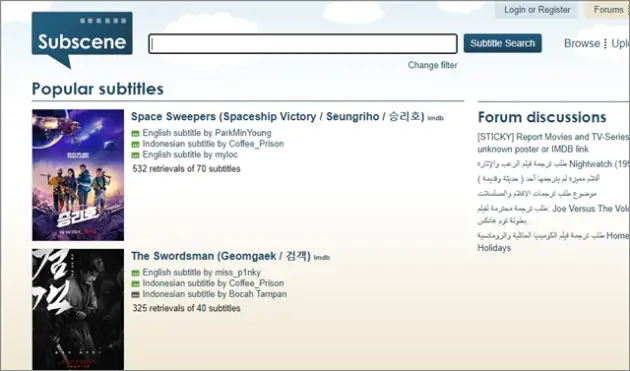 Subscene is one of the popular subtitles sites to download subtitle in multiple languages. Their content is constantly updated for all the latest movie subtitle and TV series subtitles. The website's content is created and submitted by users themselves. You can skim through the offerings for rare and latest movie titles and TV shows. The UI of Subscene is kept very simple so that people find it easy to use.
To find the subtitle that you are looking for, simply type the name of the movie or TV show in the search bar. You can then select the correct match from the results. You can even apply the filter and choose at max 3 languages to see in the search results. From English subtitle for a movie to french subtitles to Japanese subtitles, the subtitle download site has it all!
2. OpenSubtitles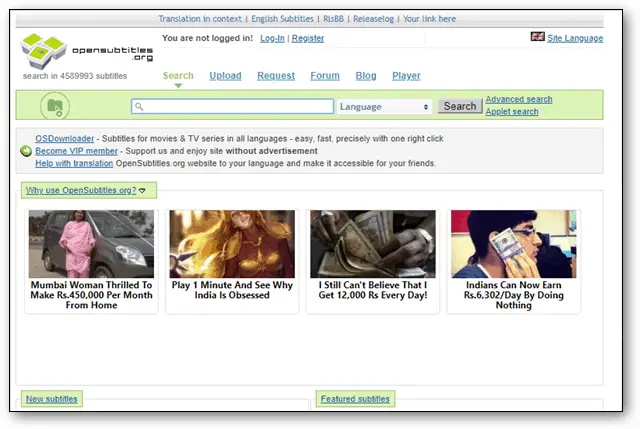 Open Subtitles is an excellent subtitle download site that you will be happy with. Though the subtitle website has the most extensive database, the user interface may seem a bit awkward to navigate in the beginning.
Japanese subtitles, French subtitles, English subtitle, you can filter the results and download movie subtitles in your preferred language. You can even submit a request if it isn't found. 
The Advanced Search lets you have an in-depth filter search before the subtitle format download is done. If you compare their collection with the other subtitles sites, Open Subtitles boasts the biggest database. 
3. Addic7ed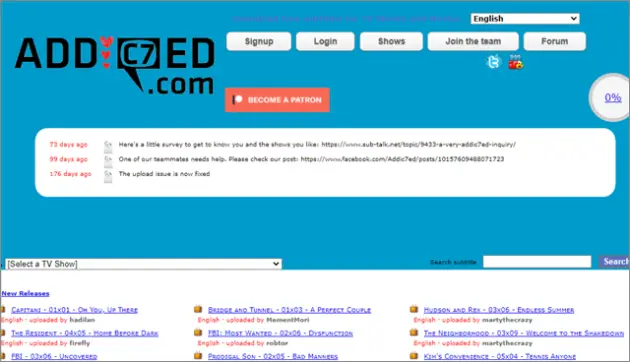 The latest movie subtitle is available along with TV subtitles on Addic7ed. Fortunately, it is not limited to movie subtitle download, but it also gives you relevant information about the movie or good TV Series you're searching for. The interface looks a bit outdated, but you will get a rich experience with the overall content. You are likely to find your favorite movie or TV episode and show subtitles here.
Despite being an open-source and free subtitle website, Addic7ed is one of the best subtitles sites. The homepage displays the latest translations and the names of the films or shows that have the maximum number of downloaded subtitle. 
4. TVsubs
TVsubs is another useful source to get subtitles in different language, be it french subtitles or Japanese subtitles, all packed in a zip subtitle file. Simply unzip the SRT file and start watching your show. They have a separate section for the latest uploads. TVsubs includes text for popular TV shows from Game of Thrones to The Big Bang Theory. You can also upload subtitles to make this website's service better.
One of the top subtitles sites with the most unique collection, TVsubs contains subtitles from over three thousand shows that belong to different genres and different language.
5. iSubtitles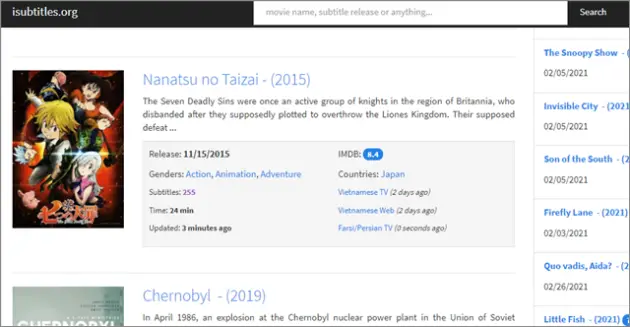 One of the first things that you will notice and love about iSubtitles is that it's a new and free subtitle site with a fresh user interface. They have proper descriptions for all the latest movie releases and titles. It is a reliable source to get the latest SRT subtitle and download them. The search bar is intuitive, and as you start typing the movie name, it gives suitable suggestions.
If you are looking for subtitles sites that give you content in multiple languages, iSubtitles is an excellent option to consider. French subtitles, Japanese subtitles, Dutch subtitles, everything on the site is free to download, so you can skim through without worrying. 
6. Podnapisi
Podnapisi subtitle website boasts over 2,030,875 subtitles for 56,459 movies and 6,207 TV series in 100 languages. We hope the statistics are enough to motivate you to explore this latest subtitle website. Podnapisi promises never to disappoint you. 
It has detailed search options with categories as 'Latest Subtitle' for movies, 'Latest Subtitle' for mini-series, and you can select the subtitle language, to make your choices easier. The advanced search engine enables users to precisely search by entering the corresponding year, name, or language of the movie or TV show you are looking for.
One of the must-visit subtitles sites, Podnapisi is best in the niche and their ever-increasing database is adding more movie and TV subtitles as we write.
7. Moviesubtitles
Moviesubtitles is another source to acquire the latest Xvid/DivX movies subtitles. It has DivX subtitles for the most popular movies and TV episode and films in multiple languages. Currently, the website has 19,238 movies with 1,14,794 total entries.
Some downloads might take some extra time. If you see a redirected page, do not lose hope. Either wait for a few seconds or refresh the page and your desired subtitle download will be ready.
The downloaded subtitle comes in WinZip format. You have to unpack to get full access. One of the easiest subtitles sites to use, they come with suggestions if there is no exact match for what you typed. You can also enter a keyword for Divx movies and Moviesubtitles will hunt its database to bring you the closest names. 
8. Downsub
One of the newest additions to the best subtitles sites, Downsub boasts an exceptional user interface. The subtitle website is convenient to navigate and they keep uploading subtitles to their collection. If you are looking for the subtitles of a recently released latest movie or new TV series that might not be easily available elsewhere on the internet, Downsub might be of help to you. 
Apart from films and TV shows, Downsub includes subtitles for all types of content you'd find on YouTube, DailyMotion, Hotstar, and any other video-streaming platform. From Netflix TV series to HBO TV series, you will be able to get the desired subtitle! You can also find subtitles for videos posted on various social media platforms. Simply copy-paste the URL, click on the download subtitle button, and you are good to go. 
If advertisements do not bother you, then you can also translate the movie subtitles into whichever language you want before downloading subtitles. Remember, this option is only available only after you hit the download button.
9. Yify Subtitles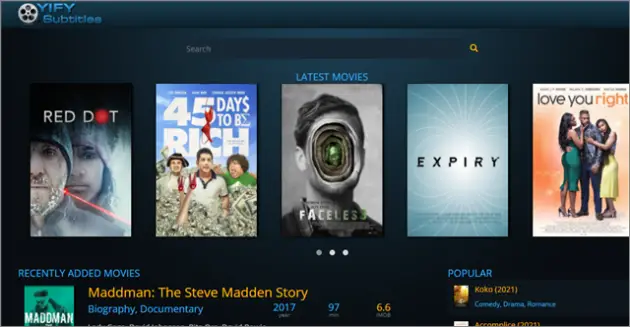 If you've used the torrent version of Yify, you will find similarities in this subtitles downloader website. The interface adorns a dark theme and includes posters of all the latest movies and TV shows. A free subtitle site, you will come across some of the rarest video gems in Yify Subtitles. The no-nonsense site does not require you to fill up any registration form to give you full access to its SRT file content. 
Apart from the subtitle file for movies, you can check out the IMDb ratings, the year in which the film released, how well has the movie fared on Rotten Tomatoes, and the duration. Next to the subtitle download link, you also get to see all the different language choices available for a particular title. While most subtitles sites give you the option of filtering or sorting the picks, Yify does not do that. This is the only downside of using the otherwise superlative website. 
10. English Subtitles
The website is correctly named since you will find English subtitles to a massive collection of films and TV shows. If you are looking for subtitles for your favorite movie in any other language, hunt elsewhere. The workings of the website are quite simple. You type in the name of the film or show in the search box and they take you to the English subtitle download link in a couple of seconds. 
People in the search for subtitles sites that do not contain advertisements must resort to some other option. English Subtitles like most other subtitles downloader platforms host tons of ads because it is a free subtitle site for thousands of movies. 
However, they do not trick their users by making them visit random pages. The buttons are well-labeled and the download links are not hidden. If English is the only language in which you wish to download subtitles, then the website is a must-visit and you will find the database overwhelming.
11. Subtitle Seeker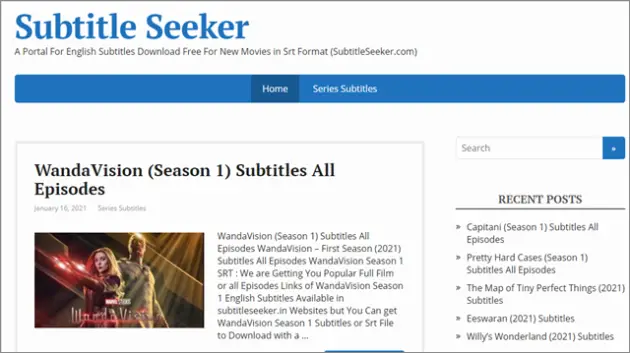 Subtitle Seeker came into being in 2020 and is a comparatively new entry to the list of subtitles sites. The latest subtitle website has managed to grab attention because of the variety. The workings are similar to the torrent engines and if you have downloaded content from 'Torrentz' earlier, it will be an easy ride for you. Subtitle Seeker, quite keeping up with its name, fetches subtitles and translated subtitles from other websites. Go to the search bar in the top-right corner of the homepage, type in the name of the movie or show, and press enter. 
All the downloaded subtitle that you will get on Subtitle Seeker are available in SRT format. Whichever video player you use on your PC, it will definitely support SRT format, so you need not worry. The two downsides of using the site we personally experienced are the incessant pop-up advertisements and a little unfriendly UI. They have a unique display of recent posts on the right column in the homepage, which displays all the latest additions to download subtitle.
12. TVsubtitles
One of the best subtitles sites for getting your hands on good TV series subtitles belonging to various genres, TVsubtitles is unmissable. The interface is convenient to use and neat. Although the name of the website suggests you'd only find subtitles of TV shows, it can be used for downloading movie subtitle as well. 
The site's entire content is divided into two broad categories – TV series and films. This makes it quick and easy for users to find exactly what they are searching for. The most striking feature of TVsubtitles is that uploading subtitles is allowed. So, if you have TV series subtitles or translated subtitles for a show that you'd like to share with the fellow site visitors, you can go ahead and upload them. 
We particularly loved how they have displayed the 'latest subtitles', 'top TV shows' and 'most downloaded subtitles' sections just as you open the homepage.
13. Subdl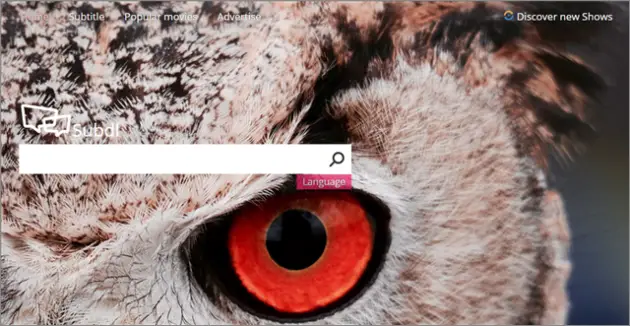 Although not as popular as the other subtitles sites we have listed, Subdl is unique and boasts a stunning user interface. The website includes a huge selection of films and TV shows. The subtitle downloader hosts content in the maximum number of languages. Go to the 'subtitle' category and start skimming through the choices. 
The 'popular movies' page is our personal favourite. It boasts an exquisite selection of the best films and TV shows ever made. Some good-old classics and a few rare gems, how about discovering the TV subtitles first and then deciding what new content to watch? The site's clutter-free navigation makes downloading subtitles effortless. 
14. My Subs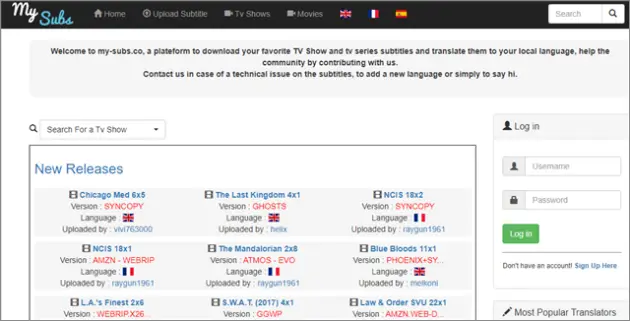 My Subs is an excellent source for getting your hands on the subtitles of the most popular movies and TV shows. The subtitle downloader is on-point, fuss-free, and direct. They have divided the content into well-organized categories making it easy for the users to look for what they want. 
The best part about My Subs is that they offer SRT subtitle format, which means you do not have to do much once your subtitle file is downloaded. Many of the other subtitles sites that we have listed give you the SRT subtitle in compressed Zip versions that require an extra step before you get full access.
We found subtitles of some rare TV series and absolutely loved the site's multi-language and translated subtitles collections. Browse through the 'new releases' and 'latest uploaded movies' sections and be amazed by the content offered by My Subs.
15. MegaSubtitles
The simple navigation style and the latest additions make MegaSubtitles one of our favorite subtitles sites. The interface adorns a dark theme, the navigation is easy and you can get your hands on movies with subtitles, including some rare video file gems on the site. The search box displays results in real-time. 
You get all the subtitles in SRT format. Users can download the desired subtitle with a single click, making MegaSubtitles a must consider option. You are not redirected to any redundant pages and clickbait links. Remember to click on the 'popular' category at the top of the screen to view the best titles they have and to download movie subtitles.
16. OnSubs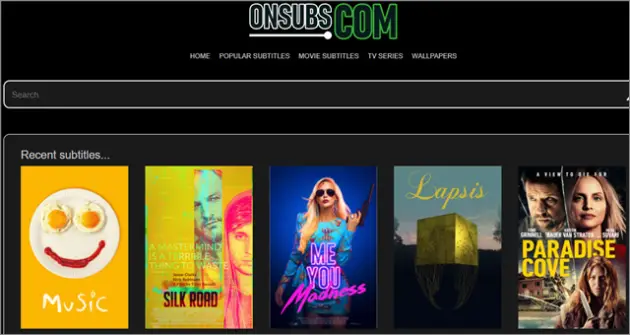 What we absolutely love about OnSubs is their display. The black theme put together with colorful film posters make the site look no less than an OTT platform. They boast a big search box on the homepage for you to type in your favorite movie and then, download movie subtitles. Their 'recently added' collection will give you some good options as well. Be it films, shows, or TV series – you get subtitles for all. Their database is massive and you will not be able to browse through the entire collection in one go.
One of the simplest subtitles sites that does the job well without too many pop-up advertisements, OnSubs is a must visit. You also get to see the latest movie trailers along with the films you choose to download the subtitles of. However, we'd ask you to be a bit patient while hovering on the website; not every link works because their content is free.
17. Subs4free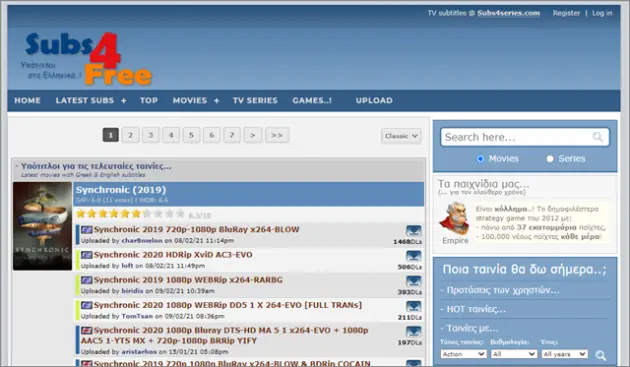 One of the best subtitles sites offering free downloads, Subs4free is a great option to consider. You get to see subtitles of all popular TV shows, series, and films. Downloading subtitles was never so easy! Subs4free also displays the resolution at which the subtitles will be downloaded. The subtitle language you get is Greek and English. So, if you are looking for subtitles in a different language other than these two, check elsewhere.
The search style is easy and the look resembles any other torrent-based website. You can skim through the recently uploaded subtitles to avail of new content. Subs4free boasts a very well-organized format and the films and TV shows are displayed in neat queues.
Final Thoughts On Subtitle Sites
There are many excellent foreign language films and shows being made currently. Be it movies, the latest TV shows, or a youtube video file that you want to understand better, check out the best subtitles sites. These include a wide selection of content and all the subtitle language downloads are available for free.
With the recent surge in the number of foreign language content being made and appreciated, it is essential to have a list of subtitles downloader sites handy. Increase your vocabulary, do not miss out on the meaning of any dialogue, improve your listening skills and enjoy the digital content without any language barriers. 
(Article Updated on 26th March 2021)