Corporate presentations help in exhibiting complex data in an easily digestible visual format. To present data very often we rely on traditional tools like PPT, documents or spreadsheets.
When it comes to presenting complex information in simple pictorials or diagrams, Microsoft Visio another option in the Microsoft Office suite does the best job. Whether it is flowcharts, maps, floor plans, or an entire working of a factory line, all is easily done. Microsoft Visio offers a wide variety of built-in shapes, objects, and stencils.
These are easy to work with to create simple or complicated diagrams. You also have an option to design your own shapes and import them to your presentations. Although Microsoft Visio is fast gaining popularity, its cost is quite prohibitive to small organizations.
But it's not the only choice you have. Here are the best Visio alternatives that we found for you. We've listed affordable and reliable options to model clean, sharp, and informative visual presentation. Some of these options are free while others offer the services for a nominal charge.
See More: 10+ Very Useful Online Presentation Tools to Help You Share Slides Online
The 17 Best Visio Alternatives
1. Draw.io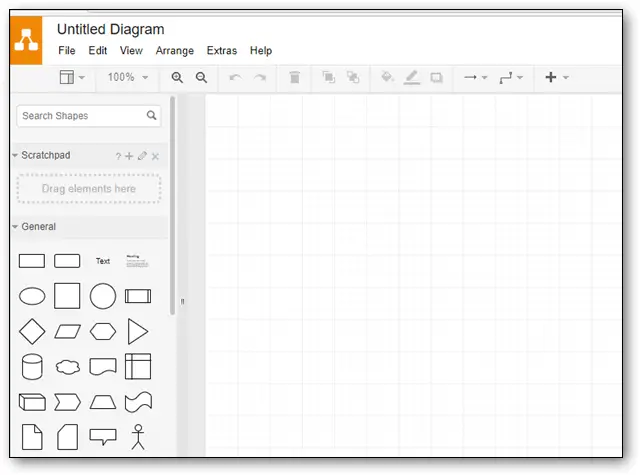 Instead of a program to download, Draw.io stays in your browser. This may work well for many people as its web-based application works very well with Chrome OS.
This Visio alternative has a simple interface with no complex features and settings to control. It comes with cloud support where you can sync your files to Google Drive, Dropbox, and Github.
You simply have to log in to your account, and you get full access to all the features and templates.
You can choose what you want to start with, a new diagram or simply use a template. It's a free online program that also has .exe files for Windows, Mac, Linux, and other platforms.
Supported platforms: Web
2. Lucidchart
Another web-based Microsoft Visio alternative is Lucidchart which is more advanced and suits business purposes as it has a very feature-rich interface. This web-app can help you create the perfect diagrams.
Whether it is a flowchart or complex technical diagrams Lucidchart won't let you down.
You can create a new account or sign up with your Google account. Lucidchart has options for various professions including IT, Teachers, Students, sales and marketing.
If you are an existing Visio user, you can import your Visio documents to work with Lucidchart. Moreover, collaboration with the team is easier anytime and anywhere.
Supported platforms: Web
3. Apache OpenOffice – A Free Microsoft Visio Alternative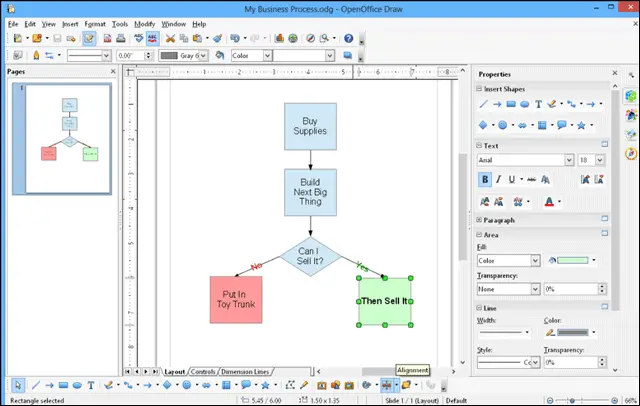 OpenOffice Draw was initially launched in 2002 by Sun Microsystems. Unfortunately, it discontinued its service in 2011 but now is available on Apache as OpenOffice, as it was sold to Apache, which is continuing its development.
Apache offers it as a free and open source to everyone and allows developers throughout the world to add more features to it. OpenOffice is quite simple to use especailly if you have used some of its competitive products in the past.
It is compatible with most office suites and is useful for private, educational, government-related or commercial purposes.
So for the best free flowchart software, OpenOffice is the right choice. You can create sketch plans, flowcharts, diagram and much more to build an informative presentation.
Supported platforms: Windows, Linux, OS X
Download Apache OpenOffice here
4. LibreOffice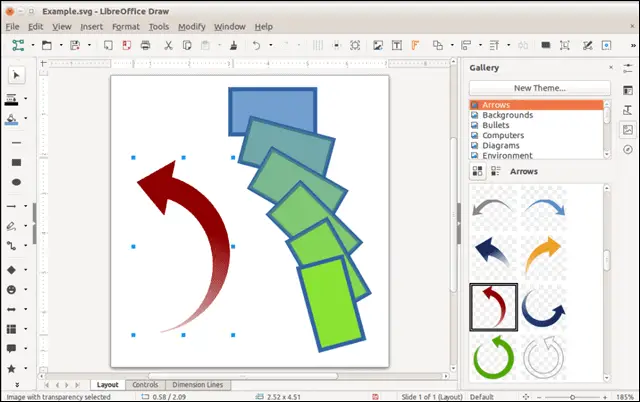 Like Apache OpenOffice Draw, LibreOffice is originally based on OpenOffice. LibreOffice is a community-driven, free and open-source software. This provides full access to great office productivity tools at no cost.
It can give you quality, security, and flexibility than most other competitive tools. LibreOffice is all about, creation, culture, people, sharing, and collaboration.
This Microsoft Visio alternative has a clean, crisp and feature-rich interface that helps you unleash your creativity and enhance productivity. The tool has various applications that make it versatile and popular.
These include Writer (word processing), Calc (spreadsheets), Impress (presentations), Draw (vector graphics and flowcharts), Base (databases), and Math (formula editing).
It is compatible with a variety of documents forms including .doc, .docx, .xls, .xlsx, .ppt, .pptx, and publisher.
Supported platforms: Windows, Mac, Linux
5. Gliffy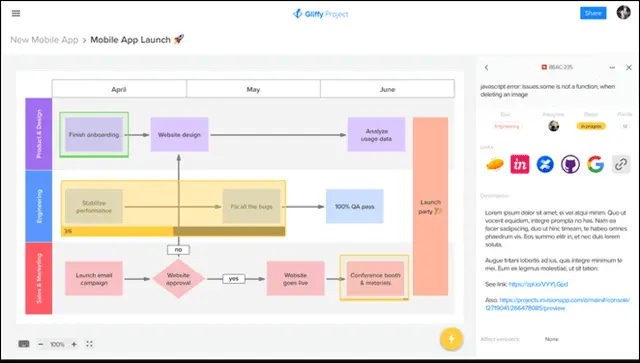 Gliffy is a feature-rich, flexible and efficient diagramming tool that makes documentation easier. It has a quite refreshing interface which you can use directly on your browser.
This also supports integration to Jira where you can sync the Jira board of your team instantly. You can also create new tickets directly from Gliffy. Because of this, Gliffy can be one of the ideal Visio alternatives.
It is suitable both for mobile and desktop platforms. This is a small but solid and powerful diagramming tool. Just drag and drop menus can help you create stunning visuals, on this online tool. The large diagrams come together easily with the Gliffy speedy HTML5 editor.
Supported platforms: Web-based
6. Creately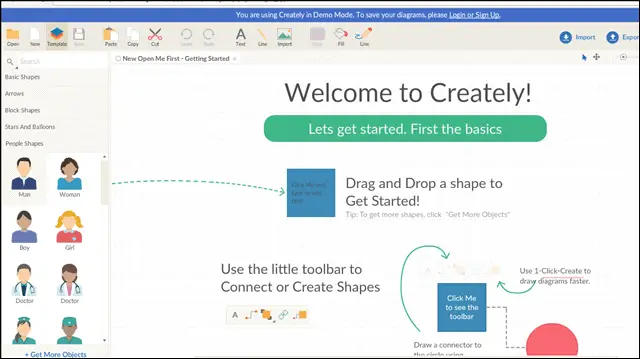 As the name suggests, Creately is a perfect combination of options to take your creativity to the next level. Like some of the Microsoft Visio alternatives, Creately is also a web-based diagram tool that has an elegant and easy interface.
It makes things look better and keep the diagrams as simple as they can be. There is a one-click function that accelerates the speed of your drawing five times faster than other conventional tools.
You can choose from 1000 ready-made templates, extensive libraries and 100,000 examples.
One can work with 2 to 20 members and collaborate with them anytime and anywhere as it has real-time collaboration. It is integrated into Google Apps, and Chrome Store.
With Creately it gets easy to visualize your ideas and if you want to work offline, it also gives you that option.
Supported platforms: Web-based
7. Google Drawings – A Basic Visio Alternative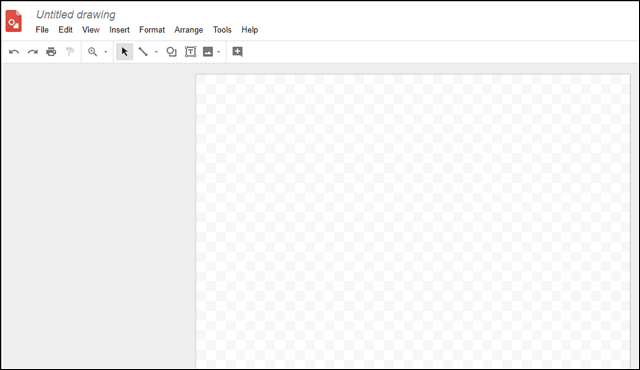 Google has alternatives almost for all the Microsoft Office Suite applications, and Visio is no exception. Google Drawings is available with other Google Drive services including Docs, Sheets, and Slides.
With this, you can create Flowcharts, concept maps, and many other diagrams. It is available as an online web-based program as well as an offline Chrome app that you can find on the Web Store.
Well, it does not offer all the features but you can consider it a basic Microsoft Visio alternative to working with shapes, arrows, and scribbles.
Like other Google Drive files, Google Drawings is also synced with Google Drive and all your diagram can be saved on the cloud.
Supported platforms: Web
8. yEd Graph Editor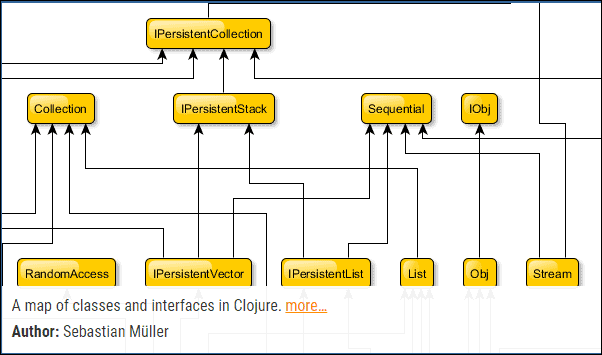 yEd is a robust desktop application that you can use as a Visio alternative and create some stunning high-quality diagrams. You can either start from scratch or import your external data for analysis.
The automatic layout of algorithms arrange the large data sets with just a press of a button. There is a wide variety of shape nodes and edge types to use. There are group nodes that expand, collapse, and nest to arrange large data sets.
If you are in business, then BPMN symbols are there to use for the business process diagram. The automatic label positioning makes sure that the labels are clearly readable.
Supported platforms: Windows, Unix/Linux, and Mac.
9. MyDraw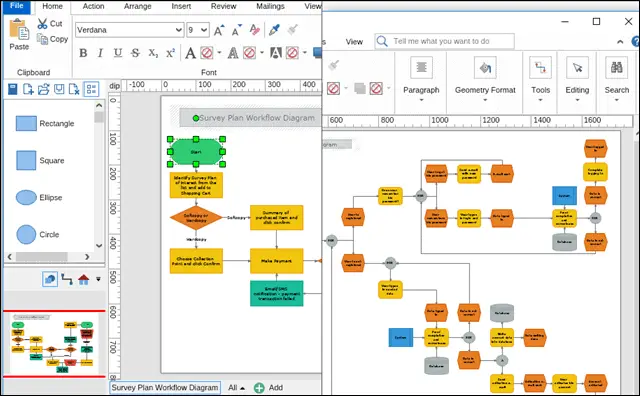 MyDraw is an advanced diagramming tool which is a great source to create flowcharts, organizational charts, and mind maps. With instant access to libraries with hundreds of diagrams shapes and symbols, templates, powerful drawing tools, MyDraw is an all-in-one solution for both business and personal use.
You can consider MyDraw as an ideal alternative to Microsoft Visio. Visual communication and seamless collaboration are now easy for huge business groups as MyDraw delivers all the needful options to its user effortlessly.
When it comes to sharing flowcharts, org charts, mind maps, network maps, and floor plans with Windows or Mac, MyDraw is all you would need.
Supported platforms: Windows, Mac.
10. OmniGraffle 7.8 – Visio Alternative for Mac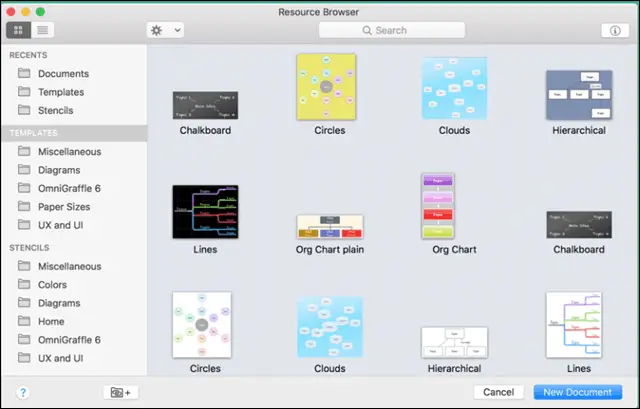 Apple users might have heard of Omni Group. It is a company that builds software for MacOS, iOS, and watchOS platforms.
OmniGraffle works like a charm for Mac users where they can experience some features like new line-routing algorithms, auto layout enhancements while creating diagrams for their business.
This tool helps you create graphics for website wireframes, electrical systems, family trees, and maps of software. Professionals like artists, designers or amateur diagram artists will love to use OmniGraffle.
The interface will be familiar if you have used Photoshop and it is a perfect replacement for Microsoft Visio for Mac users.
Platforms: Mac (OmniPresence)
11. SmartDraw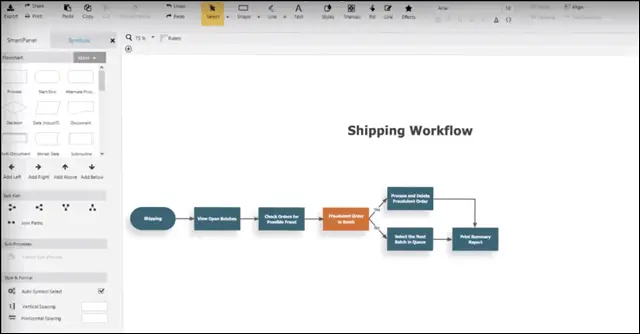 Like some of the Visio alternatives, SmartDraw also comes in both online and as a download. It is a powerful tool with a nice cache of features.
This also has an easy-to-use interface that helps to create complex business documents.
Although Microsoft Visio has been the standard app when it comes to a diagramming tool, SmartDraw can easily replace it with its feature-rich interface. You can import and export diagrams and stencils in Visio format (VSD and VSDX).
Supported platforms: Web-based, Windows
Download or get SmartDraw here
12. Textografo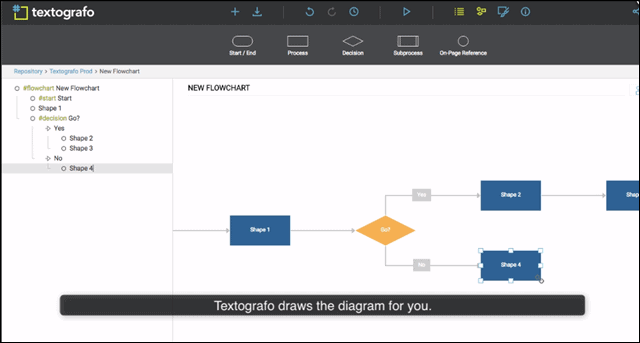 Textografo sounds like a quite cool name and it may be one of the best Visio alternatives on the market. If you are struggling while connecting and positioning shapes with accuracy, Textografo will help to do that most efficiently and with lightning speed.
Textografo can be a Flowchart Maker, Decision Tree maker, Organizational Chart Maker, Mind Map Maker, and Sitemap Maker. The interface is minimal to use which acts like a text-to-diagram system.
The auto-formatting and animation are quite useful features that bring life to your diagram
Supported platforms: Web
13. ASCIIFlow – Simple Visio Alternative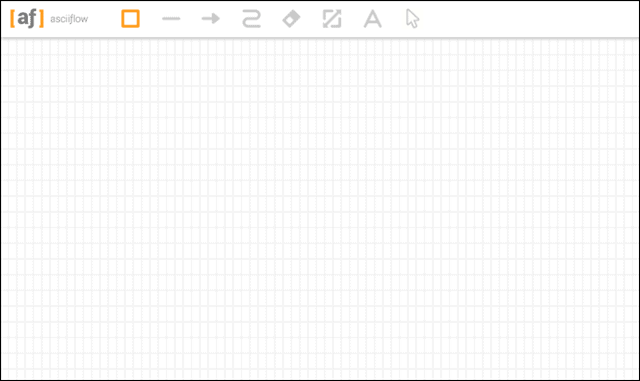 So here is a simple one for you if you don't want to complicate your work with confusing options and icons while making a diagram.
ASCII does not contain a vast range of shapes, colors, and designs but can help you to represent your ideas in the simplest way.
Although you may not be able to create those complex large engineering diagrams, using ASCII you can at least explain the idea you want to put before others in the simplified form.
As it is a web-based application, ASCII is easily accessible from anywhere and a good Visio alternative.
Supported platforms: Web
14. Graphviz
Graphviz is a complete solution to represent your ideas through an informational and structural diagram in the form of graphs and networks. Being an open source graph visualization software it comes with multiple main graph layout programs.
It may take you some time to get familiar with the interface, but once you do then you will save a lot of time.
Graphviz layout programs support descriptions of graphs in the simple text language and help several useful formats. These include images and SVG for web pages, Postscript for inclusion in PDF, and much more.
You get to use several colors, fonts, tabular node layouts, line styles, hyperlinks, and custom shapes that make your diagram beautiful along with informative. If you want to replace Microsoft Visio, Graphviz is a good choice as Visio alternatives.
Supported platforms: Windows, Mac, Linux
15. EDraw Max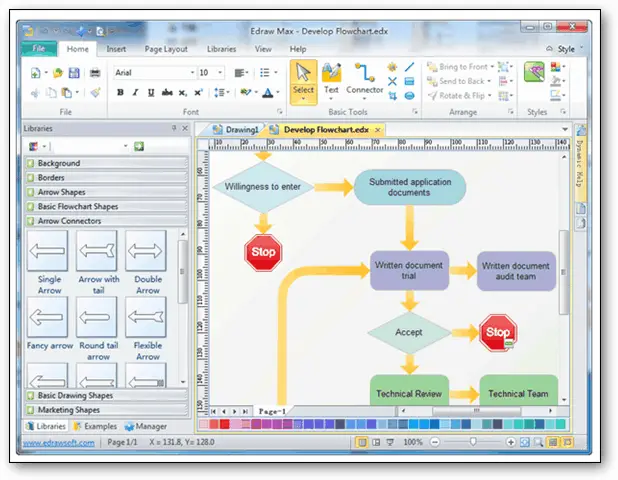 If you are thinking about creating some flowcharts, org charts, mind maps, network diagrams, and floor plans, then you would need a vast range of libraries and templates. Edraw might be the best Visio alternative on this list.
With Edraw, all that becomes easy with the exclusive set of tools that are available. These help to create professional flowcharts, UML diagram, electrical diagram, and even science illustrations.
They have a vast collection to help create diagrams and flowcharts with proper images, icons, and arrows. You can hover over to their Diagrams page link and find all the types of diagrams help with the rich explanation and each little point explained.
Supported platforms: Windows
16. Dia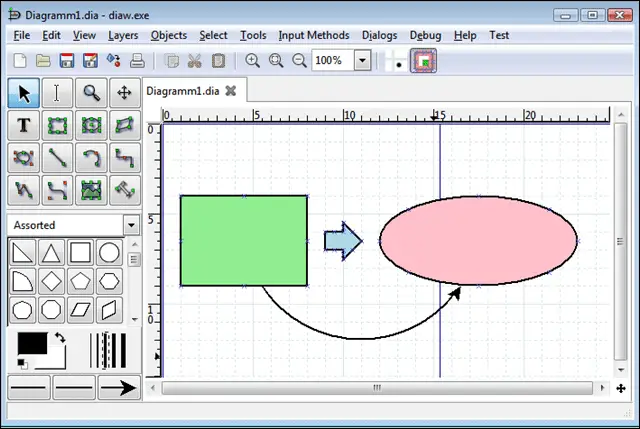 Dia is something to look at for its elegance, simplicity and familiar interface. Although the UI is quite outdated and it has no fancy features and appearance. It is a great option if you are looking for a free for Microsoft Visio alternative.
This is an open source for Windows, Mac, and Linux and supports 30 different diagram types including database models, network diagrams, and flowcharts.
It comes with more than 1000 predefined projects and symbols that make it easy to get through the even complex diagram. If you are a coding enthusiast, then you can tweak in some functions using Python.
Supported platforms: Windows, Mac, Linux.
Honorable Mention
17. ConceptDraw PRO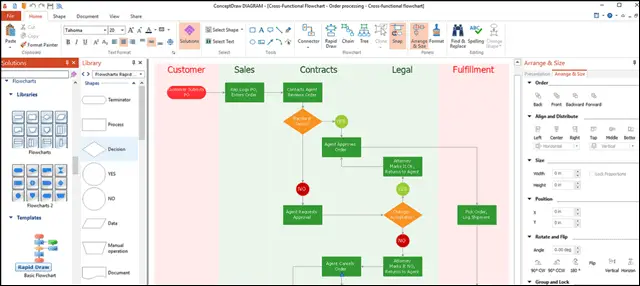 ConceptDraw Pro is not a standalone application, but it is designed to be used with ConceptDraw PROJECT 8 which is project management software for Mac users.
Although this cannot be the ideal Microsoft Visio alternative, you can use it in conjunction with ConceptDraw PROJECT 8 to create some incredible diagram.
You may not find it difficult to use as it has some ready templates to use. If you are a current user of the PROJECT, then you must give PRO a chance.to make your presentation to stand out from the crowd.
Supported platforms: Mac, OS X, and Windows
Conclusion
Designing flowcharts, mind maps, UML diagram, database model, is quite a time-consuming task when you have to arrange all into different shapes, arrows and other icons in the proper orientation and readable form.
The tools we mentioned in the list above will save half of your time and help you create some splendid and outstanding diagrams in your presentations. We hope these Visio alternatives will help them to stand out in a crowd.
Further Reading: 5 Awesome Alternatives to MS PowerPoint and Keynote for Mac