If you are wondering if there are more than one ways to use the PS4 Controller on PC, then we are happy to assure you with a firm yes.
Avid gamers most probably already own more than one PS4 controller for the PlayStation. The DualShock 4 is exceptionally comfortable, responsive, and it is one of the best gaming controllers available today. So, one can get habituated to its usage.
Officially, it can only be used with your PlayStation console. But there are some ways to go around this limitation. We will describe those methods below about how it can be connected to your PC, and you can enjoy playing any games of your choice.
See More: 30 Best Android MMORPGs For Fun, Exciting, and Never-Ending Gameplay
How to Use PS4 Controller on your PC
Method 1: Use DS4Windows
This is one of the easiest ways to get a full plug and play functionality for your PS4 controller on PC.
You will need to install a small piece of software called DS4Windows for this to work smoothly.
The software acts as a translator and lets your computer think that your DualShock 4 controller is an Xbox 360 controller. This is supported by Windows by default. It maps the buttons on the controller to the equivalent on your PC.
Lastly, the program is straightforward to use, and it has additional functions that let you use the tilt input and the touchpad very effectively.
1. Go to the DS4Windows website and click on the Download Now button. Check for the latest release. Click on DS4Windows.zip to download the software. You can also download it from softonic, which is a reliable software download website.
2. Open the Zip file and click on DS4Windows.exe. You will get a message asking you to extract all data. Click on Extract all.
3. After the files have been extracted to a folder, click on DS4Windows.exe again to install the driver.
4. You will get another prompt asking to store the settings and profile information. If you are not sure what to choose, select AppData, which is the default installation.
5. Click on Yes to give DS4Windows.exe to run when you get the user account prompt.
6. Click install the driver to install the DS4 driver. If your computer is on Windows 8 and higher version, you do not have to do anything else.
If your computer is running an older version, you will need to install Xbox 360 drivers also.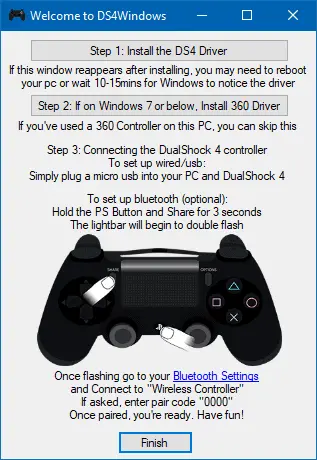 7.       Connect your PS4 controller on your PC and start using to play games.
Method 2: Use InputMapper As PS4 Controller on your PC
Input Mapper is a third-party driver with which you can use your DualShock Controller on your PC. It is unofficial and works by emulating input with a PS4.
1. Download the driver from the Input Mapper website
2. Install the software and run it.
3. Open the program and click on the Profiles icon on the left window.
4. Click on New Profile
5. Check if Emulate virtual controller option is checked.
6. Your PS4 controller now functions as an Xbox controller
This is the easiest way to use PS4 Controller on your PC.
Method 3: Use Sony DualShock 4 USB Wireless Adaptor
The Sony DualShock 4 adaptor is Sony's official adaptor, and you can use it to connect your controller to your PC via Bluetooth wirelessly.
It is one of the best hardware-based options to use when you want to connect your PS controller to your computer.
Also, it supports every feature of the DualShock 4, for example, the touchpad, buttons, light bar, motion sensors, analog sticks, vibration, and a stereo headset jack.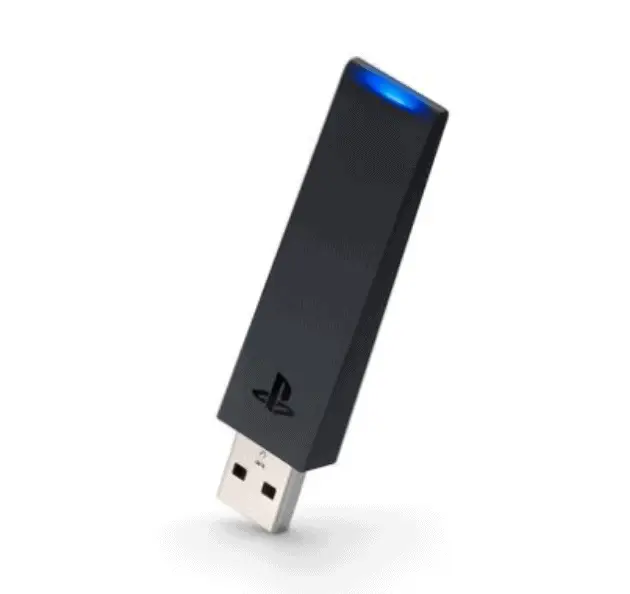 1. Insert the USB wireless adaptor into the USB port on your computer.
2. Turn off the DualShock controller
3. Hold the Share and the PS button on the DS4 for about 3-4 seconds
4. Pair the controller and the adaptor
5. Use your DualShock controller wirelessly to play games on your PC
This can be another way to use PS4 Controller on your PC.
Method 4: Use CronusMAX or Titan One USB Adapters
If you don't want to use the Sony wireless adaptor, another option is to use CronusMAX or Titan One USB adaptors. You can then connect your PS4 controller wirelessly to your PC.
The CronusMAX is a cross-compatibility gaming device that allows you to use your favorite gaming controller of any other platform without having to install third-party drivers.
With CronusMAX you can use your DualShock 4 controller with your Windows PC or any other platform you want including Xbox or PS3.
Although it supports all the functionalities of the controller, one finds that there is absolutely no lag or timeouts either.
Price: ~ $89.99
Similarly, Titan One USB adapter lets you use your DualShock 4 controller on any platform. This is a completely customizable option, or you can turn any controller into a rapid fire controller without any modding.
In addition, it is plug-and-play, and you can create your own scripts to customize it further. Luckily it is fast, reliable and perhaps the best device to implement excellent mod capabilities to your DualShock controller without modifying it.
Price: ~ $54
Conclusion
So now that you have seen the different methods for using a PS4 Controller on your PC go ahead and try them out.  If you are looking to connect it wirelessly, the USB adaptor is your best option. However, third-party drivers are free and do a good job as well.
Further Reading: 3 Things You Should Know Before Building a Gaming PC