Photographs are beautiful moments of life captured in a single frame. But as life is, the picture may not always be perfect.
But with a photo editing tool like Lunapic or other alternatives to Lunapic is indeed a boon to make that photograph perfect. Besides, one can change the effects, lighting, add an element of sharpness, saturation, or even soften the image.
Lunapic, like an online photo editing tool, is very popular among artists and designers. The tool is fast, professional, and comes with advanced features that let you experiment creatively in varying degrees.
Interestingly, with Lunapic, you can share your creations on social platforms within seconds. There are other advantages too.
For example, you don't have to install it, thus saving on storage space. Besides, one can edit images with texts, special effects, and even create animations.
Although, the alternatives to Lunapic also offer some unique features, and they are worth trying out. So here they are.
See More: 12 Awesome Online Alternatives to Photoshop for Editing Images
Alternatives to Lunapic
1. Aviary
Aviary Photo Editor is a simple but effective way to make photos beautiful using advanced filters. It brings your inner creativity out on your fingertips with its powerful features.
Furthermore, it allows you to edit like a professional with dozens of artful effects. You can sharpen, saturate, or soften photos; or you can draw your captions and doodles.
Aviary Photo editor is useful for adjusting the light, focusing, adding stickers, and frames. Finally, it is also easy to share your work on social platforms.
2. Picozu Image Editor
Picozu is another picture editor and an excellent alternative for Lunapic. It has some of the very advanced tools where you can work on everything with layers.
If you want to play with hundreds of photo filters to retouch and enhance your pictures, then choose Picozu.
Moreover, you can even upload images to Facebook or other social media websites. There are funky brushes that help you take creation to the next level.
After you are done with your image, you can choose from the multiple export options in Picozu. Later on, save it to your PC, upload it to Picozu cloud.
There is also a magical eraser, freehand selection, cropping, and many selections to choose from.
3. PicMonkey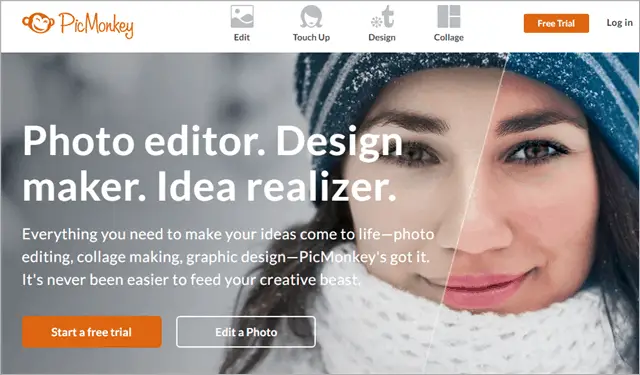 PicMonkey is enriched with dynamic creative tools that are easy to work with. First of all, it brings everything you need to make your abstract ideas come to life.
Secondly, it supports photo editing, collage making, graphic design. For example, you can brighten up the eyes that give a natural lift and make the image more charming.
The perk of using this editing tool that is an alternative to Lunapic is that you can have your design, printed directly from PicMonkey Print Shop. Finally, you can even print flat cards and canvases.
4. FotoFlexer
FotoFlexer is one of the best online digital photo editors like Lunapic. It has professional features that were previously the part of the expensive software.
Moreover, you can include photos from your computer, Facebook, Flickr, MySpace, and Picasa. If you like you can simply embed an URL.
It includes exciting effects, fonts, shapes, doodles to make your picture beautiful. Thankfully, once you start editing photos with FotoFlexer, you will undoubtedly appreciate all its features.
5. Pixenate
Pixenate is a simple online tool to help you edit your photos. It revolves around photo printing and hot sharing businesses.
The powerful features foster creativity and stimulate purchases of custom photo products. Besides, it makes photo-centric websites more useful by embedding simple photo-editing directly on your websites.
With Pixenate photo-sharing, online-classifieds and other community-driven websites striving to monetize their photo inventory are easy to do.
It is a software that you can install on your web server. Also, it is fully customizable so that you can change any aspect of Pixenate's appearance to suit your website's unique identity.
6. BeFunky
BeFunky is a photo editor, collage maker, and designer all rolled in one. It has HDR DLX technology that makes your photo editing task more professional and defined.
Interestingly, a technique called adaptive exposure allows for the photo enhancer to surpass typical HDR effects.
Instead of applying the effect to the entire image, HDR DLX separates the image into regions. Moreover, you can make micro adjustments based on the lighting conditions for each area.
7. WonderFox
WonderFox is also an excellent Lunapic alternative if you want to convert video to an image. It supports all the popular video formats, including AVI, MP4, MPG, WMV, and MKV.
Moreover, you can change the resolution from video to picture. It converts video frames to seriate pictures where you can also control the number of photos for each frame.
This helps you to save your favorite part of the video into an image file.
8. PiZap
Pizap is a perfect photo editor tool, collage maker, and designer that you can replace Lunapic without regrets.
Add text, borders, stickers, and a vast array of graphics to your photos. You don't need to be a pro as Pizap lets you get familiar with features quickly.
With a single click, you can transform your photos into a masterpiece. Besides, it includes all the necessary edits plus fun filters, frames, and painting tools.
You can make MEMEs, and Facebook covers adding stickers with its drag and drop interface.
9. Photoshop.com
Well, Photoshop needs no introduction; it is the most popular photo editing tool around the globe. As we know, along with providing some very advanced and professional features, the software is heavy.
Besides, Photoshop.com is a lightweight and online version of Photoshop, which has a good bunch of features for basic editing.
Unfortunately, Photoshop.com works well only with an Adobe ID.
10. FunPhotoBox
FunPhotoBox brings you the ultimate photofunia to your photos. There are hundreds of photofunia photo effects, Facebook covers, animations, frames, cards, and filters to choose from.
Besides, you can also make some hilarious photo collages of your pictures. Adding to the basic features, there are also animations to explore, and Face effects to apply.
Of course, Lunapic has some more advanced features, but FunPhotoBox can be an excellent option to Lunapic.
11. Phixr – A Popular Lunapic Alternative
Phixr is a free online photo editor that is a perfect tool to create some beautiful photos.
It covers basic as well advanced features like adding text or clipart to speech bubbles. Moreover, it is a handy tool for multiple platforms, whether you are editing photos on desktop, tablet, or camera phones.
You can upload the images even on your wordpress.com, image library so that it has direct access to your blog.
12. Editor.Pho.to
Editor.pho.to is one of the best options to Lunapic. The basic features include crop, rotate, resize, and color adjustment.
Besides, you can adjust shadows and highlights with the "Exposure" tool. Just unleash your creativity by adding funny stickers, stylish frames, and custom text options.
There are 300+ themed stickers, 30+ customizable frames and borders, and 20 fancy fonts for texts to choose from.
13. Photobanda
Photobanda is a perfect alternative for Lunapic as it is an essential photo editing tool that is fast, convenient, and fast to work with. Moreover, it comes with a standard set of tools that you require while editing images.
If we talk about Photobanda, it comes with basic three online packages; Photo Filters Online, Photo Effects Online, and Photo Editor Online.
The "Photo Filters Online" that helps you edit photos or avatars in an easy and fast manner. The "Free photo effects online" allows you to process your photos with beautiful effects online.
14. Ribbet
Ribbet allows you to store your photos online without a cost attached.
It also stores your editing history in the cloud where you can open a photo months after creating it and edit it. You can 'undo, move around and delete' or even add elements.
Interestingly you can edit your photos directly from Facebook, Flickr, PicasaWeb, your webcam or any URL.
15. Fotostars
Fotostars is a free online photo editor that offers convenient photo editing features. It has professional and stylish filters.
With more than 50 colorful photo effects that transform your images into beauty, it works like a designer too.
Moreover, this is apt for people who don't want basic photo editing features but want to use some of the professional processes on their photos. Additionally, you can also add texts and frames.
16. FanStudio
If you are looking for an alternative for Lunapic, then Fanstudio is a excellent option. It has some advanced features like the option to save photos to your computer. Also, it also offers automatic conversion to any format.
The other features include an automatically eliminating noise from photos and correcting the red eyes problems.
Furthermore, the popular filters include changing shades of the images, balancing colors and shadows, controlling the clarity of the pictures.
17. PhotoMania
Now it's easy to create beautiful and expressive photos with PhotoMania. It requires no registration and is free.
The interface is quite simple and easy to use and is a good alternative for Lunapic. Moreover, it is also available on Google Play Store, and App Store plus comes with the extensions for the Chrome browser and Chrome app.
You can directly take photos from your Facebook gallery. Also, you can use various filters, or even make sketches and paintings.
18. Citrify Free Photo Editor
Citrify is a simple but powerful image editing tool that makes your photos naturally beautiful. You can reduce glare and wrinkles plus remove the red-eye effect.
There is an airbrush for a smoother a skin-tone. Moreover, you can quickly adjust the brightness, contrast, hue, and change other factors for your photo.
So choose Citrify to turn your simple photos into an artistic pencil sketch. Have fun with this tremendous Lunapic alternative and enhance your photos.
19. Pablo
Pablo makes your photo editing process easy and effortless. The best part about this online tool is it's easy to work with the interface.
Interestingly, it also has a Chrome extension. You can search for 600k+ images that come preset with this tool.
Besides, you can choose the various image size to get fit into any social platform, whether it is Pinterest, Facebook, or Twitter. The basic features include text, filters, and quotes.
20. iPiccy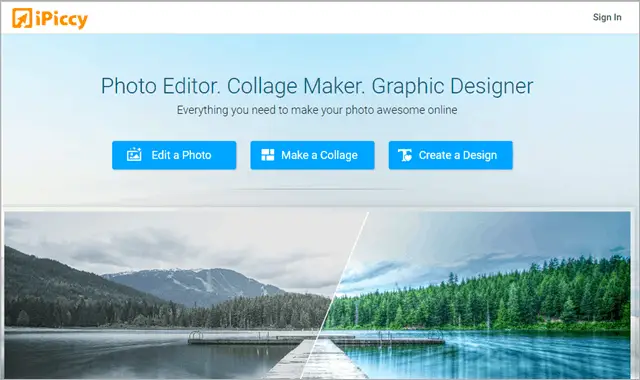 iPiccy is one of the popular Lunapic alternatives that is a pro tool for editing images. Like other apps, it is also a photo editor, collage maker, and designer.
It has a bunch of easy-to-use photo editing tools where you can auto adjust photos with a single click. Moreover, the basic features include crop, rotate, and resize.
It has over 100+ photo effects and Pro-level photo enhancements, facial retouching, and frames. Also, the UI is fresh and requires no pro-knowledge handling the tool.
21. Photo Raster
PhotoRaster online photo editor is a powerful tool with some great advanced features, as well as good basic ones.
Its Paint tool supports a wide range of paint techniques, including photo retouching. In addition, you can compose images by mixing different image layers.
The rich filters help you soften, sharpen, denoise, and stylize the images. Moreover, the masks give you precise control over the images.
22. Picasion
Picasion is a specialized app that creates animated GIFs if that's only your interest area.
Now with Picasion, you can create GIFs for free. It allows you to upload pictures or grab them from Flickr or Picasa web. Furthermore, you can make avatars or hilarious animation and post them to Tumblr, Facebook, and eBay.
The interface is basic and straightforward to use, plus it also includes some guidelines to create GIFs, animation, and avatars.
Conclusion
You may find other photo editing tools that work online well, but these are some of the best alternatives to Lunapic. These offer great features, help you to save as well as share your work.
Further Reading: 3 Web Apps to Batch Resize Photos and Images Online