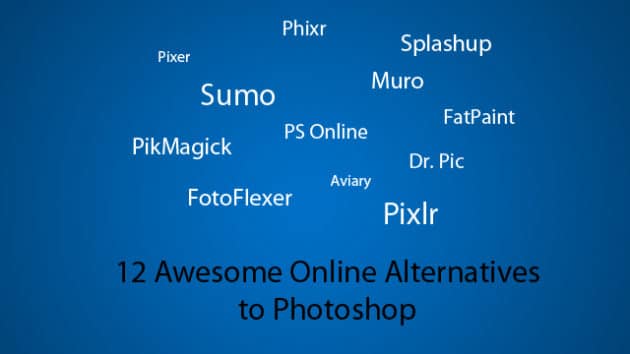 Are you considering getting a Photoshop alternative for editing images professionally? You may be close to choosing a stable image editor instead of Photoshop. Aside from the closely matching features of many of these free online photo-editing tools, the possibility of using them anywhere, anytime and on any computer is a great benefit that many designers cherish. While you can use Photoshop on only the machine it is installed, using online tools lets you edit images on any computer wherever you are. That means you don't necessarily have to take your laptop to your clients' office or when traveling; even if there may be a need to quickly edit some image features.
Secondly, the ease of getting pictures from online sources and sharing your finished projects on the web also makes online alternatives to Photoshop a great solution to photo editing. Impressively, most of these online tools have an easy-to-use interface that will greatly reduce your learning curve.
Best Online Alternatives to Photoshop
Many of the following web apps offer important Photoshop capabilities that almost negate the need to ever need Photoshop to edit most images. Look out for the features that are important to you as you read through the list.
Pixlr is almost like Photoshop in layout. So, using it is a breeze for existing users of Photoshop. Pixlr offers a combination of designing, painting and photo-editing tools. You can apply several effects to your images and also create layers when necessary. In spite of being a free web app, it offers great features like styling, magic wand, filters, and several important photo editing features. Impressively, you can straightly edit your images without having to create a user account.
There are two versions of Pixlr which are both free. Pixlr Express offers only basic tools for browsers that do not support flash, while Pixlr Editor offers full features and is powered by flash.
Sumo Paint is very similar to Photoshop. You can create layers with blending mode, save images with multiple layers, apply various layer effects as well use other powerful tools like Clone Stamp, Magic Wand, Transform, Smudge, Curve, Blur and many more.
3. Splashup
Splashup provides many great photo editing features and is integrated with online photo-sharing platforms like Facebook, Picasa, Flickr and so on. It offers features for layering, filters and brushes and works on virtually all browsers. It lets you edit several images at once. You can even take pictures directly with your webcam and edit immediately. It offers a very similar layout to Photoshop and a familiar interface to reduce the learning curve for new users.
Try Splashup
Fotoflexer has a simple interface that lets you edit photos from Photobucket, Flickr, and other online sources. It supports composite and layering of images, though not with the traditional layers palette.
This is a really simple but intuitive photo editing alternative to Photoshop. The web app lets you remove red eyes and other unwanted color casts. You can sharpen, rotate and crop images with no hassle. You don't need to register to use Pic Magick, and the app is totally free to use.
This is an Adobe Photoshop web app that brings a basic Photoshop experience to the web. It works on both computers and compatible mobile devices. You can share, store, and edit images in the web browser. Though it is not exactly like Photoshop, they offer many good features. Some of the features available are crop, resize, red-eye, exposure, saturation, sharpen and soft focus. You can also decorate your images with bubbles, texts and frames.
They offer private and public sharing capabilities plus 2GB free storage online, and users can upgrade to a premium account for greater capabilities and the use of templates.
This is an online alternative to Photoshop provided by Aviary. It lets you create patterns, 3D models and skins and also resize images, generate music, simulate painting, edit audios and much more. It also allows layer-based editing, seamless blending and image masking.
Aviary provides other free image tools like Raven for creating vector images, Peacock for creating visual effects and Toucan for working with colors.
Pixer is a browser-based web app for editing images online. It provides features like saturate, flip, rotate, resize, crop and much more. You can preview effects before applying them and revert to the original version if anything goes wrong. You do not need to sign up to use Pixer. Just upload, edit and save your images.
FatPaint is free and full-featured. It supports pixel painting, vector drawing, photo-editing, and page layout. It also lets you make logos and design products.
DrPic is a simple photo-editing web app. It lets you resize, crop, rotate and auto-fix images. It also features tools for Gaussian Blur, Polaroid, Greyscale, Framing and many more.
Phixr is another tool you should try out. It lets you add color effects, fun effects, speech bubble, frames etc. and also crop, rotate, scale, flip and so many nice features.
Muro is a free web app that lets you create images using special effects and layers. It features bottle brush pack, splatter pack and dragon pack plus a host of other tools.
Conclusion
Image editing is easiest and cheapest now than ever. With the myriads of free online photo editing tools, you simply have to choose the web app you are most comfortable with. At worst, you may need to combine one or two feature-rich image editing tools to perform most of the functions you see on Photoshop.
See Also: