Craigslist started more than two decades ago as a simple email distribution list that helped people to know of nearby events. As its popularity grew, so did its form and categories. At present, Craiglist tops the charts when it comes to indulging in buying and selling stuff online.
One of the favorite websites to sell stuff locally, Craigslist has always maintained its minimalist design and hassle-free posting system. With profits and saleability skyrocketing, the consumer was ultimately the winner as more and more options sprouted up as great alternate sites like Craigslist.
Enabling users to post classified advertisements for free, Craigslist has always been a premier website. Especially for things like jobs, car buying, and selling, locating a new house, getting good money-saving deals, or even finding business opportunities.
Several websites like Craigslist have come up in the last few years with a better-looking interface and fewer spam postings while some of the alternatives to Craigslist did come and go in the blink of an eye while others have sustained the web's churn and continue to be suitable choices for websites for sale.
Here Are Our Top Picks For Sites Like Craigslist
1. Oodle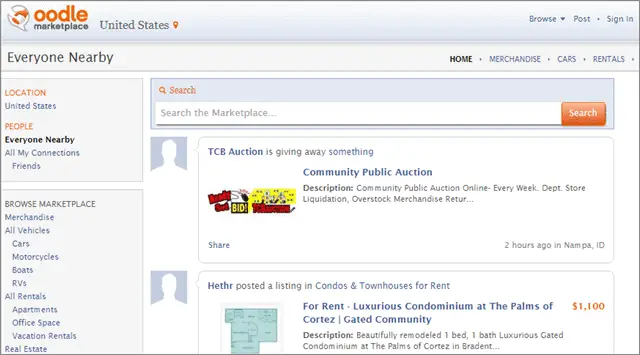 One of the best alternatives to Craigslist, Oodle is similar to Craigslist in no small extent. Since the method of posting online classified advertisements used by both is the same, it is a boon.
Apart from providing better search results geographically, Oodle also collects posts from eBay and other competitors. This ensures that the visitors get more diversified search results.
Oodle enables you to link your account with Facebook and post relevant questions about what you're looking for. This means that Oodle provides you with a sense of security, which was lacking in Craigslist.
Apply filters to narrow your search, sell stuff online, find jobs nearby, look for a new vehicle or a new pet, and get going with one of the most active online selling sites.
The easiest category to sell – Sports equipment and Bicycles.
2. Sell.com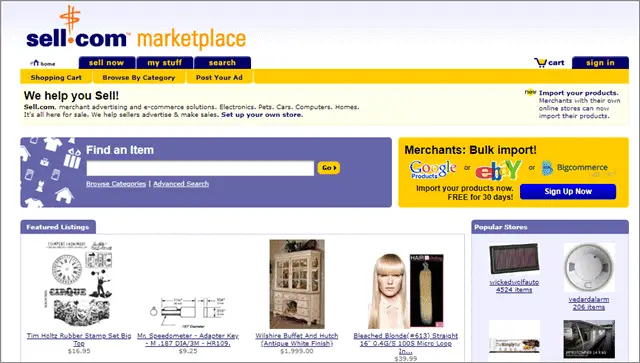 Started in 1999, Sell.com can safely be called a leading alternative to Craigslist.
Irrespective of the fact that the text on the website is written in very small font size, thousands of people resort to Sell.com as one of the most trustworthy sites to sell stuff locally.
It began with only buying and selling advertisements but now covers all varieties of classifieds, including pet animals and jobs.
All you need to do is enter your zip code and refine your search region-wise. You get to use features like a shopping cart, seller ratings, and pay a small amount of money to sell stuff online.
The easiest category to sell – Real estate and Jobs Postings
Check out Sell.com
3. Geebo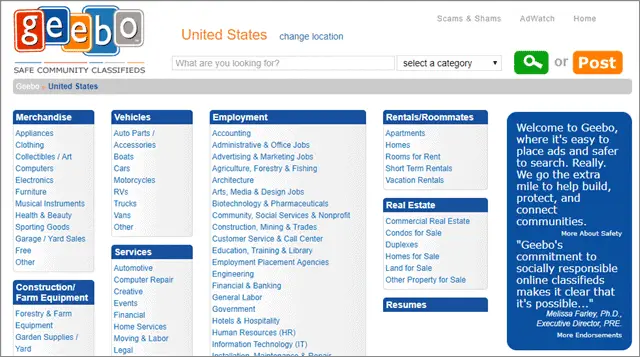 One of the veterans in the genre of the 'buy and sell' websites, Geebo is a Craigslist alternative and a personal favorite spot for the Americans to sell stuff online.
Started in the year 2000 as a website to promote job listings, Geebo is now one of the most visited online setting sites for vehicles, apartments, and general merchandise.
With a clean design, easy-to-use interface, and safer than any other Craigslist alternative, Geebo provides the sellers with a lot of advice. This helps in making sure that the transactions are genuine and secure.
Geebo allows you to upgrade your listing for free, thus enabling you to sell stuff online quickly.
The easiest category to sell – Appliances
4. Let Go
Founded in the year 2015, Let Go is a relatively new site like Craigslist, which was first started as an app and came up with a full-fledged website later.
One of the best websites to sell items online for free, Let Go uses artificial intelligence for product categorizing.
The in-app chat feature helps the visitors to communicate with the buyers and sellers thereby giving a personal touch. Also, it means quick answering of doubts regarding the products that are listed.
Eye-soothing interface, large thumbnails, and an easy to explore the website, make Let Go one of the potentially useful online selling sites.
The easiest category to sell – Sports gear and Gaming related stuff
Download Let Go for Android | iOS
5. Gumtree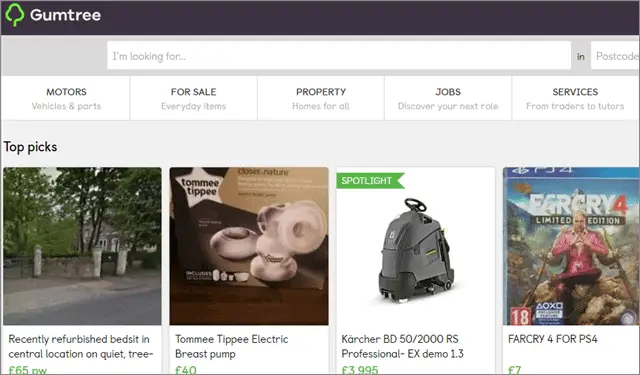 One of the best sites like Craigslist, Gumtree, is highly popular and the UK's most renowned classifieds website. It is slowing spreading its wings in the US, Australia, South Africa, New Zealand, and other regions.
You can choose from either posting advertisements for free or pay to bounce to the top of the listings. Whether you're looking forward to shifting to a new place or a new job, wish to sell off your car or your kettle, Gumtree has got you sorted.
One of the best websites for selling stuff, Gumtree, provides you with useful guides on how to get the items that you want and also gives helpful tips on how to avoid scammers.
The easiest categories to sell – Vehicles and Properties
Download Gumtree on Android | iOS
6. eBay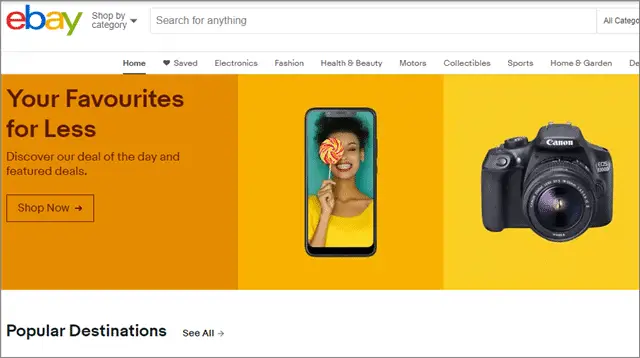 One of the most well-known online selling sites, eBay is an excellent alternative to Craigslist since it allows you to sell stuff online quickly.
Founded in the year 1995, eBay enables you to buy and sell items. It covers both categories of the consumer to consumer and the consumer to business. It is highly accessible, and our favorite medium for reselling products online.
eBay has a section of their website wholly dedicated to classifieds. In spite of the categories in this section not being too many, it is still ideal for shipping bulky items.
Furniture, antiques, collectibles or vehicles, eBay will not leave you wanting for any product elsewhere.
The easiest category to sell – Collectibles
7. Facebook Marketplace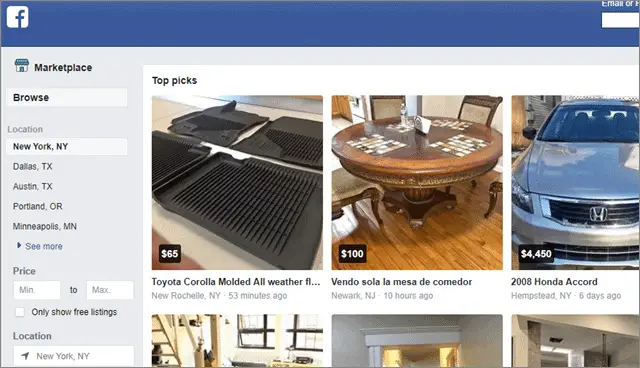 Facebook Marketplace website was inspired by Craigslist. You can enter the region you're in and get started with selling stuff online in this worldwide platform for buying and selling of products.
Want to sell a product you own? Click a picture of it and post it. Want to buy something? Type in the name of the category, your location and you're sorted.
The search is localized since you're checking out for products available within the limits of your vicinity.
Thousands of groups and numerous categories, this alternative to Craigslist also enables you to know the person you're cracking a deal with by checking out their profile. Isn't that a wise precaution, always?
Another foolproof method is checking if they have verified themselves on Facebook Marketplace or not. Verification indicates they've authenticated their identification with the website.
Want to negotiate? Try on skills on the Messenger.
The easiest category to sell – Furniture
Check out Facebook Marketplace
8. Locanto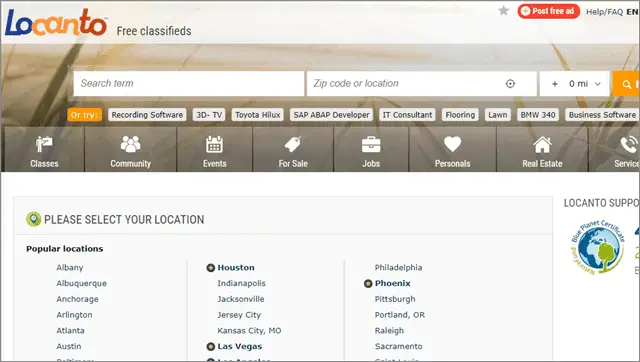 Locanto facilitates free registration and access to the classifieds. However, if you aim to target certain advertisements to a specific audience, you need to pay.
Locanto is a very popular buying and selling website in the US. Locanto enables you to post pictures along with the advertisements. You can also give hyperlinks to the official website or the social media handle.
An ideal alternative to Craigslist, Locanto allows to you buy and sell products quickly. Especially useful as several categories, including fashion, kids, home, and garden, are covered.
It is available in 60 countries.
The advertisements that you post-stay for two months. However, after the two months is over, you can decide to post the same listing again if required.
The easiest category to sell – Multimedia
9. PennySaver USA
One of the best sites like Craigslist, PennySaver, does justice to its name. It enables you to save money by indulging in free buying and selling of products.
PennySaver started as a newspaper in California and is the oldest community in the US, which allowed visitors to post free classifieds. One of the best websites to sell stuff locally, PennySaver has been on the run for about 50 years now.
It helps local businesses to thrive, supports local communities and individuals insecure exchange of commodities, and also those who have online jobs or work from home.
Become a member, go to 'post a free ad' and post your advertisement for free.
The easiest category to sell – Real Estate, Pets, Cars
10. USA Today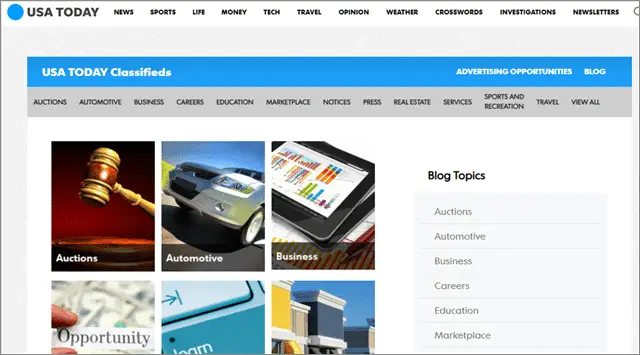 USA Today, as we all know, is a globally acclaimed daily newspaper, and its classifieds section is an exceptional alternative to Craigslist.
It's been around since 1982, and people of all nationalities opt for it out of choice; which speaks volumes about its popularity.
They do charge you a small fee if you wish to post classified advertisements. Rest assured though that you are at the right place since your items get superior coverage.
Automotive, Business, Education, Real Estate – this website like Craigslist is well categorized to help you quickly find the required products.
The easiest category to sell – Automotive
11. Trovit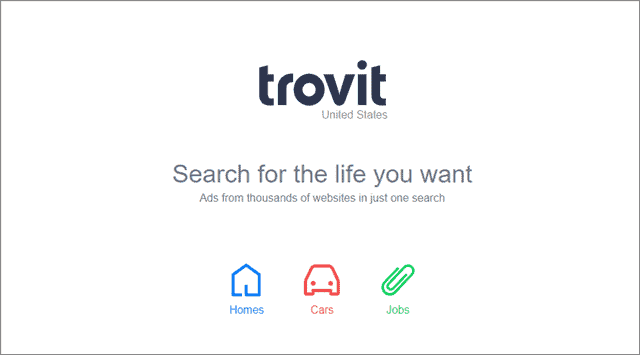 Trovit is a prevalent option to sell stuff locally, and it has shown itself to be an excellent alternative to Craigslist.
Founded in 2006, Trovit is based out of Spain. Extremely popular in the USA, they have three main categories – Cars, Jobs, and Properties.
Trovit is prevalent in 50 countries, including Canada, South Africa, and the UK.
Similar to a search engine for classified advertisements, it creates a list of items from the best websites for sale according to your location. You cannot directly post to the website, but you get to see a collection of information from various databases of numerous other classified sites.
Just like Craigslist, you spot classifieds about jobs and properties. Another similarity between the two is that you can sort exactly what you need by using categories and sub-categories.
The easiest category to sell – Cars, Jobs, Properties
12. ClassifiedAds.com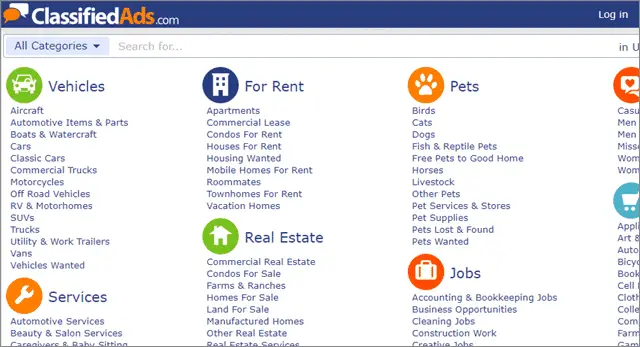 A reliable alternative to Craigslist, ClassifiedAds.com is a decent option to sell items online for free.
ClassifiedAds.com publishes advertisements for real estate, jobs, cars.  It also has other significant categories like pets, houses on rent, any vehicle, and items for sale. In addition, you can buy and sell unique items like hair as well.
This website aims to make buying and selling effortless and convenient for its visitors.
Just other sites like Craigslist, it enables you to post your advertisement on the 'Post an ad link/page' for free, browse and scan through all the item listings.
You can even contact the buyer/seller for free. They also have a tutorial on how to list an item in case you're stuck. This one comes closest when it comes to looking for sites like Craigslist.
The easiest category to sell – Houses on rent, vehicles, pets
13. 10DayAds.com
10DayAds.com enables you to indulge in buying, selling, and trading of products for free.
This website is a classifieds portal for both old and new items. It allows visitors to get access to items listed locally in the US and also other parts across the globe.
Following a similar pattern like Craigslist, its main categories include Automotive, Phones, Pets, Real Estate, Books, Fashion, Appliances, just to name a few.
10DayAds.com changes or refreshes all the classifieds every ten days. You can also post pictures and videos along with the advertisement to attract more attention.
The easiest category to sell – Antiques and Collectibles, Appliances
14. Free Ads Time
Free Ads Time has an interface very similar to Craigslist. This means no pictures, hardly any color, and minimalistic design.
Another striking similarity between the two is that Free Ads Time also attempts to make sure that the visitors have free access to local classified advertisements.
Based out of the US, but also available to people of other regions like Asia, Africa, Europe, you can start your search by entering the location of your preference.
Choose your country, followed by choosing your category and sub-category as this Craigslist alternative lets you sell stuff online for free, including your shoes.
The easiest category to sell – All
15. Domestic Sale
One of the best websites to sell stuff locally, Domestic Sale enables the users to post classifieds and other advertisements for free.
Becoming a member and posting an advertisement is free. However, if you wish to avail extra benefits, you can sign up for the premium membership at a nominal fee – $9.99 for three months.
Sellers can showcase their products locally, whereas buyers get access to all the products available in that particular category. Major categories include Real Estate, Jobs, Homes, Vacation Rentals, and Cars, just to name a few.
Access the listings by location and keep in mind that the classifieds remain on the website for a year.
The easiest category to sell – Cars, Real Estate, Jobs
16. Carousell
This Craigslist alternative initially started operating in Singapore and is now spreading its wings in the US. The popularity of this site to sell stuff online can be gauged by the fact that they developed an app soon after the success of the website.
The myriad of categories includes Home, Phones, Jobs, Fashion, and Cars to list a few. In addition, they allow you to post your advertisements on social media platforms. This enables friends to share and reshare your listings.
It takes 30 seconds to have your product listed, and you can add four pictures per advertisement. Enabling you to post classifieds for free just like Craigslist, Carousell lets you customize your search by entering keywords for quickly locating the products you need.
The easiest category to sell – Mobile phones and other electronic products
Download Carousell for Android | iOS
17. Bookoo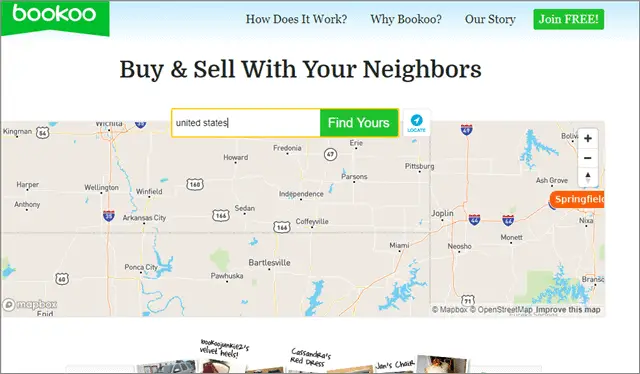 Bookoo has a unique name, and it indulges in buying and selling with a different approach. This is done by engaging in local meet-ups for trading.
Operational in the United States, Germany, Belgium, the UK, Japan, and hundreds of other regions across the globe, Bookoo boasts of over 2 million users.
Enabling buyers and sellers to create a profile and adding details in the 'bio,' this Craigslist alternative warrants the users to build a level of trust with the other party before any transaction is done.
The profile which you've created will list all the products simultaneously, thereby facilitating easy access to all the listings under one name.
The easiest category to sell – Clothes and accessories
Download Bookoo for Android | iOS
18. Kijiji
One of the best websites to sell stuff locally, Kijiji is Craigslist's biggest competitor in Canada.
Similar to other resourceful sites like Craigslist, this portal emphasizes on advertisements and classifieds that are localized.
Simplified search method for the products listed and easy-to-use galleries for browsing, Kijiji has significant categories like Electronics, Jobs, Pets, Cars; to name a few.
All advertisements are free to post on this website, and its robust content filters help to diminish the number of scammers.
The easiest category to sell – Pets and Jobs
19. Mercari
Do not wish to meet people you are trading items with? Try Mercari.
Click pictures of your product, add a catchy description, set the price, and your item is listed. Getting the products listed are free. However, a fee of 10% is charged when the sale is complete.
Since it doesn't require you to meet the buyer/seller, printable shipping labels are sent to you via email.
Buy and sell old and new items, including clothes, phones, toys, jewelry, and a different variety of products falling under the category 'vintage.'
The easiest category to sell – Smartphones, laptops, shoes, gaming accessories
Download Mercari for Android | iOS
20. 5 Miles
As the name implies, 5 Miles enables you to indulge in buying and selling in your nearby areas.
One of the best websites like Craigslist, 5 Miles, is about proximity as it connects you to prospective buyers and sellers close to where you stay.
You can sell almost everything, promote your services, look for houses and jobs, and even donate.
It has an attractive and modern design. In addition to shipping products instead of delivering them, the other feature includes a phone number verification code. This helps to prevent fraud and makes 5 Miles one of the most trusted and elite online selling sites like Craigslist.
The easiest category to sell – Real Estate and Household products
21. Peerhub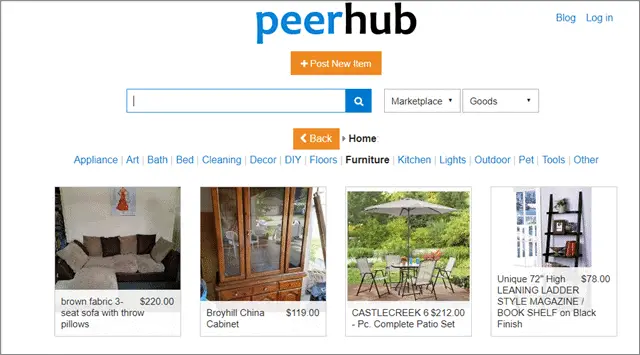 Listing various categories available for sale, Peerhub is made on the same lines as Craigslist. They have handmade products listed on the website as well, apart from old items, as we see in most of the other sites listed here.
The plus points are a clean interface, convenient search options, and easy to browse through the selected categories. All you need to do is enter your location, and you're ready.
In addition, Peerhub allows you to buy, sell, and list for free.
Peerhub enables you to link your account to social media platforms, thereby allowing you to share your listings for quick sales.
The easiest category to sell- Collectibles and Vehicles
Specialty Sites Like Craigslist
22. Sell off Books – BookScouter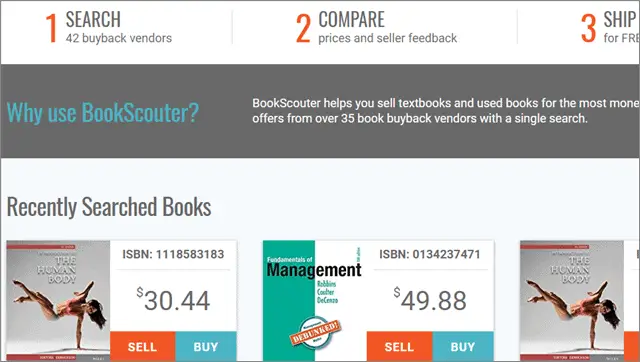 Are you a school or college student who has many books which are of no use to you anymore? Do you want to prepare for an upcoming exam without buying the books required at a hefty amount?
BookScouter, one of the most distinctive buy and sell websites, is the place for you.
BookScouter lets you sell off your old books at a reasonable price if they are in a well-kept condition. You can similarly buy books without shelling out too much cash.
You can scan or manually type in the ISBN code of your book and look out for visitors who are interested in buying the same. Compare the prices that you are offered and settle for the best bargain.
You do not need to meet the buyers. Ship the book, and you will receive the payment once the transaction is complete.
Download BookScouter for Android | iOS
Fashion and Make-Up Sites Like Craigslist
23. Sell off fashion – Poshmark
Is your wardrobe full of clothes you no longer use? Poshmark will help you get rid of them and earn money instead. Poshmark is the number one destination for everyone who loves fashion.
This site, like Craigslist, gives a choice to sell stuff online for a lot of social media celebrities as well, who list clothes they've used for sale.
Listing clothes are free. Put up photos and start selling. No need to get the product delivered, Poshmark enables you to ship the items.
24. Sell off Fashion – Tradesy
A lot of used clothes, bags and other fashion items lying around the house which you no longer use? Are you bored of using your branded product which cost you a bomb?
How about selling these for a good deal? Tradeasy is the platform you should opt for selling stuff online.
Set your own price to the products you list and ship with them by putting the shipping labels the website provides you with. They also volunteer to handle the returns in a hassle-free manner which takes the burden off you.
They charge a commission if your sale is above a certain amount and are very particular about the brands and be assured that you can list big names only.
25. ThredUP – Fashion Site Like Craiglist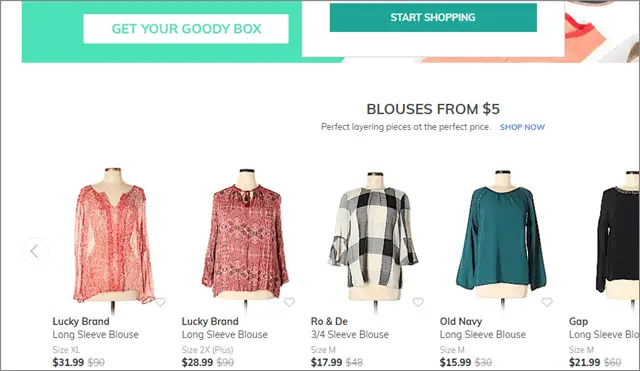 One of the largest online selling sites for second-hand products, this Craigslist alternative boasts of giving you top quality items at the best prices.
Get rid of your branded clothes, bags, accessories, and kids clothes by listing your products in one of the best websites for sale.
The best part about thredUP? You do not have to do much. Fill up the products up for sale in a thredUP bag and send it to them. If the quality matches with their parameters, you get paid.
What more? The products that you are looking forward to buying are so well kept that you might just mistake it for something new.
26. Sell off Makeup – GlamBot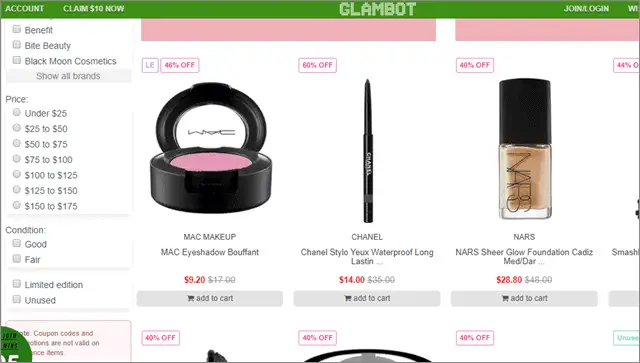 Used to be a make-up hoarder but are no longer one? A lot of unused make-up lying at your disposal, which you do not need anymore? Looking forward to getting rid of a used lipstick or foundation which doesn't suit you?
One of the best buy and sell websites, Glambot will help you make money by selling what you want to discard.
Let go of the stocked up makeup products and makeup tools that are buried in your closets for some instant cash using this alternative to Craigslist. Put the shipping labels which Glambot sends, ship the product, and receive payment once the transaction is completed.
Although, it is easy to sell stuff online via Glambot, make sure to check their terms and conditions since they are very particular about the brands they sell.
Tech And Gaming Sites Like Craiglist
27. Sell off tech-related stuff – Decluttr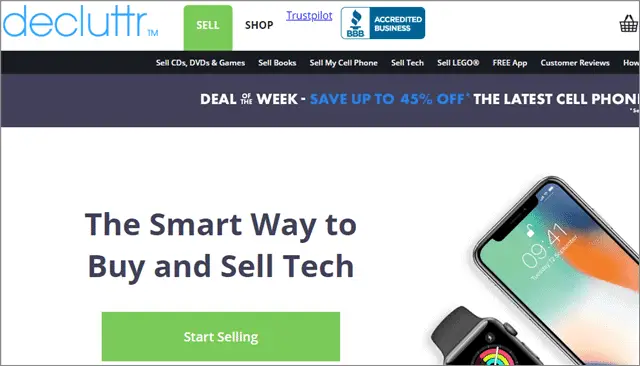 If you are you a tech junkie and buy every new version of a product that comes out, you may want to sell the products you no longer use and get money in return.
One of the best websites for selling used tech stuff, Decluttr, as the name suggests, enables you to remove the unwanted items you possess. These could include things like an old phone, or maybe gaming DVD you longer use.
Cell phones, books, CDs, DVDs, tablets, and every other tech-related stuff that you can think of can be sold via one of the most distinct 'buy and sell' websites like Craigslist.
The process of listing your product is easy too. Either you manually enter the barcode or get it done by scanning it through the app.
The best part about Decluttr is that they do not charge any listing fees.
Download Decluttr for Android | iOS
28. Sell off gaming related stuff – Gameflip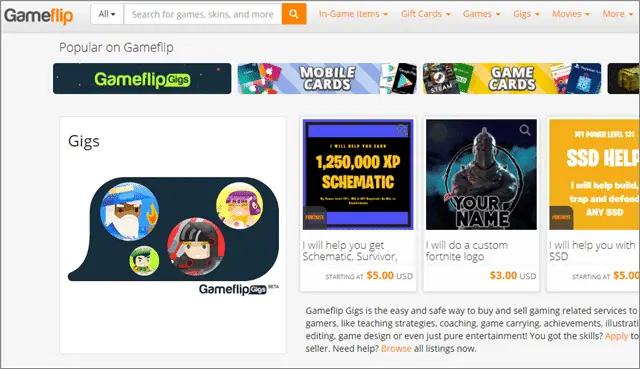 Are you a gaming fan? A dream website for all the gamers, this Craigslist alternative deals with buying and selling of games and gaming accessories only.
Are you looking forward to buying skins for your devices? Or, how about getting gift cards at a discounted price? Hover around Gameflip to spot some exciting choices.
One of the best websites to sell stuff locally, Gameflip boasts of more than 5 million users. This website to sell things online gained momentum by listing unique products at its disposal.
You can get coached by a gaming expert on how to go about a particular game by paying a reasonable fee. As a gamer, you can also advertise your services on this website.
In addition, the most distinctive feature about Gameflip is paying the visitors for playing video games.
Honorable Mention
29. OfferUp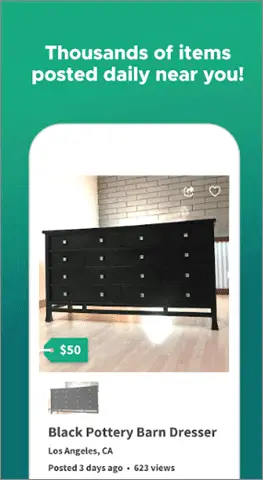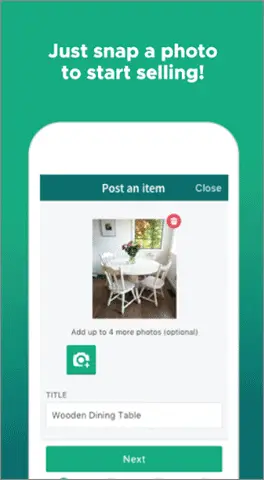 One of the best websites to sell items online for free, OfferUp is now only operational as an app on your phone devices.
This Craigslist alternative enables you to communicate and negotiate with the prospective buyers and sellers apart from letting you browse through the listed products.
You need to verify your identity before signing up, which make your transactions secure, thus making OfferUp one of the most trustworthy websites for sale.
Find great deals for a range of products, buy and sell almost anything and put up your listing within 30 seconds!
The easiest category to sell- Furniture
Download OfferUp for Android | iOS
Conclusion
Using these buy and sell websites to sell stuff online is great – it helps the people around us, saves some amount of money, and also reduces the amount of waste we produce.
Looking out to post classified advertisements on trustworthy websites? Try Geebo, Locanto and USA Today.
Want a house on rent? Hover through Oodle and Gumtree. Want to own a pet? Browse the options available on Classifieds.com and Sell.com.
Want to sell fashion? Check out Poshmark and Tradesy. Tech-related stuff? Decluttr. Books? BookScouter, Games, and skins for your devices? Gameflip.
The next time you are looking forward to buying something online, do try out these sites like Craigslist first.