Technology advancements do not always spell out redundancy; sometimes, it opens up new, unusual avenues to explore your creativity. If you have even dabbled in any kind of art form, even as a novice, then you may undoubtedly know of the beautiful art that can be created by a pixel art program.
All About Pixel Art
Taking inspiration from various graphics programs, pixel art software became accessible in the 80s and 90s. Since then, pixel art programs have seen a significant revival in popularity. On one hand, looking at it closely, one may infer that this kind of building blocks technique has been around for quite some time in art history. For example, many embroidery techniques especially like cross-stitch. Besides, throughout the world and in ancient cultures too, this art form has been seen before. Like the traditional art of beadwork or creating mosaics with different materials will support this.
On the other hand, pixel art expanded into the desired art form, facilitating artists and designers to take up the digital brush. This was to create contemporary pixel art wonders, and interestingly, it gave the art professors a run for their money.
Pixel art programs have gone beyond the virtual domain. Moreover, they are now even widely used to create physically tangible products such as magazine covers, art posters, desktop wallpapers, and the like. With the growing popularity of pixel art, there's an increase in the number of tools that can create this type of art.
Best Pixel Art Software for Desktop
Are you wondering which Pixel Art Program you should use and why? Desktop-based pixel art programs are installed on your computer, whereas web applications can be accessed through the internet.
Both can be free or paid depending on the level you want to operate at. Although the desktop-based ones will give you a plethora of tools, added features, editing options available.
1. Photoshop
Most commonly used and by far the best pixel art program that Adobe has come up with is Adobe Photoshop. Simple pictures transform into beautiful works of art with the help of its easy to use templates, intuitive tools, and custom brushes. 
The professional photography tools that it provides help enhance the pictures and create illustrations and 3D artwork. Some of the most attractive features of this popular choice software are stroke smoothening, color and luminance range masking, quickly shared creations, immediately shared menu, 360 panorama workflow, and copy-paste layers.
PROS
Quick and time-saving
Advanced tools for editing
Graphics can be designed meticulously.
Extremely useful for photo correction and manipulation
The integrated stock library enables you to have control over the creative process
CONS
Some of the tools are clumsy and inefficient.
The interface may appear overwhelming to new users.
Expensive
Price: Paid with a free trial for a month
2. Aseprite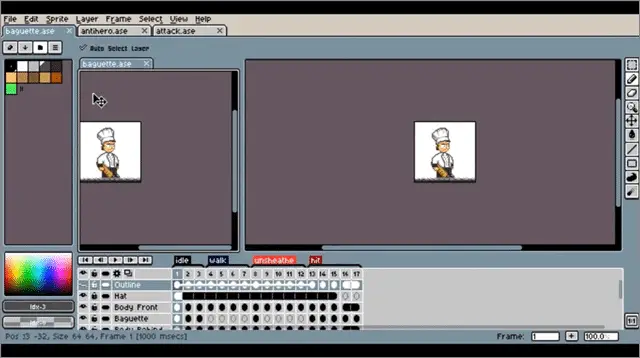 Aseprite is a pixel art program that is top-rated and highly recommended. The art tool is purpose-made for pixel art, and its most appealing feature is onion skinning. This is the ability to overlay frames while working. It has the best sprite sheet importing tools, making it very convenient for people who want to create pixel art for video games.
Moreover, it is undoubtedly the best pixel art software for making games since it warrants you to see the subsequent and the previous frames in an animation. It can export gifs, which is an added advantage for pixel specific work.
PROS
Easy to use
Not complicated 
Highly convenient because of the comprehensive suite of options handy
The wide range of tools available encourages creativity, and the classic ones help the users to relate with the previous software.
CONS
Not very user-friendly
Difficult to use at first; familiarisation required.
Functional issues are there. For example, the cursor's precision is difficult to get used to, and the text tool is also not very handy.
Price: Paid after a free trial
3. Graf X2
Initially created for DOS, it has some tools which no other program does. Graf X2 is a pixel art program, which includes several features and effects that make it very useful for designing game graphics, pixel art, and sprite sheets.
It is a bitmap paint program with attractive characteristics like palette manipulation, custom brushes, layers, and animation. Graf X2 is used for creating pixel art on Linux systems as well. 
PROS
Free pixel art software
Wide-set of tools supports frame animation.
Easy to learn for beginners
CONS
Antiquated interface
Price: Free
4. Graphics Gale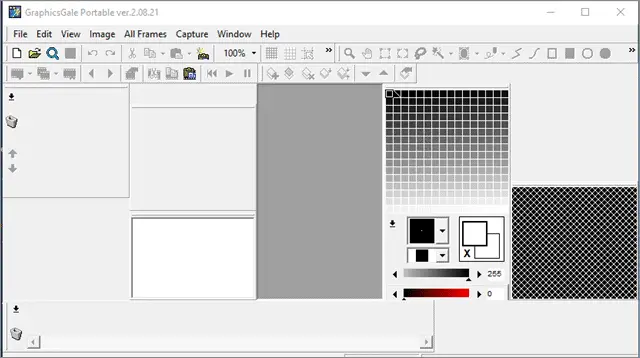 Graphics Gale is a relatively old school pixel art program that excels at animation with features such as onion skinning. It allows you to import images from digital cameras and scanners in case you want to draw by hand before you lay down the pixels.
It has the key aspects required for drawing and animating- layer control, color palette management. Its most notable feature is the ability to view an animation while you edit.
PROS
It can export several file formats- both gifs and sprite sheets.
Can preview animations in real-time
Available for free
CONS
Only available for Windows
It misses out on specific hotkey support compared to other programs.
Price: Free
5. Krita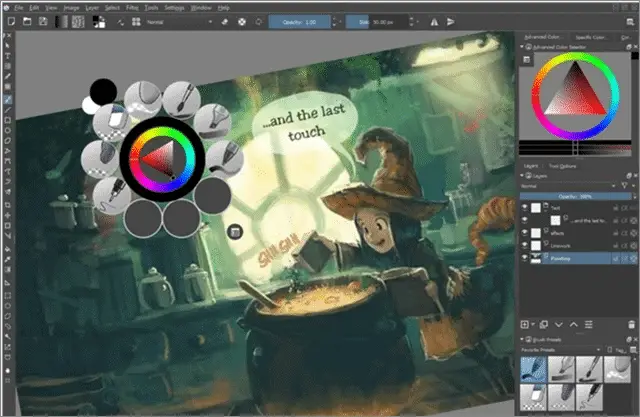 Krita is an open-source pixel art program for professionals and amateurs. It has an intuitive user interface and is easy to learn, proving to be an excellent pixel art editor.
The best part is that it is entirely customizable, which works wonders if you are an image editor. The editing window and the sidebar can be customized and themed as and when you wish to. It has a set of useful tools that facilitates digital painters and illustrators to create beautiful art.
PROS
Open and Free Source
Customizable
Constantly updated
Easy-to-use layout
CONS
Not feature-rich
Documentation is lacking
Poor desktop integration
Price: Free
6. GIMP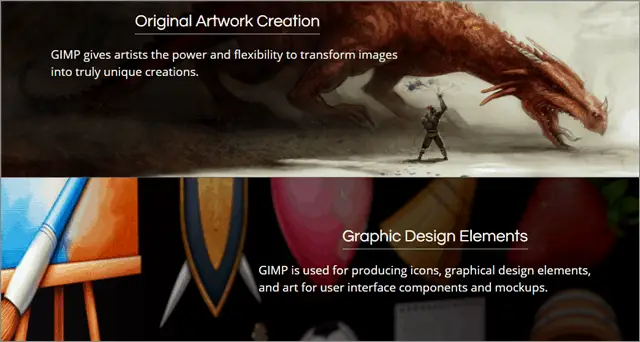 GIMP is an open-source pixel art program, which is immensely popular. Anyone who finds Photoshop expensive and is looking for a free alternative, must get their hands on this software. It includes robust image editing tools, custom brushes and is relatively easy to use. The interface is customizable and you get a variety of painting tools as well. You have all it requires to create stunning professional-looking art. 
They have animation layers that will remind you of Photoshop. Artists from all backgrounds prefer to use GIMP since the software suits every style. With a plethora of plugins and several detailed tutorials easily available, GIMP has become a go-to favorite for many designers. They have a built-in timeline feature which comes in handy while you're working on image manipulation. 
PROS
Intuitive user interface
Massive range of powerful tools for image editing
Light and works with various editable formats
It is customizable, good use of layering, and multi-platform.
CONS
Cumbersome floating panels
Not an ideal software for developing 3D designs
Price: Free
7. Paint.NET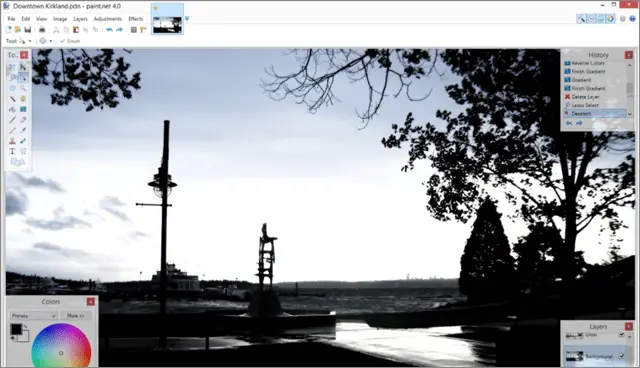 Paint.NET is an extensively used pixel art program and a credible alternative to popular software like GIMP and Photoshop. It is not as large-scale as GIMP and Photoshop, but includes just the right amount of features required by artists, designers, and image editors. Paint.NET works on all Windows versions and is free, which makes it worth trying.
You can add plugins and work with advanced features. The software is ideal for people wanting to install a lightweight tool, which is easy to handle and meets basic image editing needs well. The tutorials will help you create your own sprites. Paint.NET is best suited for budding pixel artists, is easy to pick once you understand the interface, and more flexible than its competitors.
PROS
Lightweight and easy to understand
Add plugins to increase the functionality
An active community of users and developers
CONS
Does not support multi-image editing
Less number of features available
Price: Free
8. Pro Motion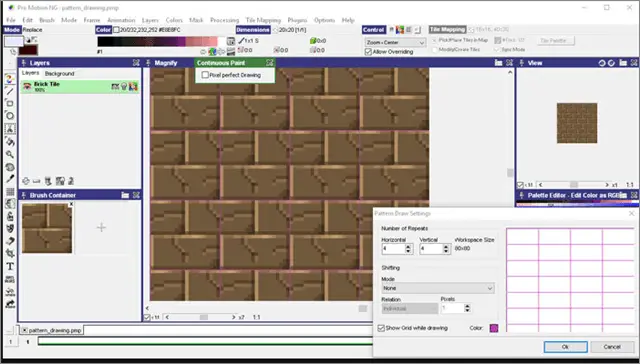 Pro Motion enables users to create stunning pixel art designs, animations, sprites, and tiles quickly. The pixel art program is ideal for artists who are in the hunt for an apt software, which emphasizes on details. Developers of gaming devices and smartphones often resort to Pro Motion for meeting their designing needs since the tool is extensively known for creating amazing graphics.
The software is lightweight and supports bitmap and tile map. It is used by web developers to create light graphics for apps and online games. Pro Motion creates precise pixel images and is used in sprite sheet designing. You also get additional features like onion skinning and advanced masking. You can also avail of plugins and add to the functionality of the program.
PROS
Onion skinning support
Multi-purpose usage, which goes beyond pixel art
Good tilemap editing tools
Includes an advanced color palette editor
Supports custom grids
CONS
Pro version is expensive
Works on Windows only
Suitable for light graphics and designs
Price: Free and paid editions
9. Tile Studio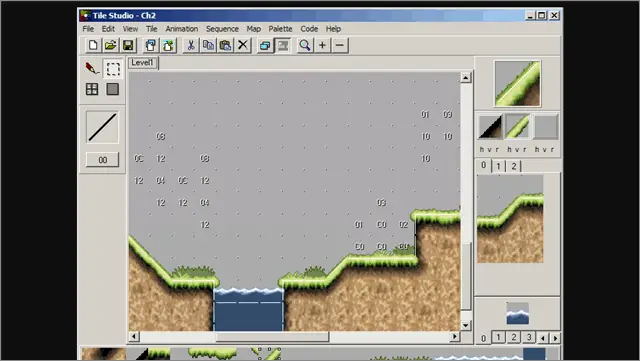 Tile Studio is a pixel art program ideally meant for tile-based game art. It is also a graphics, bitmap, and level editor. The tool contains bitmaps for creating and designing tile maps. It works with all programming languages. You can customize output maps and come up with your own codes for using the color palette.
Tile Studio is open source and free. You can play around with the action sequences and explore your creativity. The friendly interface allows you to add various special effects and includes multiple drawing tools.
The frames you create using Tile Studio can be easily exported as a tile sheet or sprite sequences. This is the reason why the software is extensively used by level designers and game developers. With the perfect combination of easy tools for beginners and advanced options for the experts, Tile Studio is a must-try. They have plenty of tutorials for you to learn from. 
PROS
Works with all programming languages
Easy to use and customize
Convenient exporting options
Ideal for both beginners and experienced users
CONS
Difficult to understand for people who are not into developing and gaming
Lacks certain top-notch tools available with the others
Price: Free
Best Pixel Art Software on The Web
Being web-based, these online pixel art programs allow you to work on any platform, may it be Windows Mac or Chrome OS.
1. PISKEL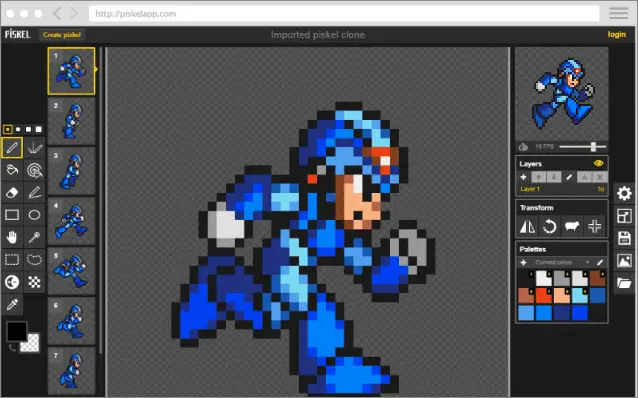 PISKEL is an online pixel art editor with a user gallery. It is free and is an excellent choice for artists looking for a no clutter program.
The pixel art program enables you to save your pixel art online and edit it later by using the import function. It can export static images, GIF animations, and sprite sheets. The tool is used for creating pixel art on Linux systems as well. 
Moreover, it is simple enough for beginners to use and create exquisite pieces of digital art. One can learn the tools, and it has enough features to meet most of your needs. It is undoubtedly the best free pixel art software.
PROS
Free of cost
An easy option for beginners
Hassle-free
CONS
 Lacks advanced features
Price: Free
2. Pixilart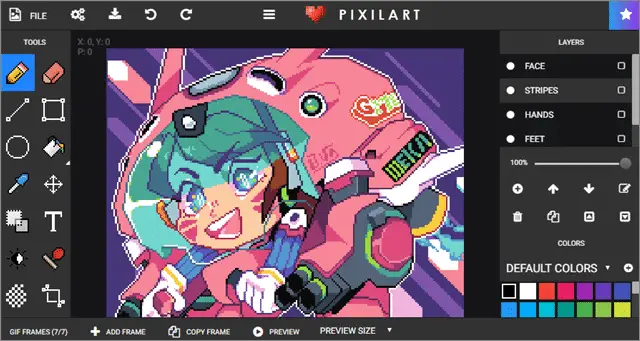 Pixilart is one of the largest growing pixel art communities and a superb platform for passionate art enthusiasts. The pixel art program enables the user to create pixel art on the go by using its easy-to-draw features. The creation can be made from bases or black canvases.
Besides, it offers art contests and provides an active community geared towards making the youth involved in game design. You can share the drawings and digital paintings with others and also upload them on any social platform of your choice. 
PROS
Free pixel art software
Share drawings with others for feedback or simply showcase your talent.
Easy to use, public gallery, creates a profile
CONS
Not well suited for sprite sheet creation
Retro approach; not adept in new features
Price: Free
3. Lospec Pixel Editor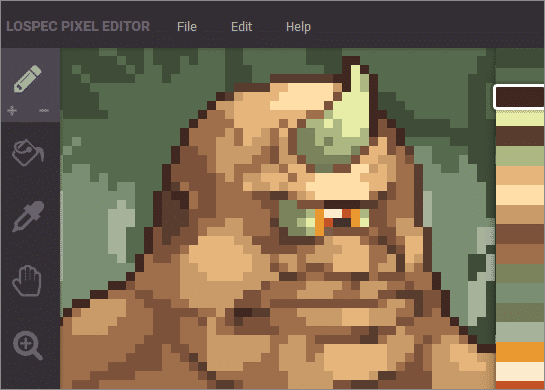 Lospec Pixel Editor is a relatively new pixel art program designed to be accessible to even beginners. The drawing app is simple, intuitive, and entirely web-based.
It is in its early stages of development, but the developers keep updating the application so definitely worth keeping an eye on.
PROS
Available for free
Easy to use for beginners, easy access
CONS
Lacks top features required for professional work
Still developing
Price: Free
4. Pixlr
One of the more advanced pixel art programs, Pixlr has an extensive range of drawing tools perfect for creating digital art. Although not well-suited to sprites, Pixlr lets you save your work online.
Once you register yourself and start using it, it will resonate with any other graphics-based pixel art software you've worked with before. Furthermore, with logically laid tools and easy to use interface, Pixlr is a powerful web-based pixel art software.
PROS
Has advanced features
Works with Google Drive
Easy to use
CONS
Bugs
Advertisements
Price: Free
5. Pyxel Edit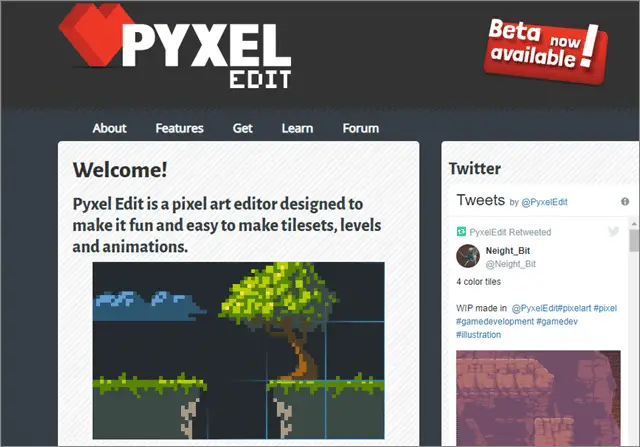 Popular and well-loved by artists, Pyxel Edit is the best pixel art program available today. It is effortless to use, has an uncomplicated interface with user-friendly tools. Pyxel Edit's most attractive feature is tileset creation.
Pyxel Edit contains all the necessary tools for the creation of regular and animated images. Pyxel Edit's onion skinning feature enables you to overlay subsequent frames in your pixel art canvas and create the exact image you need.
PROS
Easy to use
Available for free
Simple user interface
Wide range of tools
CONS
The free version lacks some essential features
Closed source software
Price: Free
6. Pixie Engine Editor
If you are just starting your journey in the image editing niche and wish to create simple pixel designs, Pixie Engine Editor is an excellent choice. The pixel art program is free online software with a gothic interface and basic features. If you are a professional artist on the lookout for getting your work done, you might have to go elsewhere. However, it is an incredible starting point for beginners.
The workings of Pixie Engine Editor are easy to understand. The online tool has all the features laid out explicitly right in front of you when you open the program. You can draw static images in a hassle-free manner and check out what the others have created using the software via their community gallery. The software boasts a tune composer, which is a useful feature for all the game developers trying their hands at adding music or sound effects to their games. 
PROS
Easy to use and understand
Community gallery to view pixel art created by the other artists
Good choice for game developers
Neat interface
CONS
Lacks a full-color palette
Lacks professional level tools
Price: Free
Final Thoughts On Pixel Art Program
Now that you are aware of the different choices that you can experiment with, indulge in your creative pursuits without any inhibitions. The best pixel art program options above are hand-picked after trying out several options. These pixel art programs can be downloaded and are free to use.
You can use them for creating images, enhancing existing pictures, animation, and as a canvas for creating your pixel art. Photoshop undoubtedly remains unbeatable, Aseprite is easy to use, Pixilart is an excellent platform for passionate art enthusiasts, and Pyxel Edit is excellent for beginners.
(Article Updated on 13th January 2021)