Stuck with a frozen Apple Watch and don't know what to do? It is a sinking feeling that leaves you uneasy, and not a pleasant experience at all. The good news is that we have got you covered with a temporary fix to start the watch and multiple solutions to fix the problem permanently.
Before getting into the possible fixes, let's understand what causes the Apple Watch to get stuck on the Apple logo.
What Causes Apple Watch to Get Stuck on Apple Logo?
There are many reasons that can cause such an issue. However, before we look into the primary reasons, you should know that Apple Watch sometimes takes an inordinately long time to start, and people panic, assuming their Watch is stuck.
People have reported that their Apple Watch can take up to 3 minutes to start. If your Watch is on Apple Logo for more than three minutes, then it may indicate that there is some problem with it. The common reasons for such a problem are:
1. Software Bug: A bug in your software or applications can make the services on your Apple Watch inaccessible, resulting in Apple Watch getting stuck on the Apple logo.
2. Physical Damage: If you have recently dropped your Apple Watch or physically damaged it in any other way, then the hardware may be malfunctioning.
You can go through the quick solutions mentioned below to try to fix the issue and start using your Apple Watch again.
How to Fix an Apple Watch Stuck on Apple Logo
When your Apple Watch is stuck on the Apple logo, the only immediate option for you is to try to push it forward so that it starts; or reset it so that it boots again.
Hard Reset Apple Watch
A quick fix to restart your Apple Watch is to hard reset it. To hard reset, your Apple Watch, press the Digital Crown and the side button simultaneously for 15-20 seconds. Once you again see the Apple logo, release both the buttons and wait for Watch to start again.
Hard reset forces Apple Watch to turn off first and then turn on again on its own; hence, this can temporarily solve your problem. However, this may not fix the issue that caused your Apple Watch stuck to be stuck on the Apple logo in the first place.
So, if you face this issue frequently, you need a permanent fix.
Try to Push The Apple Watch Beyond the Stuck Phase
As we explored for any 'innovative' solutions to this problem, we came across suggestions that you should ring your Apple Watch via your iPhone. According to this theory, a push is sometimes needed to enter the system after you see the Apple logo.
Now, if your iPhone gets connected to your Apple Watch, even when stuck on the Apple logo, then you can try ringing your Apple Watch via your iPhone. This might actually work! But when we tried this ourselves, the Watch was on the Apple logo (loading, not stuck) and was offline.
Attempts to get the Watch to ring failed for well over 30 seconds till the Watch came online, as seen on the iPhone. Once it came online, while the Apple logo was still there on the screen, it started ringing. I don't believe my watch was stuck, not do I believe that attempts to ring it in an actual stuck state would push the Watch beyond it.
Feel free to try it out as per the steps below. If it does work for you, that's great!
Ring Apple Watch via your iPhone
Go to Apple Watch and click on your Watch name. Next, click on the Find my Apple Watch and click on Play Sound.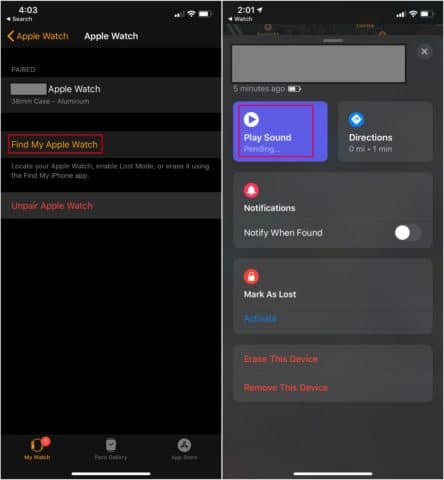 This will make your Watch ring. Once you enter the system, go through the below solutions to permanently fix the Apple Watch stuck on the Apple logo problem.
Ensure That The Apple Watch is Stuck on Logo
The VoiceOver mode in Apple Watches is for a visually impaired person. When it is enabled, the screen turns black after loading beyond the Apple logo, and all you can hear is the voice. So, if you have accidentally turned it on, you might see a blank screen on the Apple Watch and misinterpret the problem to be a stuck Apple Watch.
Turn Off Screen Curtain & VoiceOver Mode
If hard reset or ringing your Watch allowed you to access your Apple Watch, but the screen stays completely black, then follow the steps below to disable VoiceOver.
When the Apple Watch is On, ask Siri to disable VoiceOver. Siri will disable the VoiceOver for you and then your Watch will restart without any fuss. After this, you may see a normal screen on your Apple Watch.
If Siri cannot disable VoiceOver for you, then you can try doing it from your iPhone. Open the Watch app from your iPhone and then navigate to Accessibility.  Click on VoiceOver, and then toggle the switch next to VoiceOver and Screen Curtain to disable it.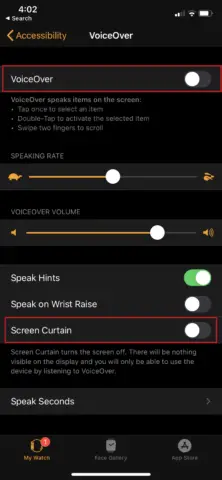 Try to reboot your Apple Watch and check if this solution resolves your issue.
Read also: Which Apple Watch Size is Right for You?
What to Do if Your Apple Watch gets Stuck on Apple Logo Frequently?
If your Apple Watch gets stuck only once, the hard reset should hopefully be able to solve your problem. But if it happens regularly, it indicates an underlying issue that needs to be resolved. Try the below solutions for a more permanent solution to the Apple Watch stuck problem.
Your Watch needs to be currently functional and not stuck on the Apple logo to try the below actions.
1. Update Apple Watch OS
Software update on any device fixes the bugs present in the older version. You can try updating Apple Watch OS and check if this fixes your frozen Watch.
To update your Apple Watch, Open Watch app from your iPhone and click on General. Now, under the General Settings, click on Software Update, and then click on Install to update the OS on your Apple Watch. Enter your iPhone's passcode, when asked for.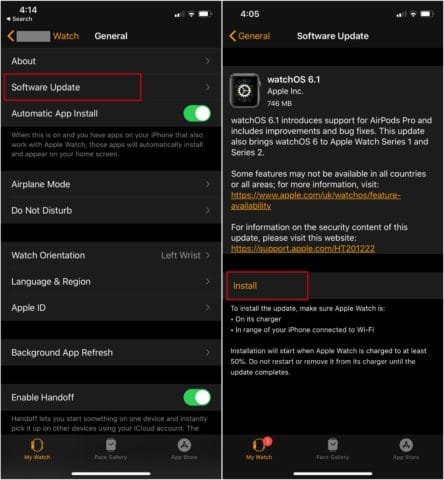 Your Apple Watch will restart with a new OS version along with fixing your Apple Watch stuck on the logo issue.
2. Erase All Contents and Settings from your Watch
If the above solutions don't work for you, then the last option you can try is to reset your Apple Watch. However, before that, you can backup your Apple Watch, so that you do not lose any data. After backing up, erase the data on your Apple Watch by going through the steps mentioned below of how to reset an Apple Watch.
Go to your Apple Watch App and then navigate to General ➞ Reset.
Click on Erase Apple Watch Content and Settings and then select Erase All Contents and Settings, when asked for confirmation.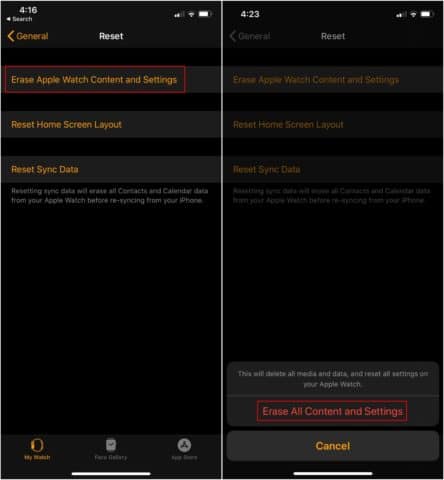 This will reset your Apple Watch and clear it to the state it had when purchased. It will also solve your frozen Watch issue.
3. Unpair & Pair the Apple Watch Again
If none of the above solutions work for you, then you can unpair your Watch first and then pair it again. Well, this is a tiresome process, but you need to do it to solve Apple Watch stuck on the Apple logo issue permanently.
First, to unpair it, go to your Watch App and click on the information icon next to your Watch name. Click on Unpair Apple Watch to unpair it.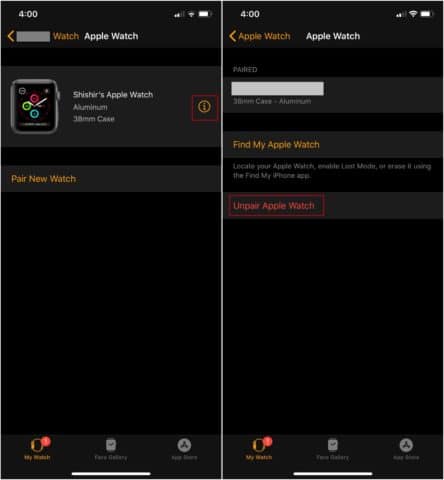 To pair your Apple Watch with your iPhone again, you can refer to the instructions mentioned in the guide available on the Apple Support site under the name Set up and Pair Apple Watch with iPhone.
4. Check for Hardware Problems
If your Watch still gets stuck after trying all the solutions above, then there might be some fault with the hardware on your Watch. You can get it checked at the closest Apple Store or an Apple Approved service center. If the issue is unsolvable, you would need to get your Watch replaced.
Conclusion
There are really only a few fixes for you to try out when your Apple Watch is stuck on the logo. Your best option is to try these temporary fixes, and if the Apple Watch gets stuck on the logo again, try the solutions in order to fix the problem permanently.
There are some ridiculous-sounding solutions out there – like, changing your region from the phone. I cannot fathom how this action or other actions from the phone could work when your Apple Watch is stuck and is not connected to your phone or iCloud. But if it does work for you, let us know and I will gladly eat my words.
Anyways, you should be able to fix your 'Apple Watch stuck on the Apple logo' problem using the simple solutions mentioned in this article.