When it comes to image editing, we hardly look beyond Adobe Photoshop. The California-based company has nearly no equal in the photo editing software domain. While Adobe Photoshop is a popular software for the masses to turn to for editing images, the same can't be said of Adobe Lightroom.
Adobe Lightroom is yet another software that allows users to edit, organize, and create a library of images. Added to that, it also functions as a RAW converter. However, you will need to fork out $9.99 per month if you wish to use Adobe Lightroom. So, in that case, don't you think that a free lightroom alternative is more than welcome?
6 Cost-effective and Free Lightroom Alternatives
We looked at free, open-sourced, and paid but cost-effective alternatives to Adobe Lightroom and listed the best ones here.
The article may contain affiliate links. Purchasing any software through these links may earn us a commission without imposing any additional cost to you. 
1. RawTherapee: Free Lightroom Alternative for Beginners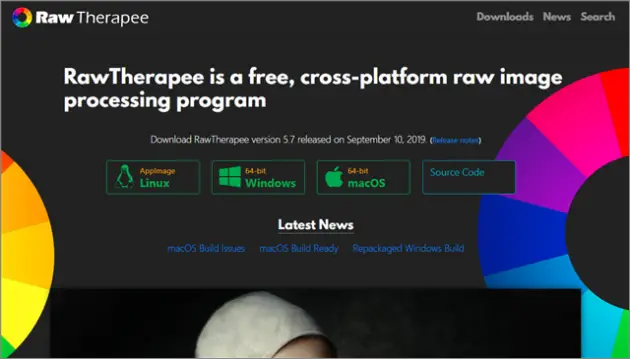 RawTherapee is the best free alternative to lightroom available. The best part about this software is that it is a non-destructive editing tool, just like lightroom. That means users can revert to their original files whenever they like. And, even with all the features it offers, this software is free.
RawTherapee is also known for its excellent batch processing and workflow support, not to mention that it is also revered for its lightning-fast performance. It is also an excellent RAW processor where the users can see their images immediately and not after clicking through each photo individually.
RawTherapee is available for Windows, OSX, and Linux.
Pros:
Excellent image batch processing
Fast and smooth catalog management
Open-source tool
Suitable for professional color correction
Cons:
Not as feature-rich as Adobe Lightroom
Inconvenient to work with masks and layers
Pricing:
Free
Download RawTherapee here
2. Skylum Luminar: For Professionals and Experts
Skylum Luminar is also a great tool to try out if you are searching for free alternatives to Lightroom. It comes in various versions, with Skylum Luminar being their latest product in the photoshop software domain.
Luminar also offers several tools for image editing, but unlike its competitors, only some of them work fine. For example, the color look-up table (LUT) is a great tool with which you can download LUTs for photos and videos and apply them to your images. However, the tool works very slowly, and it might take you about thirty seconds to select a LUT from your list.
Pros:
Suitable for professional color correction
RAW files support
Smooth and user-friendly image control system
Cons:
Batch-image editing is weak
Pricing:
Standard edition – $89 (one-time purchase)
Plus edition – $98 (one-time purchase)
Max edition – $168 (one-time purchase)
Get Skylum Luminar here (To download the free trial, follow this link, go to the Luminar menu at the top of the page and click on 'Download Trial'.  )
3. DxO Photolab: Best Lightroom Alternative for Enthusiasts
DxO Photolab is next up on our list of Adobe Lightroom alternatives. The best thing about this software is that it has all its editing features in one place. Finding different editing tools in photoshop software can be a time-consuming process. However, this tool knows how to reduce that hassle for its users.
DxO Photolab has excellent masking and local adjustment controls. It uses a proprietary masking algorithm called 'U Point.' With this feature, you can build a series of masks with specific effects on specific parts of the image and set precise and naturalistic adjustments on specific areas.
DxO Photolab comes with Nik Collection plugins, which offers several alluring presets for your images. Compatible with Windows and OSX platforms, it's simplicity makes it a suitable image editing software for both professionals and enthusiasts.
Pros:
Offers RAW files support
Suitable tool for professional color editing
Simple interface
Cons:
Weakly-developed brushes
Pricing:
Essential – $129 (one-time purchase)
Elite – $199 (one-time purchase)
Get DxO Photolab here
4. Affinity Photo: Lightroom Alternative with Multiple Editing Tools
Affinity Photo is a handy Lightroom replacement for editing images. First and foremost, it has a convenient interface and a lot of tools similar to those in the Adobe Lightroom.
Image enhancement is possible with Levels, Curves, Blacks and Whites, White Balance, HSL, Shadows, and Highlights. Also, it is a non-destructive tool, allowing you to revert to your original image whenever you like. Added to that, it also offers a noise reduction tool and an advanced lens correction system.
Affinity Photo also has a lot of options for color correction and image editing, making it suitable for professional as well as creative photographers. You can also perform HDR merging, Panorama Stitching, focus stacking, and batch processing.
Thanks to the ready-made brushes available at the FixThePhoto store, affinity photos can also be used as a drawing tool. It is compatible with Windows, macOS, and iOS platforms.
Pros:
Several tools for image editing
User-friendly interface
Advanced brushes available
Cons:
No image organizer available
Pricing:
PC version – $49.99 (one-time purchase)
iPad version – $19.99 (one-time purchase)
Get Affinity Photo here
5. ON1 Photo RAW
ON1 Photo Raw is one of the best Lightroom alternatives available in the market at present. It combines the simplicity of Lightroom and the tools of CaptureOne Pro.
ON1 Photo Raw has a clear and simple interface that is easy to understand. It offers powerful tools for correcting image defects, performing color editing, and photo retouching. The software has powerful and functional layers.
ON1 Photo Raw's level of control makes it a fine Lightroom replacement to try out. It can be the one-stop-shop software for users who only use photoshop for simple photographic edits like coloring, toning, sharpening, resizing, and filtering.
Pros:
One-time payment
Combines lightroom simplicity with CaptureOne features
Cons:
Relatively less original presets available
Pricing:
Standard edition – $89 (one-time payment)
Get On1 Photo RAW here
6. Darktable: Convenient and
Best
Free Lightroom Alternative

If you have heard about the earlier-mentioned RawTherapee software, then you might possibly also know about Darktable. It is open-source software and a great free Lightroom alternative.
Learning how to use Darktable is a time-consuming process. However, if you manage to do so, you will have a great Lightroom alternative at your disposal.
Darktable has a user-friendly interface. It is a non-destructive software, meaning you can revert to your original image as and when you like. It supports RAW files clicked from 400 different cameras.
One of the best things about Darktable is that it can export images straight into Facebook or Flickr, and send it via an email message. For a simple and free photo editor, it offers a great cataloging feature.
Pros:
Supports RAW files
Excellent catalog structure
Open-source software
Cons:
Not the best option for professional use
Pricing:
Free.
Get Darktable here
Final Thoughts:
Different image editors satisfy different requirements when it comes to editing photos. That's precisely why a user should choose software keeping in mind the purpose along with the requirement.
RawTherapee is the best free Lightroom alternative currently. It is a great product to start with if you are taking your first steps into the photo editing world.
Darktable is a suitable software for students and creative editors. It is a great product for snooping around and getting to know the basics of photoshop, albeit it can be a time-consuming process to learn the entire software. Affinity Photo is the next best tool to look up to for cost-effective alternatives to Adobe Lightroom. A one-time purchase for your iPad, it also enables you to learn photoshop on the go and help the photos stand out.
So, whichever software you choose to go with should fulfill your basic needs for photo editing. The preference for features is a question of personal choice.
Meanwhile, if you already use Photoshop, you might want to check out these 10 Easy To Use Yet Beautiful Photoshop Tricks