Finance is an integral part of our daily lives, and staying updated with the activities in the financial market has become a necessity. Financial websites become a blessing here as they provide you with all the help that you need and also contain sufficient information about the marketplace. This information helps you to make the right choices.
A multitude of companies has sprung up in the recent past, not to forget the already existing giants. Therefore, keeping track of all of them and their terms and conditions can be daunting.
Whether you are looking for trading, clearing stocks, or settlement, we have listed the top financial websites for you that will guide you through the world of finance.
25 Best Financial Websites to Bookmark and Stay on the Top
The trends in the business and financial world are ever-changing. If you wish you stay at the top of your financial game, the marketplace might look intimidating at first.
However, one does not need a finance degree to master the subject of investment and business. Your knowledge, along with the advice from the top financial gurus from across the globe, can work wonders. Also, not everyone can afford a financial advisor!
1. Yahoo! Finance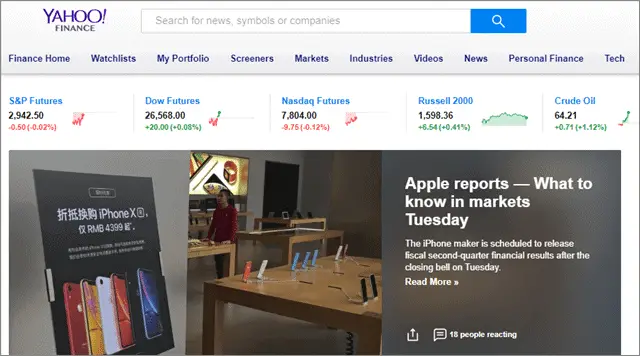 Yahoo! Finance is a part of Yahoo, the search giant network, and is one of the best financial websites. It provides financial news, stock quotes, press releases, including tools for personal finance management.
The website assists the visitors in making informed financial decisions by gauging the markets and ascertaining their short and long term investment plans. The services have moved from its desktop origin to now having apps on smartphones and tablets.
Did you know that Yahoo! Finance is twice as popular when compared to Google Finance? As per the reports published in Investopedia, the January Statista 2019 states that Yahoo! Finance has an estimate of 70 million unique visitors every month, whereas Google Finance is at 40 million. Well, that's quite a difference!
2. MSN Money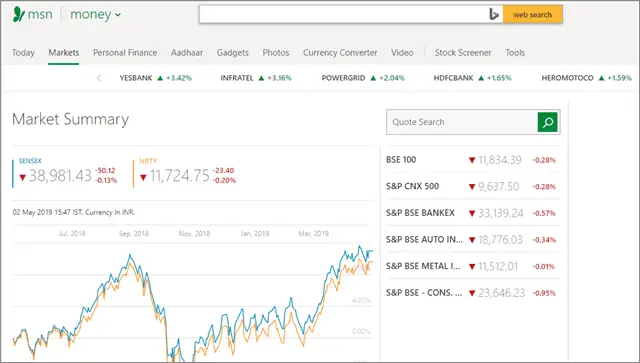 Making it to the top of the list of financial websites, MSN Money is finance simplified for you. The news articles and data that it presents is collaborated by scanning through the world's top sources.
The users can track all major world indexes, currency exchange rates, and commodity prices. You can add your favorite stocks and mutual funds to the watchlist and get quotes, charts, current trends, and recommendations according to your preferences.
The website has the latest news, information, and advice on business, finance, markets, top stocks, budgeting, and investing, among many others. It also has financial tools like a mortgage calculator, currency converter, and wealth estimator for easy tabulation.
3. CNN Markets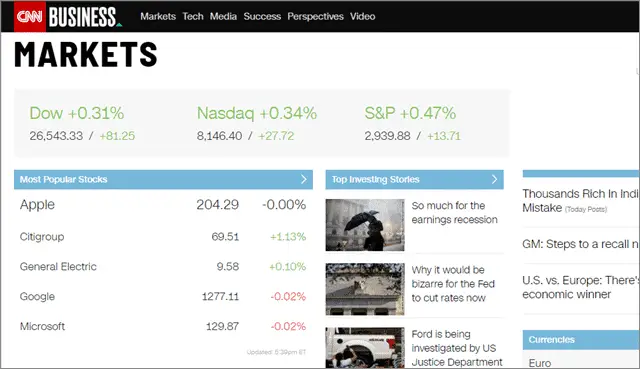 America's top news channel, CNN is the first one to provide 24-hour news coverage. One of the world's biggest news networks, their website has a finance section called CNN Markets. It is the place to go if you want information on market-related topics.
CNN Markets has headlines under 'Latest International News' and contains information about current financial stocks.
With most popular stocks, key stats, top investments across the globe, world market rates, and gainers, they highlight the name of the stocks that are trending. They also have a sector performance graph that analyses the status of the commodities.
You can click on any section and get detailed information in the dedicated pages, along with news related to the change in the prices of commodities.
One of the best financial websites, CNN Markets, is an excellent option if you want to quickly get your hands on the latest business news and updates.
4. Google Finance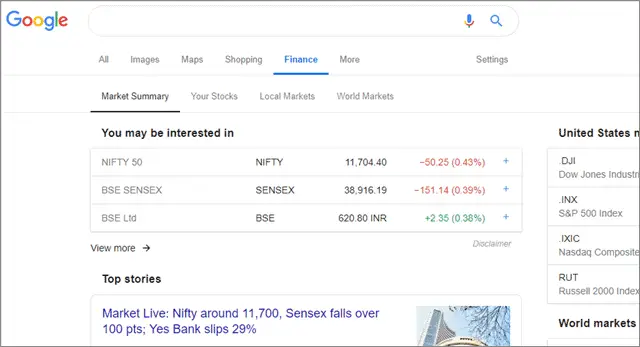 The search giant Google has a dedicated finance section, which started in 2006, eight years after the parent company. It continuously ranks in the top financial websites, which speak volumes about its popularity.
Market experts and other visitors are appreciative of the fact that Google Finance emphasizes on stock-charting capabilities. It has real-time stock quotes representing market prices of stocks and commodities from all stock exchanges worldwide.
The top of our list of financial websites, Google Finance's page integrates financial news, relevant business information, and price quotations. Apart from this, it also contains charts, data from competitors, key ratios, and earnings reports.
5. MarketWatch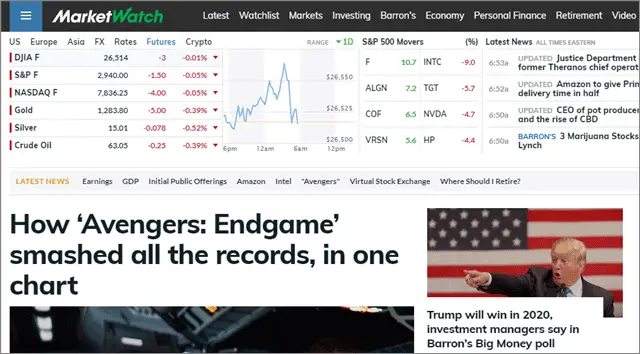 When it comes to stock analysis websites, MarketWatch provides you with business news, financial information along with stock market data. It has a license to publish the Wall Street Journal's (WSJ's) publication and, thus, has millions of visitors every month.
MarketWatch is best suited for people who want to indulge in the daily buying and selling of commodities. It caters to the financial needs of people by enabling them to browse through the latest news and check instant stock prices. You will also find a tab called the Trending Tickers at the bottom of the website, which allows you to monitor the top exchanges.
If you sign up for a free account and add your credentials, MarketWatch lets you put stocks to your watchlist. It comes in handy when you quickly want to go through the prices of your preferred commodities only.
6. Kiplinger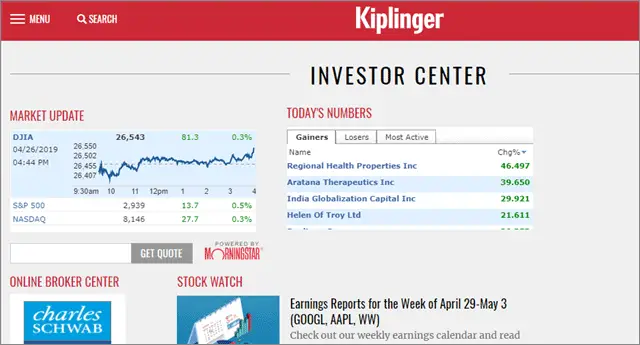 Making it to the list of the top finance websites, Kiplinger publishes personal finance advice and business forecasts. It updates its users about the current market trends, thereby helping them in making better decisions.
If you are a new investor, Kiplinger is the ideal place for you. They have content that is action-packed like how can you avoid paying annoying fees and what should you do with an extra $1000 that you have in your account.
They have a section called 'Personal Finance Basics' for newcomers to help them get acquainted with how the market works. The fun quotient of Killinger is also quite high since they have quizzes for testing your knowledge on credit scores and social security.
7. Bloomberg Markets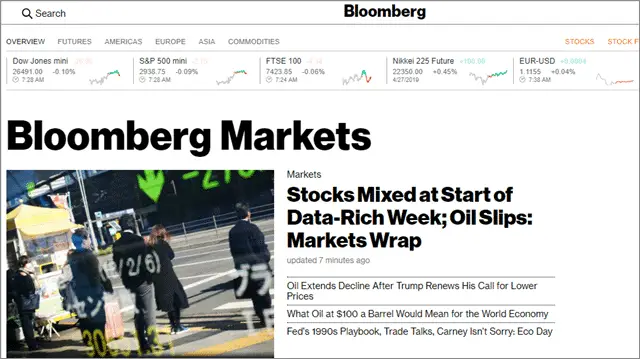 Bloomberg is a powerful media company headquartered in New York City. It has a separate website catering to finance and markets called Bloomberg Markets.
The website is a robust source of news and information and provides financial updates in an attractive format. As you open the homepage, you will spot top headlines and news stories along with the current market trends and stock prices.
A perfect pick for the best stock market websites, Bloomberg Markets also offers videos for the visitors who wish to listen or watch. It is a well-balanced financial website that you can bank upon and has quality content.
Check out Bloomberg Markets here
8. Seeking Alpha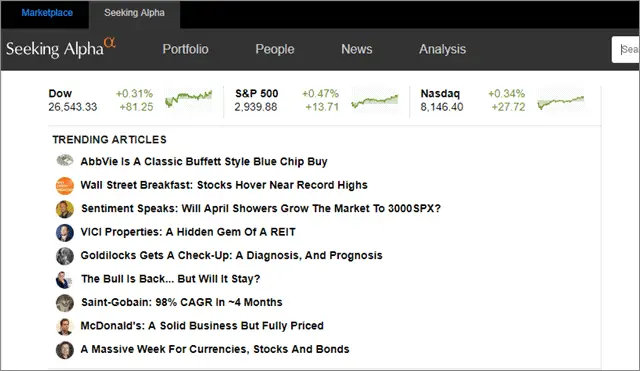 What makes  Seeking Alpha, one of the best financial news websites, different from the ones listed so far?
Well, instead of structuring its content, it collects information from several other financial websites.
A crowd-sourced content website for financial news and markets, it has insightful articles on investment strategies, asset classes, and provides detailed research on a broad range of stocks. The know-how is provided by industry experts and a contributor base of investors.
You will find news pieces that are trending from all over the web on Seeking Alpha's homepage. Also, best-performing stocks and commodities of the month that last got over and recent news. One-stop solution for getting your hands on the current trends and the hottest news, it is good to have a site that does all the discovering for you.
9. TheStreet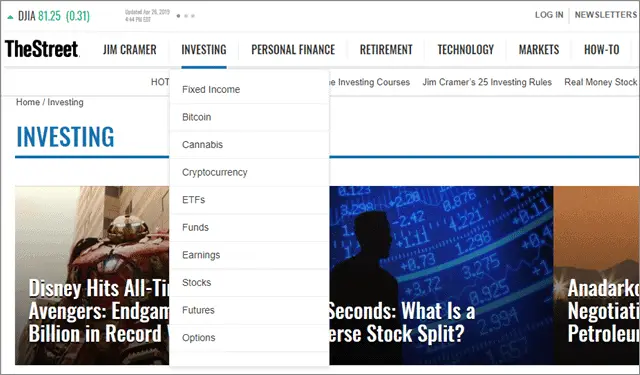 TheStreet is a New York-based fiscal website which deals with financial news and services and a perfect pick for the best stock market websites. From award-winning stock reports to trading ideas, the website's primary focus is curating news. It especially informs people about where and how to invest.
For beginners, they have commentary on current affairs, opinion pieces, and also the basics of getting into the financial markets. The website suggests investing recommendations and offers paid services for investors. By availing the same, you will get an in-depth analysis of the current market scenario, investment tips, some advanced tactics, and stock suggestions.
In the drop-down menu of the 'Investment' section, there are categories like Bitcoin, Cryptocurrency, ETFs, Fixed income, Funds, Earnings, Stocks. Similarly, if you check out the groups in the 'Markets' section, it includes Commodities, Emerging Markets, IPOs, Currenciencies, as well as Rates and Bonds. TheStreet is a smart option if you want to learn beyond the basics from the experts.
 10. Forbes Money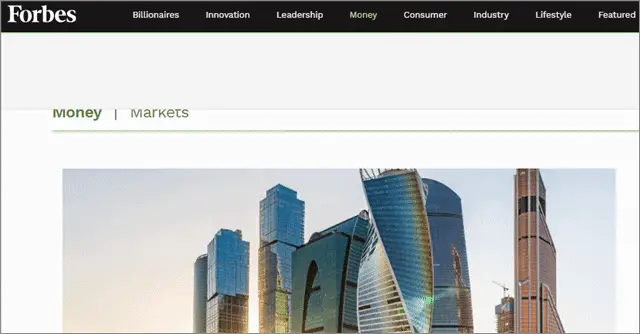 Forbes is an American business magazine and a household name when it comes to investing, finance, and business. Their website has a separate section allotted to money called Forbes Money, which has all the latest updates about the markets and business world.
Forbes Money should be on your radar, whether you're interested in investing in small or big business or leadership. The investment tips from the experts and top industrialists come in handy, especially when you are new in the block.
Apart from finance and markets, this financial news website also covers a whole lot of other genres like industry, innovation, billionaires, thereby giving the visitors a holistic idea about world affairs. The 'Markets Now' section contains the latest stats and numbers about the stocks and commodities.
11. Reuters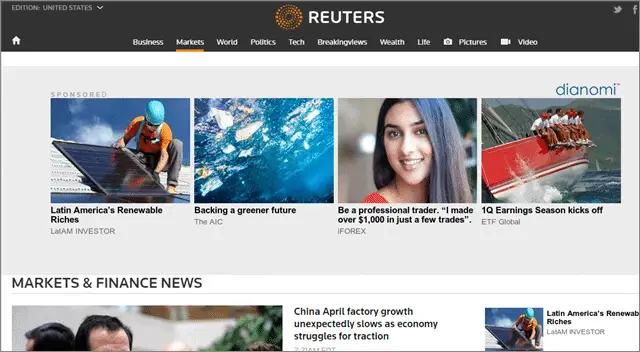 Reuters is a media giant and the world's largest news agency involved in the dissemination of news. Trusted by millions across the globe as one of the top financial websites, it provides visitors with top-notch and quality content. When it comes to fields like small business, personal finance, investing know-how, as well as the stock market and data analysis, the information provided by them is to the point.
Being one of the best in providing market data, Reuters covers stock-specific and sector-specific news on the web portal. You can change the region from which you are operating and ascertain the stocks and market-specific news of other areas as well.
In the 'Stocks' section from the 'Markets' category, you will see the latest numbers, changes in the prices of stocks and financial news updates. Similarly, there are other sections like Bonds, Currencies, Commodities along with a currency calculator.
12. Investopedia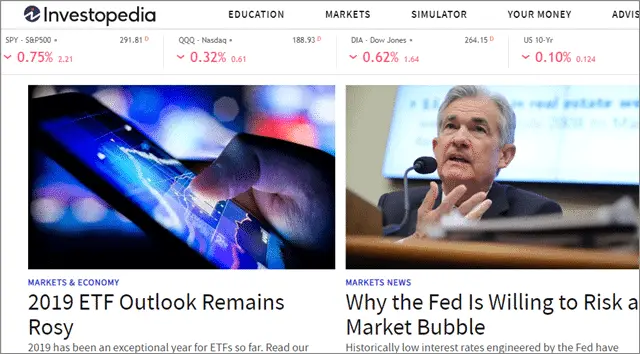 If you are a beginner in the world of investments and finance, Investopedia is the ideal website for you. One of the best financial websites for beginners, Investopedia, offers online classes through its academy, which has various courses to suit your needs.
Investopedia enables the visitors to look up definitions of financial terms that you don't understand. It also uses the stock simulator to see which investments and stocks will incur profit or loss in the future. Their 'Financial Edge' section helps the users to understand the fundamental concepts and basics of personal finance and markets.
You can look up the stocks by entering the company name or symbol which the ticker displays and get ample information about the company. You can also subscribe to their newsletters, which provide valuable information.
13. My Money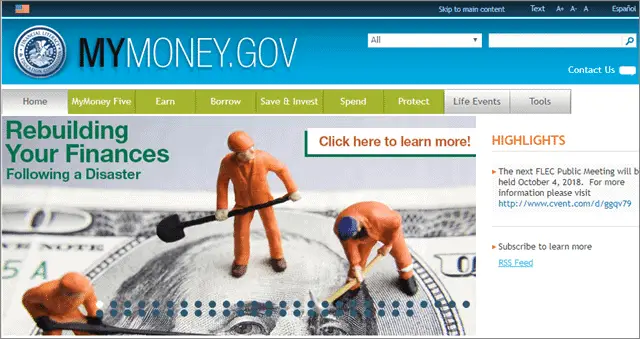 My Money is an initiative of the U.S government to help beginners learn the nitty-gritty and the basics of finance. The financial advisor website is based on five teaching principles, namely, Earn, Save & Invest, Protect, Spend and Borrow.
My Money also has guides to life events along with the impact they have on your financial status. There are specific tools, calculators, and checklists that keep a tab and estimate your finances. Once you enter the required data, they help you in making critical financial decisions.
If you are already a master at managing your finances well, you might find this website rudimentary. However, it is an excellent option for someone who is a novice and is just starting, or in teaching the children about how it all works.
14. Dealbook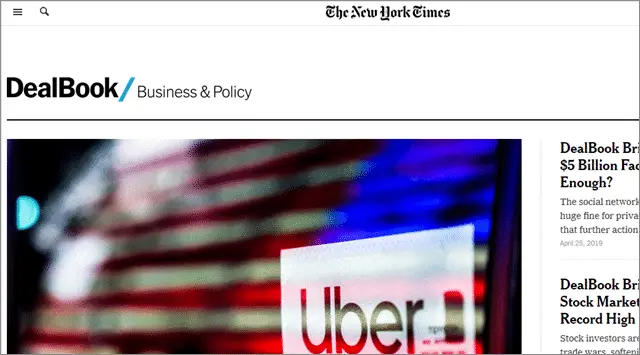 Dealbook is a part of the media giant The New York Times and has a different take on current affairs and financial news. It provides visitors with a daily financial report as well as breaking news on mergers and acquisitions.
Well reputed financial investors and innovative leaders from the finance industry contribute articles to this website. Apart from presenting you with facts, Dealbook also contains opinion pieces and expert interpretation of news and information.
As you click on 'Markets' in the main menu, which you will find other the category 'Business,' you will see the current prices of the stocks and commodities. You can also try checking out the other subsections of NYT that are focussed on business and finance, such as Your Money.
15. This is Money: UK Based Financial Website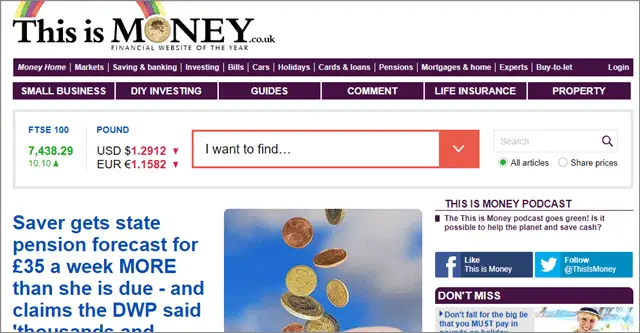 This is Money is U.K focussed website and contains a lot of information on its first page itself. Current stock rates at the top of the homepage, the latest business news in the center, and a 'Don't miss' section on the right containing information about recent updates in the world of finance makes it amongst the top personal finance websites.
The website has a multitude of articles and videos on the latest news pieces, financial information, money trends, deals, and advice. Categories like Bills, Cars, Holidays, and Saving & Banking provide practical monetary advice related to everyday topics.
Although the categories mentioned above might not be very useful in regions outside the U.K, there is plenty of other content the users from elsewhere can dig into. As you glance through the website homepage, we are sure you'll find something worth reading.
16. Financial Times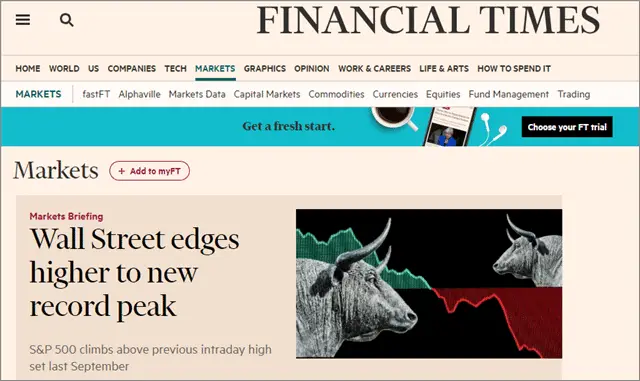 One of the world's leading financial websites, Financial Times, specializes in the dissemination of finance news and market analysis proving global coverage. With an internationally acclaimed authority, it is one of the most trusted sources of finance-related information.
With a variety of content in various categories like Companies, Tech, Markets, and Opinion, it is owned by the Japanese company Nikkei, Inc. and headquartered in London.
Under the Markets category, you will find different sections like Commodities, Currencies, Equity, Fund Management, and Trading. If you avail of the subscription services of Financial Times, you will have access to expert opinions and editorials as well.
The website offers a categorized view with comprehensive coverage and the option of 'save' next to every news piece. You can read the saved articles later.
Check out Financial Times here
17. The Motley Fool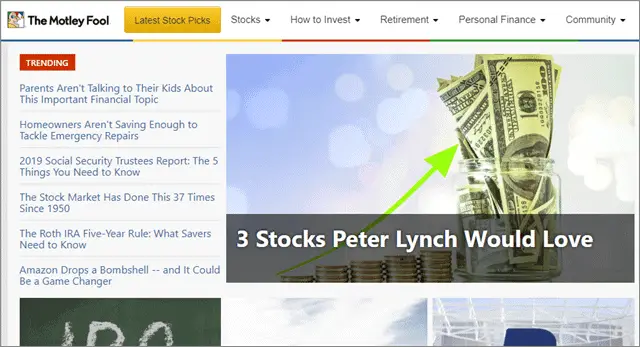 A perfect fit for one of the best stock analysis websites, The Motley Fool, is an excellent resource for the investors to avail of any kind of financial advice. The investment insights, stock analysis, and personal finance tips provided by them come in handy when you're looking to make a new investment.
The website provides stock news and comparative data based on research and interactive discussion boards. It has a 'How to Invest' section, which will guide you to invest in mutual funds, other trading options, and also how you can start investing with $100 a month.
The Motley Fool has a 'Market Performance' column on the right with the real-time stock prices and 'Trending' business news articles on the right of the homepage. It also has a separate section called 'Retirement Plans' and 'Latest Stock Picks,' thereby making sure you do not need to visit any other financial website, once you're here.
Check out The Motley Fool here
18. Investing.com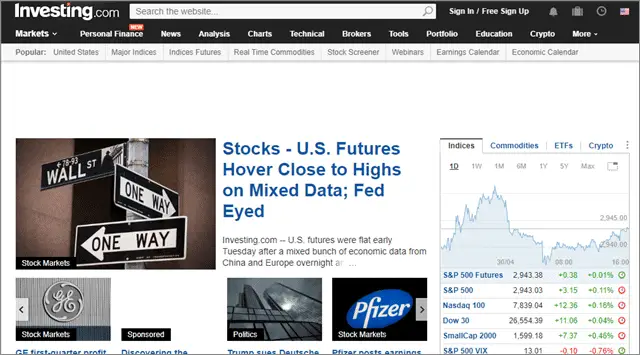 Investing.com is a global financial portal that provides news, analysis, and streaming quotes and charts, and is considered as one of the top-rated stock market websites. The website has apps for Android and iOS as well.
Investing.com contains financial tools and technical data that help visitors make better investment decisions. You can browse through categories like Stocks, Commodities, Bonds, Interest Rates, and Currencies while keeping track of all major global indexes.
The website has live updates on economic news worldwide and enables visitors to create their portfolio. You can also create your watchlist and keep an eye on particular stocks.
Check out Investing.com for Android and iOS
19. CNBC: One of the Best Stock Market
Websites to Check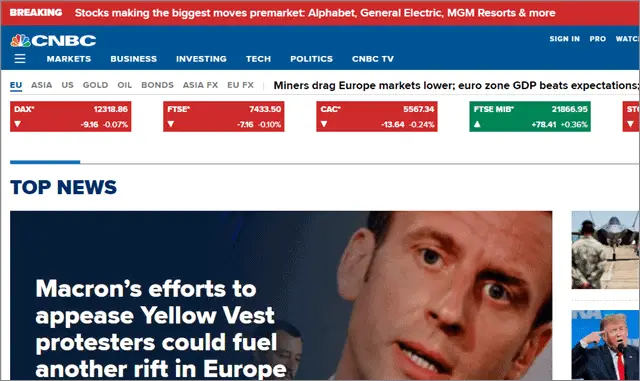 A world leader in disseminating international business news, CNBC is also one of the most reputed financial websites. It offers real-time information about the business and finance world, along with the current market scenario.
It has a dedicated news section category which informs the visitors about the U.S stock market and subsequently region wise for Asia and Europe. The 'CNBC TV' category gives you the option of listening to live audios and watch the latest videos, including the ones that are trending.
CNBC reports the world about up-to-date financial developments and indulges in in-depth market coverage. It provides investors with specialized tools like interactive charting and free online portfolio managers, thereby making richer content available.
20. Money Morning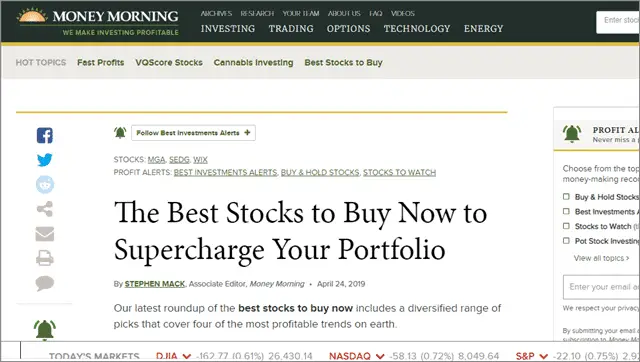 Money Morning aims at giving financial freedom to visitors by providing them with valuable information. The website claims that the insight they provide helps the users gain financial independence in the new global economy and thus, becomes one of the best stock market websites.
They have a team of 10 market experts with hundreds of years of combined experience who assist you for free. Their daily investment tips help you understand the ever-changing market scenario, thereby adding confidence in the investors.
The experts answer your finance related queries and pick stocks which they think will be profitable soon. They also provide an analysis of the market and direct what action should be taken on all the already bought stocks that are not doing well. You can also subscribe to their e-newsletters.
21. The Wall Street Journal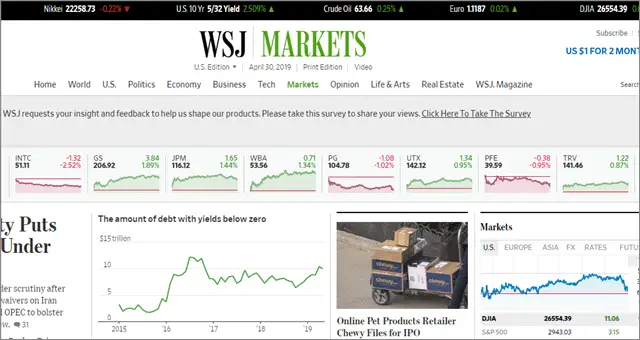 The Wall Street Journal is the largest-selling daily newspaper in the U.S with its primary focus on business and economy-related news. For decades it has been a staple source of information for investors and industrialists.
It provides the audience with the latest financial news and stock updates and is followed across the globe for business-related information. On the homepage itself, you will see a ticker on the top sharing live prices of stocks and commodities.
One of the best financial news websites, The Wall Street Journal, contains valuable investing information and company-specific news. Apart from the usual price quotes and related trivia, the site has easy access to email alerts based on the available criteria.
Check out The Wall Street Journal here
22. Zacks Investment Research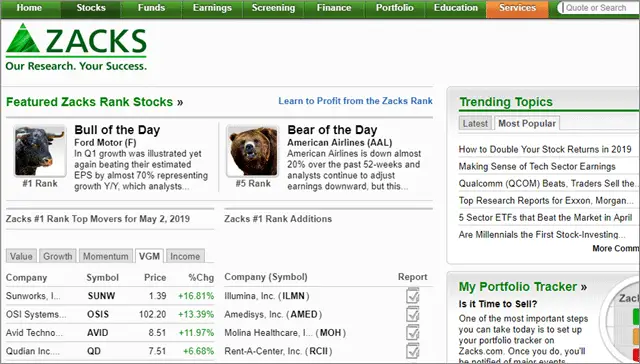 When it comes to stock analysis websites, Zacks Investment Research provides you with in-depth research on stocks and funds. You will also have access to independent financial reports which help you make better investment decisions.
Once you are a member, you can create your portfolio and keep a watch on your preferred stocks. The membership is free, but it does require signing-up.
The website provides professional investors with detailed market research data and accurate analysis, thereby assisting them in directing their money in the right direction. Zacks also has 'Market Summary' and 'Trending Topics' on the right of the homepage, apart from regularly featuring financial and business-related latest news articles.
Check out Zacks Investment Research here
23. Bankrate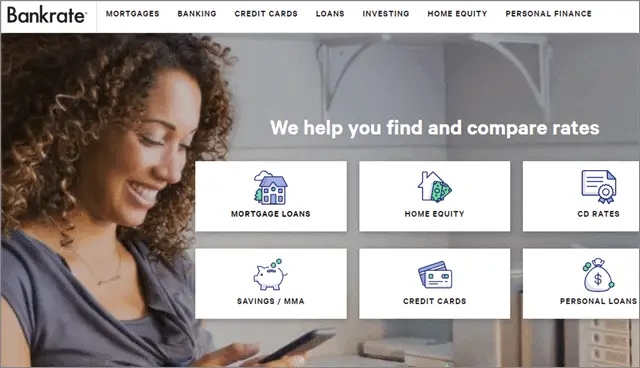 Bankrate is known for providing quality advice in all sectors of finance. Be it a personal loan and banking information, or credit cards and investing options, Bankrate is a one-stop-solution for making sure you spend your money safely.
One of the best personal finance websites, it compares mortgage rates from different lenders and provides you with reviews of several banks. It helps you choose which credit cards to buy, and gives the users advice and handy tips on how to save money.
Bankrate has a loan payment calculator, a savings calculator, online brokers for stocks, and disseminates information about interest rates. The website also offers financial education content and has a dedicated section of 'Featured Articles' which contains the latest business news.
24. Wisebread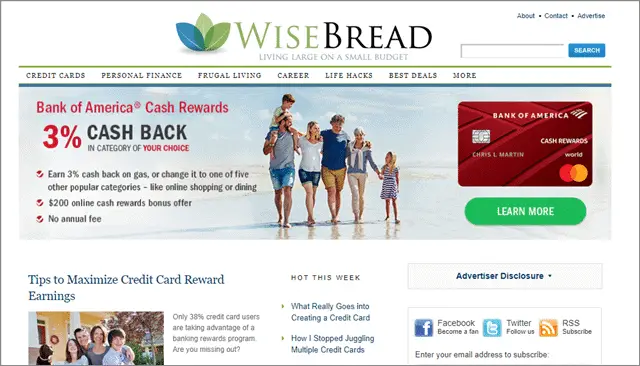 A favorite for personal finance websites, Wise Bread, is headquartered in the West Covina, in California, USA and provides financial advice, life hacks, and tips on buying and selling goods and services.
The websites hire writers from all over the world and aim at providing visitors with quality content, without compromising on the entertainment quotient. The finance articles are written by experts who indulge in in-depth analysis and research before recommending the users to take a particular action.
Be it about getting a free checking account, savings account, a new credit card, additional insurance, and adopting frugal living; Wise Bread covers a wide range of topics on personal finance. On the homepage itself, you will find 'Hot this week' which highlights the top news of the week and 'Latest Articles,' which informs the readers about what's new.
25. SmallCap Power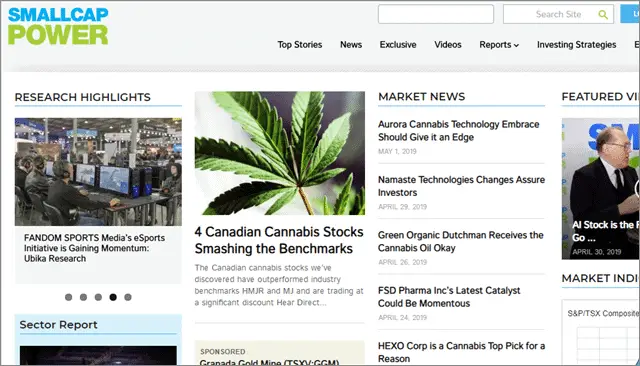 SmallCap Power is the leading resource for investors with small capital. One of the top financial websites, it provides visitors with access to all small capital companies, market research analysts, and investment experts.
SmallCap Power brings together investors, companies, and industry professionals from the finance sector to interact, communicate, and share ideas. The 'Top Stories' section provides the latest developments in the world of business, and the 'Investing Strategies' section talks about dividends, high growth, popular stocks, and beginner investing.
The homepage consists of 'Market Indices' representing the stock prices apart from 'Market News' and 'Research Highlights'. The website aims at informing and educating the users to pick up profitable stocks and provide better investment ideas based on research.
Also read: Best Online Thrift Stores To Get Branded Products At An Affordable Price
Financial News Websites: Worth The Mention
Along with the Top 25 financial websites, there are some noteworthy financial advisor and financial news websites that needs to be mentioned. Financial news is mentioned in almost every news website, but there are some sites that stand out for the information and analysis that they give. We would like to thus, make a noteworthy mention of those websites.
1. The Economist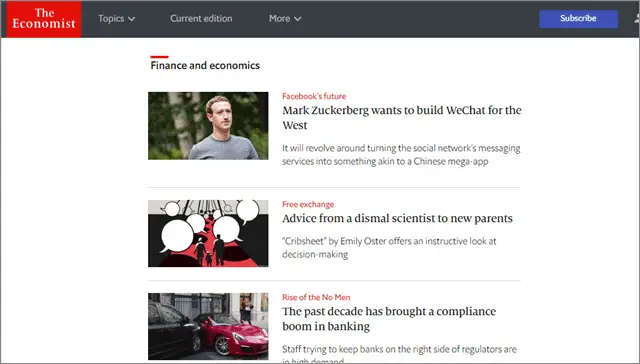 The top of the list for the financial news websites, The Economist, provides an authoritative insight on global issues, the latest business, and financial news and political developments. Making an international mix of news available to the users. It also provides quality information on science and technology-related topics.
Apart from a regular briefing on the current affairs, you can get your hands on comprehensive economic reports. You can also sign-up for alerts that will notify you about the breaking news stories and analysis.
The Economist is your one-stop-solution for all business-related news and economic coverage, thereby keeping the readers well informed about the world. Informative writing, trusted news commentary, and in-depth reports make this website an excellent source of financial news.
2. NerdWallet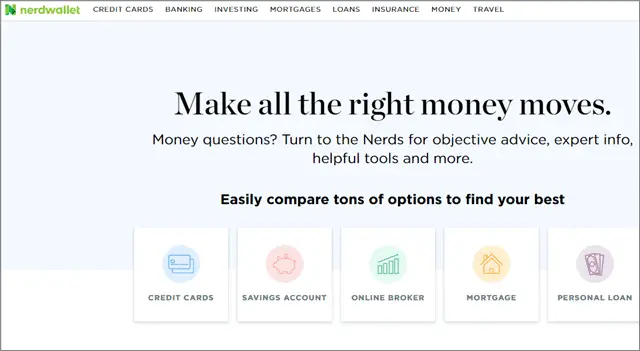 When it comes to financial advisor websites, NerdWallet is the one to lead. It helps you in making all the right monetary moves. Your questions and all kinds of queries regarding money will be answered by experts who provide you with objective advice.
Using helpful tools, simulators, and smart calculators, the website assists you in making sense of your investments and the available options. The editorial team consists of 80 nerds who make complicated financial concepts easy to understand.
The website recommends the best-suited credit cards for you, according to your spending habits, and also provides you with handy tips to up your credit score. They aim to impart tailored insights and educate the users in the best possible way to make correct financial decisions.
Final Thoughts
The financial websites that we've listed can be used by anyone to keep up with the latest developments in the world of business or if you want to know what's happening at the stock exchange.
The top financial websites in our opinion are CNN Markets, Market Watch, Kiplinger, and Bloomberg Markets. The top stock analysis websites are Zacks's Investment Research and The Motley Fool.
If you are looking for the financial news websites, then check out The Economist and Forbes Money. Bankrate and Wisebread are unrivaled personal finance websites. Whereas, NerdWallet and My Money are excellent choices for financial advisor websites.
All the financial websites that we've listed are free to access. However, some of the websites may require signing up so that you can get access to the latest information and updates.
Want to check out more about finance and systematic investment? Check out the below articles: