Are you interested in exercising your architectural creativity or want to try something different in games? If yes, you must try your hands on these city simulation games. The game designers understand that no city is perfect, and one must create their own! While playing these free city building games, the player acts as a planner who designs and leads the city.
The player ensures the social, economic, and political development of the town and formulates management strategies accordingly. You need not brave the real streets; instead, create your world and go wherever your heart desires.
Be it GBA games, open-source games, VR games, board games or even the hidden Google games, games are fun. These city builder games also teach you what it takes to operate a city efficiently, and it surely isn't a walk in the park.
We have curated a list of the best free city building games that you can play online, the ones which you can buy and know why they are better off, and city-building games for Android and iOS.
Top Free City Building Games To Play Online And Stake Your Claim
The players in city building games claim on another world or change it as per their whims and fancies. Will the utopia that you create end your urban woes? Let's check the free and online city building games.
1. Forge of Empires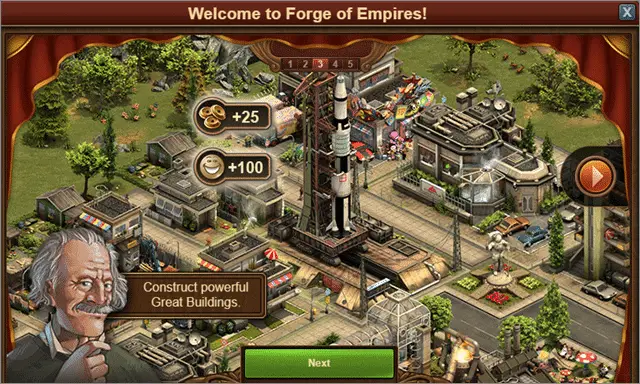 One of the best free city building games, Forge of Empires is a multiplayer strategy game where the primary objective of the player is to create, develop, and expand a city. The tutorial starts in the Stone Age and ends in the Virtual Future, indicating the path the player needs to undertake. Will the empire you built survive through the test of time?
The building space given to each player at the beginning of the game is limited, which expands gradually. You will need coins and tools to buy the latest buildings, establishments, and decorations, which can be collected from residential buildings. There are various maps available that can be used to declare war on the other players.
Play Forge of Empires here
2. Rising Cities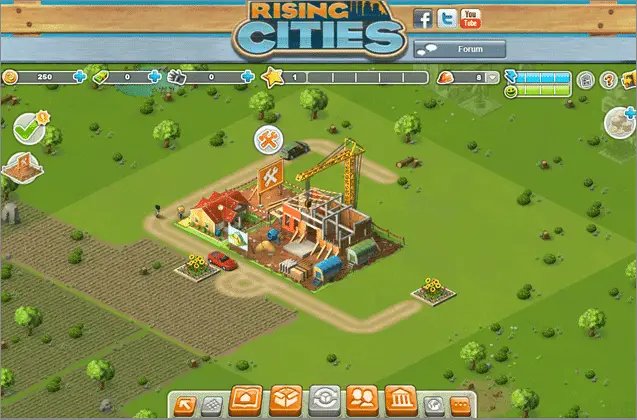 Rising Cities revolves around urban development and the players take up the role of the mayor of the city. You need to help your city grow from a small town to a big metropolis in this strategy-based building game. Your planning and resource management skills will be put to the test, thereby deciphering whether you are a successful mayor or not.
The game starts as the player creates a living space for the residents, collects rent, and provides employment opportunities. The citizens might get bored quickly, so you need to create parks and other means of recreation as well.
Use the available resources optimally, help build a thriving economy, and come up with fun places to hangout. Rising Cities is our favorite when it comes to the options available for free city building games.
Play Rising Cities here
3. City Connect 2
One of the most challenging free city building games, City Connect 2 is a civic-minded puzzle which requires you to connect all the buildings in the small city to roads. A series of tiles need to be rearranged by juxtaposing and rotating, starting with yellow trimmed tiles. Will you be successful in helping the engineer fix what's broken?
The building game has various levels and six settings for difficulty. You can choose your preferred difficulty level ranging from very easy to extreme at the beginning of the game. Repair the roads and railways as you work your way out, connect the neighborhoods, and get rid of the infrastructure you no longer require in your city.
Play City Connect 2 here
4. Epic City Builder 3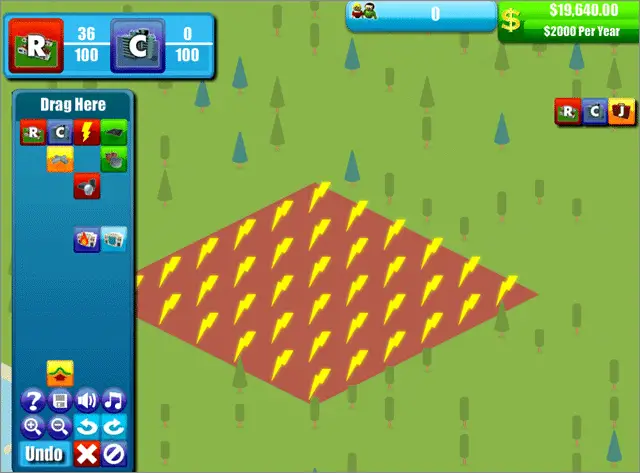 Epic City Builder 3 requires the players to create everything that the inhabitants of a city need in their daily lives. Your task is also to keep them happy by providing them with amenities and continuously growing your metropolis. Are you ready to build an epic city?
You have to build houses that will attract others to move to your town, develop industries, and set up a municipal corporation for ensuring an adequate supply of energy and water. Along with a sound transportation system, you have to provide the residents of your city with jobs and essential resources. What more? You can choose the ordinances you wish to impose, like sales tax, parking fines, and speeding cameras.
Out of all the free city building games you come across, be rest assured to be hooked to Epic City Builder 3 for the longest time.
Play Epic City Builder 3 here
5. Balancity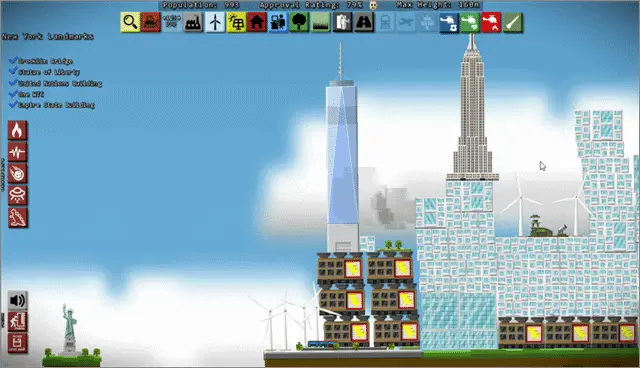 Do you love playing Jenga? How about combining the elements of city-building games with it? Balancity is a combination of the two and is based on physics. The players need to create tall buildings while making sure they are well-balanced on a platform. Will you be able to make and sustain the most towering city?
Also, you need to keep the inhabitants of the city happy. Not only jobs, but you will also have to provide them with work, build airports and train stations, create power plants and landmarks, with only gravity being your limit. What else? You need to protect your city from disasters like fire explosions, crimes and arrange for emergency services.
Play Balancity here
6. City Builder 3D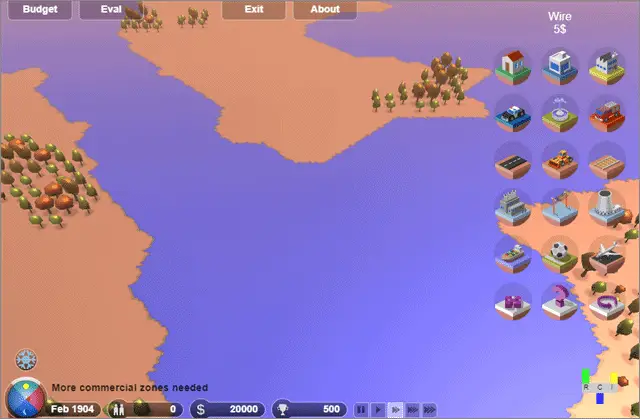 One of the best free city building games online, City Builder 3D, allows you to experience the life of a city engineer if you've ever wanted to become one. The gameplay revolves around the players building and taking care of their city, along with ensuring the citizens are happy. Are you all set to play the fantastic simulation game and design the ultimate metropolis?
You can start with building residential houses and utility stores and go on to making stadiums, airports, and recreational zones. Make sure the energy supply is adequate and figure out what else you'd need to satisfy the citizens. Design your dream city and aim for it to be prosperous, vibrant, and vivid. Let's get started!
Play City Builder 3D here
7. City Wizard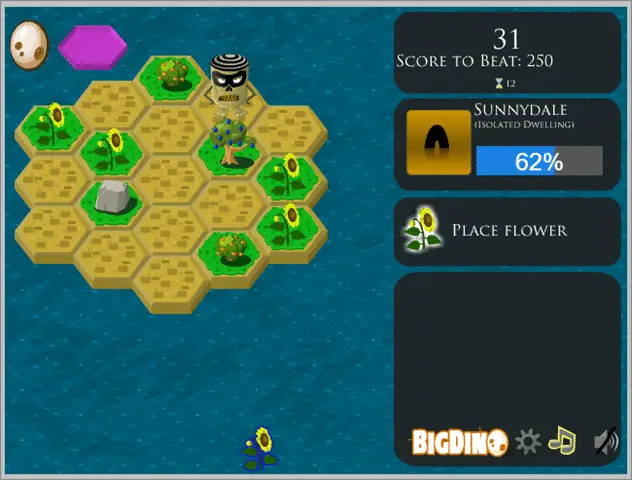 Different from the ones we've listed so far, City Wizard is one of the most distinct and free building games online where the player takes up the role of the overall planner who leads his/her city. The aim is to help the city grow while combating zombie attacks. The players are given special items to ensure that the kingdom flourishes, and the three powers are Diamond, Lightning Bolt, and Power up.
You can create a bush by merging 3x flowers and create a tree by clubbing together 3x bushes. The players work their way out to combine similar objects and build cities on each of the hexagonal playfields. Are you game to beat the annoying zombies and sail through 15 difficulty levels to build a city full of mansions, castles, and the King's Palace?
Play City Wizard here
Best City Building Games For You to Buy
Some of the city building games online come with a price tag! Once you have excelled at the free city building games or ready to take the next plunge, check out the city building games that you should play.
1. SimCity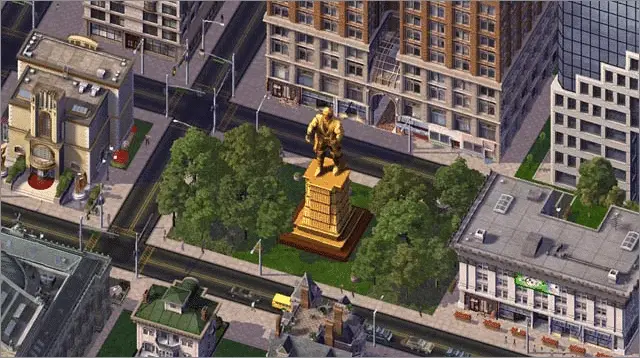 Undeniably, one of the most popular and not free city building games, SimCity enables the players to construct a virtual world where every action that you perform is crucial. You are the mayor of the city that you create, and you manage the same as per your choice. The players start from a blank map and make sure they expand the city, keeping in mind the predetermined budget.
Place government buildings and other constitutional establishments and earn money for your city from the taxes the citizens pay. Stadiums, airports, parks, universities, transport systems; create all that you think is necessary. You also get to play a multiplayer version where you collaborate with the other players to achieve your targets.
Price: $19.99
Buy SimCity here
2. Anno 2205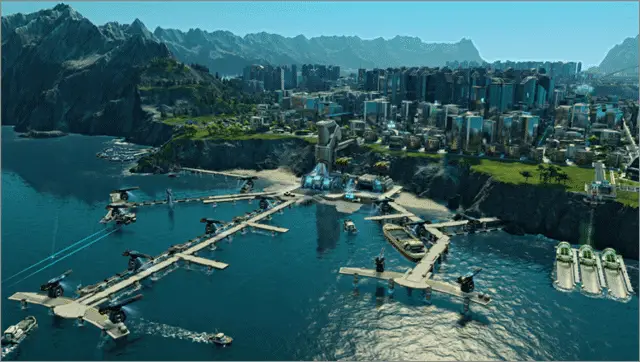 One of the best city simulation games, Anno 2205, is set against a futuristic backdrop. The players act as leaders of their corporations and compete against others who head the same in meeting investor demands. You get to conquer Earth by establishing busy cities and substantial industrial complexes while aiming to build a better tomorrow.
Make sure that the citizens are safe and that you construct a city that thrives on every opposing circumstance. Anno 2205 takes strategic city-building games to new heights by enabling the players to travel to space. Grow great cities on Earth, establish your base on the Moon, and use the resources wisely to convert your city into a thriving metropolis.
Price: $49.99
Buy Anno 2205 here
3. Prison Architect
Prison Architect enables you to construct and manage your own private and maximum security prison. Will you be able to do so while detaining chaos and earning profits? The detailed layers of the complex gameplay require micromanaging and will impress any fan of the city building format.
The players start by building a single cell at first. After its completion, they proceed to add CCTV cameras to keep an eye when the guards are away and gradually incorporate more patrols. What more? You also get to create a separate kitchen but make sure that the inmates stay away from the knives. Do not forget to meet the sanitation and food requirements of the prisoners. Though it does not come under free city building games, it is worth it to pay for the adrenaline rush.
Price: $29.99
Buy Prison Architect here
4. Cities: Skylines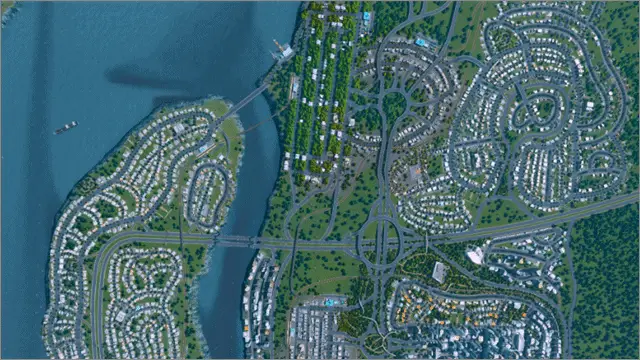 Managing a city well is equal parts thrill and hardships, which is highlighted in Cities: Skylines, a modern take on the classic free city building game. Every player can mod the gameplay as per their choice and choose how difficult and exciting they want the game to be.
The game boasts of a fully comprehended transport system, and the players are only limited by their imagination. You construct the city from the ground, engage yourself in urban planning, and place roads and buildings judiciously. Make your city has all the amenities and the required infrastructure and get ready to take control and reach the sky.
Price: $29.99
Buy Cities: Skylines here
5. Urban Empire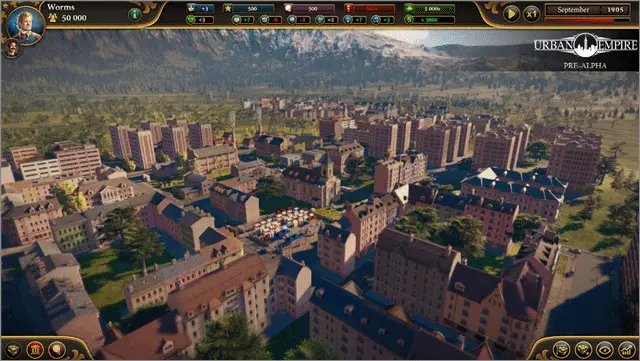 If you're interested in the nitty-gritty of politics, get your hands on the Urban Empire, one of the best city builder games. Apart from building cities, the players need to make sure that the cities they build can withstand technological breakthroughs and ideological uprisings. Every action that you take will affect the civil infrastructure of your creation and come with a political repercussion.
You are the mayor of your city coming from a ruling dynasty, and for the next 200 years, you decide the fate of your utopia. Attend council meetings, participate and debate in governmental decisions, and indulge in bribing the political rivals for your advantage. The game challenges the players in taking essential decisions involving topics like child labor and taxes.
If you ever run out of the free city building games, get your hands on this one.
Price: $29.99
Buy Urban Empire here
6. Another Brick in The Mall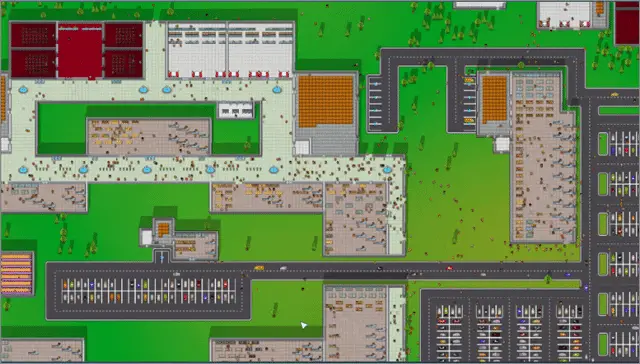 Another Brick in the Mall is cleverly titled and enables the players to carry out their fantasy by designing, creating, and managing their super malls. One of the best city simulation games, as the person in charge of the mall, you will have various shops, restaurants, and supermarkets at your disposal. You need to hire efficient and well-trained staff who act as good managers, thereby ensuring everything is in order.
The players start the game from groundwork, carving roads, and allocating parking slots for visiting customers. The ulterior goal is to earn profits, which is only possible if you work with your team in harmony. Make sure to keep the customers happy and do not charge them a bomb as they might never come back again.
Price: $12.99
Buy Another Brick in The Mall here
7. Frostpunk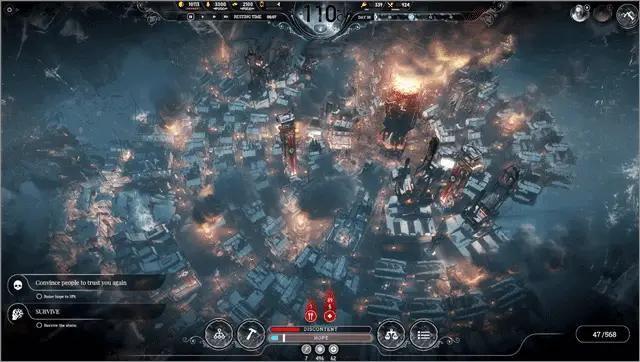 Frostpunk is a survival and strategy-based city building game where every decision comes with a price. The player takes upon the responsibility of building the last city on Earth and ensures that the community has all the means it requires for survival. Will you be able to spark fires of hope and warmth in the people of your civilization?
Apart from moral contentment, you also need to make sure that people have proper food, healthcare, and job opportunities. Make laws that facilitate growth as they will decide the future of your establishment. What decisions will you take for the survival of your city? The presentation of animation in this building game is unique and detailed, thereby giving the gamers a visually enthralling experience.
Price: $29.99
Buy Frostpunk here
8. Cities in Motion 2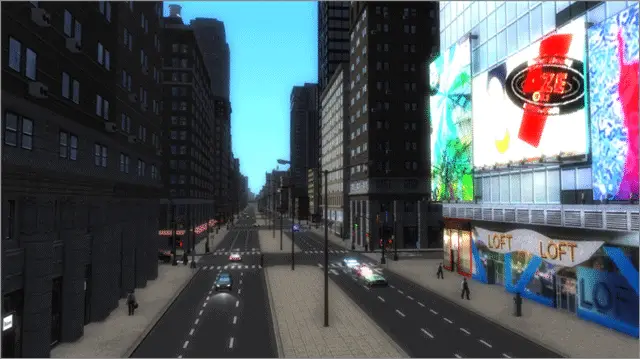 Cities in Motion 2 is set against the same backdrop as its predecessor and is not a free city building game. The gameplay revolves around building and leading the transportation system of the city. The player starts from scratch in creating and managing public and private transport networks that are non-existent in the city.
The strategy game can be played in a multiplayer version as well, with both cooperative and competitive modes. It has day and night phases, and every action that you take will directly affect the growth of the city. The players control the timetables in the dynamic city and can build alone or choose a friend for help. Do not forget to use the varieties of vehicles available like trams, ferries, and buses.
Price: $4.99
Buy Cities in Motion 2 here
9. Banished
One of the best city builder games, Banished, requires the players to take charge of a group of exiled travelers and help them in restarting their lives. The players aim to grow the new land into a habitable place and keep the population alive. Your primary resource in Banished is the townspeople.
Keep the people happy by providing them with all the amenities they need. There is no money involved in the game. You can engage in barter system by exchanging your hard-earned resources with trade vessels. There are more than 20 occupations available for people like mining, hunting; and you need to use more than one strategy to succeed with the city.
Price: $19.99
Buy Banished here
10. Tropico 6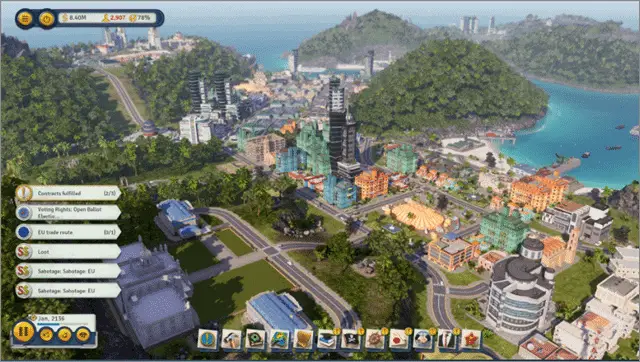 Tropico 6 is a new release and is significantly better and denser than its predecessors. The main goal of the player is to grow the city and its surroundings while trying to stay in power. The island runs because of its people, so the players need to make sure that they are happy and satisfied.
Every action that you take must be taken keeping in mind the welfare of the citizens and must also have their approval. Any disapproval might result in you being voted out from your position. Raid foreign lands, steal monuments and add them to your collection and customize the looks of your palace in this addictive city building game.
Price: $49.99
Buy Tropico 6 here
11. Planetbase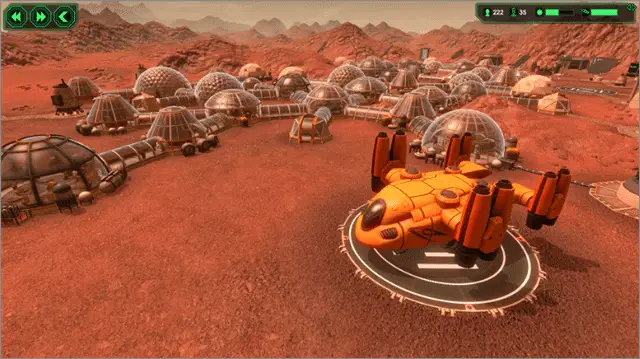 Planetbase requires you to play the role of a base architect and manager guiding a group of space settlers, something that you must have already handled in free city building games. The mission, here, is to colonize a remote planet and build structures required for survival. You need to make sure that there is an adequate supply of food, water, oxygen, and other necessary amenities.
The space settlers perform different roles. Biologists take care of the food requirements, armed security guards protect the same, engineers repair buildings, and the medics heal people. The players need to prepare themselves for disasters too and put up fights against the pirates. Are you ready to build in a self-sufficient base in a not so favorable environment?
Price: $14.99
Buy Planetbase here
Best city building games for Android and iOS
Now that we have discussed free city building games, as well as the paid ones, let us dig deeper and check the best city building games for Android and iOS users.
1. SimCity BuildIt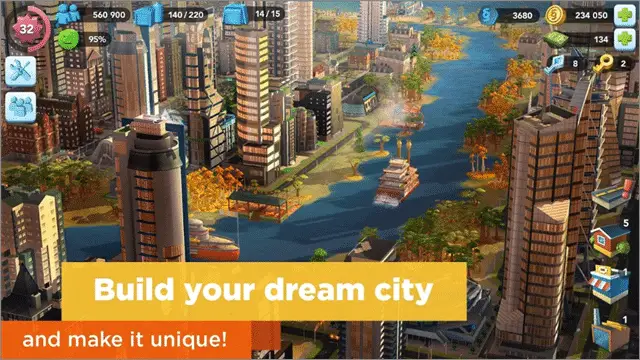 One of the best city-building games for Android, SimCity BuildIt requires you to build a unique and beautiful city that is ever-growing. The job of the player starts to get complicated as more citizens join the city since managing them well and keeping them happy is the main goal. You can create and place buildings with a futuristic vision and plan well to make sure that the level of taxes is constant.
The free city building game is available in multiplayer modes online, which enables the players to compete with others and form alliances with fellow mayors. How about adding interesting landmarks to make your city famous? The players also need to be prepared to face real-life problems like fire breakouts, excessive pollution, and traffic.
Download SimCity BuildIt for Android | iOS
2. Fallout Shelter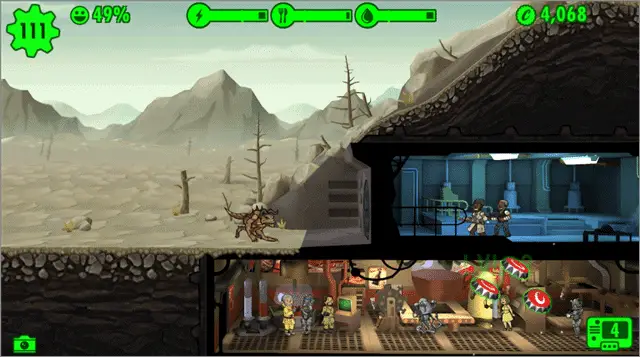 Fallout Shelter is fun, has a simple storyline, and the most unique gameplay. The players need to select a room from the plenty of options available and convert it into a dwelling shelter which is 2,000 feet beneath a bedrock by excavation. The users need to ensure that the residents do not die and are unharmed from all types of dangers.
Know your dwellers well, help them flourish, provide them with ideal jobs, and ensure their happiness. How about giving them weapons and outfits and training them to their best abilities? The players can dispatch residents above-ground to explore the blasted surface and can turn useless junk products into craft items. Will you be successful in fulfilling the needs of the people after the apocalypse?
Fallout Shelter classifies as one of the most played free city building games on Android and iOS devices.
Download Fallout Shelter for Android | iOS
3. Megapolis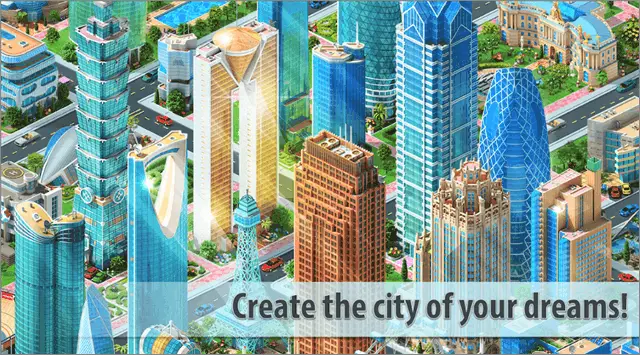 One of the best city building games for Android and iOS, Megapolis requires the players to construct a city of their dreams, starting from scratch. Develop an urban infrastructure, build a research center, and expand the mining industry. What more? This free city building game allows you to create replicas of real-life monuments.
The game uses realistic 3D graphics and throws challenging tasks at the players with rewards. Make sure that every decision that you take flourishes your Metropolis. You can also expand your city over the land and sea and compete against your friends to make your creation more exquisite and thriving than others. How about putting the Eiffel Tower and the Statue of Liberty in the same city?
Download Metropolis for Android | iOS
4. Designer City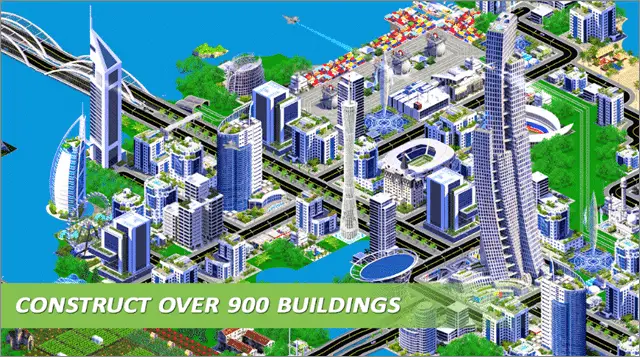 Designer City is different from the other free city building games as the gameplay is non-scripted, thereby giving the players creative freedom. They provide you with a massive area in which you can design your city, and no two cities will look the same because of the dynamic land generation. How about attracting residents to your island by building skyscrapers?
There are 75 challenges available for the players to take part in and 300 achievements that can be completed. The players can compete with their friends online and also visit other constructed cities to check out the infrastructure. Manage the transportation system and build airports, parks, and monuments the way you want in this town creation game.
Download Designer City for Android | iOS
5. City Island 3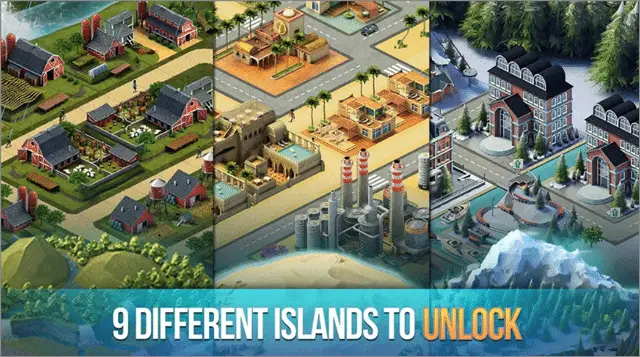 One of the best free city building games, City Island 3 boasts of intuitive gameplay that offers challenging tasks and rewards to the players. It supports high-quality graphics and allows you to build a city on an exotic island with some cash and gold being handed over to you in the beginning. What else? You have nine different islands to unlock which can be traveled to by using different means of transport.
The players can upgrade their islands by using hundreds of unique items available. The main aim of the gamers should be to make sure that they strike a balance between people, the number of jobs, and their happiness quotient. Another striking feature about City Island 3 is that the residents provide you with feedback.
Download City Island 3 for Android | iOS
6. Townsmen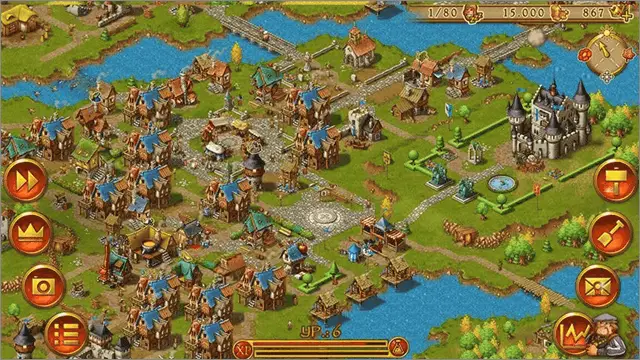 Townsmen is a different game as the players are given a village at first which they convert into a grand medieval empire. The residents of the village look endearing, performing their everyday routines. The players get to take part in challenging tasks spread across diverse surroundings.
You need to prepare yourself for natural calamities like famine, fire, and drought and find spots for mining ore. Collect taxes from the villagers in the form of coins and harvest farm crops. Build marketplaces and beautify your city with magnificent monuments, gardens, parks, and statues. What more? The building game also has meaningful weather and season effects.
Out of all the free city building games we've listed, Townsmen has the most exciting plot.
Download Townsmen for Android | iOS
7. Citymania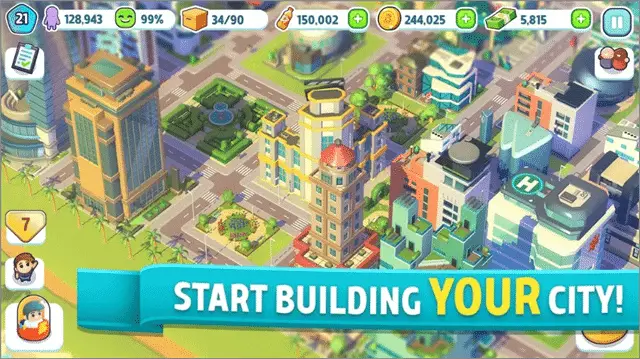 City Mania adds futuristic elements to city building simulation. Just like the other free city building games, the players can craft hundreds of unique buildings and expand the city from a town to a metropolis. City Mania allows you to recreate famous landmarks like The Leaning Tower of Pisa or the Eiffel Tower, thereby providing a mix of reality and creativity.
You can recruit dozens of funny characters, decorate your skyline with skyscrapers, and elevate the city to be the number one tourist destination. Build water towers and fire stations and visit the cities made by your friends to judge who's the best builder. If you're short of resources, you can hit the Marketplace for collecting extra cash and upgrades.
Download City Mania for Android | iOS
8. TheoTown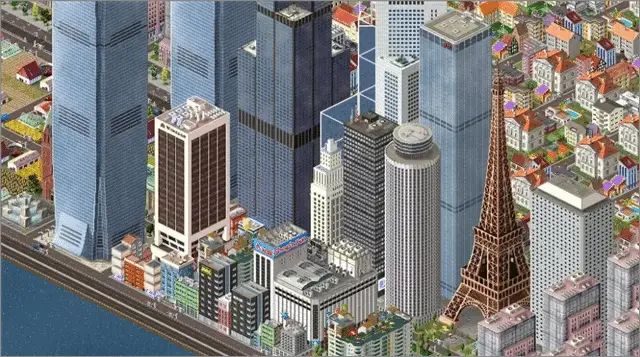 One of the best free city building games for Android, TheoTown offers pixel style graphics. You, as a mayor, can build your city with diverse zones to offer the residents basic amenities like food, water, and education. The game allows you to run and manage multiple cities at a time.
Establish great transportation networks by building train stations, airports, and bus depots. Customize the vehicles as per your choice and prepare for the natural calamities, fire explosions, and crimeṣ. You can also replicate real-life wonders and give them your own twist. Do not forget to collect the taxes from people which will be required to run the city you create.
Download TheoTown for Android here
9. The Battle of Polytopia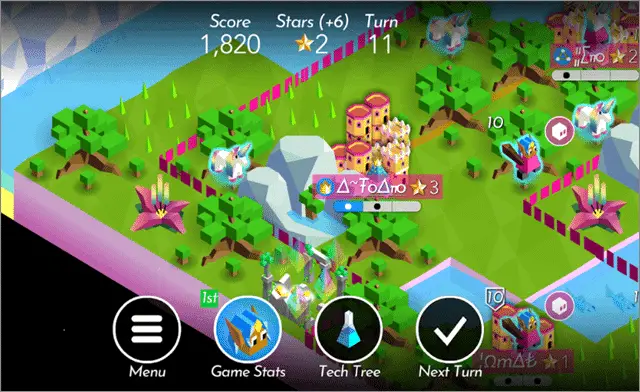 This turn-based 3D strategy game will remind you of the Age of Empires. The player chooses his/her tribe at the beginning of the game and gets a fixed amount of resources. The resources can, however, be expanded by discovering and hunting. One of the main goals is also to defend your establishment against the enemies.
The building game is solely based on survival in which the players take up the role of the leader of the civilization. Engage in farming and mining ore, train your warriors, and help your clan grow from a small village to a powerful kingdom. The Battle of Polytopia is played in real-time, and every game will be a new experience for you.
Isn't it one of the most interesting free city building games you've come across? Well, we vouch for it.
Download The Battle of Polytopia for Android | iOS
10. Township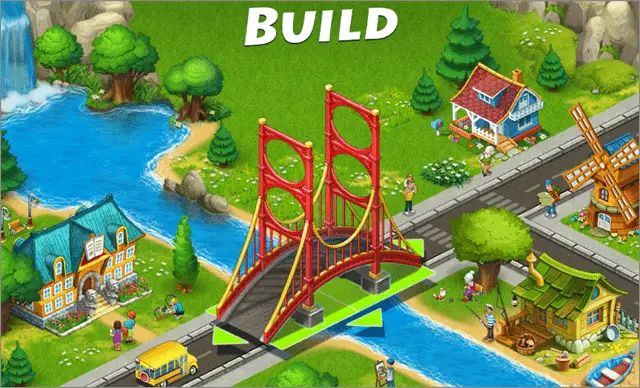 Township is a mix of city building and farming and one of the best free city building games. The player takes up the role of a city manager and harvests crops at the farms. You can process the crops in the factories, sell goods to develop your town, and indulge in trade with exotic countries. How about opening restaurants, cinemas, and other means of recreation to attract more people to your town?
The player can also run his/her own zoo by adding animals from anywhere around the world. Explore mines to extract resources and discover ancient artifacts. You can decorate your city by using country flags and famous real-life landmarks. Are you all set to bring exotic goods from the islands and take care of the animals? Let's get started!
Download Township for Android | iOS
11. Virtual City Playground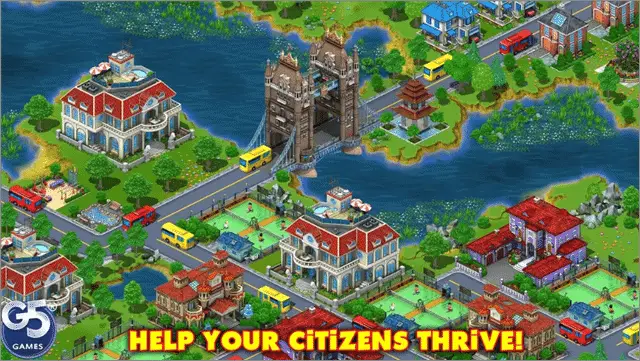 Are you in the mood to run a city? Get your hands on Virtual City Playground, one of the best free city building games for Android and iOS. The game is thoroughly enjoyable, progresses quickly, and has a simple interface. Build industrial buildings and manufacture retail goods to be delivered to the shopping malls.
Set up an excellent transport system that facilitates easy commuting for the citizens to the parks, stadiums, and cinemas. Recycle garbage, plant trees, and make your city go green. Add hospitals and fire stations and reward responsible citizens by arranging public events. What will you add to make your city stand out and reach new towering heights? A skyscraper, a casino or an airport?
Download Virtual City Playground for Android | iOS
Conclusion
You no longer need to rack your brain for looking out for the best city-building games. We've listed the free city building games for your PC, the best building games to buy and also ideal options for Android and iOS.
Best free city building games in our opinion are Forge of Empires, Rising Cities, City Connect 2, and Epic City Builder 3. If you're a gaming enthusiast and do not mind shelling out some cash, get your hands on SimCity, Anno 2205, Prison Architect, Cities: Skylines and Planetbase. We are spoilt for choice when it comes to the best city-building games for Android, but Fallout Shelter, Township, City Mania, Megapolis and City Island 3 would make it to our list of favorites.
Each of the names mentioned in the lists above will give you a unique and memorable gaming experience. Are you all set to be hooked to these city simulation games for hours of fun?
Also, check: