Audiobooks are a rage, and if you have been wanting to experiment with them but stopped because of the costs involved then here is the good news. Let's switch to the best of websites that offer free audio books. So if you love reading books, but are averse to owning hard copies, then this comes as a boon.
In the poem, "Leisure," William Henry Davies said,
"What is this life if, full of care,
We have no time to stand and stare."
With our busy lives and schedule, reading is getting lost in the race of priorities. Many readers have even shifted to Kindle, Nook, and iBooks. But still, struggle to take out time! Switching to free audiobooks is a great alternative. You can indulge in what provides you happiness, you do not need to spend a bomb, and yet listen to your favorite authors. All this can be done while commuting, driving, or whenever you can spare time in between your everyday tasks.
The Best 28 Website For Free Audio Books to Bookmark
The websites which are listed offer completely free audiobooks. There are no samples only, and no subscription plans either. Also, they are all legal sources, and make sure that you are never in a scoop.
However, we should keep in mind that since we're not paying for the services, the latest releases might not be available for free. But, if you're hunting for classics, you won't be disappointed.
Most of the websites and apps that we have listed will enable you to download free audiobooks in mp3 format, which can be listened to on your phone, desktop, or tablet. So, download audiobooks for free and listen to them at your convenience.
1. Librivox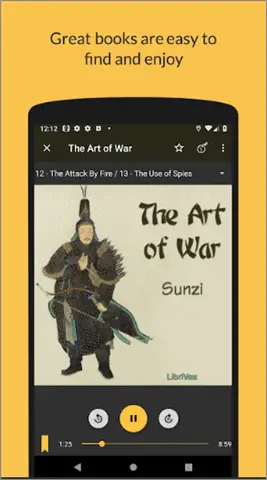 One of the best websites for free audio books, Librivox has a collection of over 24,000 titles. You might not find the best-selling novels or the new releases, but it is highly recommended for getting your hands on the classics.
People from around the world volunteer and read out chapters from the audiobooks that are available for free in the public domain. Moreover, you can look for audiobooks for browsing for specific titles and authors or by going into the genre and categories.
The books will be downloaded in mp3 format and are available in languages other than English as well. If you do not wish to download all chapters, then no worries. You can simply choose to listen to only a few of them.
Check out Librivox: Website | Android | iOS
2. Audible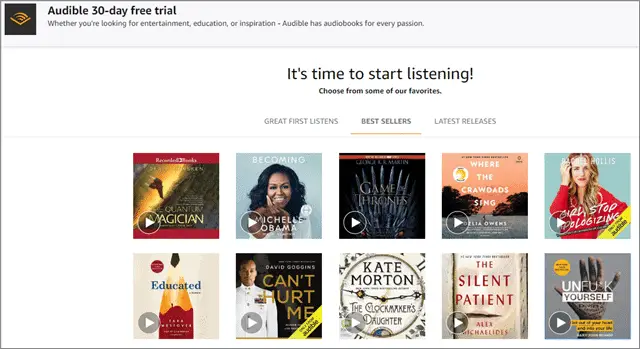 Audible is the largest supplier of audiobooks on the internet and is owned by the e-commerce giant Amazon. They give you a 30-day free trial during which you can download any two audio books for free.
However, if you wish to continue listening to the audiobooks, you will have to pay for the subscription plans after the free trial is over. The subscription starts at $14.95 per month.
Audible has the most expansive collection of audiobooks at its disposal so you can get your hands on the latest releases, as well as the best sellers of any given time period. The icing on the cake is that it also provides guided wellness programs and news.
Check out Audible: Website | Android | iOS
3. Lit2Go for Free Audio Books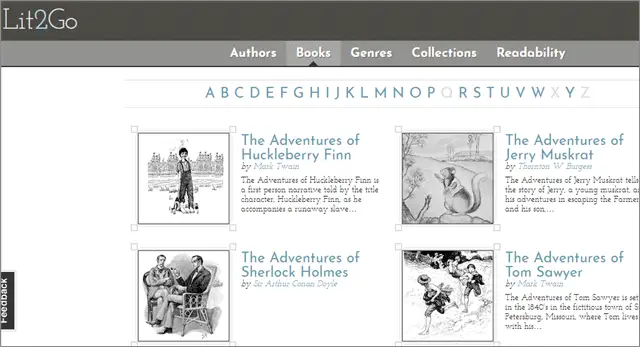 Lit2Go offers free audio books that can be searched by categories like Authors, Books, Genres, Collections, Readability. This website is run by Florida's Educational Technology Clearinghouse.
The website looks like a throwback site because of its black and white interface. In addition, it has a collection of short stories and poems as well. Browse through the free audiobooks online and download selected chapters and segments.
You can also download the audiobooks in mp3 format as well as PDF files. You can get your hands on our favorite classics like Oliver Twist, and Alice in Wonderland. Let nostalgia hit hard.
Check out Lit2Go here
4. Loyal Books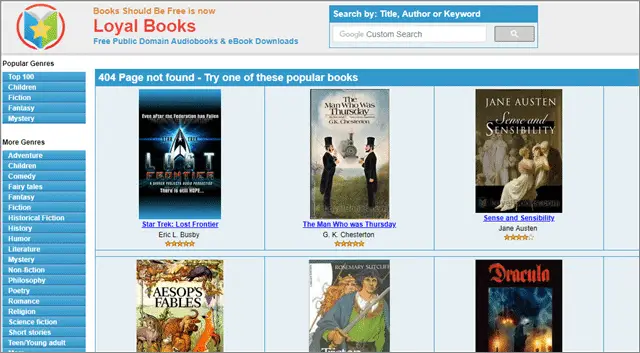 Does classic literature fascinate you? Then, Loyal books may be the ideal choice for you.
It was formally called Should Books Be Free and is a family-friendly website. Besides having a massive collection of public domain novels, there are books that can be downloaded in both mp3 and mp4 formats.
They also have a multitude of short stories available, and popular categories for free audiobooks are Fiction, Fantasy, and Mystery. Loyal Books also provides ratings and reviews from other listeners. You can, therefore, be assured of what you are getting to read before you begin to download the same. You can also save specific chapters only, to be streamed or downloaded later. The free audiobooks for download are all public domain books.
Check out Loyal Books: Website | Android | iOS
5. OverDrive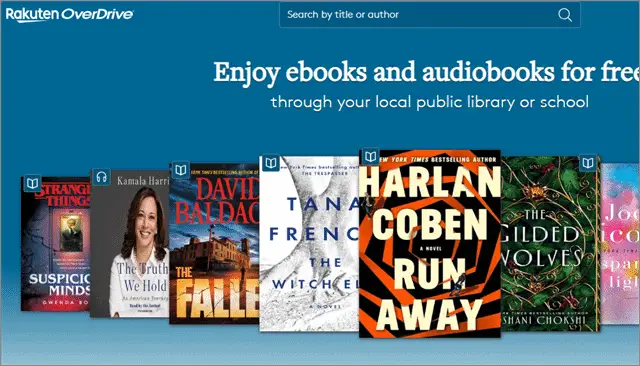 OverDrive offers free audio books online but functions in a different manner from the other websites. Instead of downloading audiobooks from the site, OverDrive enables you to borrow the audiobooks on rent from your local library.
OverDrive is available in 40 countries, and you only need the library card to get access to the collection. How do you know if your local library is registered with OverDrive or not? You can check here.
Fiction, Non-Fiction, Best-Sellers, you can browse through the audiobooks just as you do in a library and return the same virtually after the stipulated time period is over. Apart from free audiobooks, OverDrive also offers ebooks, music, and movies.
Check out OverDrive: Website | Android | iOS
6. Internet Archive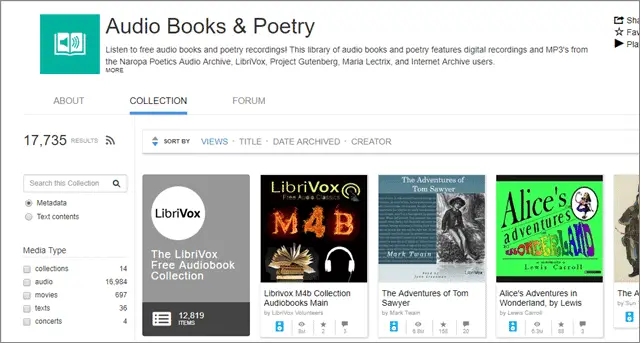 Internet Archive, has 17,000 titles when it comes to offering free audio books online. The collection includes an array of poems in the form of recordings which is quite unique.
You can browse for the audiobooks that you're looking for by entering keywords or even the subject of the book. The best part about Internet Archive is that they have a section called the most popular audiobooks which guarantee quality.
Thus, you can immediately get your hands on these audiobooks without thinking much. The website enables you to download the entire audio book at once or selected chapters; as per your preference. The downloaded files of the free audio books will be in mp3 format.
Check out Internet Archive here
7. StoryNory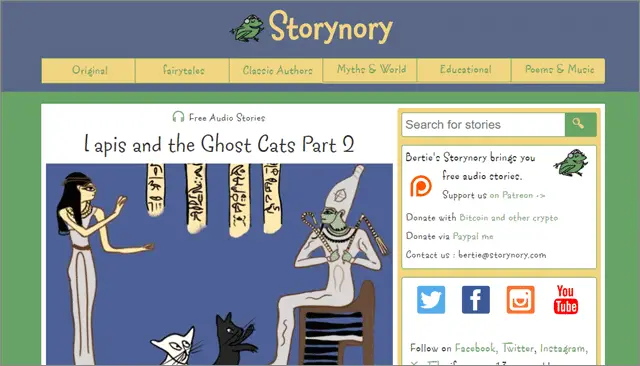 If you are looking for free audio books for kids, then here is a perfect choice. How about making them listen to bedtime stories instead of narrating it to them? Storynory serves the purpose and should be the ideal choice for you.
The website caters to free kids audio books and has a collection that ranges from classic fairy tales to original stories tailor-made for children. Storynory has hundreds of audiobooks including short novels for children. In addition, the website keeps adding new ones at regular intervals.
They boast of good narrators, and the downloads can be played on all devices.
Check out Storynory here
8. Open Culture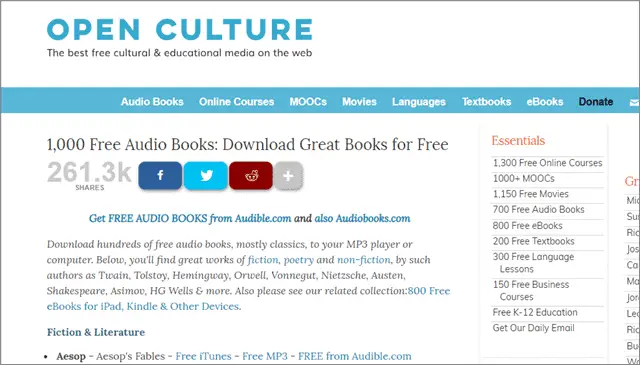 Open Culture has around 1,000 free audio books at its disposal and is the best website for cultural and educational media on the internet. It contains fiction, non-fiction, poetry and mostly classics which can be streamed or downloaded to be played later.
Apart from enabling you to download free audiobooks, Open Culture also has movies for free, language tutorials, ebooks, and online courses. You only need to scroll down the list which is in alphabetical order to look for what you want.
Check out Open Culture here
9.
BBC Sounds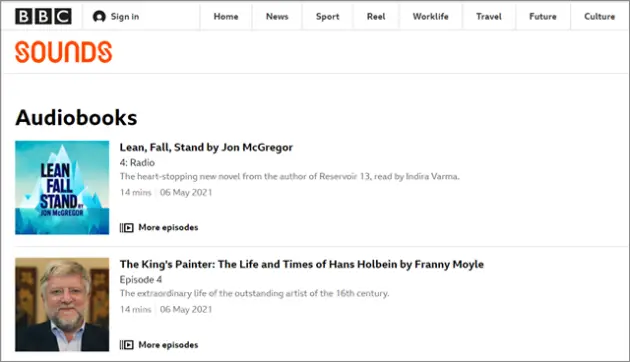 BBC Sounds is a relatively new streaming service launched in 2018 that hosts a variety of radio shows, podcasts, and audiobooks. If you don't mind listening to abridged versions of your favorite books, you will be guaranteed a great time with BBC Sounds. 
The streaming service houses some of the best audiobooks of writers like Margaret Atwood, Henry James, Sir Arthur Conan Doyle, Bernadine Evaristo, and many more. If you register for an account, you can save your favorite audiobooks and listen to them as and when you wish.
Check out BBC Sounds audiobooks
10. Digitalbook.io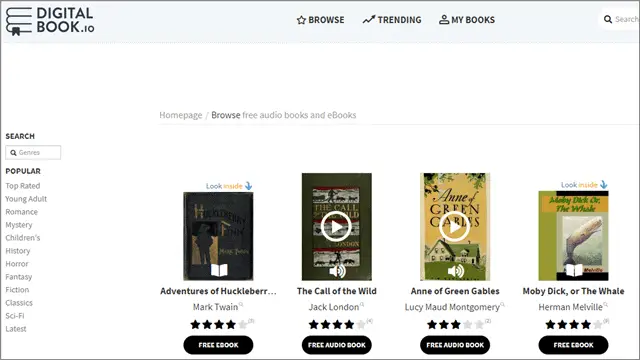 Digitalbook.io was previously called Librophile, and it boasts of 100,000 titles of free audiobooks and ebooks. It facilitates easy searching by scanning through the books available in the public domain for download.
It has an array of both famous titles and lesser-known ones. You can also browse through various categories. These include 'most popular', 'trending', or 'recently added' to gauge what other listeners are reading. The membership is free, and once you've signed up for the same, you can add the audiobooks to your shelf as well.
Moreover, if you wish to read them later, you can do so easily. The only catch is that you cannot download specific chapters only.
Check out Digitalbook.io here
11. Light Up Your Brain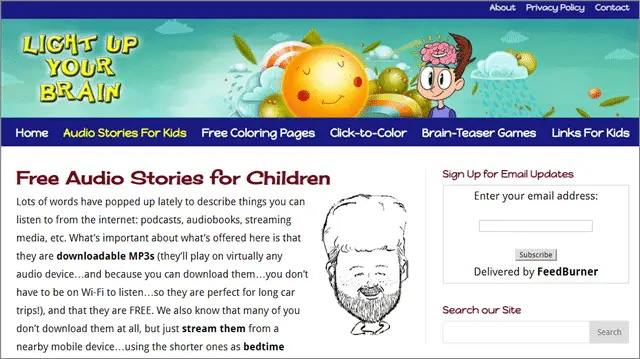 One of the best websites for free audiobooks for kids, Light Up Your Brain allows you to stream the content or download them on your device or computer, to be listened to later. What makes this website different is that it makes the transcript of the story or the narrative available so that the reader can read the text aloud.
Isn't this a good practice for the children?
They will get a good hold of the language as they utter the words themselves and even improve upon their pronunciation.
Alternatively, how about the parents reading out bedtime stories to the kids, once in a while? The free kids' audiobooks that the website has, last 10 times only. However, the catch is you cannot listen to selected chapters as the entire book is made into one file.
Check out Light Up Your Brain here
12. Spotify for Free Audio books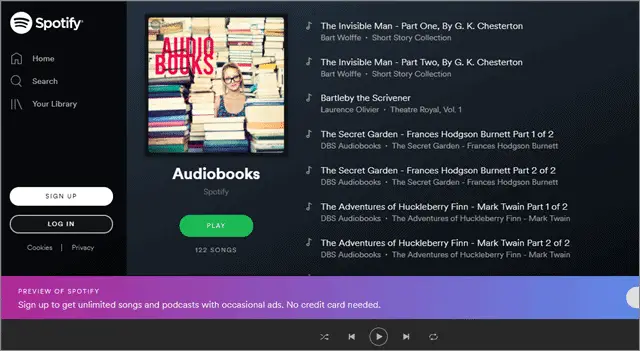 Spotify provides audio books for free but with a catch. If you are a free member, you can only stream the audiobooks. However, if you pay for the premium membership which costs $9.99 per month, you can download them.
Most of the titles that this website has are classics that are available in the public domain. The expanse is not massive but accessing the collection they have at their disposal is easy. You just need to hit up the name as you do for playing your music. Spotify has a wide range of free music as well.
The downloaded files can be played across all devices, but the free audiobooks are not very well organized. That is why it is difficult to locate what you're looking for. Additionally, even if you wish to browse through the audiobooks, you need to create an account first.
Check out Spotify here
13. Learn Out Loud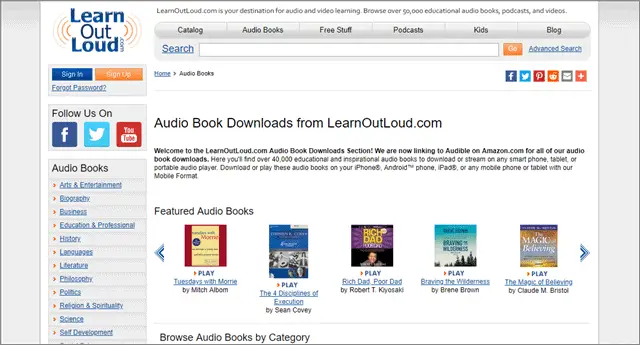 One of the best free audio books websites, Learn Out Loud also has a massive collection of free educational and video titles, documentaries, and speeches. They also make online courses, lectures, and documentaries available.
This is what makes this website slightly different from others of the same type. You can browse through the free audiobooks alphabetically, or search in categories.
Keeping a tab on time spent on the website will be difficult while scanning through Learn Out Loud because of the variety of content they offer. It is mandatory to create a user account before you can download audiobooks for free. Make your choice between Technology, Business, and Travel, or Science.
Check out Learn Out Loud here
14. Free Classic Audio Books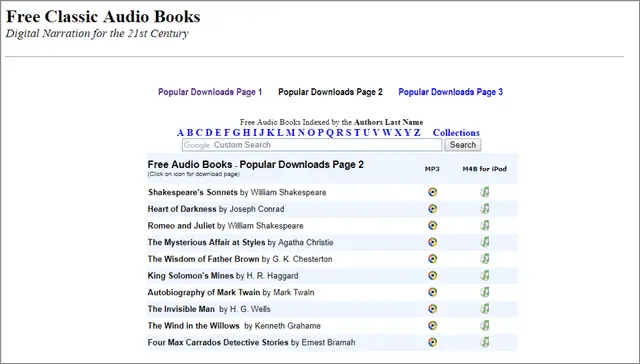 As the name of the website suggests, Free Classic Audio Books is your one-stop solution for locating all the classics available as free audio books. They also have a diversified collection of fiction titles. These can be scanned through by entering the author's last name, or by looking for them in the recently added or most popular sections.
Learn Out Loud enables you to download selected chapters if you do not wish to download the entire audiobook. You can download the free audio books in mp3 format and even mp4 for your iPhone or iPod. However, there aren't any pictures or graphics on the website so it is not very appealing or fun to use.
Check out Free Classics Audio Books here
15. Syncfree audiobooks
Sync enables you to download free audiobooks for teenagers. It is one of the few websites which cater to the needs of young adolescents, which means that the website is meant for kids aged 13 and above. But, anyone can access free audio books.
Sync makes a free reading program available to the kids by giving them two free audiobooks every week during the summer season. It is an ideal way to sharpen the comprehension skills of the children. It can be a well-planned vacation activity before they join back to school post-holidays.
You can subscribe to their alerts via SMS or email and get updates about the latest additions on the block.
Check out Sync here
16. Hoopla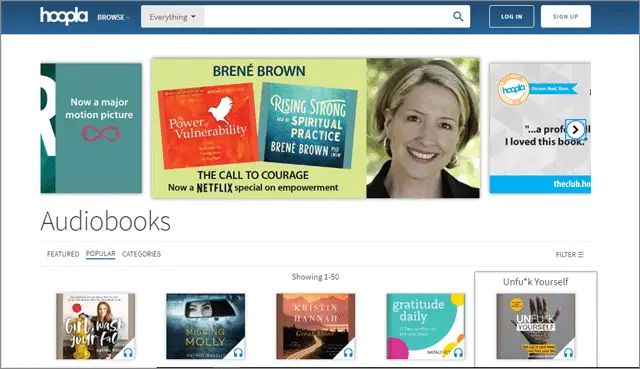 Similar to OverDrive, Hoopla gives you access to free audiobooks if you have a valid library card from a supporting library. Apart from audiobooks, they also have e-books and movies. Furthermore, the website can also boast of a massive collection of 500,000 content titles.
In order to download free audio books, you can browse through sections like popularity, new arrivals, and titles. You can also check out the average ratings of the audiobooks.
In addition to this, one can choose from highly-rated books and filter the free audiobooks for kids and adults separately. The audiobooks can be streamed or downloaded and are compatible with all browsers and devices.
Check out Hoopla here
17. Miette's Bedtime Story Podcast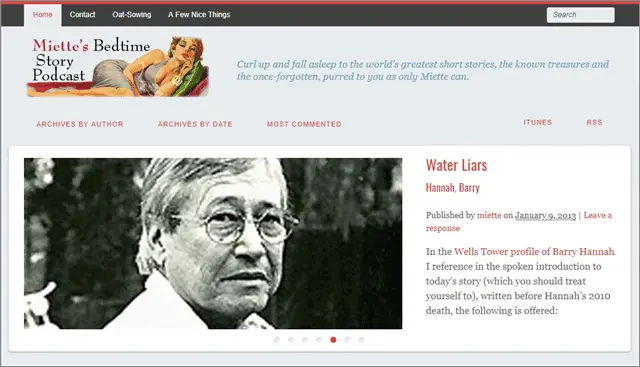 You will love this website if you're looking for free audio books which have stories that can be listened to before you go to bed. You can download audiobooks for free in mp3 format or hear directly from the website, or stream them through iTunes.
The popular categories include Archives by Author, Archives by Date, and Most Commented. Go to the most commented section to see which free audiobooks are talked about and make your selection accordingly.
The text of the audiobook is also available on the download page, thus enabling you to read along. There are 100 audiobooks available, and you can download an entire book at once, not selected chapters only.
Check out Miette's Bedtime Story Podcast: Website | iOS
18. ThoughtAudio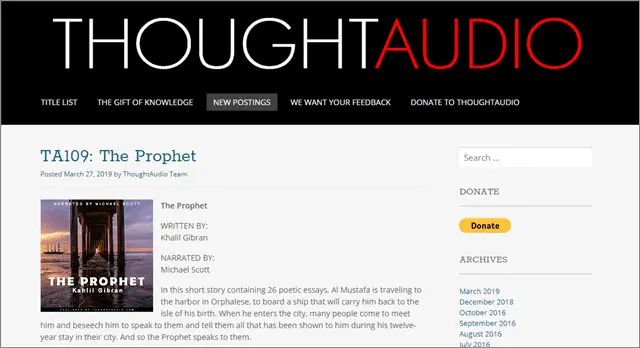 ThoughtAudio has classic audiobooks for free in philosophy and literature genres. You can either scan through the entire list to look for a particular audiobook. Or, you can simply take a look at the ones that were freshly added to the collection.
You can directly stream and listen to the free audio books from the website if you do not wish to download it. However, if you want to download an audiobook, you need to do the same by right-clicking to save the audiobook as no 'download' button is available.
The downloads will be available to you only in installments. You cannot download free audiobooks in bulk or at one go. A PDF version will also be available to you for download.
Check out ThoughtAudio here
19. Scribl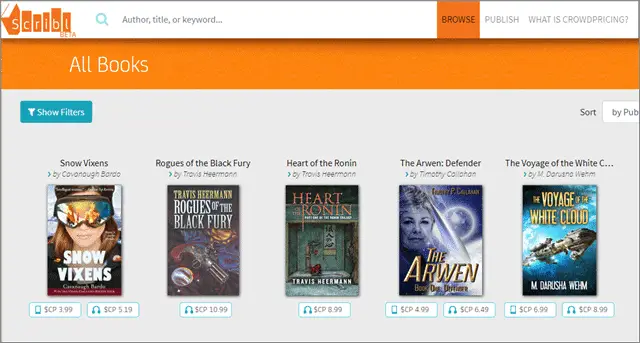 Not one of the best free audio books websites, Scribl still made it to the list because you will find a few rare audiobooks here. Make sure you are quick enough to grab them because the website puts a price on the audiobooks once it gains popularity.
You can scan through the collection by searching in the categories like author and title, or by the release date of the book. You just need to click on the audiobook to start streaming or downloading it. Scribl also has ebooks and podcasts.
However, there is a lack of content on the website with the total collection of free audiobooks accounting to only 200. You need to sign in to get access to the audiobooks and the download process is slow too.
Check out Scribl here
20. Lightspeed Magazine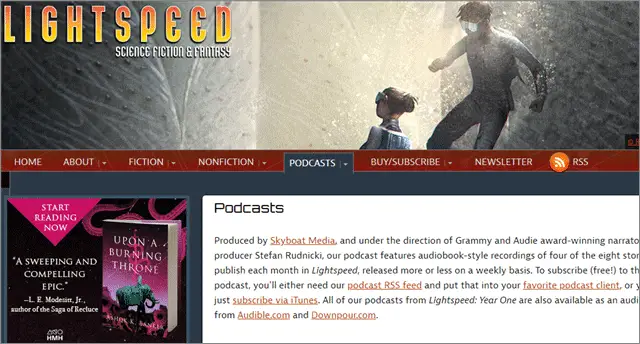 If you're interested in science fiction and fantasy genres, Lightspeed Magazine will be a good website for you to avail of the free audio books.
They have a podcast section that has recordings in the style of regular audiobooks. All the audiobooks on the website are narrated by the award-winning narrator Stefan Rudnicki. This is definitely a unique, professional and exciting touch to the hearing experience.
Next, to the name of the audiobook, you have two options available, read and listen. You can either listen to the content directly from the website, read the text or stream it via iTunes.
Check out Lightspeed Magazine: Website | iOS
21. YouTube
YouTube caters to videos be it movies or music and is not a primary medium for getting your hands on free audio books.
But, despite not being the best free audiobooks source, it still makes it to our list. It is because the website has many quality audiobooks that can be located and listened to if searched correctly.
You can either directly listen to the audiobooks as you listen to your regular music. These, for example, could be on YouTube or use a YouTube to MP3 converter to download the audio files from the videos.
No user account required and the audiobooks are free to stream, but they do not come with a download link, and there is no built-in way to locate them.
Check out YouTube here
22. Castbox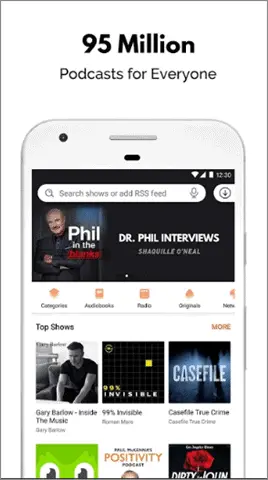 One of the best free audiobooks websites, Castbox has a separate dedicated section for free audio books. You will also find the popular audiobooks here, which you can subscribe to.
Every title that you choose to subscribe to can be checked upon later in the subscribed tab. The website boasts of 95,000,000 titles in audio content and includes audiobooks, music, top shows, news and politics, personal development, as well as comedy sections. All of them are free to listen and free to download.
Castbox also makes available top podcasts and radio channels. In addition, it has audiobooks by popular authors like Mark Twain, Rudyard Kipling, Jonathan Swift and the like.
Check out Castbox: Website | Android | iOS
23. PodCastle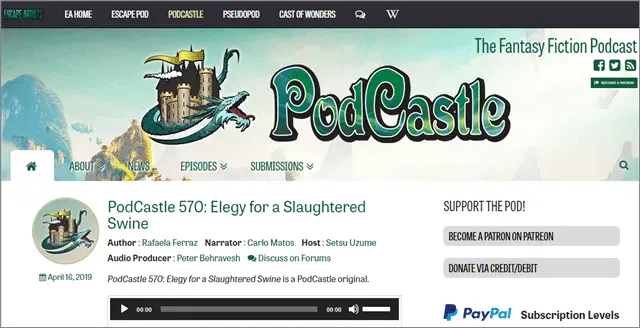 If you love fantasy stories, then Podcastle is the first online audio magazine for you.
It has fantasy features and audiobooks for free. In addition, it also enables the users to upload their own fiction stories, podcasts or recordings but for a fee. Pocastle adds new content to the website on a weekly basis.
Moreover, there are subgenres on the website that include high fantasy, dark fantasy, and magic realism among others. The stories released by Podcastle are usually 2,000-6,000 words long and are narrated by the authors themselves. The podcasts and free audiobooks are available for download.
Furthermore, these can be listened to across all platforms and devices.
Check out Podcastle here
Carry Your Books in the Pocket: Free Audio Books App To Install
24. Listen AudioBooks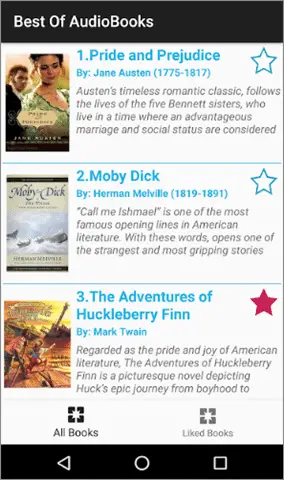 Listen AudioBooks has a wide range of free audio books in fiction genre ranging from science fiction to mystery and from romance novels to literary short stories.
The free audiobooks app has popular classics and even reference books that are required during various entrance exams. They also have religious books, audiobooks with prayers and the ones with meditations.
Listen AudioBooks also enables you to learn 45 kinds of different languages. In addition, it has various collections for kids and teens. Moreover, you can also adjust the speed at which you wish to listen to.
Check out Listen AudioBooks here
25. Self Help Audiobooks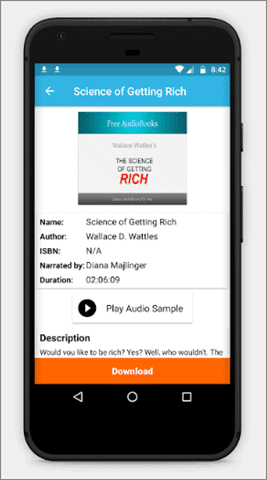 Self-help books are life changers and immensely gratifying. This website has titles like The Science of Getting Rich and The Art of Money Getting. So, go ahead and check it out.
Self Help Audiobooks is a free audiobooks app which has more than 100 public domain audio books for free. Browse through them, choose to play them via the app or download the same to be listened to later, even offline.
You will not find the latest releases here, but they do have a good collection of the classics.
Check out Self Help Audiobooks here
26. Free Audiobooks
One of the best free audio books apps, Free Audiobooks has an extensive collection of over 14,000 free public domain audiobooks.
You can scan through the genres like sci-fi, mystery, and romance but it specializes in classics. So the traditional titles that are easily available are Sherlock Holmes, Romeo and Juliet or even Moby Dick. Moreover, you will also spot the new releases and popular favorites here.
Free Audiobooks enables you to search by the title or the author. Also, you can control the speed at which you want to listen. You will receive notifications about new audiobooks that are being added, and you can also set a sleep timer.
Check out Free Audiobooks here
27. Oodles for Free Audio books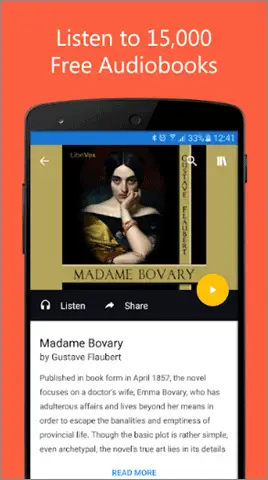 Oodles is a free audiobooks app that boasts 50,000 titles of free ebooks and audiobooks, out of which 15,000 are free audio books.
The books are divided into various categories which will help you quickly locate what you want to hear. The top books and the most popular authors are kept separately because they end up being the users' favorites. Even if you like a particular ebook, the link to the same in audiobook format will be given right next to it, if it is available on Oodles.
Get on hands on the world's greatest classics and your favorite authors as you carry your library with you even when you're offline.
Check out Oodles here
28. Free Books and Audiobooks by Sanity Audio Apps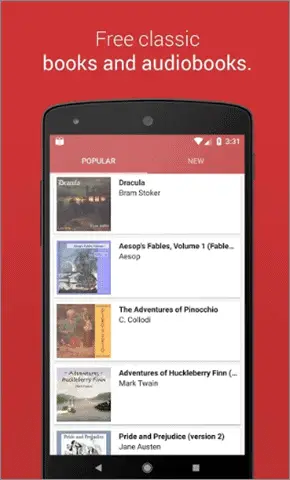 One of the best free audiobooks apps, Free Books and Audiobooks has a collection of 12,000 audiobooks. These come with no cost at all since all the titles available are public domain content.
You will find all your favorite classics here. In addition, you can also listen to audiobooks that will help you improve your English language skills. This app enables you to read the ebook and listen to the audiobook at the same time. There is lots that you can do.
For example, discover new audiobooks, get your hands on the old classics, or even scan through the ones put in the sci-fi and romance categories. Thankfully all this can be done easily as you explore this through the simple interface.
Check out Free Books and Audiobooks here
Conclusion
We've listed the best websites and apps to download audiobooks for free, keeping the quality parameters in check. When it comes to free audio books apps, most of the audio content that you're looking for will be taken care of by the above-mentioned names, and yes, they will not cost you a single penny.
Audiobooks help you multitask so that no time is ever wasted. Aren't they also a great way of beating the traffic jams? Moreover, who doesn't like things that come for free?
(Article Updated On 7th May 2021)