With the steady decline in the cost of data drives, cloud storage service providers have become as ubiquitous as email services. The exponential growth of smartphones also provided an impetus to the adoption of cloud storage as it offers the ability to store files remotely and access files on the go anywhere, on any device. But off the numerous options out there, which one is the best cloud storage for you?
Some cloud storage options, backed by tech giants, are household brand names – Google Cloud, Microsoft OneDrive, DropBox, or Apple iCloud. There are various other cloud storage providers who provide great features and are the ideal options for personal use, or for small and medium businesses.
There are specific nuances, features or characteristics of some of these cloud storage services that set them apart. But not each of the services is ideal for the use case of each user. We dive into the details to help you choose the best cloud storage for your needs.
But before we do that, here are our recommendations for your quick reference.
Quick Recommendations
For individuals, the top cloud service recommendations by purpose are:
Best free cloud storage for live collaboration: Google Drive
Best free cloud storage for syncing: Dropbox
Best free cloud storage for backup: IDrive
Best free cloud storage for photos and photographers: Degoo
Best free cloud storage for large files: pCloud
Best cloud storage for privacy: SpiderOak
For businesses, top cloud service recommendations:
Best cloud storage for the business overall: Box for Business
Best cloud storage for privacy: Tresorit
Best cloud storage for collaboration: G Suite / Office 365
Best free, self-hosted cloud service (for both businesses and individuals): NextCloud
Best Cloud Storage for Personal Use: 12 Top Services
There are several factors to look into when looking for the best cloud storage providers for personal use. We compiled this list primarily considering factors such as free storage offered by each service provider, affordable premium plans, cross-platform support, ease of use and consistent performance. We also kept an eye on useful, practical features rather than the fancy, gimmicky ones.
The following list should have something for everyone, whatever your requirements might be. If you are looking for generic cloud storage, most of the recommendations below should work out just fine for you.
1. Google Drive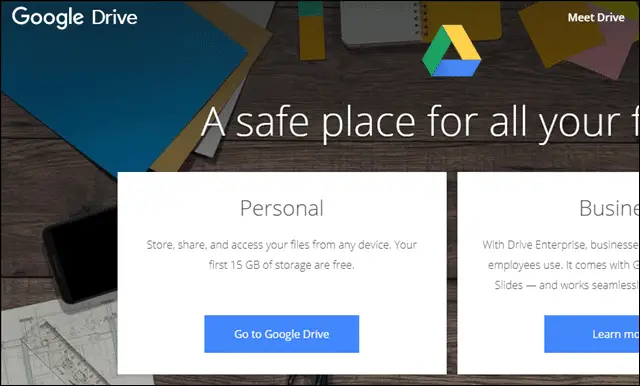 Best for: Anyone with a Gmail or Google account looking for easy collaboration and sharing
Free storage: 15 GB
Pricing: Starts at $1.99 per month for 100 GB
Google Drive, with its seamless integration into Gmail, is probably as well known and heavily used as Gmail. Built with the idea of being the simpler, easy-to-use alternative to Microsoft Office, Google Drive also acts as storage for your Google Docs, Sheets, Slides and other files. You can also upload any files you want, which are then synced to and available on Google Drive apps for Mac and Windows,  and Android or iOS.
Google Drive offers 15 GB of free storage for all users. If you need more storage, you can upgrade from $1.99 per month for 100 GB, $2.99 per month for 200 GB, $9.99 per month for 2 TB and going up to $299.99 per month for 30 TB. The service is excellent for quickly uploading files and sharing them with others via Gmail or just as links. Easy access controls allow you to limit access to specific individuals.
One of the best things about Google Drive is the simplicity in collaboration between multiple users, whether you are working on a document or a presentation. It does not get much easier than that for non-techie users, and that is a major factor in favor of Google Drive.
2. IDrive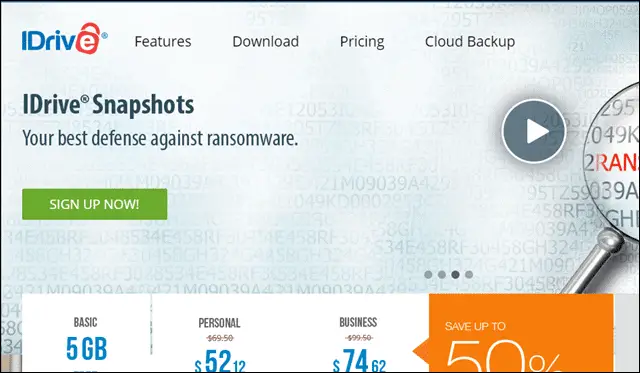 Best for: Multi-device data backup and shared storage
Free storage: 5 GB
Pricing: Starts at $52.12 for the first year for 2 TB storage
With 5 GB of free space, IDrive is one of the best cloud storage for personal use as it is an excellent backup service as well. While data backup is a focus for IDrive, it does allow you to upload files to your remote storage, manage them and share with others. If you do use it for an online backup of one or more devices, you would need to move to one of the paid plans to get the space necessary for all the backups.
Apart from backing up network drives, IDrive has all your files and folders synced in real-time across all the devices. The Offline View option allows your mobile devices to view data even when there is no internet connectivity. People worried about data sync slowing down the network will find this option more relatable as IDrive has a compressed file transfer that eases the network bandwidth and allows smooth transmission of files.
3. iCloud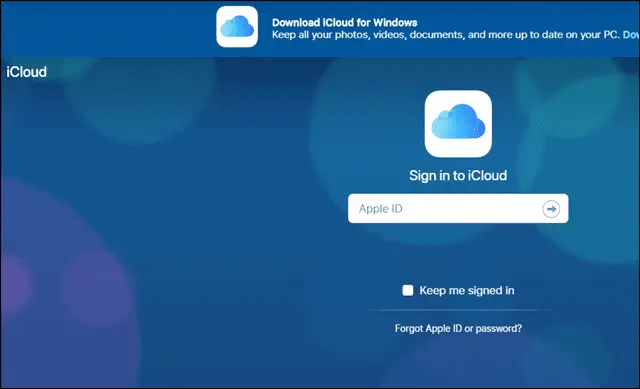 Best for: Mac and iOS users
Free storage: 5 GB
Pricing: Starts at $0.99 per month for 50 GB
iCloud is a hybrid of storage, backup and sync features that makes it unique. Started in October 2011 by Apple, iCloud is the best cloud storage for Mac and iOS users that allows them to store and sync their data (pictures, videos, documents, audio files, etc.) on Apple's remote servers and access them from any Apple device. It is a complete package for Apple device owners to backup your data to iCloud. You can also access the data on PC using the iCloud app for Windows.
It has a reliable integration with Apple platforms where you get 5 GB of space for free. If you want to backup your iPhone to iCloud, 5GB will not suffice, and you have to go for paid plans, but the prices are quite affordable.  Also, due to features like cross-device call or message alert, shared clipboard and many others, we'd encourage Apple device users to make full use of iCloud if they aren't doing so already.
4. pCloud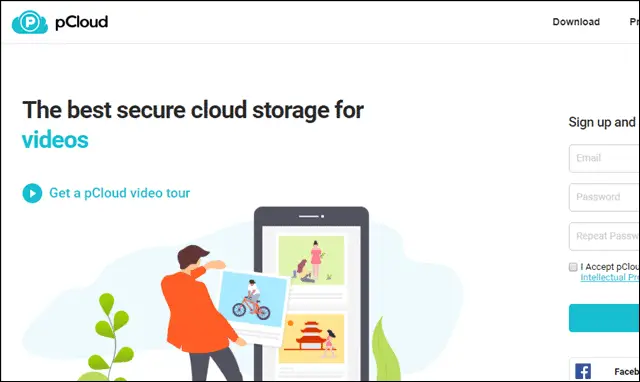 Best for: Uploading and storing large files; Getting tons of value via unique lifetime plans
Free storage: 10 GB
Pricing plans: $4.99 per month or $47.88 per year for 500 GB, $9.99 per month or $95.88 per year for 2 TB
Unique lifetime offers: $175 for 500 GB or $350 for 2 TB
If you have tried a couple of services, and have issues with the file size limit, pCloud is a lifesaver. With no limit to the file size that you upload, pCloud is a nice cloud storage for photos, videos, and other large media files.
Though it is certainly a great option to store media, all other file types are also supported. Available on both desktop operating systems and mobile platforms, pCloud is affordable, easy to use, and has a user-friendly and intuitive interface.
The pCloud Crypto service, which can be separately purchased, provides military-grade encryption so that you sit back and relax while working together on files with your friends and colleagues. Even without adding encryption, the free account with 10 GB storage is excellent to remotely store all kinds of files and have them sync across your devices. Going for the premium version unlocks more space, 30 days trash history, and more premium features.
5. Dropbox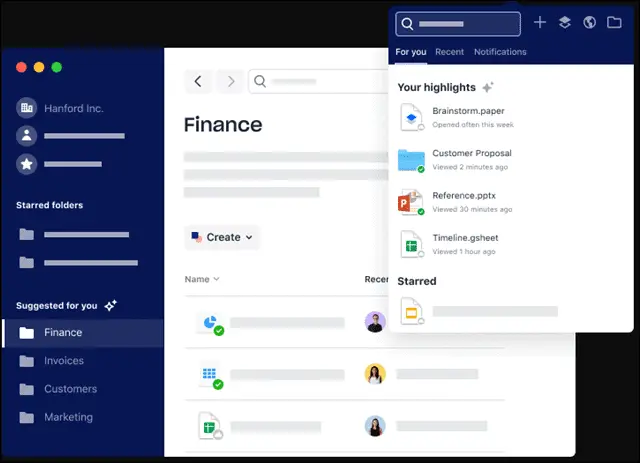 Best for: Absolutely seamless, fast data sync
Free storage: 2 GB
Pricing: Starts at $9.99 per month for 2 TB (paid annually)
Dropbox is the market leader and a household name when it comes to online storage that stays in perfect sync across devices, always. Though it started with sync as its unique feature, over the years, other services have gotten into the game as well and do data sync pretty well. Dropbox still leads the pack with seamless, fast and accurate sync and it remains its strength even today.
The basic plan offers only 2 GB of space but it is completely free to use. The paid plans start at $9.99 per month for a massive 2 TB storage, though I would indeed like cheaper, intermediate-level plans. The paid plans also offer an advanced search, 30-day file history and recovery and offline folders for mobile devices.
Dropbox lacks some of the conveniences of SugarSync but makes up for it with large storage and additional features at similar prices. If your requirement is just to keep some data synced across devices, Dropbox is certainly the best cloud storage option for you.
6. Degoo Cloud Drive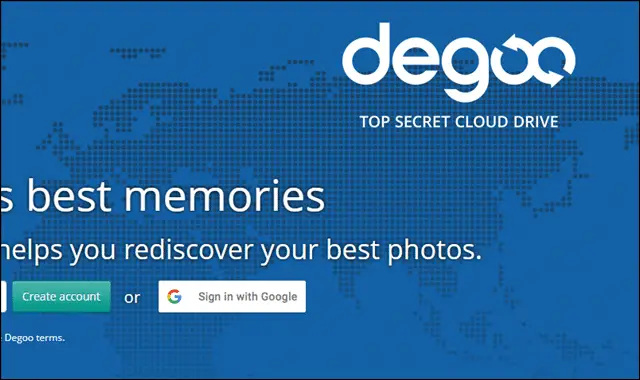 Best for: Storing and sharing a ton of photos
Free storage: 100 GB
Pricing: $2.99 per month for 500 GB, $9.99 per month for 10 TB
Degoo is a cloud drive service optimized to save your photos. The free plan offers a generous 100 GB storage but has some limitations. You can upload files only from one device, and your data might be deleted after 90 days of inactivity. The free version is also ad-supported.
Paid accounts have no such limitation on activity or even data replication. Your data can have end-to-end encryption for enhanced security and privacy. Ads are removed as well for the paid accounts. As remote storage for photos, it is a great way to re-experience life's best memories where you can share uploaded photos in real-time. It is one of the best cloud storage for photos with unlimited file size and no quality reduction.
The secure sharing with end-to-end encryption (a paid feature) ensures your privacy is not compromised. All the files are encoded in chunks and distributed to data centers in different countries, and none of the data centers has enough data to access the files. It also has a referral program where all accounts, even the free ones, can increase the space allocated to their account by referring to other users.
7. Box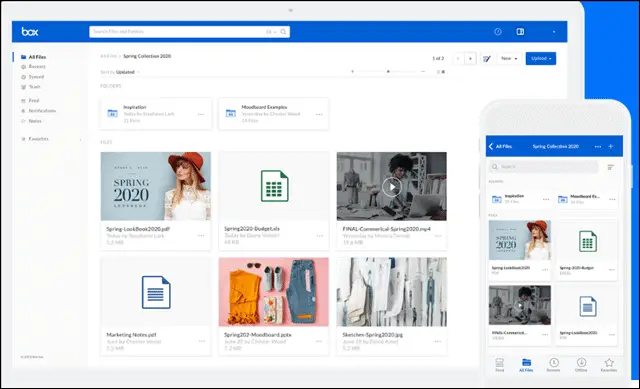 Best for: Securely storing and accessing your files from anywhere
Free storage: 10 GB (250 MB file size limit)
Pricing: $10 per month for 100 GB (5 GB file size limit)
Box offers a 10 GB free storage account for individual users and has a limit of 250 MB on file upload. Also, the paid plan at $10 per month, compared to the competition, is expensive for the 100 GB space. The ease of use and intuitive UI do earn it credit, but the main reason Box stands out of the competition and makes it to this list of best cloud storage providers is because it was built for businesses.
Designed from the ground up for business use cases, Box is a rugged service that caters to enterprises and adheres to all sorts of compliance requirements that large businesses require. When used by individuals, Box's customers get the advantage of all the measures the company takes to secure its infrastructure and technology to make it a top-class data store.
As such, Box users get enterprise-grade security for free or for a small (still feels expensive) monthly fee.
8. Zoolz Cloud Backup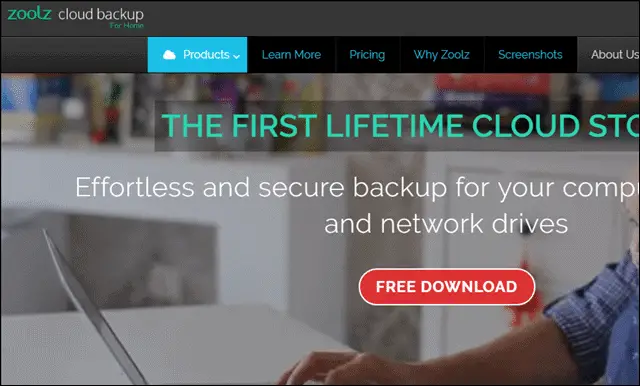 Best for: No-nonsense data back up
Pricing: $39.99 per year for 1 TB of space (Note that the product BigMind from Zoolz offers different pricing tiers with overlapping features)
Zoolz does backups and does it very well. Leveraging Amazon Glacier storage behind the scenes, Zoolz is designed for backups and storing your data for the long-term. If you are looking for quick data sync and retrieval, Zoolz is not the right option for you, But for backups, it is one of the best cloud storage providers.
Zoolz offers excellent security and privacy for your data. Your files are encrypted before they take off from your machine, where they are stored using military grade 256 AES encryption. With its Hybrid+ feature, you can double your backup and save a local copy of your backed up files to your server, network or external drive.
Zoolz is one of the best cloud storage for photos as well – it is designed to backup and generates photo previews of all your camera pictures so that all your pics are available from a centralized location. Photo-detection and discovery, along with smart filters make it an excellent choice for storing photos. It is a no-hassle backup service, where data you once back up, stays.
8. OneDrive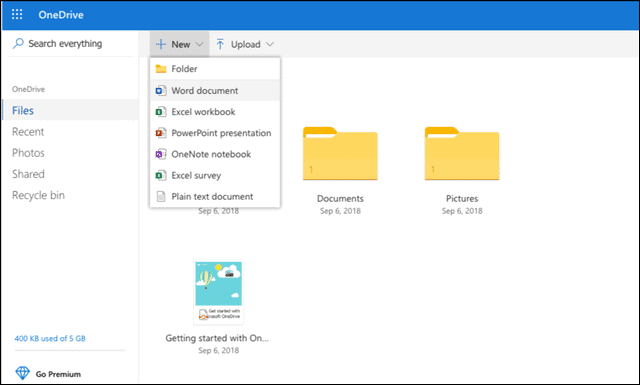 Best for: Windows users
Free storage: 5 GB
Pricing: $1.99 per month for 100 GB; more options available only with Office 365 plans
Well, the good news is that you don't have to separately download OneDrive in Windows as it comes integrated with your File Explorer and is your personal cloud storage. Although you can disable OneDrive from File Explorer, it's good to have it on your PC. OneDrive is simple yet powerful, where you can sync your pictures using Microsoft's Photos app across all your devices.
You can get OneDrive by itself or as a part of an Office subscription. When you want the OneDrive only, you can get 5 GB for free, and expand up to 100 GB for $1.99 per month. The free account and the $1.99 plan have some limitations not applicable to higher plans, like file sharing limits, no offline access, no file versions or restore, amongst others.
Just for storing your data online, OneDrive is not as advanced and feature-rich as the other Cloud Storage providers. But, if you use Microsoft Office and Windows, it might be the best cloud storage solution for you.
9. SpiderOak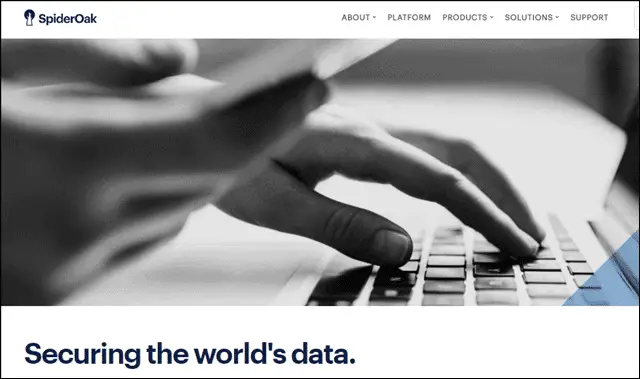 Best for: Complete privacy and security of your data
Storage: None; 21-day free trial
Pricing: Starts from $6 per month for 150 GB
SpiderOak is a well known, privacy-oriented cloud storage solution for data that protects your data from loss and ransomware. It claims to have no-knowledge encryption, which means your data gets encrypted before syncing, and since the service knows nothing about your data or your password, the data cannot be decrypted by anyone else. The SpiderOak One backup is worth exploring if the privacy and security features of other cloud service providers do not satisfy your needs.
It has a smooth and user-friendly collaboration and allows file sharing between teams with high security and compliance. Being a backup service, it offers excellent data recovery options. The point-in-time feature allows you to recover data from a malware attack, and the no-knowledge approach to encryption guarantees privacy.
SpiderOakOne Backup comes with a 21-day free trial and available both for mobile and desktop platforms. There is no free plan, and the lower price plans do seem a tad expensive, but it is a price easily paid by those valuing SpiderOak's focus on privacy.
SpiderOak has a special enterprise plan that is available for more than 500 users. You need to contact them to get the details for the same.
10. MEGA Cloud Storage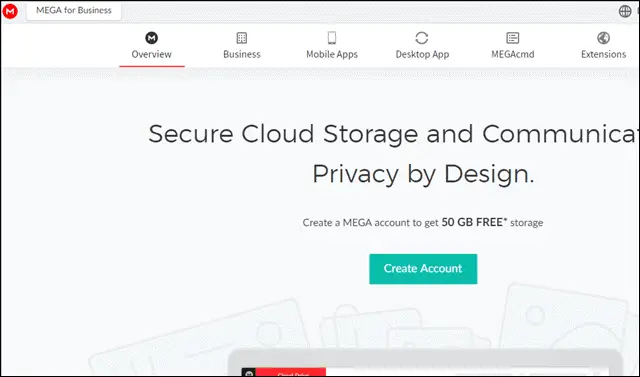 Best for: Encrypted remote data store and sync, chat and collaboration options
Free storage: Up to 50 GB
Pricing: Starts at €4.99 per month for 400 GB
MEGA is an excellent free cloud storage option as it provides up to 50 GB of free space. Born after the downfall of Megaupload, with some of the same people as founders, MEGA is fast and privacy-oriented service. Designed from the ground up with end-to-end encryption, it is a candidate for the most secure cloud storage as well.
MEGA offers an in-platform chat service as well for teams to collaborate on files. Your files and chats are encrypted so that you can feel free to exchange messages, share files, and conduct audio/video conferences without worrying about your data and privacy getting leaked.
To make the best use of its free online storage, you can use its mobile app for iOS and Android, UWP, and Desktop app. If you use the Thunderbird email client, you can share large files via Mega using their MEGAbird extension. Substantial privacy, robust integrations, secure file storage, and most of all, a considerable cloud space for free make Mega cloud a nice cloud storage option.
11. SugarSync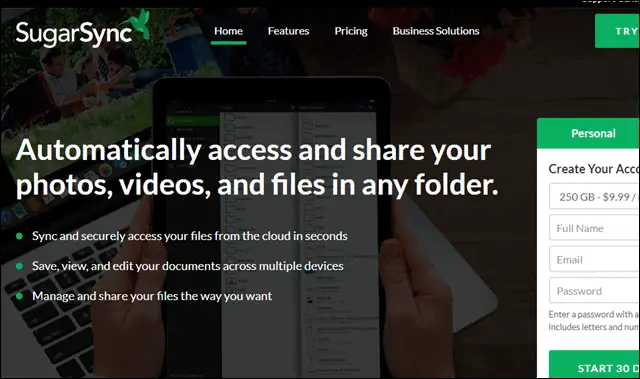 Best for: Seamless sync of any file or folder across devices
Free storage: None, Free 30-day trial
Pricing: Starts at $7.49 per month for 100 GB (for individuals), $55 per month for 1 TB storage (for businesses)
As the name suggests, the strength of SugarSync lies in seamlessly syncing your data across devices. If you are looking for the cheapest cloud storage, SugarSync is not the right option for you. With $7.49/month for 100GB, it seems expensive compared to the competition, but the service does make up for it by providing super-easy sync of any file or folder on any device.
With its automatic file synchronization, you simply have to right-click on a folder and add it to SugarSync. All the changes you make in one file get automatically synced across all the devices. You can also "Remote Wipe" the data. Thus, it allows you to remove all the synchronized files from any PC in case of any loss or theft.
SugarSync syncs your data in no time and provides a great experience.
12. MediaFire
Best for: Quick file uploads and sharing
Free storage: 10 GB, can be increased to 50 GB
Pricing: $3.75 per month for 1 TB (Paid annually)
MediaFire is a credible option to try when you are looking for the best cloud storage services to choose from. It has been a seasoned player for more than a decade and gives you 10GB of free space. You can boost it up to 50GB by doing some activities like referring it to a friend or following MediaFire accounts on social media platforms.
MediaFire's focus on easy upload and sharing is evident from the fact that it allows you to upload and share files without an account. Creating an account will ensure that your files do not get removed after a few days. With MediaFire, it's as easy as a breeze to store and share any file, type whether it's an audio, video, or document. It is web-based and also has mobile apps for iOS, Android and other platforms as well.
---
There are very discernable differences between the features of a cloud service offering for consumers and for businesses. For example, a cloud storage account for a business user usually offers a much larger space, more granular control over permissions and allows you to create roles/groups to share specific files with.
Though these features, at times, are overkill and confusing for a casual user, others might find them useful. For such power users, even business accounts are worth exploring.
Best Cloud Storage for Business
It is worthwhile to note that most cloud storage services offer business plans as well. Some of them might have been intended for individual use, but later started offering business plans as well (Dropbox, for example). Other services could be designed from the point of view of satisfying business requirements, but have some plans for personal use as well.
Anyways, the best cloud storage providers for businesses usually focus on data security, privacy, availability, extensive user management, permission controls and necessary compliances for all industries they serve. We looked into these business requirements while compiling this list of the top cloud storage options for small businesses and enterprises.
1. Box for Business
Best for: Businesses that require mandatory regulatory compliance and looking for a robust, collaborative cloud service
Storage: Unlimited
Pricing: $15 per user per month (paid annually)
Box for Business is an ideal solution for any small business or a large enterprise looking for an easy to use secure business cloud storage. Box's extensive list of integrations means that it has the ability to connect with most of the tools used in businesses. To seamlessly serve industries across the globe, Box stays in compliance with regulatory requirements of all sorts – GDPR, HIPAA, PCI, GxP, FedRAMP, and others.
Box offers different plans aimed at businesses of all sizes. Multiple levels of role-based permissions allow for controlled access to data, while native integrations with popular business tools like G Suite, Office and Slack make for a productive work setup. With its advanced security, access control, encryption, and complete information governance, Box stands out as a top cloud storage provider for businesses.
2. Tresorit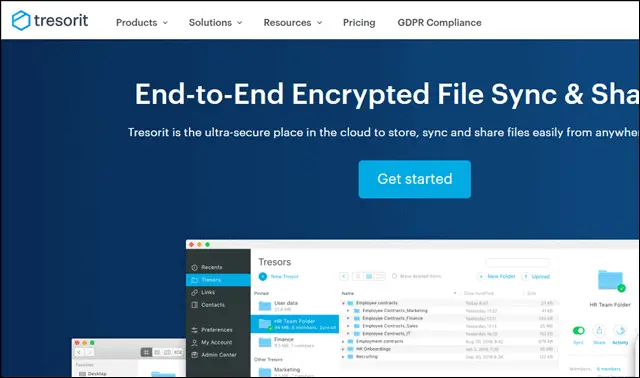 Best for: Security and privacy-focused file sync, sharing and collaboration for businesses
Storage: 3 GB (Individuals, free), 14-day trial (Businesses)
Pricing: $10.42 per month for 200 GB (paid annually for individual users),
$20 per month for 1 TB per user (paid annually for small business), more plans available.
Tresorit is a well-known service provider in the cloud storage market aimed at clients who place a premium on privacy and security of the data they upload and share. It allows the users of its service to link and secure devices, wipe them remotely if required, and provide tons of space for your files that stay in sync with all your devices. Multiple replications of your data mean that you never lost any data for any reason, and excellent permission control limits access.
Based out of Switzerland, Tresorit makes use of the strict privacy laws to boost the appeal of its services, and it is evident from a detailed privacy policy as well. Of course, you can choose where your data resides and can pick data centers in the EU, US, and other locations.
Like SpiderOak, Tresorit also boasts it has a zero-knowledge encryption system across all the devices, including Windows, macOS, Linux, Android, iOS, and even any browser. Its public-key cryptography, zero-knowledge privacy, client-side integrity protection and a feature-rich offering for teams are some of the valid reasons to go for this cloud service provider.
3. G Suite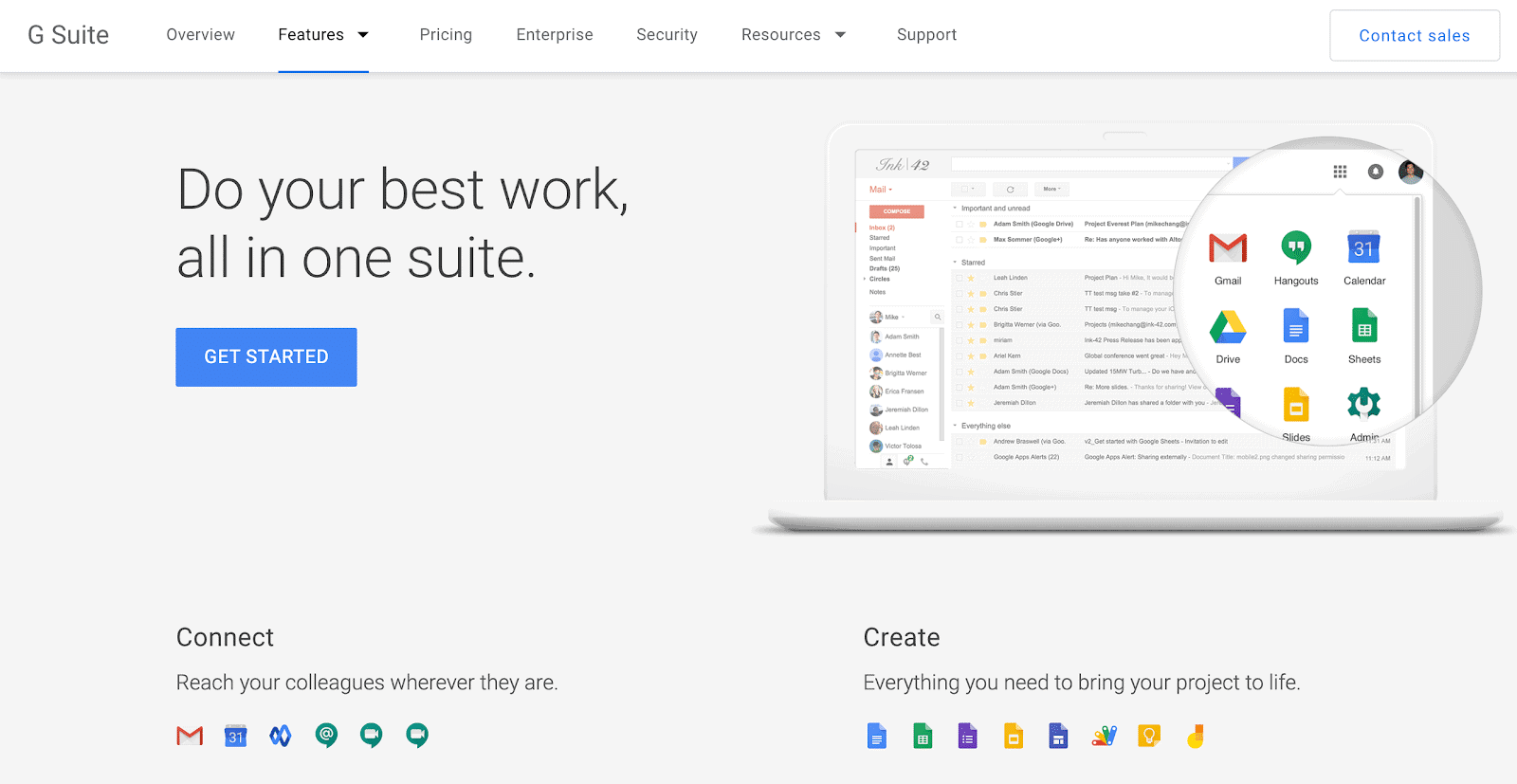 Best for: Small businesses looking for collaboration features and a host of business tools
Storage: 30 GB per user (Basic), Unlimited (Business and Enterprise)
Pricing: $6 per user per month (Basic), $12 per user per month (Business), $24 per user per month (Enterprise)
Google's business tools offering, called G Suite, offers businesses custom email services for their domain, shared calendar and a 30 GB storage space on Google Drive. Google Docs, Sheets, Hangouts and Meet make for a complete collaboration toolkit that is very valuable for small and medium businesses.
G Suite's enterprise offering is more robust and offers greater administrative controls, flexibility on data storage and handling, identity, and access controls, and audit reports to track user activity. Companies from industries that are heavy on regulatory requirements might need to verify whether it works for them, but otherwise, G Suite is certainly an excellent cloud storage and business tools solution for small businesses.
4. Office 365 for Business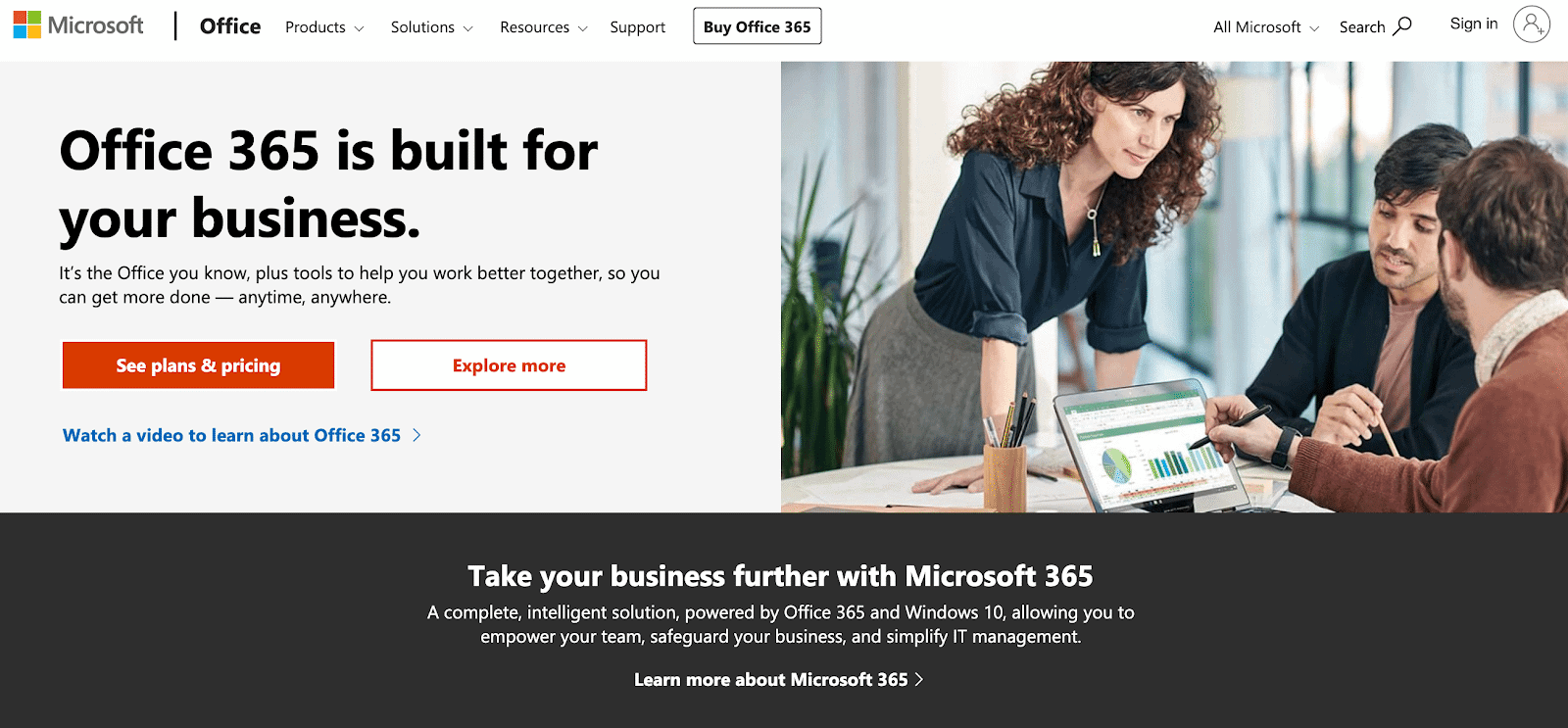 Best for: Businesses leveraging Windows and Microsoft Office apps
Storage: 1 TB
Pricing: Starts at $5 per user per month
Perhaps Office 365 is not the first name that pops up in your mind when you think of cloud storage for businesses, but with a 1 TB of space, it is definitely a solid option to consider. All Office 365 plans for business also include other popular Microsoft apps – Word, Outlook, Excel, PowerPoint, and others. Services like OneDrive, SharePoint, Exchange, and Teams. Based on the plan you choose, some apps and services might not be available.
For businesses already leveraging the power of Microsoft's business apps like Word and Excel, OneDrive is a natural choice for cloud storage. Integration of OneDrive with Windows is also a major factor driving the growth of the service and boosting the ease of use factor for OneDrive.
Microsoft has been in the business of providing software to industries for decades, and all that experience, when applied to Office, makes for cloud storage and work set up that is secure, collaborative and compliant. All these factors make OneDrive a solid contender for being the best cloud storage provider for any business.
Check out Office 365 for Business
5. Dropbox Business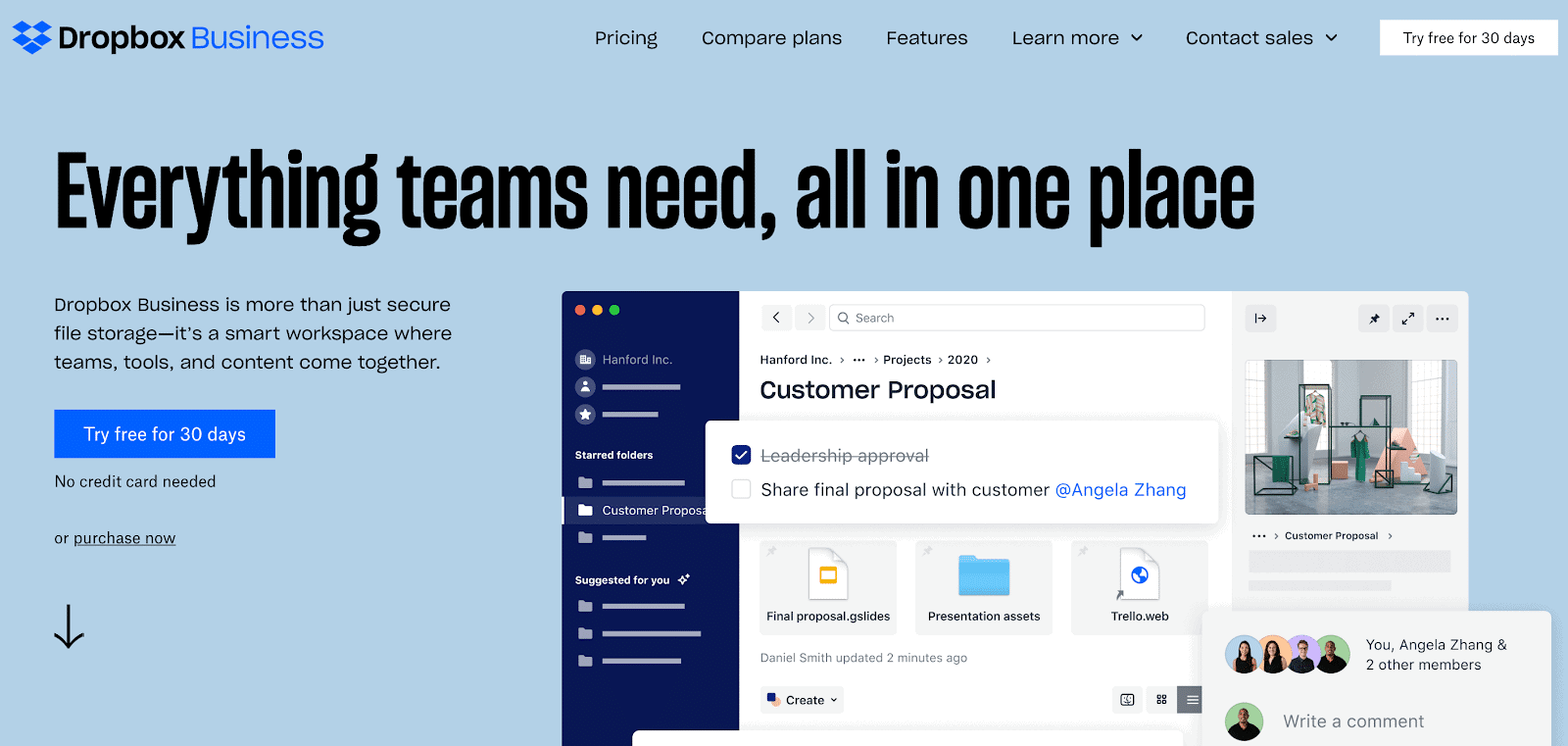 As mentioned above, Dropbox is definitely the best cloud storage option for individual users. Dropbox Business takes the same great product, adds a ton of storage, user management, and access control features along with tiered admin roles and audit logs to provide a comprehensive cloud services solution.
For standard business plans, the offered storage is 5 GB. You can upgrade to advanced or enterprise plans to get unlimited storage. Business plans also enable a longer, 180-day file history, better sharing controls and enable HIPAA compliance as well. With all the content protection, productivity and collaboration tools that come as a part of this package, Dropbox Business is an excellent candidate to consider as the cloud service provider for business users.
6. Dataprius
Best for: A cloud-driven approach for all business data, sharing, access, and editing.
Free storage: None, a trial account can be requested
Pricing: Flexible – depends on storage in TBs and the number of users required
Dataprius takes a different approach to cloud storage systems for businesses. Designed for large data requirements needs of huge companies, it is meant to be used for accessing and editing files in the cloud instead of synchronizing them to the computer of each user. Sync for a ton of files at a massive scale with a large number of users does get difficult – so this approach taken by Dataprius can indeed solve that problem.
Dataprius basically asks you to trust it with your data. They will sign Data Protection Agreements with you and offer the best of data security, privacy, recovery options, backups, monitoring and technical support for your company.
Dataprius goes off the beaten path while offering one of the best cloud storage for business. Based on your needs, this one might just be the right fit for your business.
7. SMAC Cloud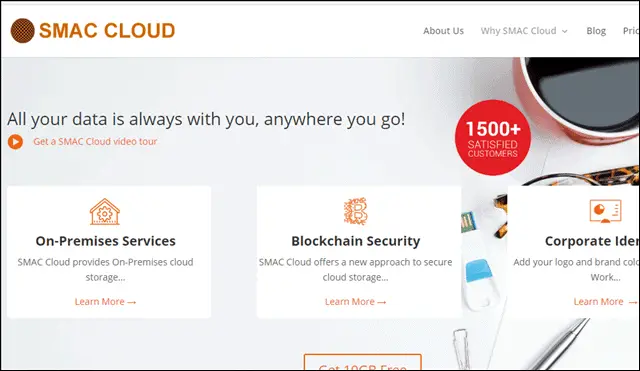 Best for: Securely hosting data on your own servers
Free storage: 10 GB
Pricing: €6.99 per user per month for 100 GB
SMAC Cloud takes a slightly different approach to storing data online. Though they offer a fully-hosted solution as well, you do have the option to use their software and technology, but host the data on your own servers. With either option, you get an easy to use online storage with the capability to share large files and keep folders in sync.
Its offline access allows you to use your data even when there is no internet connection. Using SMAC Cloud service, you can give your clients a way to access their files with a secure login on the web browser. Access to all files can be regulated via user management settings and role-based permissions.
You have full customization options while giving sharing rights to other users where you can specify the level of permissions to your files. Also available for Android and iOS devices, SMAC is a promising way to keep your data backed up, synced and available across various devices.
Best Service for Self-Hosting and Managing Your Online Storage
NextCloud 
Best for: Managing self-hosted cloud storage for individuals or large businesses.
Pricing: Free to download and use for your own cloud setup,  starts at €1900 per year for enterprises (Managed hosting)
NextCloud itself is not an online storage solution, but rather a software that you can download and install to manage a cloud setup hosted on your own servers. NextCloud is built for businesses and offers the flexibility of consumer-oriented solutions like Google Drive to large businesses.
With all of its software code open-sourced, NextCloud offerings are verifiably secure and private. NextCloud Hub offers a set of tools for complete content collaboration. NextCloud Files, one of these tools, offers you an on-premise Universal File Access and sync platform with all the required capabilities for desktop, mobile, and web interfaces.
Other tools like NextCloud Talk can be used to provide you an on-premise private audio/video conferencing and text chat using your browser and mobiles with integrated screen sharing or best collaboration. The NextCloud Groupware integrates your calendar, contacts, mail, and other productivity features to help your team be productive and efficient time after time.
NextCloud is something very different and is a solid offering for businesses looking to host their own data but are searching for the right software to do so. Even for individuals looking to self-host, it is a great option.
Conclusion
There are several top-quality cloud service providers in the market today. All of them offer overlapping features but all of them, mostly, try to differentiate their offerings to appeal to specific requirements of their customers.
As such, the best cloud storage service for you depends solely on your requirements, and you should be able to find paid as well as free services to meet those needs. We have tried to anticipate the most common requirement of consumers and explicitly stated our recommendations towards the start of this guide.
We are confident that those recommendations or other services listed here would work out just great for you. Do check them out!
Frequently Asked Questions
Q. What is Cloud Storage?
Cloud storage is a model of storing digital data online where the user's data is stored on a remote machine (server) instead of their own, local machine. Usually, multiple servers are used to create a large storage pool where multiple users can sync, backup or store their data. Ideally, these servers are accessible from any of the user's devices, allowing them to access this data even when they are not at home or work. Cloud storage is commonly used to sync data across multiple devices, to back up one or more devices or to simply store some files at a remote location.
Q. What are the advantages of Cloud Storage?
The advantages of cloud storage are: Easy access to your stored data from any device with proper credentials. Due to replication, your data is protected against hard drive failures or computer crashes. A flexible storage model means that you can get on-demand data storage capacity and never run out of storage space. It makes it easy to share files with others and collaborate on it.
Q. Which cloud storage is best?
The purpose and requirements of individuals, as well as business, are quite varied, and online service providers often have plans to cater to these different needs. We have listed the best services for personal use and for businesses above, and you can choose the best cloud storage that meets your needs from the list above.
Q. What is the best cloud storage for photos?
Our current recommendation for free photo storage is Degoo. Please be aware that data from free accounts on Degoo can be removed after a period of inactivity. There are other good options too, with their own limitations. We would encourage you to go through the above list to pick the right one for you.
Q. What is the best cloud storage for personal use?
Personal cloud storage is based on individual choice and needs. Currently, we recommend IDrive for online backup, Google Drive for collaboration and Dropbox for sync. You should go through our other recommendations and services listed in this guide to pick the right one for you.