Gacha games have specific gameplay, quite different from the regular ones we play. An integral part of Japan's game-playing culture, it is not that easy to pick the best gacha games. And for the ones who want to know what is a gacha game? Well, it combines JRPG combat and gacha mechanic culture with interesting events, characters, a storyline, and can be played in multiplayer modes.
So, excellent graphics, sound quality, storyline, different characters, stunning visuals as well as a good interface is the prerequisite for a good gacha system. With the boom in mobile gaming, most of the users are either looking for open source games or the best gacha games. These games are immensely popular and have a dedicated army of loyal fans along with millions of mobile game downloads.
33 Best Gacha Games For The Ones Who Love Mobile Gaming
The hallmark feature of these games is the gacha element. The name gacha is derived from the Japanese term 'gachapon' which signifies a vending machine that supplies capsule toys.
You pull or spin the machine by using in-game currency. You might get prizes in the form of a new character, cards, or items, depending on your luck. The prizes can also be used to upgrade your gameplay or become a part of your items collected.
We've listed the best gacha games or mobile RPG games (role-playing games) that you can play on your smartphones. And the mobile game is free to play.
1. Azur Lane: Build your fleet, Commander!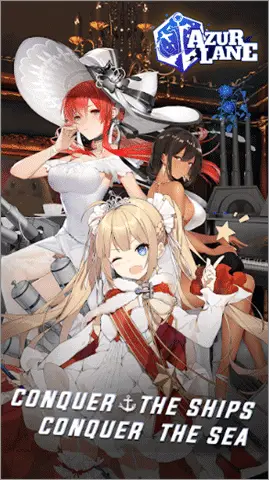 Developer: Yostar Limited
If you've heard of Japan's Kantai Collection gacha RPG, which is extremely popular, let us tell you that Azur Lane is inspired by it. The gacha game is a combination of 2D shooter and RPG. 
Every character belongs to the World War II era and consists of only girls. In this story mode, you form flotillas and put up a fight against the bad guys, and need to defeat them. Choose from both manually controlled and artificial intelligence-based battles in the Azur Lane gameplay, the choice is yours. 
With Intuitive game modes and an overwhelming user-interface, this is our favorite gacha game. Go girl power!
Download Azur Lane Gameplay on Android | iOS
2. Fate/Grand Order
Developer: Aniplex Inc.
Have you seen Fate, the popular anime series? This gacha game has picked its different characters and cast from that source.
One of the best gacha games, Fate/Grand Order RPG gacha has an impressive story mode. You get multiple units to summon, various special events to participate in, and indulge in anime-style graphics. 
An organization has confirmed that Earth's future is in danger. You are the Master in this tale, who needs to make his/her team of Heroic Spirits and defeat the enemies. So, with the battle mode on, choose your tribe and get going in this mobile game.
Download Fate/Grand Order on Android | iOS
3. Honkai Impact 3rd: Anime Action RPG Game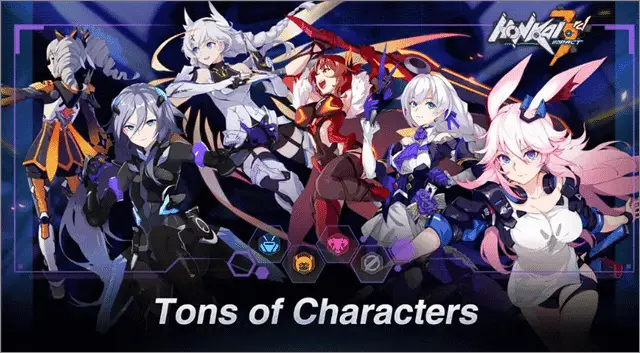 Developer: miHoYo Limited
We cannot have a list of the best gacha games and not have Honkai Impact 3rd. With a great storyline, this gacha game lets you lead your gacha life and direct it with different characters, form groups, and defeat enemies.
While the battle mode is on, you can move all your Valkyries swiftly in the direction you want. With unique story mode, stunning visuals, and amazing graphics, this gacha game is beyond our imagination.
Download Honkai Impact 3rd on Android | iOS
4. The Alchemist Code: An Epic Strategy RPG
Developer: Gumi Inc.
One of the best gacha games, The Alchemist Code, is immensely popular. Instead of the regular JRPG mechanics, the game uses the strategy RPG gacha style. This signifies that the players have to move units by navigating them through the board to fight enemies in the various game modes.
The PvP gameplay is very competitive. They have a multiplayer mode, as well. There are 50 collective gacha characters, 3D terrains, and grid-based movement. You get ample opportunities to unlock new abilities. 
So, are you ready to traverse through landscapes and get into battle mode skills in this gacha world gameplay?
Download The Alchemist Code on Android | iOS
5. Bleach Brave Souls – 3D Action Game
Developer: KLab
The action-based gacha game with 3D graphics and stunning visuals is based on the super hit manga Bleach. You choose your favorite character from the Bleach Universe and form your team. 
The voice-over for the special moves is done by famous Japanese anime artists. You can pick your favorite character from the film to build a team and even merge different characters that were not there in the original anime. There is no end to the possibilities!
Download Bleach Brave Souls on Android | iOS
6. Valkyrie Connect
Developer: Ateam Inc.
One of the best gacha games that everyone can vouch for is Valkyrie Connect. It hit the top rankings when it first released and is our favorite gacha game.
You create a strategic team by combining your best bets. In this mobile game, you are a part of easy-to-play battles alongside other players.
The multiplayer gacha mechanic gameplay includes both co-op and competitive modes. The scores are updated real-time. Each new character has its own story and comes with a set of strengths and weaknesses.
So, let us immerse ourselves entirely in the fantasy world of gacha life.
Download Valkyrie Connect on Android | iOS
7. Fire Emblem Heroes – Strategy RPG
Developer: Nintendo Co. Ltd
Nintendo's hit Fire Emblem Heroes- strategy RPG is fun, full of colorful graphics, and is our favorite gacha game. There are a variety of characters in this gacha life and you can fight customized battles. Choose your character, also called Heroes, in this gacha game. 
One of the best gacha games, Fire Emblem Heroes, has an original tale to tell. A new character from across the Fire Emblem universe meets and tests their mettle on the battlefield. Do not forget to accurately weigh the pros and cons of each gacha character's weapon.
The perfect mobile RPG to lead your army with simple controls and attack your foes only by swiping up.
Download Fire Emblem Heroes on Android | iOS
8. Sword Art Online: Memory Defrag – An SAO anime action RPG quest!
Developer: BANDAI NAMCO Entertainment Inc.
If you are hunting for the best gacha games, look no further than Sword Art Online: Memory Defrag. The perfect mobile game, it is an action-adventure-based gacha RPG game that takes inspiration from the 2D anime Sword Art Online (SAO). If you've seen the manga, you will spot a crossover.
You can pick fearless fighters from the anime. Tap to attack, swipe to dodge, and upgrade characters with weapons. You can also indulge in playing the multi-player version, join a guild, and compete in real-time.
Download Sword Art Online on Android | iOS
9. Summoners War – Classic Mobile Collection RPG
Developer: Com2uS
This action-packed RPG which is one of the best mobile gacha games has been downloaded more than 50,000,00 times. The plot in this game begins with your jump into the Sky Arena and hunt for the Mana Crystals. You direct 100 different types of monsters to emerge victorious in the Sky Arena. So, assemble the beat team and strategize your moves well.
Let us warn you that mobile game development progresses at a slow speed. You, as the hero, might have a hard time beating the top players. Does this stop Summoners War from being one of the best gacha games? The answer is no!
Download Summoners War on Android | iOS
10. GrandChase – Gather and Slay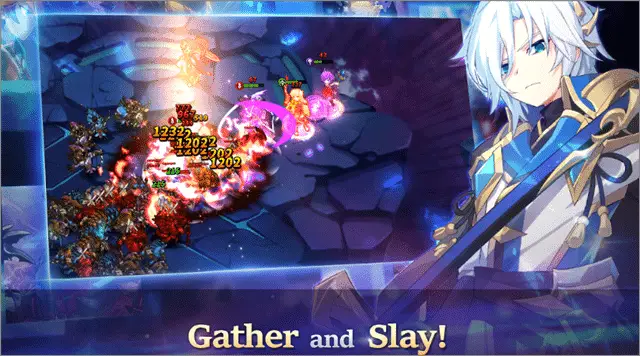 Developer: Cog Co. Ltd
Have you heard of or played the popular 2D side-scroller MMORPG called GrandChase? With the best gacha mechanic, GrandChase is a smartphone adaptation of the same. This one, of course, includes more elements that are symbolic of the gacha system than the predecessor.
The gameplay includes a deep story, some great heroes, 100 monsters, and tons of game modes. It has a fair F2P business model, and the real money will make you progress faster. Formulate some intelligent strategies up your sleeve and build your tower defense team. So, let us get going and immerse ourselves in this fun and engaging game.
Download GrandChase on Android | iOS
11. Epic Seven – PLAY THE ANIME RPG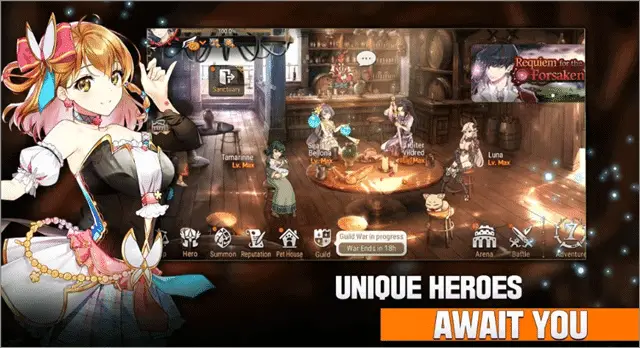 Developer: Smilegate Megaport
If you've never played Epic Seven before, you would not know what good gacha games are all about! Epic Seven has a great storyline, some fantastic graphics, and is perfect for mobile gaming. You will also find a lot of crossovers and various events to participate in. If you think the best gacha games should have meaningful heroes and gacha mechanic, this one lives up to that, as well.
In this tale, an ancient queen has woken up from her deep sleep and invites you to her world. Are you ready to traverse to a parallel universe? You embark upon a journey where each correct step will earn you rewards. Get into your battle mode, and hunt for monsters and build a team of up to 4 heroes.
Download Epic Seven on Android | iOS
12. Destiny Child
Developer: Shift Up
One of the best gacha games ever made, Destiny Child, has the coolest story you'll ever come across. The gameplay is fun and there are a lot of crossovers going on throughout. With a multitude of events to participate in, there isn't a single dull moment while you are in the game.
With a unique combat system and impressive graphics, you have to collect cards in this battle game. Every character has a different background story and a discreet voice.
Download Destiny Child on Android | iOS
13. Raid: Shadow Legends – Epic Collect & Battle RPG Game
Developer: Plarium Global Ltd
Are you on the hunt for games like Fire Emblem? You must get your hands on this one then. Raid: Shadow Legends started with a bang. This mobile game got downloaded 5,000,000 times within the first few months of its initial release. In a sea full of RPG anime games, this one comes as a breath of fresh air and is one of the top gacha games. 
The game includes medieval graphics and realistic environments. You can choose your favorite heroes from different races, like Undead, Skinwalkers, Elves, and Knights. Build a tower defense team and protect the world of Teleria from enemies.
Download Raid: Shadow Legends on Android | iOS
14. Marvel Future Fight – Assemble your team of Heroes
Developer: Netmarble
Are you a Disney heroes fan?  If yes, you must get your hands on Marvel Future Fight right away. The game is rich in content with a lot of battles, event modes, and stories to participate in. You get a wealth of energy to execute all your actions in this gacha game.
The combat is an action-RPG style where every team includes 3 superheroes and you use them one at a time in your fights. This ensures the fun quotient of the game and makes it totally worth experiencing.
Which is your favorite character from the Marvel Universe? Choose from the 200 options available and start playing.
Download Marvel Future Fight on Android | iOS
15. AFK Arena
Developer: Lilith Games
AFK Arena takes on you a beautiful ride full of an exciting adventure tale. You can sit back and have a relaxed time while you are playing this game since it does not involve too many complicated strategies and gestures.
A significant part of the game's success is because of the heroes and the art style. Form a team, let the gacha characters put up a fight against the enemies, and gather the loot. What makes AFK Arena one of the best gacha games is that you only need to dedicate 10 minutes every day and you are sorted.
Download AFK Arena on Android | iOS
16. Monster Super League
Developer: FourThirtyThree Inc.
If you love Pokemon, GBA games, and anything to do with it, you'll like Monster Super League, as well. Although it is a hero collector, you do not have to catch monsters like the other JRPGs. All the characters are inspired by Pokemon.
Every hero goes through 3 evolution stages and comes in all shapes and sizes. Some of the hero collector modes are quite challenging. You get rewarded when you cross each one of them.
What makes Monster Super League one of the best gacha games is that it is a perfect combination of old and new mechanics used in mobile games. Blending challenging advancement with bulk actions and decent resource allotment, MSL is here to stay.
Download Monster Super League on Android | iOS
17. Marvel Strike Force – Squad RPG
Developer: FoxNext Games
Yet another Marvel-based fascination to make it to our list, Strike Force is an immensely popular gacha game. You battle against rivals by teaming up with allies. The gameplay is visually stunning and full of action.
You get to witness the superheroes and the villains come together to protect the Earth from an all-new assault. Spider-Man, Loki, Iron Man, and Doctor Strange; who all do you want in your squad? As you move ahead in the Marvel strike force game, you will be able to upgrade your villains and superheroes. 
Download Marvel Strike Force – Squad RPG on Android | iOS
18. DC Legends: Battle for Justice
Developer: Warner Bro. International Enterprises
One of the best gacha games, DC Legends: Battle for Justice, reinstills upon the fact that it isn't possible for one person to save the world, and teamwork is the key. Also, it is Warner Bros' first official entry into the gacha element!
Recruit your favorite heroes and supervillains to form the Justice League and put up combat in gacha RPG mechanics. Your team will consist of 4 characters. Participate in PvP battles, form teams to fight against opponents, and empower your heroes. 
Download DC Legends: Battle for Justice on Android | iOS
19. One Piece Treasure Cruise – Anime & Manga RPG Game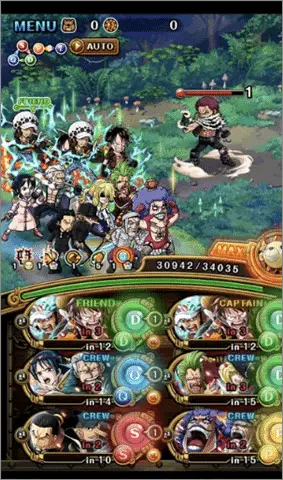 Developer: Bandai Namco Entertainment Inc.
This game takes inspiration from a famous anime show from Japan called One Piece. There are a lot of thrilling battles for you to participate in, and more than 2000 anime characters to choose from. The storyline of One Piece Treasure Cruise is quite impressive, thereby making it one of the best gacha games that we have.
It introduces a unique and intuitive tap battle system. You can unleash power on enemies by using timed attacks with the help of tap RPG battles. So, are you ready to relive the anime? Let's pick our favorite gacha character and build the most dominant team.
Download One Piece Treasure Cruise on Android | iOS
20. Dragon Ball Legends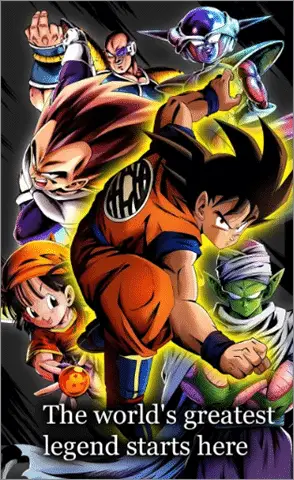 Developer: Bandai Namco Entertainment Inc.
Have you seen the anime Dragon Ball Z? One of the best gacha games, Dragon Ball Legends, is derived from it. The game takes an exceptional take on mobile fighting and offers a unique over-the-shoulder view.
The gacha game represents a new story and original characters, quite different from the source. The hero possesses more powers than they do in the anime. You can indulge yourself in one on one action in real-time with this multi-player game. 
Download Dragon Ball Legends on Android | iOS
12 New Gacha Games For Extra Thrill And Adrenaline
Note: We also have the new gacha games for the ones who have played all the top 20 gacha games and looking for something exciting. Newer and better versions of the gacha system are coming up, and you have a plethora of options to choose from.
21. Brave Nine – Turn Based SRPG and Anime
Developer: NEOWIZ
A comparatively new release, Brave Nine has managed to have a solid fan base and makes it to the list of top gacha games. If you've already played the 'hero collector' themed games, try this one since it has a unique strategy aspect to offer.
The gameplay is thrilling and there are various PvP battles in real-time that you can take part in. If you think you are a game master, let us tell you that this one has over 1400 stages. As you explore the chapters, you will find that the storyline is extremely engaging. 
Out of the best gacha games we've listed so far, Brave Nine is our favorite.
Download Brave Nine on Android | iOS
22.
Another Eden: An RPG Beyond Time And Space
Developer: WFS, Inc.
If you are looking for new gacha games that are quite amazing, get your hands on Another Eden. Although the game has a very small gacha element, once you spend some time playing, it will grow on you.
You are given a map and navigate around it. The gacha mechanic is different from what you'd get in an old-school mobile RPG gacha. Will you be able to save the lost future? Make sure you do it before darkness falls upon everybody.
Another Eden is ideal for anyone wanting to play RPG gacha with a modern touch. 
Download Another Eden on Android | iOS
23.
Final Fantasy Brave Exvius
Developer: SQUARE ENIX Co. Ltd
This gacha game is free to play (F2P) friendly. The new one in the Final Fantasy series, Brave Exvius is an RPG gacha made in classic style. It has a strong storyline and if you are well-versed with Square Enix properties, you will find a crossover here. 
The battle mode is interactive and easy. You get to summon many units and participate in tons of special events and navigate your characters through dungeons. What more? Will you be able to convince the townsmen to give you some rare items?
Download Final Fantasy Brave Exvius on Android | iOS
24.
Shin Megami Tensei Liberation Dx2 – Demon Collection RPG
Developer: Sega Corporation
If you have owned a PlayStation or a Nintendo console, you might be familiar with this game. Shin Megami Tensei is a supremely loved JRPG series. This mobile game is a new entrant and makes it to our list of best gacha games because of the popularity.
Liberation Dx2 features more than 160 gacha characters, each representing a unique demon. Similar to its console counterparts, this gacha game involves extraordinary storytelling and superb cut scenes.
Download Shin Megami Tensei: Liberation Dx2 on Android | iOS
25.
Arknights
Developer: Yostar Limited
Arknights combines the gacha element with strategy RPG. By mixing the traditional gameplay with tower defense strategies, it maintains the excitement quotient throughout. One of the best gacha games, Arknights, requires you to formulate various strategies.
They have a campaign mode and a lot of core mechanics. The gameplay relies on auto-mode on several occasions, so your hands are free during most parts of the game. Arknights boasts gorgeous graphics and a beautiful soundtrack. Every player gets to summon hundreds of characters.
Download Arknights on Android | iOS
26. Date A Live: Spirit Pledge
Developer: Moonwalk Interactive Hong Kong Limited
Date A Live: Spirit Pledge is inspired from a popular novel series and is a recent addition to the genre. A fresh take on the previously released romantic anime, Date A Live: Spirit Pledge, brings together innovative gacha and simulation elements. You will find various spirits in all the levels of the game and you'll be able to interact with them and form connections. A small warning here – the game is not for the faint-hearted. 
The gigantic skill tree is the most unique addition in this game. If you achieve a milestone or do something extraordinary, you can unlock a new skill from the tree. Date A Live: Spirit Pledge gets as entertaining as any other gacha RPG can get. One of the best gacha games for viewing exclusive graphics, this one is a magnificent treat to the eyes.
Download Date A Live: Spirit Pledge on Android | iOS
27. Dragalia Lost
Developer: Nintendo Co. Ltd
If you are looking for Nintendo mobile RPGs, getting your hands on Dragalia Lost is an excellent choice. Although the gacha game initially released with some bugs and other glitches, it has now relaunched itself in a bigger better version. 
The gameplay and mechanics of Dragalia Lost are more active than most other gacha games we've listed. Gaming enthusiasts will especially enjoy the action RPG mechanics and the overall superlative experience. With a decent display of graphics and unique storyline, Dragalia Lost has established a firm spot in the best gacha games.
Download Dragalia Lost on Android | iOS
28. Exos Heroes
Developer: LINE Games
Exos Heroes boasts the most visually appealing graphics. You should try playing the game on your computer or gaming console instead of the phone app to thoroughly enjoy the picturesque moments. Very different from most gacha games, Exos Heroes gives players lots of opportunities to explore. 
With extraordinary RPG mechanics, unique plot, and grand visions, everything about Exos Heroes feels fascinating. Your primary mission is to bring back the emperor's missing sword as soon as possible. The magnificent landscapes, beautiful characters, and thrilling skill actions make Exos Heroes one of the best gacha games we have today.
Download Exos Heroes on Android | iOS
29. Sdorica
Developer: Rayark International Limited
Sdorica is an RPG that involves tons of interesting characters and very entertaining gameplay. Several different opportunities for combat, depth of expression while describing the characters and an engaging plot keep you glued to the screen and leaves you in awe of the mechanics.  
The self-consuming game progresses fast and the plot takes frequent interesting twists. The graphics boast a remarkable art style and the unprecedented storyline transcends you into a fantasy world you do not wish to come back from. One of the best gacha games we've played in a while, Sdorica is engrossing, fun, and a must-try.
Download Sdorica on Android | iOS
30. Genshin Impact
Developer: miHoYo Limited
One of the best gacha games released in 2020, Genshin Impact, includes unique RPG mechanics and is among our personal favorites. Players get to explore many exquisite landscapes and some hurdles to beat along their way. You get a glider to make going from one place to the other easy. 
The soundtrack is very pleasing to the ears and the plot is engaging enough to hold your attention. We particularly loved the variety of Genshin Impact exhibits when it comes to choosing from the myriad character options available. There is something to suit everyone.
Genshin Impact includes an unusual gacha element and several in-game quests. So, wade through the oceans, climb mountains and experience thrilling action like never before.
Download Genshin Impact on Android | iOS
31. Tales of Erin
Developer: Efun Company Limited
Tales of Erin is a comparatively new, popular gacha game, and boasts an excellent rating on the Google Play Store. The story-focussed RPG is full of compelling visuals and exciting twists. The game's plot is its backbone and the character progression is its unique selling point. 
You get to pick a hero from 80 available choices and you can opt for a different character for each new game you play. The gacha game includes elements from multiple genres and is a good blend of fantasy, action, tactics, and drama.  With high-quality mobile graphics, fast-faced speed, and amazing anime-style cut scenes, the game has developed a solid fan base of its own. 
Download Tales of Erin on Android | iOS
32. Lord of Heroes
Developer: CloverGames
Lord of Heroes is a casual auto-battler, which includes tons of unique characters and an excellent storyline. The developers have formulated the gameplay in such a way that you can progress quickly without spending much time on your screens. One of the best gacha games that boast stunning visuals, Lord of Heroes, is very different from the others belonging to the niche and a must-try.
Collect resources and heroes on your way and indulge in stunning 3D action. The diversity of backgrounds is rare to find, making the gameplay even more intriguing and fun. Resort to the in-app purchases to get exciting upgrades and be the best monarch the world has ever seen.
Download Lord of Heroes on Android | iOS
33. Dissidia Final Fantasy Opera Omnia
Developer: Square Enix Co. Ltd
The last one to make it to our list of the best gacha games, Dissidia Final Fantasy, includes villains, legendary heroes, and entertaining drama. More than 120 heroes, tons of other interesting characters, a compelling plot, and unique combat styles, the gacha game is addictive. 
Dissidia Final Fantasy boasts turn-based RPG mechanics that are similar to the classic version and will leave the fans of the original game nostalgic. The final version is a great blend of old and new and the perfect climax gamers were waiting for.
Download Dissidia Final Fantasy Opera Omnia on Android | iOS
Conclusion
Big franchises like Disney heroes, Marvel superstars, and Star Wars have entered into the world of gacha games. It looks like everyone wants a piece of this tempting pie. Do you absolutely love mobile role-playing games? We've listed the best gacha games that you can play, and all of them are super-addictive.
While some of them take inspiration from Japanese series and anime, the others have an original story. The gameplay is the most prominent part of these gacha games. You can also play in multiplayer modes and take part in battles with fellow gamers across the world. All the games that we've listed are free to play and can be downloaded on both Android and iOS phones. So, choose your heroes well and strategize to win.
(Article Updated on 25th March 2021)