Are you a music-lover? How often do you listen to a song and wonder what the full lyrics are? Sometimes a song gets stuck in your head and just does not go away. You find yourself either humming or singing it in bits and pieces. So, to know what the song holds and where it is from, you need to check out websites to find song by lyrics.
There are specifically dedicated websites and search engines that help you to get the correct lyrics of the song that you want. It does not matter if you remember only a few words or just a phrase. You only need to enter the excerpts you remember, and bam, the entire song will pop up in front of you in its original, raw form. How wonderful is that?
Find Song By Lyrics: The Search Now Becomes Easy
We have a list of the ten best websites that help you find song by lyrics. So, the next time you come across a beautiful cover on the radio, even if you only remember a few words, you'll be good to go. Put them on the search bar of any of these websites and enjoy the lyrics. If the radio host does not announce the name of the song or album name the next time, you know that to do.
1. LyricsWorld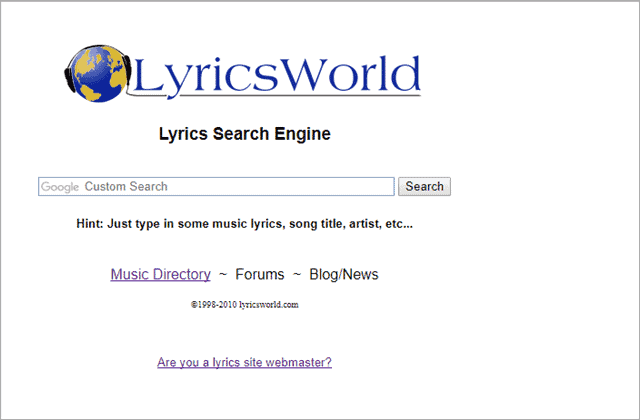 LyricsWorld is a song lyrics search engine. You can find music by typing the lyrics of the song, artist, or song title. It is not a dedicated lyrics search engine, but merely a collection of sites with a lyrics database. So, it will direct you to those relevant websites related to the lyrics search.
If you own a lyrics website and want your site to be listed as a priority in the search results, Lyrics World would help you achieve that. The next time you are wondering, 'which website will find me a song by lyrics?' do not forget to browse through Lyrics World first.
Check out LyricsWorld here
2. Find Music By Lyrics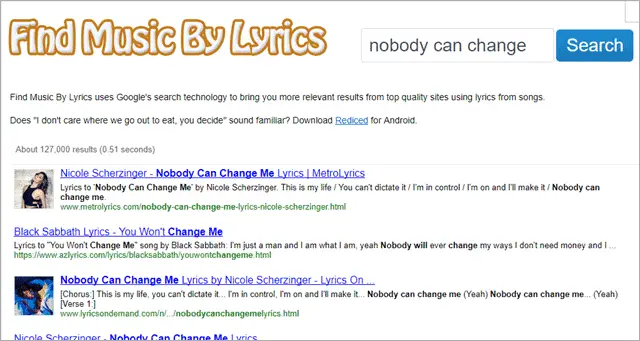 Find Music by Lyrics website finds the correct match of lyrics, even if you type in just a line or a phrase of a song you are looking for. You can also search for a song by an artist or a lyric phrase.
You do not need to sign up, and the interface of the site is simple to use. One of the best websites that enables you to find song by lyrics; this one is similar to LyricsWorld. It directs you to a database collection of all the relevant sites.
If you have ever wondered, 'what is this song?' and wanted to figure out the rest of the lyrics, get your hands on this website, and you would not have to look anywhere else.
Check out Find Music By Lyrics here
3. Lyric Finder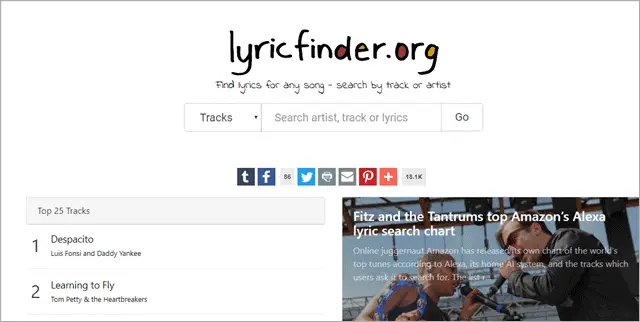 Lyric Finder helps you find a song by partial lyrics or artist name. It also displays 25 of the top-most trending tracks and helps you to ascertain the present listening mood of the general public.
If you are interested in new music, this find song by lyrics website is the place to get frequent updates about new launches and trivia.
You don't always have to use the Search option since you can just scroll through the list, which is sorted out alphabetically. The multi-faceted site is used by plenty of people to discover music, like new releases, and follow passionate artists.
Check out Lyric finder here
4. AZLyrics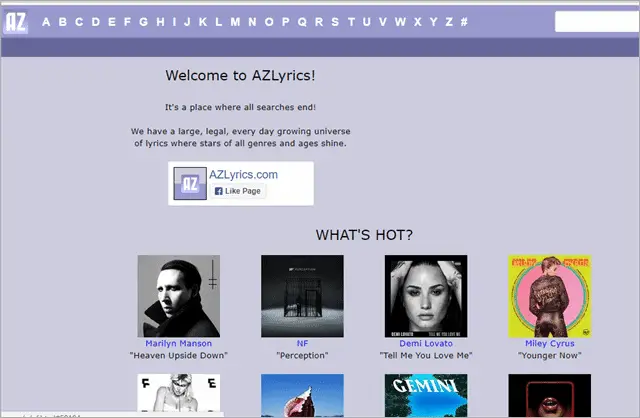 If you are wondering how to find a song by lyrics, then be sure AZLyrics is a good option as a solution. It is the most popular song lyrics search engine that has a vast collection of songs to help you find the lyrics of any song, irrespective of old or new.
Since AZlyrics helps you find a song by partial lyrics too, you will never be disappointed. The database collection of this site is extensive, legal, and updated. Like an artist? Discover new music by him/her. Follow what others have been listening to and upgrade your choice list.
It lets you search alphabetically by artist name, song name, and you can even browse the videos. Besides, you can help this site to improve if you know lyrics, and you want to contribute to something that may be amiss. All you need to do is fill a form and submit your lyrics.
Your form will be sent to the AZLyrics.com team's approval before they publish it.
Check out AZLyrics here
5. LyricsMania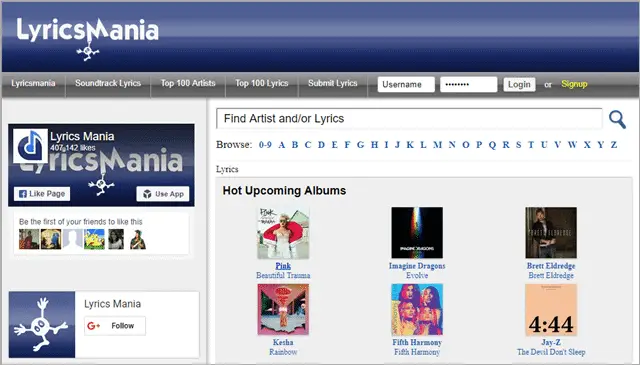 LyricsMania is one of the best solutions for anyone who wants to find songs by lyrics. It offers a lot of searching options. You can search for lyrics of the songs by genre, label, song name, album, and artist.
It has a well-organized alphabetically arranged list that makes it easy to browse while searching. You get updates of all the trending albums and numbers that are topping the charts.
The most trending numbers and latest songs are sorted by name and artist. You can even view a list of Top 100 artists and Top 100 Lyrics. It enables music enthusiasts to know which songs or artists are currently popular.
If you know the lyrics of any song and want to submit it, you can do that here as well. Overall, LyricsMania is an excellent find song by lyrics website with a massive database collection.
Check out LyricsMania here
6. LyricsMode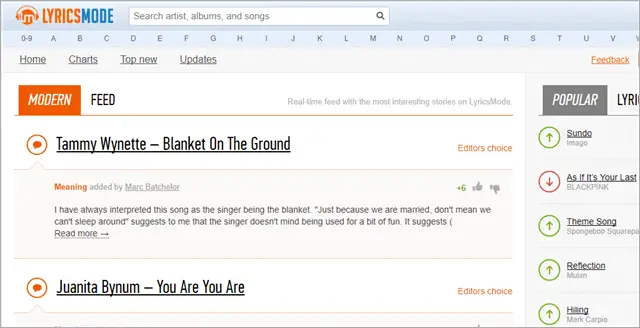 LyricsMode allows you to find a song by lyrics. It is something new, unique, innovative, and boasts of a fresh interface. The website also has a real-time feed and keeps you updated with all the exciting and recent stories in the music industry. So, if you like to listen to new music and wish to follow recently released albums, you can rely on LyricsMode.
You can search for your song by artist name, albums, or by directly entering the name of the song. To make it easier, it contains the list of songs in alphabetical order.
The collection is vast, and you can also post lyrics to your blog or website using its Flash widget. This incredible lyrical engine also consists of lyrics of the most popular videos.
LyricsMode enables you to submit lyrics, as well. You can even search for the top 100 lyrics on any given day.
Check out LyricsMode here
7. LyricWiki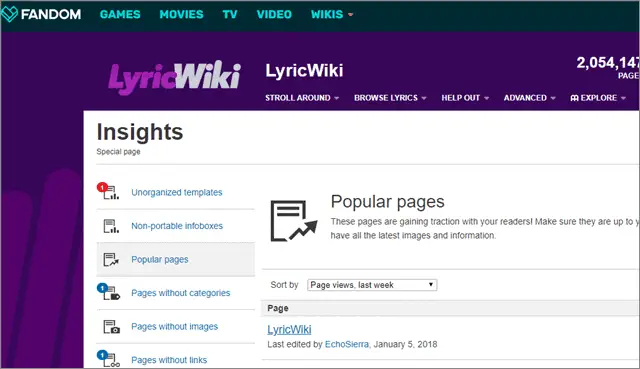 LyricWiki has a huge data collection of lyrics with over 2,000,00 pages. This speaks volumes about the popularity of the find song by lyrics website. You can look for songs alphabetically or type in a phrase of the song you want the lyrics for.
The songs are categorized by artist, album, genre, and label, therefore making it very easy to find lyrics of any sort of music in a jiffy. There is also a 'Song of the Day' feature that is quite different from others. You get to see if your favorite artist featured in it or not.
If you want to contribute to the database, you need to sign up. It also contains iTunes Top songs with individual links to the song.
Check out LyricWiki here
8. MetroLyrics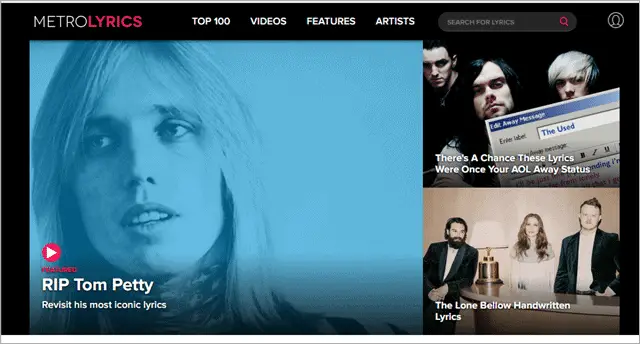 MetroLyrics is quite popular among music lovers. It has millions of songs, and the music collection ranges from old and new to rock and pop. This sought-after find song by lyrics website is trusted all over the world.
While providing you with the desired result, it also wins hearts by making various categories available to you so that you can explore and search for music you like. Want to follow an album? Go ahead and do it.
Are you looking for the top 100 songs? You get it here. Search by song name or artist name and the website lists out the results. The interface is easy to browse and user-friendly.  It does not take much of an effort to look for songs. So, even if you want to find out the lyrics in seconds, simply type in the phrases you vaguely recall and enter.
Unlike the other websites we have listed, Metrolyrics does not only focus on providing you the lyrics but also creates an interactive interface. It enables you to watch, listen, and even get the background information of a song. Brilliant, isn't it?
Check out MetroLyrics here
9. Lyrics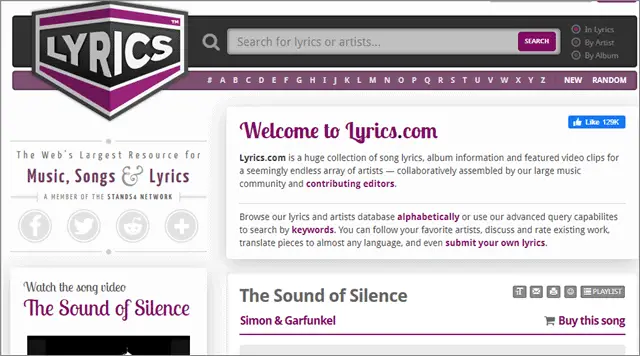 This find song by lyrics website is quite trustworthy. The homepage has a very engaging and updated left-bar. You will find all the famous artists, trending charts, and lyrics there. There is a handy search bar right at the top of the page. It allows you to find music by entering the name of the song, some lyrics, or the artist's name.
As you enter your words in the search bar, relevant results appear. So, even if you do not type in the exact match, chances are you might end up discovering what you are looking for. You can directly hop to the song or browse through the artist page. Once you have found your song, the website provides you with the music video, lyrics, and some trivia.
Check out Lyrics here
10. Genius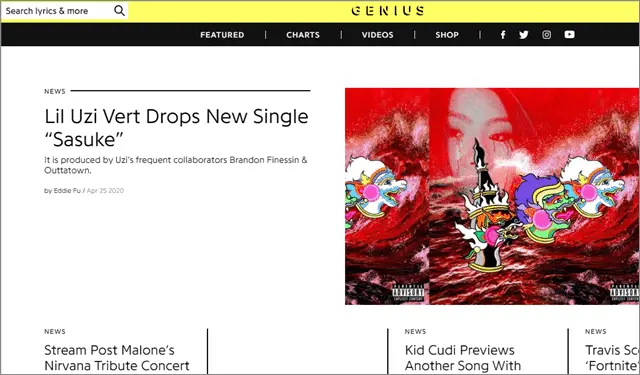 The find song by lyrics website is clean-looking and modern. It is full of song lyrics from various genres so you won't be disappointed. The homepage includes a list of the trending numbers and music-related news. You will also come across videos from series by Genius.
Genius makes your search pretty easy. You enter your query, and the website displays a list of the songs, lyrics, artists, and albums related to it or similar-sounding options. You also get to browse through videos and related articles that come up in the search results.
Genius, quite true to its name, shines and stands out when it comes to its lyrics pages. Users can listen to the full song while checking out the lyrics if they sign into their Apple Music accounts.
What more? The website also displays the meanings of songs for your reference.
Check out Genius here
Final Thoughts on how to Find Song By Lyrics
Various music streaming services have sprung up in the recent past. They display the name of the song and album details while you play a particular song. But what about the people who still love listening to music on the radio? Or, what do you do when you recall only a few phrases from the song you heard at a concert? Do you follow celebrities on social media and often wonder 'what song is this?' Well, check the websites listed above and they will help you to find song by lyrics.
No more getting stuck in the middle of the song, wondering what the next words are. Even if you recall broken phrases from your favorite music album, you can take the help of these websites. You can find the songs by typing in the lyrics and brush up your music trivia, as well.
Also, check: